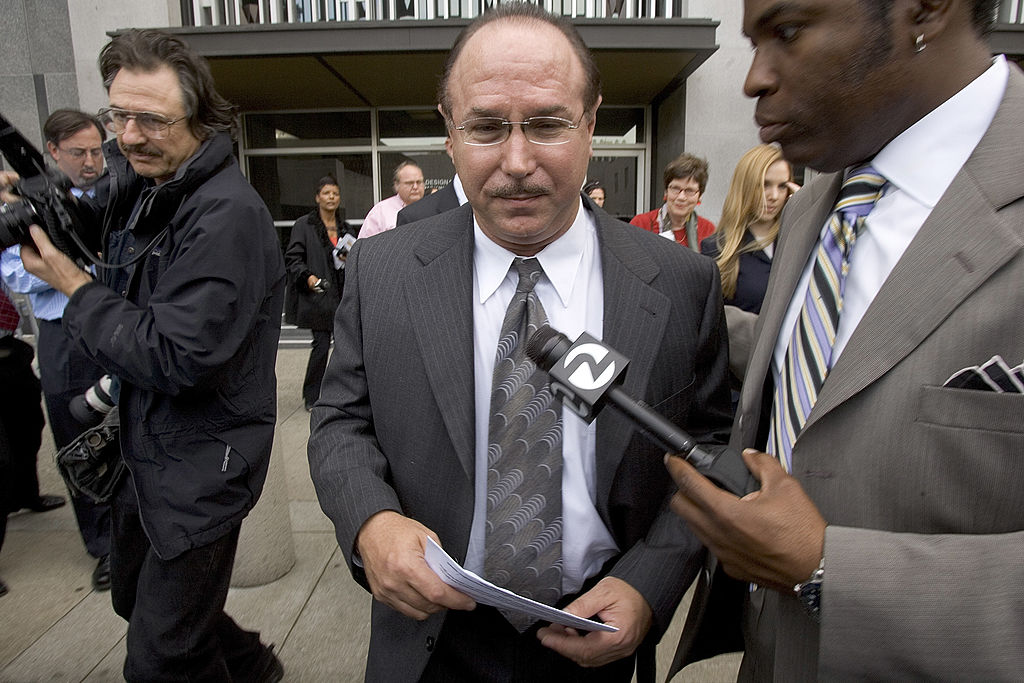 Where Is Steroids Mastermind and BALCO Founder Victor Conte Today?
Victor Conte was at the center of the MLB steroid scandal as founder and president of BALCO. He went to prison. Where is Victor Conte today?
The name Victor Conte sounds like some type of villain in a mafia movie. Conte turned out to be a villainous character as the mastermind behind the steroids scandal that engulfed MLB, among other sports including track and field and cycling. In 2004, Conte was part of a 42-count indictment that included charges for steroid distribution. He faced 30 years in prison. Where is Victor Conte today?
Who was Victor Conte?
Before Victor Conte became well-known for his involvement with steroids and the sports world, he was an accomplished musician playing bass guitar for the rhythm and blues band Tower of Power from 1977 to 1979. He also collaborated with pianist Herbie Hancock.
In 1984, with his music past behind him, Conte launched the Bay Area Laboratory Co-operative (BALCO), a sports nutrition center in California. It was a business he started after he had done extensive research and had gained a thorough understanding of the biology of human performance and enhancement. 
During those early years at BALCO, Conte distributed the nutritional supplements to numerous athletes. Slowly but steadily his expertise and reach began to expand in the athletic community. Then, somewhere in the 1990s, it all shifted.
How did he get involved with steroids?
In addition to distributing supplements, Victor Conte began working with chemist Patrick Arnold in developing performance-enhancing drug programs using undetectable substances. They would be administered to high-level Olympic and other professional athletes. 
Conte developed dosing schedules for American track star Marion Jones, who dominated the 2000 Olympics. He did the same for sprinter Tim Montgomery, who broke the world record in the 100-meters in 2002, and Kelli White, who won the 100 and 200 meters and the 2003 world championships. (All of these accomplishments were later erased from the record books.)
Conte also worked with Barry Bonds but said he only provided supplements, never steroids. The book "Game of Shadows" by investigative journalists Mark Fainaru-Wada and Lance Williams concluded that Bonds used steroids from BALCO.
In September 2003, federal agents raided the offices of BALCO, where Conte, among others, were questioned. Five months later, U.S. attorney general John Ashcroft announced that Conte and others were charged with steroid distribution and other felonies in a 42-count indictment. 
Where is Victor Conte today?
Victor Conte entered the Taft Correctional Institution in California in December 2005. He exited just four months later in March 2006. Upon his release from prison, Conte returned to work at Scientific Nutrition for Advanced Conditioning (SNAC), another company he launched in 1987 several years after BALCO. SNAC is a wholesale distributor of nutritional supplements.
SNAC's main product is ZMA, a combination of zinc, magnesium and vitamin B6 that Conte developed and touts as helping users sleep better and recover more efficiently from workouts. In addition to supplements, SNAC also offers a training center that includes hypoxic-hyperoxic (or high-altitude) training and plyometrics. It has become home to some of the world's top boxers, including Mikey Garcia, Danny Jacobs, and Demetrius Andrade.
While many have questioned the boxers and their association with the former steroid mastermind, they point to Conte's role as a vocal advocate for year-round drug testing. In an interview with the Los Angeles Times, Conte said he makes sure all his fighters are enrolled with VADA, Voluntary Anti-Doping Agency, which provides the most stringent PED-testing available.
Conte, who turns 70 this year, said his legal supplement business made $250 million during the last two decades, $50 million of that going directly to him. He admitted what he did in the past was wrong and said he has learned from his mistakes.
"People say, 'He's so smart, he might still be tricking people.' First of all, I went to prison. I caused all sorts of anguish and pain for my family. I'm the guy with the cash in the bank. I'm not going to go there. It's not worth it to me."
While it's hard to believe someone who so flagrantly violated the rules in the past, Conte's track record since his release from prison backs up his claim. He has been spotless. Not one of the boxers or athletes working at his gym has ever tested positive for any PEDs or any illegal substance.