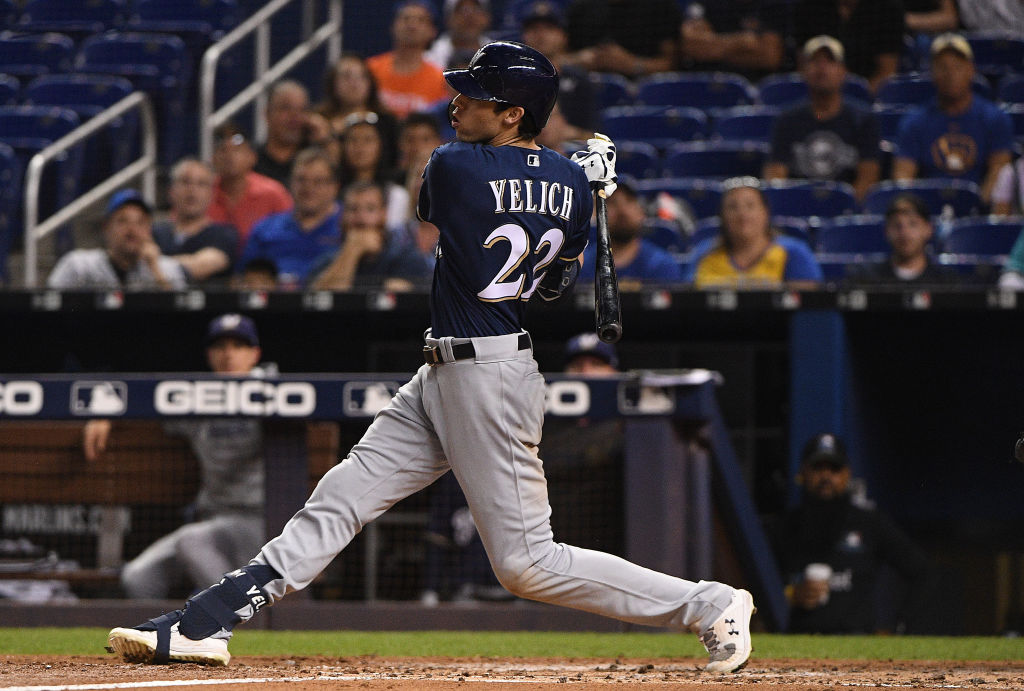 Where Will Christian Yelich's New Contract Rank on the MLB Annual Salary List?
Christian Yelich and the Milwaukee Brewers are reportedly close to agreeing to terms for a massive contract extension.
Christian Yelich is one of the most talented young players in Major League Baseball. He won the National League MVP in 2018 and helped the Milwaukee Brewers to consecutive postseason berths the past two seasons, the first time the club has made the playoffs in two straight years.
In seven seasons in the big leagues, the first five coming with the Marlins, Yelich has hit 139 home runs and added 500 runs batted in. He found his true potential when he came to Milwaukee and has averaged 40 long balls the last two seasons. He's also won consecutive batting titles, led the league in slugging and OPS the last two years, and also had the highest on-base percentage in 2019.
And it's all about to pay off for Christian Yelich.
Christian Yelich is about to get paid
As first reported by Ken Rosenthal of The Athletic, the Milwaukee Brewers are close to finalizing a contract extension with Christian Yelich that would keep him in Milwaukee through at least the 2028 MLB season. The nine-year deal is expected to be for nine years and worth approximately $215 million.
Yelich still has two years left on his current deal that was signed when he was still with the Miami Marlins in 2015. He's owed $12.5 million this season and $14 million in 2021, with a $15 million club option in 22 that has a $1.25 million buyout. It's believed that the new deal will eliminate that club option and add seven years. Some of the money is expected to be deferred and the annual average salary for the extended years will be somewhere in the $27 million range.
Yelich's new deal won't even put him in the top 15 in salary
While a $27 million annual salary is obviously a ton of money that most people will never see, the Milwaukee Brewers are actually getting themselves quite a bargain in Christian Yelich. They're paying under market value for a player of Yelich's caliber, which they needed to do as a small-market club. They already lost Yasmani Grandal to the White Sox and Mike Moustakas to the Reds. So where exactly will Christian Yelich's contract rank on the MLB salary list?
Taking 2020 salaries into effect, the $27 million annual payout that Yelich will receive would rank 17th on the list, tied with Mookie Betts. Here's how the list looks currently.
Mike Trout: $37,666,666
Gerrit Cole: $36,000,000
Max Scherzer: $35,920,616
Zack Greinke: $35,000,000
Nolan Arenado: $35,000,000
Stephen Strasburg: $35,000,000
Justin Verlander: $33,000,000
Manny Machado: $32,000,000
David Price: $32,000,000
Clayton Kershaw: $31,000,000
Chris Sale: $30,000,000
Miguel Cabrera: $30,000,000
Yoenis Cespedes: $29,500,000
Jose Altuve: $29,000,000
Albert Pujols: $29,000,000
Bryce Harper: $27,538,462
Mookie Betts: $27,000,000
Yelich's deal smashes the old Brewers record
The Christian Yelich deal is easily the largest contract in Milwaukee Brewers history. The previous record belongs to former NL MVP and six-time All-Star Ryan Braun, who previously signed a five-year/$105 million deal. Braun's deal expires after the 2020 season.
The Brewers are all in on Christian Yelich.