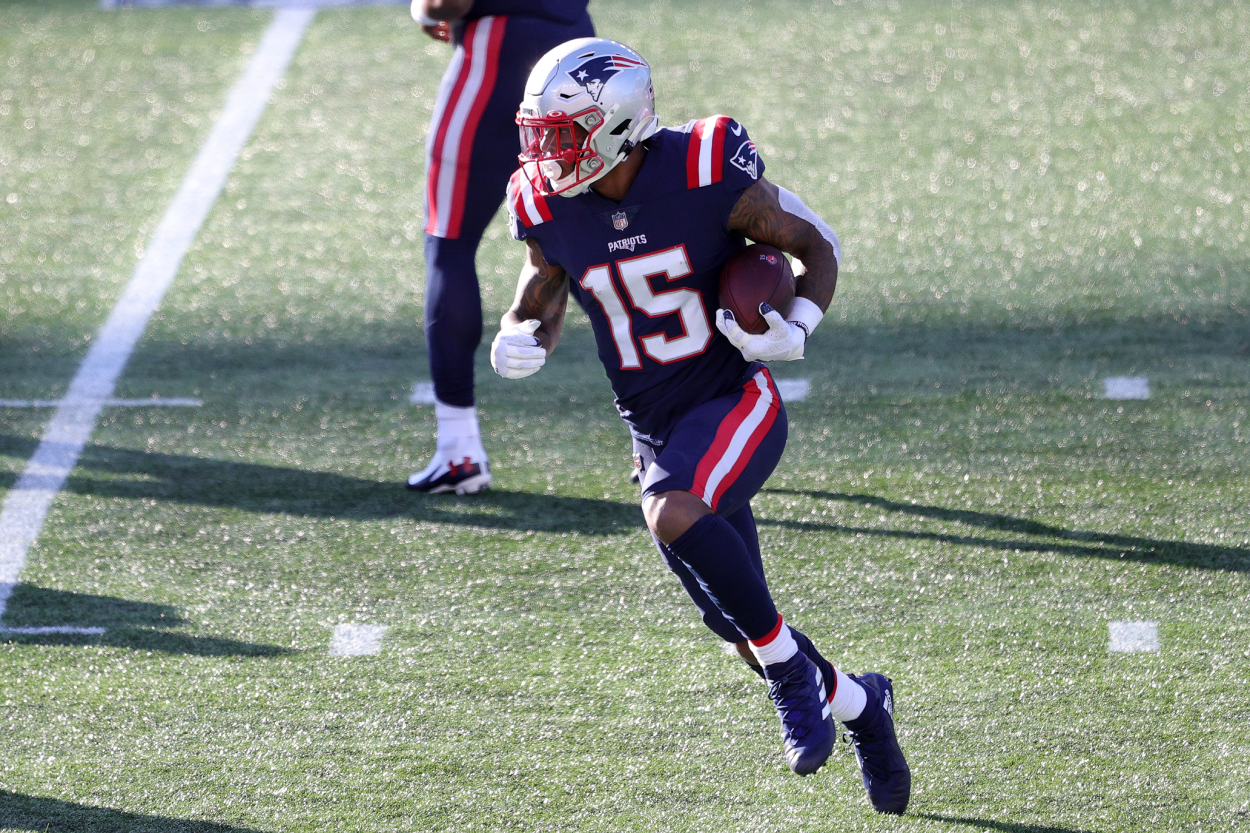 Who's to Blame for the N'Keal Harry Debacle in New England as He Requests Trade From the Patriots?
N'Keal Harry has requested a trade from the New England Patriots.
Did the New England Patriots blow it by burning a first-round pick on wide receiver N'Keal Harry in the 2019 NFL Draft? Or did they not use the 6-foot-4, 225-pound wide receiver out of Arizona State properly? Harry's agent has said enough is enough with his client playing for Bill Belichick, so much that he asked the team to trade the wideout. Who's to blame for Harry's NFL flop?
N'Keal Harry was drafted by the Patriots ahead of some pretty good wide receivers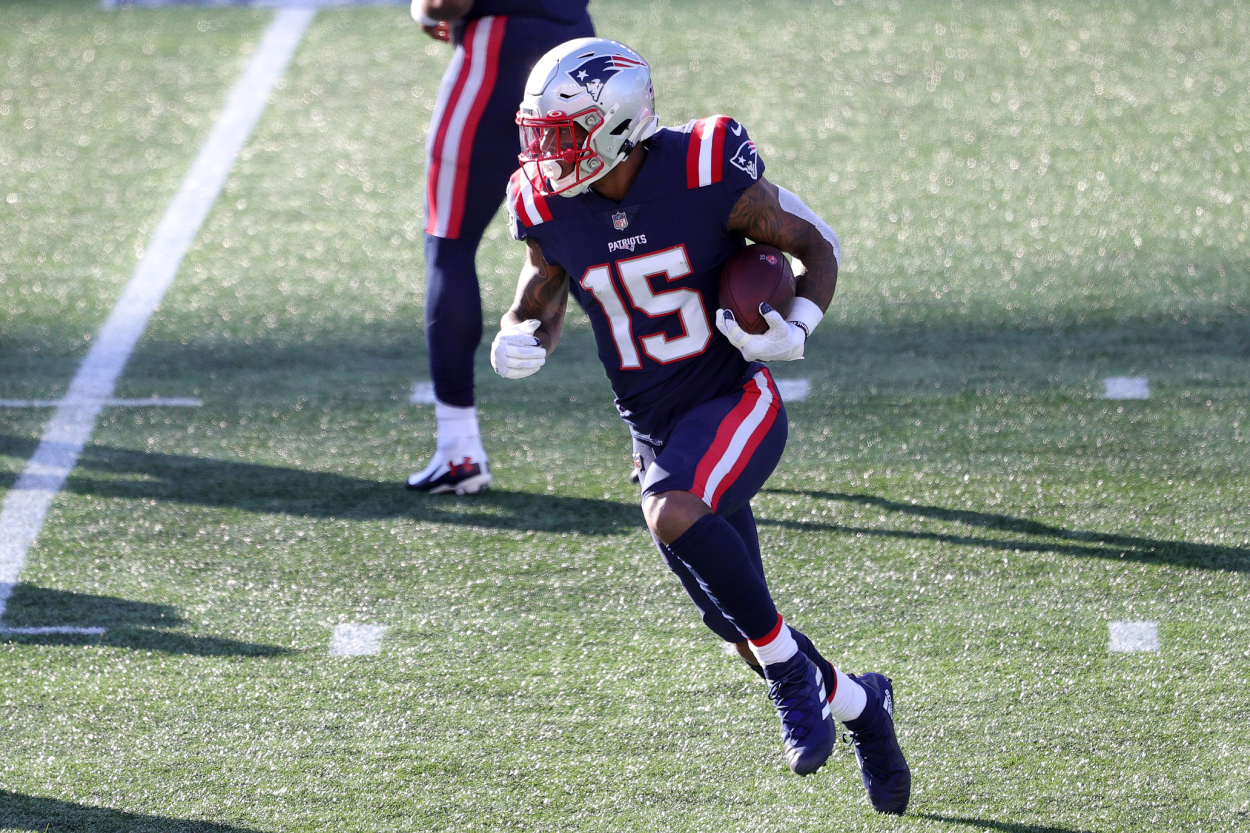 The Patriots made Harry the second wide receiver taken in the 2019 draft. With the final pick in the first round, Harry was taken behind Marquise Brown, picked by the Baltimore Ravens at No. 25. Harry went seven picks later, ahead of some big names.
Seven wide receivers were taken in the second round, including D.K. Metcalf of the Seattle Seahawks, A.J. Brown (Tennessee Titans), Mecole Hardman (Kansas City Chiefs), and Deebo Samuel (San Francisco 49ers). Terry McLaurin of the Washington Football Team was picked in the third round.
Harry put up some big numbers during his three years at Arizona State. In his sophomore and junior seasons, he racked up more than 1,000 receiving yards each year. He combined for 17 touchdown receptions in those years. He finished his college career with 22 touchdown catches and 2,889 yards.
Harry hasn't come close to duplicating those numbers with the Patriots. In his two seasons in New England, Harry has 45 catches for 414 yards and four touchdowns.
N'Keal Harry requests a trade from the Patriots
After two seasons with the Patriots, it appears as if Harry is fed up with the team. His agent. Jamal Tooson, formally requested a trade out of New England. Tooson believed his client's lack of production is a result of his lack of opportunity.
"N'Keal understands a key ingredient to production is opportunity," Tooson said in a statement. "He will continue to work hard to develop and refine his craft after missing a large portion of his rookie year to injury. His draft-day expectations for his NFL career have not changed. We are confident success is just around the corner for him and will aggressively pursue it."
Tooson opened the statement by saying he has been working with the team to make a move over the past few months.
"For the past several months, I have been working in cooperation with the Patriots behind the scenes to put a plan in place to allow N'Keal to thrive in New England," the statement read. "Through two seasons, he has 86 targets, which obviously hasn't met the expectations the Patriots and N'Keal had when they drafted a dominant downfield threat who was virtually unstoppable at the point of attack in college.
"Following numerous conversations with the Patriots, I believe it's time for a fresh start and best for both parties if N'Keal moves on before the start of training camp. That is why I have informed the Patriots today I am formally requesting a trade on behalf of my client,"
Who's to blame for Harry's lack of production?
The Patriots misfired on this one, but that doesn't mean Harry can't have a productive career, even in New England. Harry missed nine games in his rookie season due to various injuries. Last year, the Patriots brought in Cam Newton to take over for Tom Brady, and things did not go well. Newton struggled in the passing game, and that can't be blamed solely on Harry.
Harry is not as good as many of those wide receivers drafted below him. New England simply took the wrong guy, but is two years enough – especially when he was injured much of the first and suffered through a QB change in the second – to judge the guy?
Harry can request a trade, but the Patriots don't have to pull the trigger. Belichick is stubborn is will likely ride this out unless he is wowed with a high draft pick in return. For now, the quarterback situation in New England is in flux. Until rookie Mac Jones takes over and provides stability at the position, Harry probably won't get comfortable in the offense.
That goes for any other receiver on the team. Newton's not the future. Jones is. If Harry remains patient, he might be able to put something together with Jones, but the way things seem, he doesn't want to wait that long. It's a bold move for an unproductive receiver to request a trade after two years. Harry's best bet is to stick around and prove the Patriots didn't make a mistake by wasting a first-round pick on him.
All stats courtesy of Pro Football Reference.