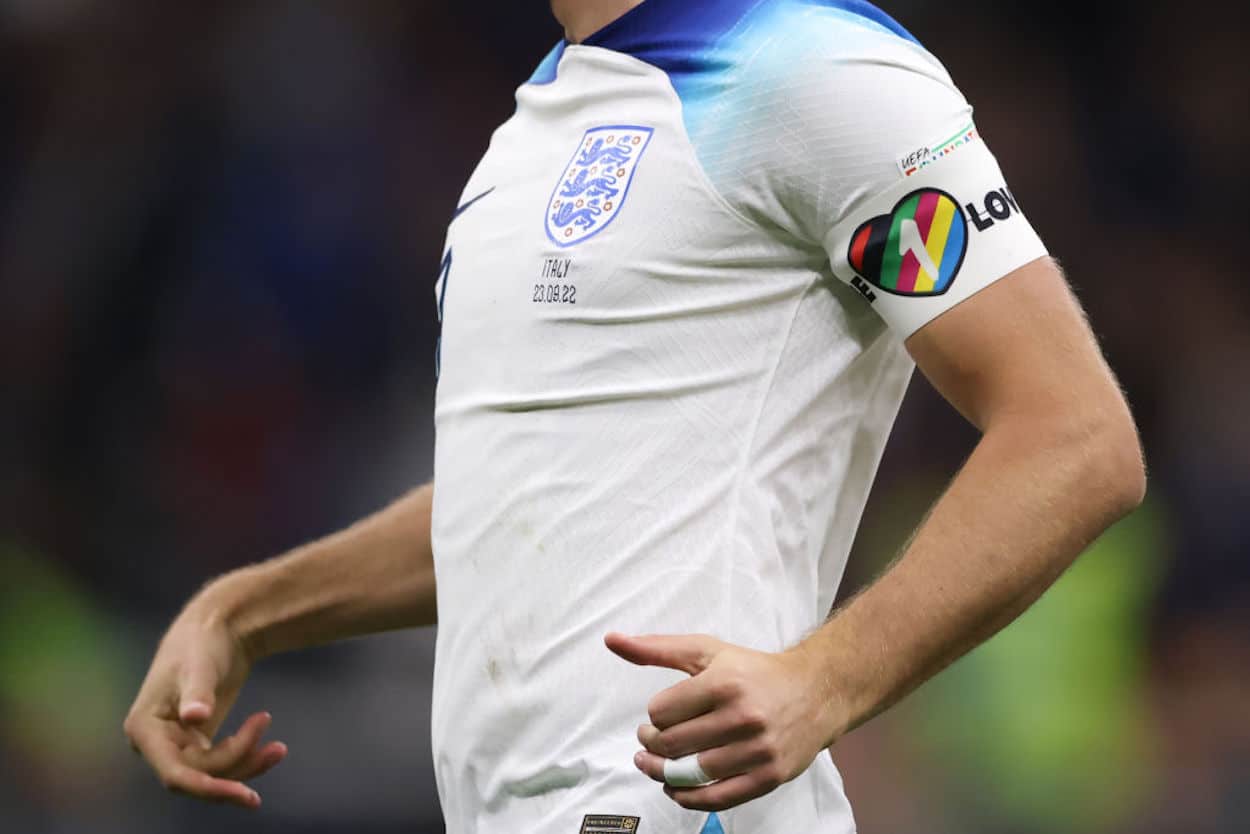 Why Aren't Countries Like England Wearing the Rainbow 'One Love' Armband at the World Cup?
When teams like England and Germany take the pitch in Qatar, you won't see any rainbow "One Love" captain's armbands.
Leading up to the 2022 FIFA World Cup, there was talk that nations like England, Wales, and Germany would have their captains wear rainbow "One Love" armbands on the pitch in an attempt to take a stand against discrimination. It seemed like that plan would go ahead without approval — FIFA is notoriously strict about what they view as political gestures entering the soccer space — with the nation's respective football federations apparently preparing to pay whatever fines came their way. On Monday, November 21, though, everything changed. The countries backed down.
So what changed? Was this a case of talking a big game and simply failing to walk the walk? Not necessarily. Instead, things reached the point where the potential punishment could affect on-pitch performances.
Let's break it down.
The Rainbow 'One Love' armbands were scrapped under threat of yellow cards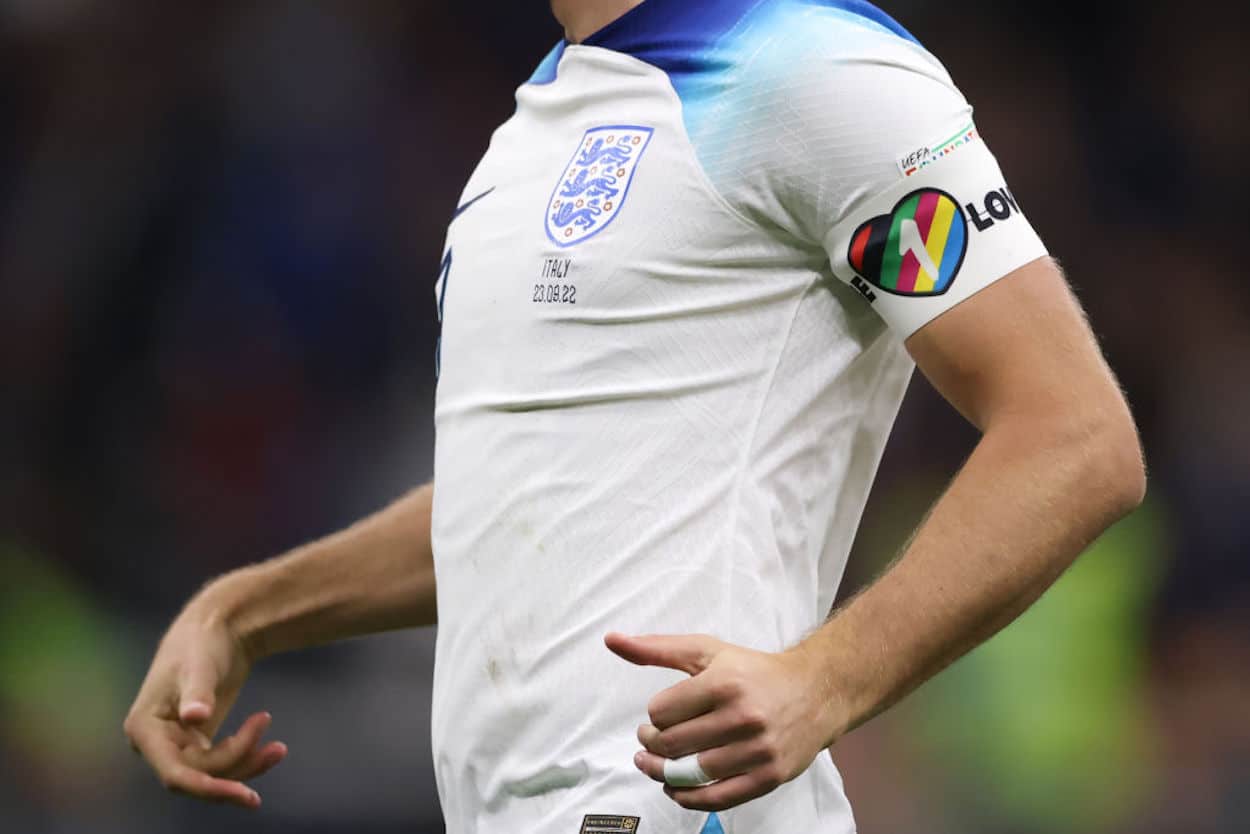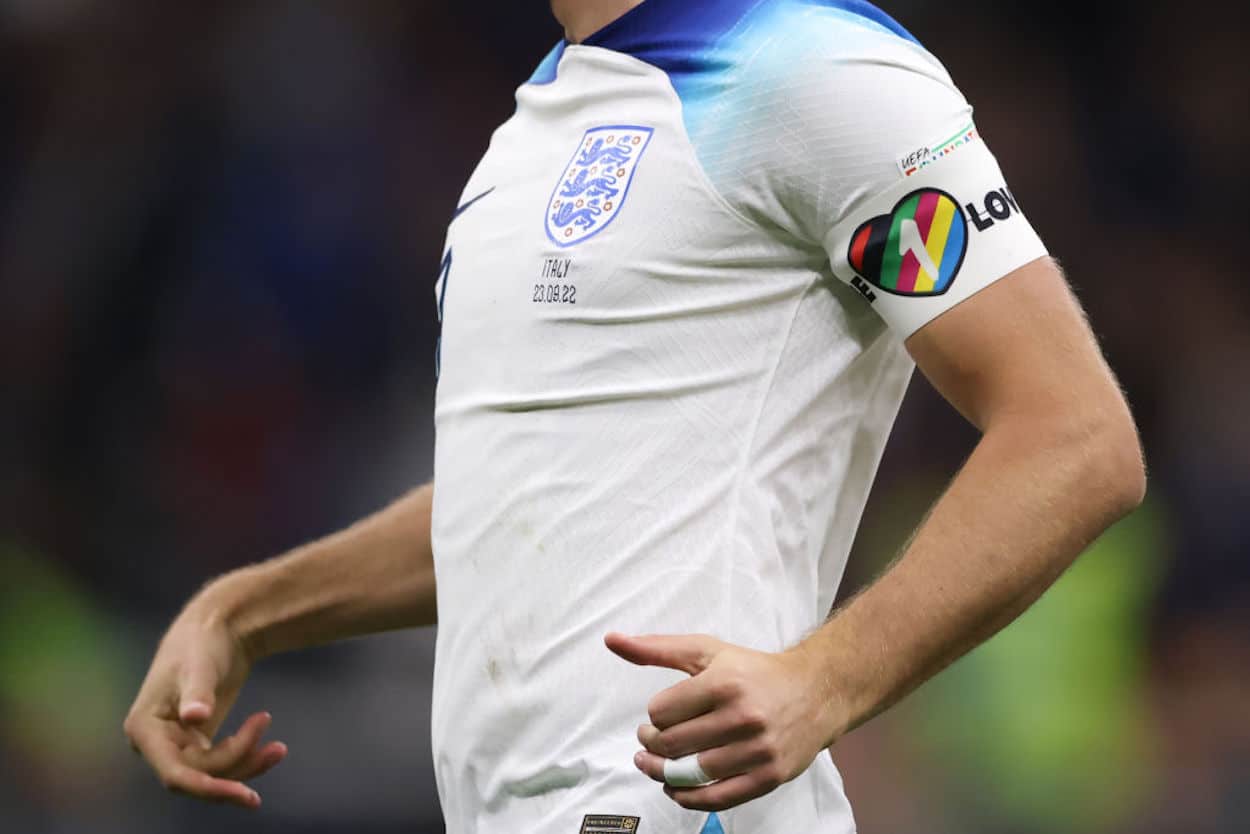 While a yellow card may seem innocuous on its own, it's actually a pretty severe punishment. There's no such thing as counting off six fouls or marching off five yards and restarting play in soccer. A yellow card puts you one mistake away from an ejection. Things get even trickier in a tournament like the World Cup due to accumulation rules. If a player gets a yellow card in each of the first two group stage matches, for example, he'll miss the potentially crucial third.
It's in that context that the nations and their captains decided against wearing a rainbow armband. There were fears that the referees could punish players who took what FIFA viewed as a political stand with a yellow card, which would create all sorts of problems. Dutch captain Virgil van Dijk, by that logic, would have to play the entire game knowing he couldn't mistime a single challenge. The likes of Harry Kane and Manuel Neuer, both of whom are crucial to their team's chances, would have faced the prospect of a suspension if they wore the armband twice.
"FIFA has been very clear that it will impose sporting sanctions if our captains wear the armbands on the field of play," a joint statement football associations of England, Wales, Belgium, Denmark, Germany, the Netherlands, and Switzerland explained in a statement (h/t The Athletic.) "As national federations, we can't put our players in a position where they could face sporting sanctions including bookings, so we have asked the captains not to attempt to wear the armbands in FIFA World Cup games."
That wasn't the end of the explanation, though.
"We were prepared to pay fines that would normally apply to breaches of kit regulations and had a strong commitment to wearing the armband. However we cannot put our players in the situation where they might be booked or even forced to leave the field of play.

"We are very frustrated by the FIFA decision which we believe is unprecedented — we wrote to FIFA in September informing them of our wish to wear the One Love armband to actively support inclusion in football, and had no response.

"Our players and coaches are disappointed — they are strong supporters of inclusion and will show support in other ways."

The English FA
As an alternative, FIFA will allow captains to wear armbands reading "No Discrimination," although that message is intentionally vague. As Jack Pitt-Brooke of The Athletic noted, though, part of rainbow armband's appeal was that it was non-accusatory. There was no specified offender or direct call to action. Just a rainbow heart and the words "One Love."
Ultimately, this is what FIFA wants. The World Cup can be political when it serves the organization — it's perfectly OK for the brass to hobnob with world leaders — and has to be completely neutral when it doesn't help the bottom line — a rainbow armband would theoretically put Qatar under some extra media scrutiny, and we can't have that happening.
Think that seems a bit dissonant and hypocritical? Welcome to international soccer.
It's FIFA's World Cup, and we're just living in it.