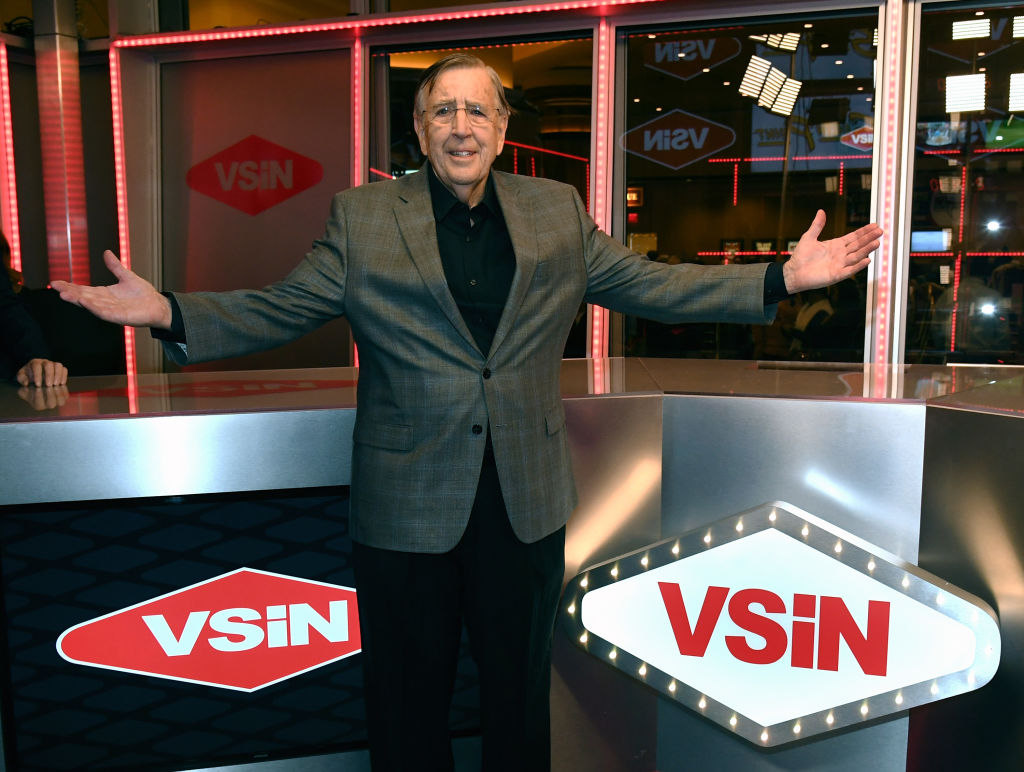 Why Did Brent Musburger Leave ESPN to Move to Las Vegas?
Brent Musburger is a legend in the broadcasting world, but did you know he's on the air today talking sports gambling after retiring in 2017?
You probably remember Brent Musburger from his days calling Magic Johnson's NBA debut, Doug Flutie's famous hail mary, and Desmond Howard's iconic touchdown catch against Notre Dame. Musburger is one of the greatest to ever do it behind a microphone. He spent nearly 50 years of his life as a host and play-by-play announcer. He was named to the National Sportscasters and Sportswriters Association (NSSA) Hall of Fame in 2011.
Musburger left ESPN in 2017, but he's actually still on the airwaves today. After retiring from play-by-play announcing, Musburger moved to Las Vegas to start a sports gambling radio show for Vegas Stats & Information Network (VSiN).
Brent Musburger had a Hall-of-Fame career as a broadcaster
Many regard Brent Musburger as one of the best play-by-play announcers in the history of broadcasting. He was so beloved by the sports world that he was elected to the NSSA Hall of Fame before he even retired.
Musburger's broadcasting career spanned almost 50 years. He spent the last 27 of those years at ABC/ESPN. The legendary announcer called everything from the Super Bowl, College Football Championship, Final Four, Masters, Rose Bowl, Little League World Series, FIFA World Cup, Indianapolis 500, NBA Finals, MLB Playoffs, U.S. Open tennis, and Belmont Stakes. No one had the range Musburger had.
In 2016, Musburger was awarded the Vin Scully Lifetime Achievement Award in Sports Broadcasting. He also received the 2011 National Football Foundation (NFF) & College Football Hall of Fame Outstanding Contributor to Amateur Football Award.
Musburger left ESPN in 2017 at the age of 77, but he didn't leave the broadcasting world completely.
Brent Musburger left ESPN to move to Vegas and follow his true passion
Musburger left ESPN in 2017 after 27 years with the company. At 77 years old, most people would retire and hit the golf course, but not Musburger.
Instead, he chose to move to Las Vegas to pursue his passion for sports gambling. Musburger's nephew, Brian, founded VSiN in 2017. It has become a streaming network dedicated to sports gambling. Musburger is now the star of the network.
Musburger started his own show on VSiN titled "My Guys in the Desert." He is joined by odds-maker Vinny Magliulo, reporter Ron Flatter, and professional bettor Amal Shah. The group talks solely about sports wagering.
"Everybody knows that Brent's authentic," Brian told InsideHook. "He's not faking it. He enjoys betting on sports and has never hidden that fact. It's like Cheech and Chong with marijuana. Everybody knew that Cheech and Chong were into marijuana long before it was legalized and cool. Brent is the Cheech and Chong of sports betting."
How you can listen to Musburger's gambling show
"My Guys in the Desert" is a daily radio show on VSiN that runs from 3-5 p.m. PT every weekday. Musburger is also involved in "Point Spread Saturday/Sunday," which runs from 8-10 a.m. PT on weekends.
Musburger and his crew talk betting lines, futures odds, and everything in between. He used to subtly work sports gambling tidbits into his broadcasts, but now it's all he gets to talk about.
Musburger has been an avid gambler for a while now. He even participates in the annual NFL Super Contest at SuperBook USA in Vegas. His gambling knowledge is unparalleled in the arena, and he's a great listen for those wanting to dabble in sports betting.
"You are looking live…" will forever live on as Musburger's signature mark on broadcasting, but you can still listen live to the Hall of Famer on the radio every day.