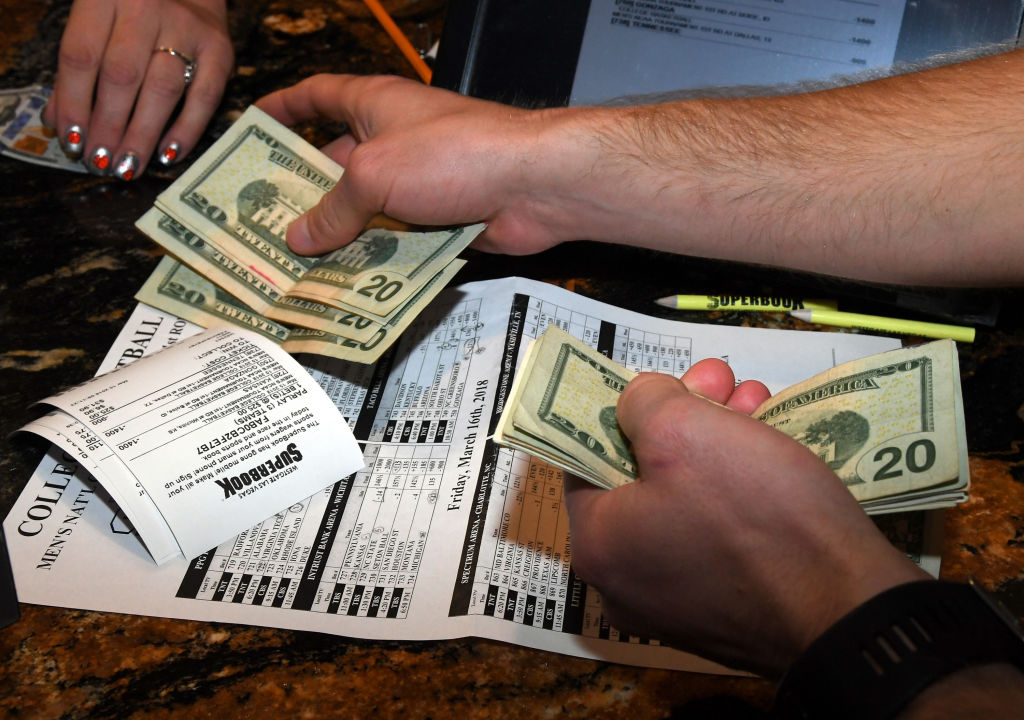 The 2021 Super Bowl Odds Changed Dramatically After a Wild Start to the NFL Offseason
Tom Brady sent waves through the NFL betting world last week. How did his move and many others change the Super Bowl odds for each NFL team?
NFL free agency is finally dying down after a crazy first week. Tom Brady and Philip Rivers both left their longtime homes to join new teams. DeAndre Hopkins and Stefon Diggs both got surprisingly traded. Even the Dolphins made some winning moves by signing Byron Jones, Jordan Howard, and Kyle Van Noy, among others. The shuffle of players from team to team shifted the entire Super Bowl landscape as we know it. The 2020-21 Super Bowl betting odds for each team also shuffled accordingly. Who are the betting favorites after a wild first week of the NFL league year?
Which NFL teams saw their Super Bowl odds jump the most?
Tom Brady leaving New England to sign with the Buccaneers was by far the biggest domino to fall in the 2020 free agency period. The Bucs were one of the longshots at 60/1 odds before free agency began, but the Brady signing vaulted them to 16/1. Tampa Bay now has the sixth-lowest odds to win the Super Bowl in 2021.
The Arizona Cardinals are another team that greatly improved its roster over the last week. They traded for DeAndre Hopkins to give Kyler Murray one of the best receiver weapons in the NFL. Arizona also made Kenyan Drake their starting running back and added a few nice pieces on defense. The Cardinals' Super Bowl odds shot from 80/1 to 40/1 at some books.
The Indianapolis Colts were a quarterback away from being a playoff team last year. Now, they have that guy in Philip Rivers. Rivers joins a young, promising roster that could be a darkhorse candidate to win the AFC in 2021. The Colts odds started at 30/1 and dropped to 20/1 after signing Rivers to a one-year deal.
The Dolphins were thought to be dead in the middle of a rebuild that could last years, but they made it clear in free agency that they're ready to compete sooner than later. With Tua Tagovailoa likely joining the team through the upcoming NFL draft, Miami went all in this offseason. They've already signed 11 free agents, including the No. 1 cornerback available, Byron Jones. Miami's odds went from implausible 100/1 to respectable 60/1 at some books.
Which NFL teams have worse Super Bowl odds now?
With all the teams that improved greatly in the past week, some teams took a step back. The Houston Texans were one of them. The Texans inexplicably traded one of the best wide receivers in the NFL for an aging David Johnson. Now, even Deshaun Watson seems to be done with head coach Bill O'Brien. Houston is a team in freefall, and their odds have reflected it by dropping from 30/1 to 60/1.
Another team that has gotten worse in the last week is the Jacksonville Jaguars. The Jags sent Nick Foles to Chicago and seem likely to trade stud defensive end Yannick Ngakoue soon. After making the AFC championship game a few short seasons ago, the Jaguars are expected to be one of the worst teams in the NFL this year. Their odds skyrocketed from 80/1 before free agency to league-worst 200/1 now.
As for the Patriots, this coming season will be an unprecedented one. It will be the first season since 2000 that Tom Brady will not be on New England's roster. It's been a while since the words "Patriots" and "longshot" have been used in the same sentence, but the Pats moved from 14/1 to 30/1 since Brady's departure. It's their highest Super Bowl odds this decade.
What are your team's odds to win the 2021 Super Bowl?
Here are the current Super Bowl odds around the NFL for the 2021 season, according to the Westgate Superbook Las Vegas as of Tuesday. Where does your team stand?
Kansas City Chiefs: 4/1
Baltimore Ravens: 13/2
San Fransico 49ers: 7/1
New Orleans Saints: 11/1
Dallas Cowboys: 12/1
Tampa Bay Buccaneers: 16/1
Philadelphia Eagles: 17/1
Seattle Seahawks: 17/1
Green Bay Packers: 18/1
Buffalo Bills: 20/1
Indianapolis Colts: 20/1
Los Angeles Chargers: 25/1
Pittsburgh Steelers: 25/1
Los Angeles Rams: 28/1
Minnesota Vikings: 28/1
New England Patriots: 30/1
Las Vegas Raiders: 30/1
Tennessee Titans: 35/1
Chicago Bears: 40/1
Cleveland Browns: 40/1
Denver Broncos: 50/1
Arizona Cardinals: 60/1
Atlanta Falcons: 60/1
Houston Texans: 60/1
New York Giants: 60/1
Miami Dolphins: 60/1
Detroit Lions: 100/1
New York Jets: 100/1
Carolina Panthers: 125/1
Cincinnati Bengals: 200/1
Washington Redskins: 200/1
Jacksonville Jaguars: 200/1
All odds courtesy of sportsline.com as of March 24.