Why Did Phil Mickelson and Jim Mackay Part Ways and End 1 of the Best Partnerships in Golf?
Most golfers and caddies eventually go their separate ways, even for Phil Mickelson and his caddie of more than 20 years, Jim Mackay.
A good caddie can help a golfer exceed expectations. So when a pro finds a caddie he thinks is good, the pair often stick together for years and form a close bond. But no partnership lasts forever. Most golfers and caddies eventually go their separate ways. This happened with Phil Mickelson and his caddie of more than 20 years, Jim Mackay.
So what's the story behind the end of their partnership? Are they still friends? Let's explore the Mickelson-Mackay split.
Phil Mickelson wins the 2013 British Open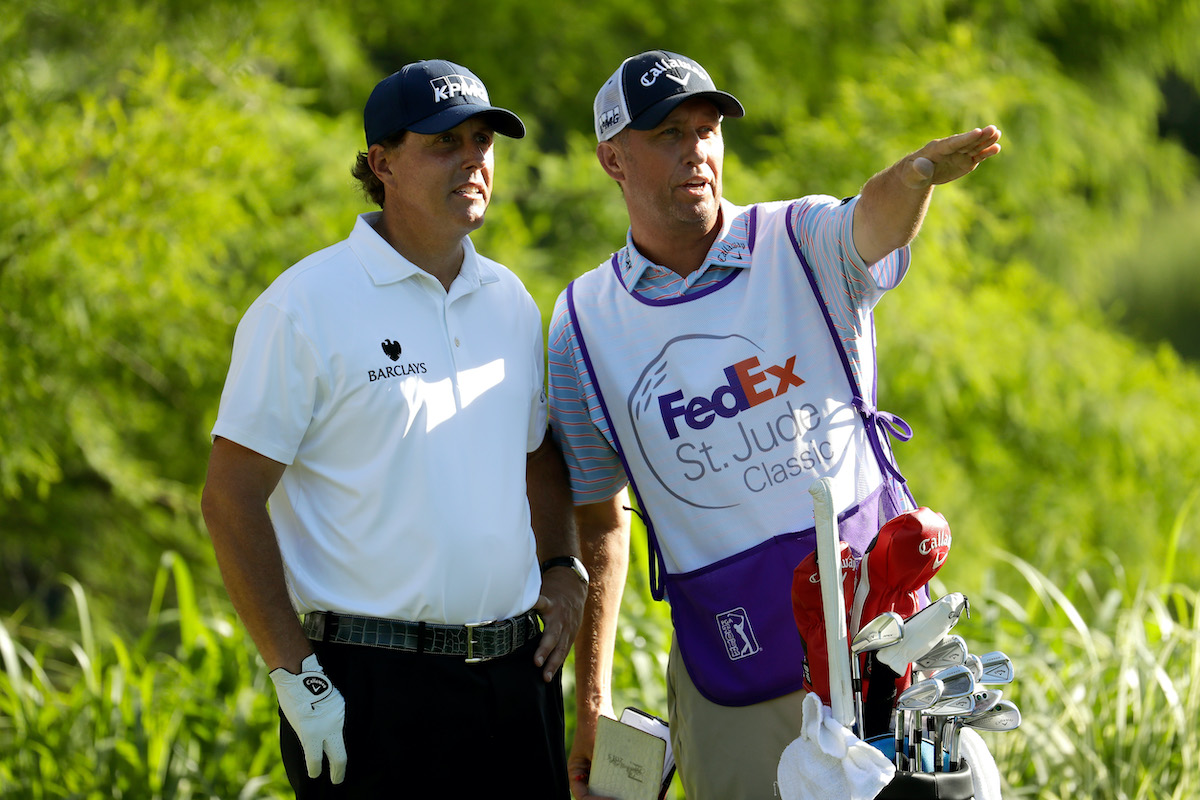 Mickelson won his first and, to date, only British Open in 2013, and that tournament is a microcosm of his relationship with Mackay, who had been caddying for "Lefty" for 21 years at that point. When Mickelson sunk his final birdie putt on 18 on that Sunday, he embraced his longtime caddie and friend. Both of them cried, ecstatic that Mickelson finally won the fifth major title of his storied career.
When Mackay spoke about the victory afterward, he said through tears that "you work for a guy for 21 years, it's pretty cool when you see him playing the best round of golf you've ever seen him play in the last round to win the British Open." Mickelson, meanwhile, complimented Mackay and called him "the only guy trying to work his tail off for me."
Mickelson and Jim Mackay's 25-year partnership
Mackay became Mickelson's caddie when the latter turned pro in 1992. They were together for 41 of Mickelson's PGA Tour wins, including five major championships, and a record 11 Ryder Cups. Working together for that long, the two became good friends. Mackay can even thank Phil for his marriage.
Lefty and his wife, Amy, introduced "Bones" to his wife, Jen, who was Amy's BFF from Arizona State. Mackay flew with Mickelson on the golfer's private plane when he went overseas. But even the best relationships come to an end at some point.
Theirs did in 2017 — 25 years after they started working together. The breakup ended what was the longest-tenured golfer-caddie partnership on the PGA Tour.
The end of Mickelson and Mackay's partnership
As Golf Digest reported, Mickelson and Mackay mutually agreed to part ways after a quarter-century of working together. Mickelson released a statement saying they were "25 very rewarding and memorable years." He said they "just feel it's the right time for a change." The golfer emphasized that the decision didn't come from a single incident.
Mickelson praised Mackay as "one of the most knowledgeable and dedicated caddies in the world." He called him "one of the most important and special people" in his life since the two met. The golfer said he was grateful for everything Mackay did for him, and the Mickelson family would always consider Mackay and his family to be part of their own.
Mackay released a similarly complimentary statement. He wished Phil "nothing but the best" and promised to "be among the first to congratulate him" for future wins. The news surprised the golf world. But Mickelson had not won since the 2013 British Open, a period of about four years. So he may have felt he needed someone new to help him regain success.
After parting ways with Mickelson, Mackay went into TV. He joined NBC Sports and the Golf Channel as a golf analyst.
Other long-time sports partnerships
If it seems like 25 years is a long time for two people to work together in sports, it is. It seems like Tom Brady and Bill Belichick were together on the Patriots forever. They had a longstanding partnership that lasted 19 years.
It's the same in the NBA, with Tim Duncan and Gregg Popovich on the Spurs. The player and coach were together for a long time, but even they can't match Mickelson and Mackay's 25 years; they were also together for 19 years.