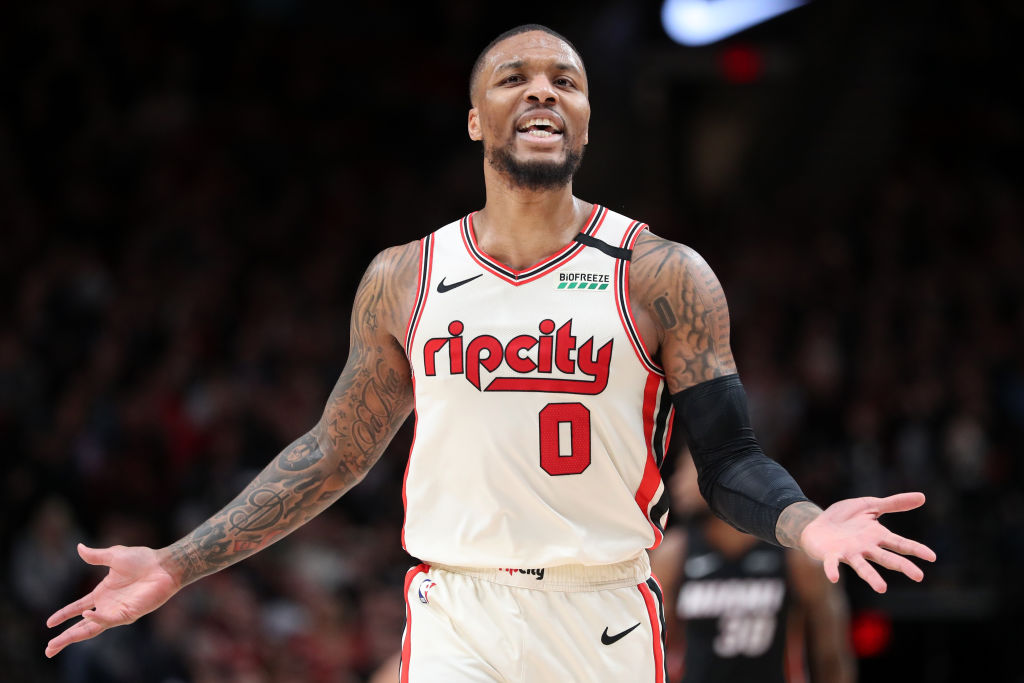 Why Does Damian Lillard Wear No. 0?
Portland Trail Blazers star Damian Lillard is one of the best players in the NBA. Why does he wear No. 0 on his jersey?
Damian Lillard is one of the best point guards in the NBA. He has risen to stardom with the Portland Trail Blazers over the years and is now one of the top scorers in the league. When fans watch Lillard on the court, though, they see him sporting that No. 0. With numbers usually meaning something to athletes, why does Lillard wear No. 0?
Damian Lillard was dominant at a small school
Coming out of high school, Lillard was not a big-time recruit as he was just a three-star, according to 247Sports. Lillard ended up playing college basketball at Weber State. 
After scoring 11.5 points per game during his freshman year at Weber State, Lillard was really good during his sophomore year in 2009-10. He averaged 19.9 points per game, along with four rebounds and 3.6 assists.
He then only played in a handful of games during 2010-11 but came back and was dominant in 2011-12. Lillard scored 24.5 points per game that season to go with five rebounds and four assists. He did all of it on 46.7% shooting too, in addition to 40.9% from 3-point range. 
Lillard's play in college led to him becoming a top prospect in the 2012 NBA draft.
He has been a star for the Portland Trail Blazers
The Portland Trail Blazers selected Lillard with the sixth overall pick in the 2012 NBA draft. He has ultimately become one of the best players in the entire league. Lillard has earned five All-Star selections in his career and has earned All-NBA honors four times.
In his rookie season, Lillard earned the Rookie of the Year award as he averaged 19 points per game to go with 6.5 assists. He has since averaged 20 points per game or more every season since 2013-14. Lillard has also averaged 25 points per game or more every season since 2015-16. 
Last season, Lillard not only had a great season individually, but the Trail Blazers were really good as a team. They went 53-29 and reached the Western Conference Finals before losing to the Golden State Warriors. Lillard also averaged 25.8 points per game and 6.9 assists.
This year, before the NBA suspended its season, Lillard was averaging career-highs in points per game with 28.9 and assists with 7.8. This is in addition to 4.3 rebounds per game. When the season returns, the Trail Blazers will be just three-and-a-half games back from a playoff spot as they are the ninth seed with a 29-37 record. 
Why does Lillard wear No. 0?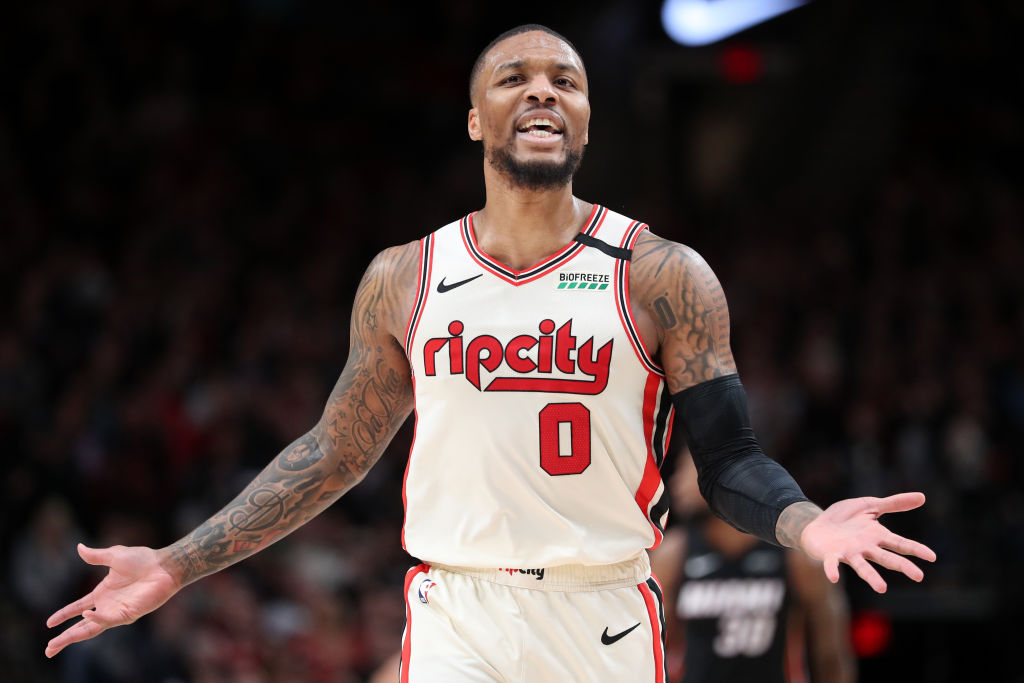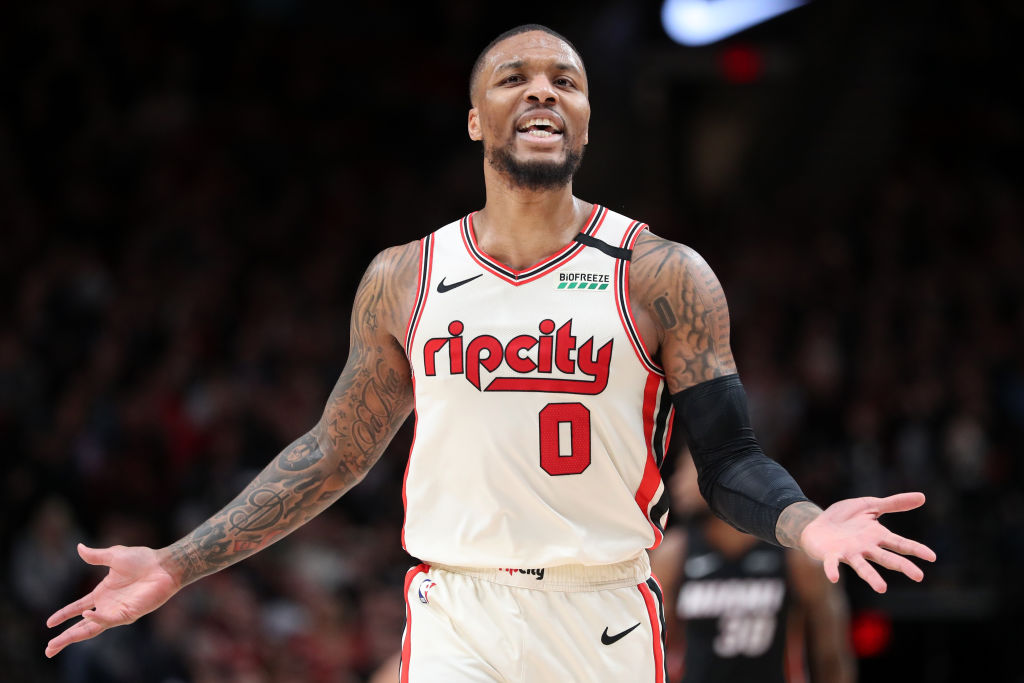 Numbers typically mean a lot to athletes. Tobias Harris of the Philadelphia 76ers is one example. He wears No. 12 to honor his former AAU teammate, Morgan Childs, who died due to leukemia at just 16 years old, according to NBA.com.
So, why does Lillard wear the number that he does?
He explained why when he announced his jersey number on Twitter in 2012, according to The Oregonian. 
"Grew up in Oakland, college in Ogden, and my NBA team is in Oregon," Lillard said, according to The Oregonian.
For clarity, Lillard grew up in Oakland, California; Weber State is located in Ogden, Utah, and of course, Portland is in Oregon. 
So, does Lillard not actually wear a number, but instead the letter "O"? Pretty much. Even the public address announcer at the Trail Blazers' home games says "The letter O," during the pregame introductions, according to The Oregonian. 
Damian Lillard is one of the biggest stars in the NBA. The next time you see him playing with the No. 0 on his jersey, though, it is not because he thinks zero people in the NBA can guard him, or because zero players are better than him. Lillard wears No. 0 to honor the places that helped mold him into the man he is today.
Stats courtesy of Sports Reference and Basketball Reference