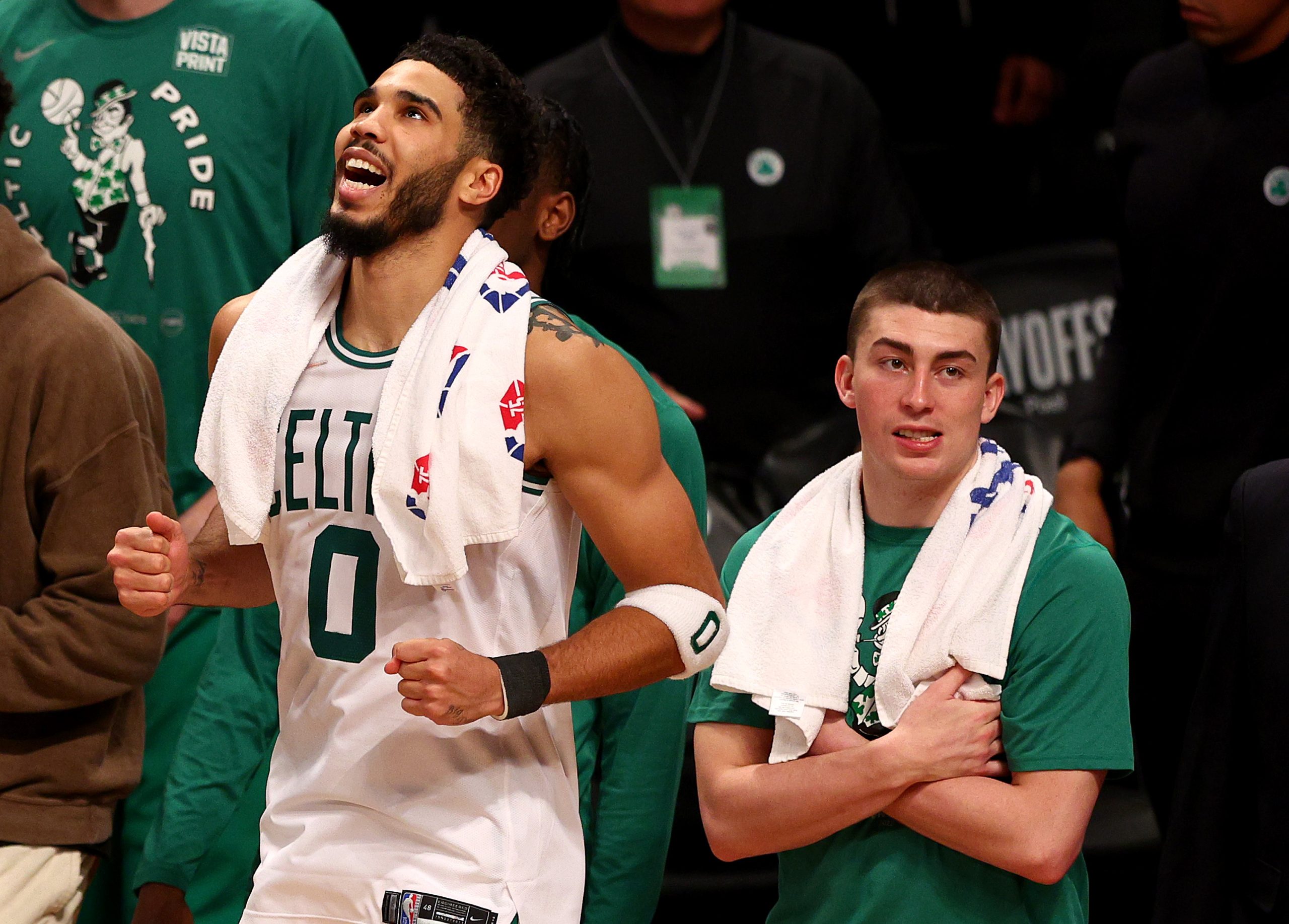 Why Does Jayson Tatum Tug His Ears Before Each Boston Celtics Game?
Jayson Tatum and the Boston Celtics made quick work of the Brooklyn Nets.
Jayson Tatum is blossoming right before our very eyes. The three-time Boston Celtics All-Star has entered superstar status after being the best player on the court that included Kevin Durant and Kyrie Irving.
With each playoff series, the spotlight grows brighter on Tatum. The camera is usually drawn to No. 0, and if you're paying attention, you'll see him grab his ears before every game. It's something he's been doing since his middle school days.
The Jayson Tatum-led Boston Celtics are the hottest thing going in the NBA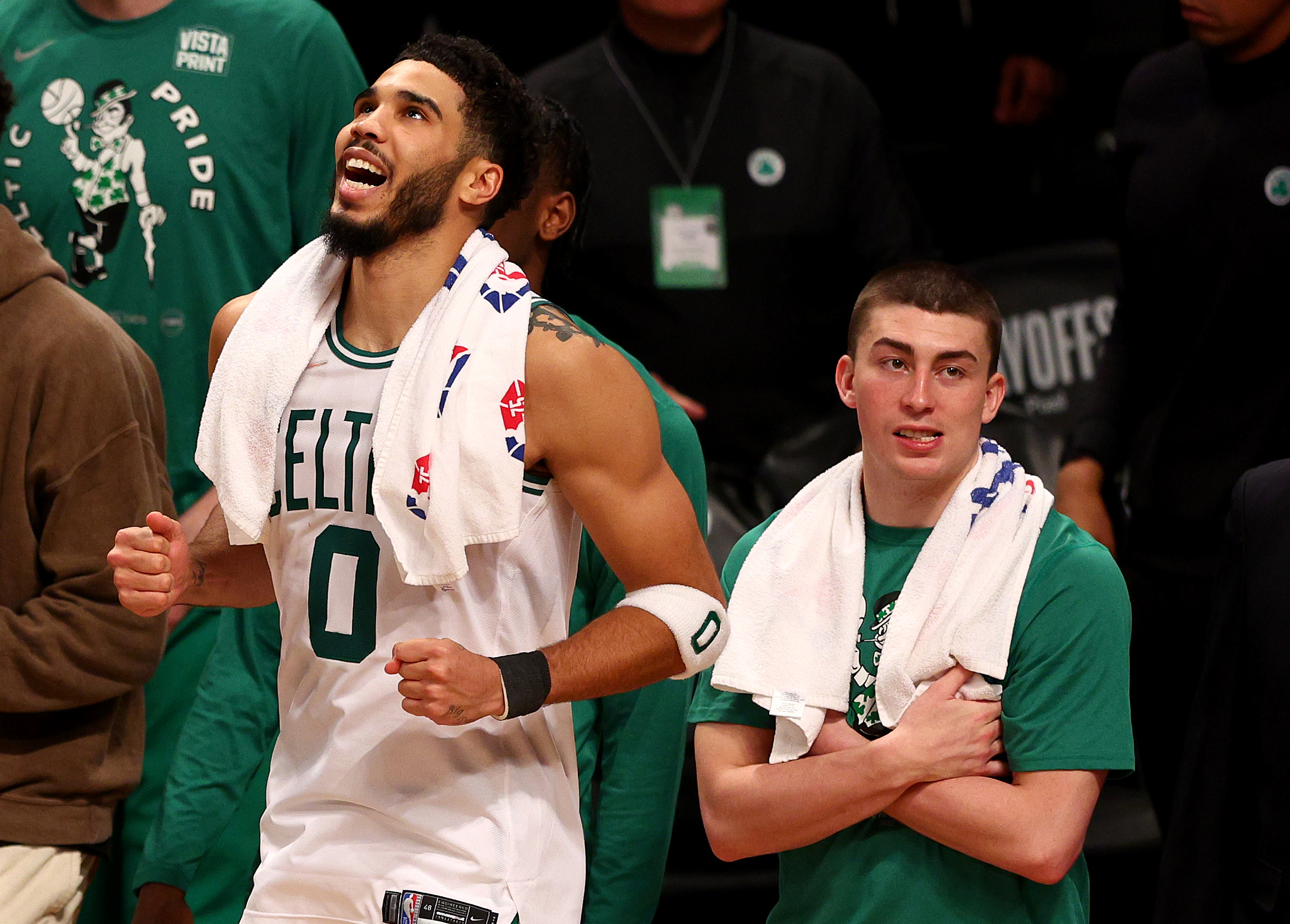 Beating the Brooklyn Nets in the opening round of the NBA playoffs didn't come as a complete shock to many. The four-game sweep certainly raised a few eyebrows.
The Celtics entered the postseason as the hottest team in the Eastern Conference, but it was their rough start that's proven beneficial. Through 50 games, the Celtics looked lost. They stood at 25-25 and had blown numerous big leads that led to some serious frustration.
Marcus Smart publicly called out Tatum and Jaylen Brown, the team's biggest stars, for not passing the ball enough. First-year coach Ime Udoka grew frustrated with his squad's lack of effort on several occasions. Udoka then questions his team's mental toughness after yet another blown loss to the New York Knicks in January. All that has paid off for the Celtics.
During Game 1 against the Nets, the Celtics saw their 11-point, fourth-quarter lead quickly disappear. Had that happened three months ago, the Celtics likely would have crumbled. Instead, they rallied from a five-point deficit, earning the win on Tatum's buzzer-beater.
Boston won the next three to stun the Nets in four games.
Why does Jayson Tatum tug his ears before each Boston Celtics game?
Many players have a little routine they run through before each game. If you've ever seen Tatum just before the opening tip, you might notice him pulling on his ears. That all started back in middle school.
Back in 2014, when he was a star at Chaminade College Prep in St. Louis, he spoke about his pregame ritual.
"Before every game, I look up into the stands and I find my grandma," Tatum said, per Yahoo Entertainment. "We know to look for each other before the game. When we make eye contact, I tug on my ear and she'll do the same. It's basically something to let each other know it's time to go out there and give it my all."
Tatum said it had been going on for quite some time.
"I've done it ever since middle school with my grandma and it's something that's carried over to now," he said. "It just wouldn't feel right if I didn't do it. That's just my thing. I feel like I have to do it."
Five years into his professional career with the Celtics, he's still doing it.
Tatum and the Celtics are moving on in the playoffs
The Celtics earned themselves some time off with the quick series against the Nets. They will face the winner of the Milwaukee Bucks/Chicago Bulls series. The third-seeded Bucks hold a 3-1 lead and can close things out at home with a win Wednesday.
With the Celtics' victory, comes confidence. It's something Tatum had always had, but it may have grown a bit after knocking off Durant and Irving the way the Celtics did.
"I knew I had to be on the top of my game in this series," Tatum said after the game. "I'm not surprised by how I played. I do feel like I'm one of the best players. That's how I approach the game, regardless of who's on the other team."
Udoka said he could see how much it meant to Tatum to go up against two of the game's best.
"We talked to him about being the guy every night he steps on the court, and you could tell he was extra motivated for this series and that matchup," Udoka said.