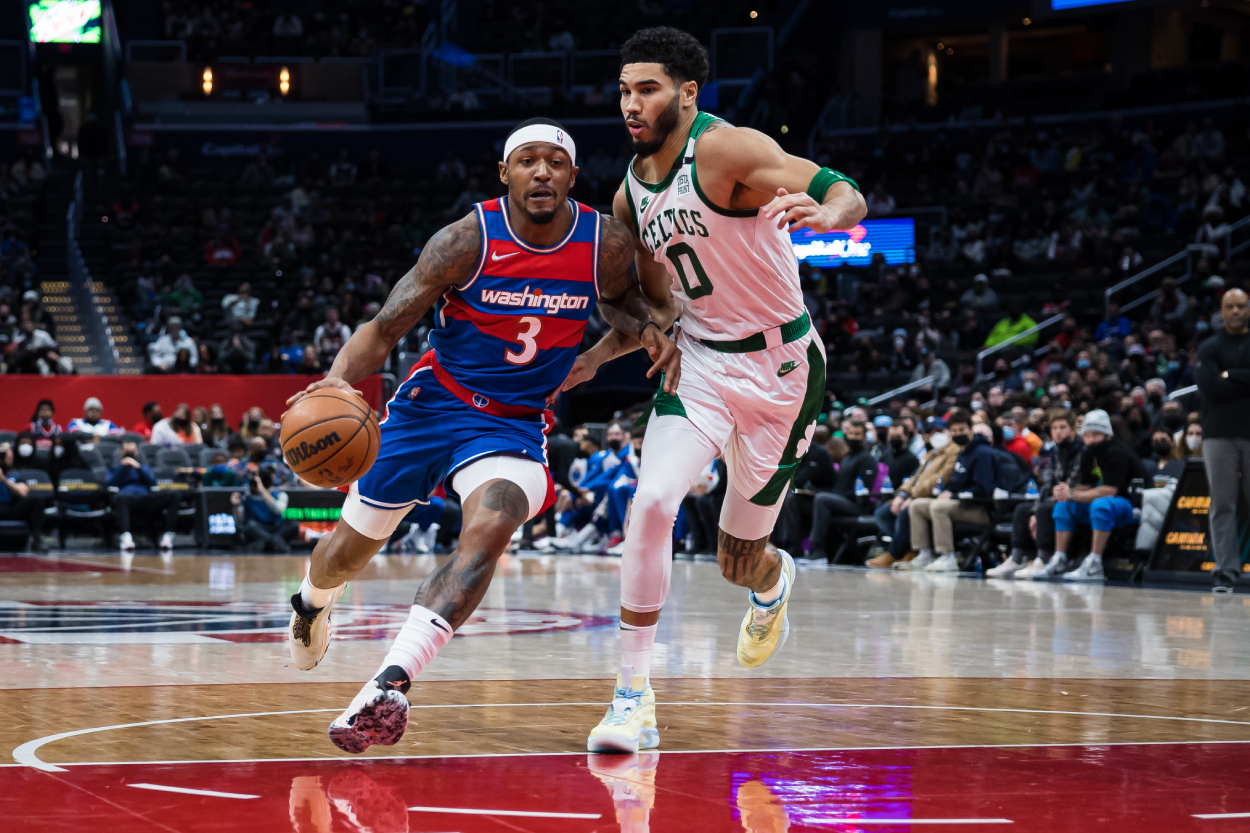 Jayson Tatum Explains Why His Mother Cussed Out His 'Perfect Role Model' Bradley Beal
Bradley Beal and Jayson Tatum still have a strong relationship after all these years.
Jayson Tatum and Bradley Beal are five years apart, yet they grew up best friends. Maybe it was more of a big brother-little brother relationship. In either case, Tatum, the young Boston Celtics star, recently said he owes everything to the Washington Wizards standout.
The two grew up in St. Louis and attended the same school. Beal took Tatum under his wing, yet there came a time when Tatum's mother had to lay into Beal.
Jayson Tatum has turned himself into a legitimate NBA superstar with the Boston Celtics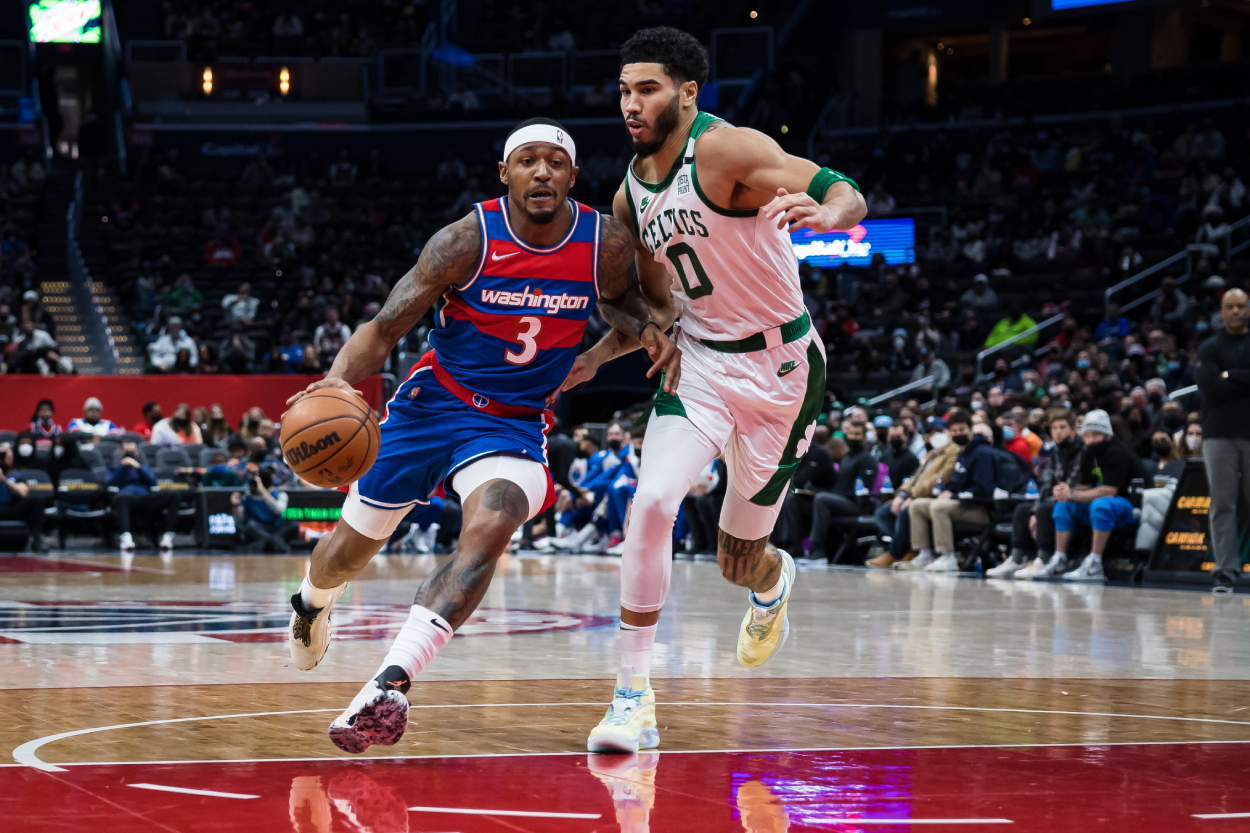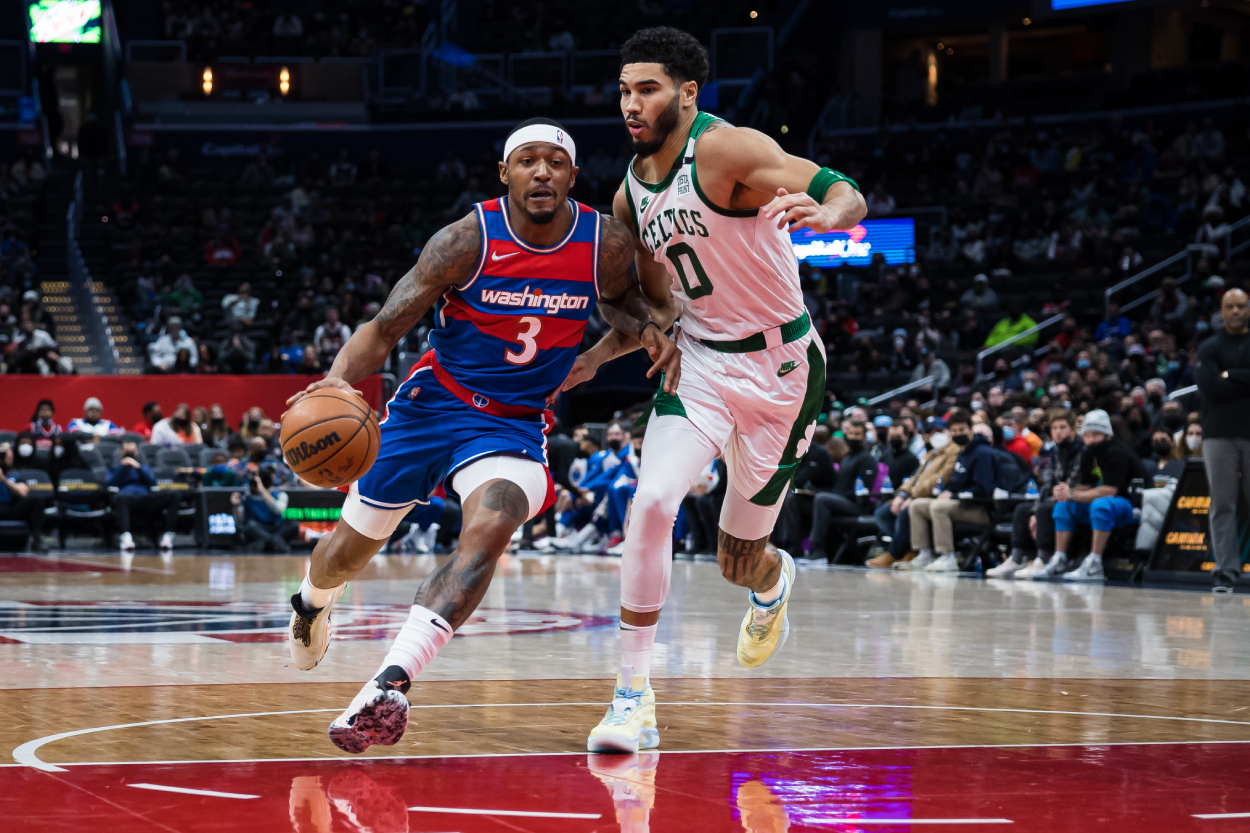 Although he had already been a two-time NBA All-Star, Tatum has really come into his own this season. It took some time to get going, but he's turned himself into a late MVP candidate.
Tatum and the Celtics struggled mightily earlier this year. His shooting woes were a hot topic, and through the first 50 games, Boston underachieved at 25-25. In early January, the Celtics became the hottest team in the Eastern Conference and entered All-Star Weekend by winning nine of their last 10 games.
Tatum and the Celtics have positioned themselves nicely for the postseason. What once seemed like the playoffs were an uncertainty has now become a fight for the top seed in the conference. Tatum has led the charge.
The five-year star had career-highs in points (27.0) and rebounds (8.0) this season and had a spurt where he racked up 30 or more points in eight of 10 games. The Celtics went 9-1 during that stretch. He went for 54 in a victory over the Brooklyn Nets and followed that up with 44 against the Charlotte Hornets.
Jayson Tatum opens up on his relationship with Bradley Beal and explains why his mother cussed out the Wizards guard
Tatum was a recent guest on The Draymond Green Podcast and spoke in-depth about his relationship with Beal. They attended Chaminade College Preparatory School, and Tatum was a seventh-grader while Beal was tearing it up on the basketball court as a 12th grader. Tatum explained how Beal played the role of big brother to perfection.
"I had a perfect role model, a perfect visualization every day or where I wanted to go and what I wanted to be," Tatum said of Beal. "He was living proof. Getting to see him every day in the classroom, working out after practice, him dropping me off after school every day, and going to the games and seeing him put on a show. It was the perfect scenario for me.
"I want to get to where he's getting to. I get to see his everyday routine up close. I'm forever grateful for that and for being in that position."
There was, however, one time when Tatum's mother had to have a little talk with Beal.
"There's plenty of summers where I'd spend the whole day with him," Tatum said. "Brad was the first person to take me to the club when I was like 16. He took me to the club a few times. My mama found out. She cussed him out, but it was all love after that.
"That's the kind of relationship that we had. My mom cusses Brad out in front of my house one day like you got my son at the club and he's still got stuff to lose blah blah blah. It was just the principle. She wasn't really mad, but she couldn't act like she was cool with it."
Beal said he hoped Tatum would become the better player
Tatum and Beal have become stars in the NBA. Beal is a three-time NBA All-Star playing in his 10th season for the Wizards.
Tatum has become a top-10 player in the league in half that time. Tatum knows he wouldn't have become what he is today without Beal's guidance and direction.
"He always was telling me that he wanted to do for me what nobody did for him," Tatum said. "From that point on, I've always had nothing but love and the most respect. He didn't have to do that.
"From Day 1, he always told me that he wanted me to be better than him. He wanted to show me the ins and outs, the things that he wished he knew. I wouldn't be here if it wasn't for Brad. As I got older, we got much closer.
"Brad is the big brother that I didn't have."
All statistics courtesy of Basketball Reference.