Why Is Everyone Ignoring Obvious Website That Definitively Answers if Jimmie Johnson Should Be Hall of Fame-Eligible Even When Racing in 2023?
By most accounts, Jimmie Johnson is a first-ballot NASCAR Hall of Famer. He's considered one of the Cup Series GOATs with 83 wins and seven championships. But a heated debate about Johnson's eligibility for induction into the 2024 class has flared up since the former Hendrick Motorsports driver announced his return to racing for the 2023 season.
While it's universally agreed he'll be enshrined, the argument is about the timing. One contingent believes racing in the Cup Series, albeit on a part-time basis, takes away his retirement status, and resets the eligibility clock to two years. Others think it shouldn't matter, that he's met the requirements, and should be inducted next year as expected. 
One of them is spot on. And surprisingly, there shouldn't even be a debate in the first place because the answer is clearly stated on the NASCAR Hall of Fame website. 
Jimmie Johnson races to Hall of Fame career
Impressive. That's one way to describe the numbers for Jimmie Johnson in his NASCAR Cup Series career. During his 19 full-time seasons, the No. 48 car recorded 83 victories, many of which were big ones, including multiple wins in each of the crown jewels.  
While the individual victories are important, it's the bigger picture where Johnson set himself apart from the rest of his competition. He won seven championships, tying him with Dale Earnhardt and Richard Petty for most of all time.
The HMS driver hung up his helmet for a final time after the 2020 season finale at Phoenix. Or so everyone thought.  
Some suggest Johnson shouldn't be eligible because of his return to racing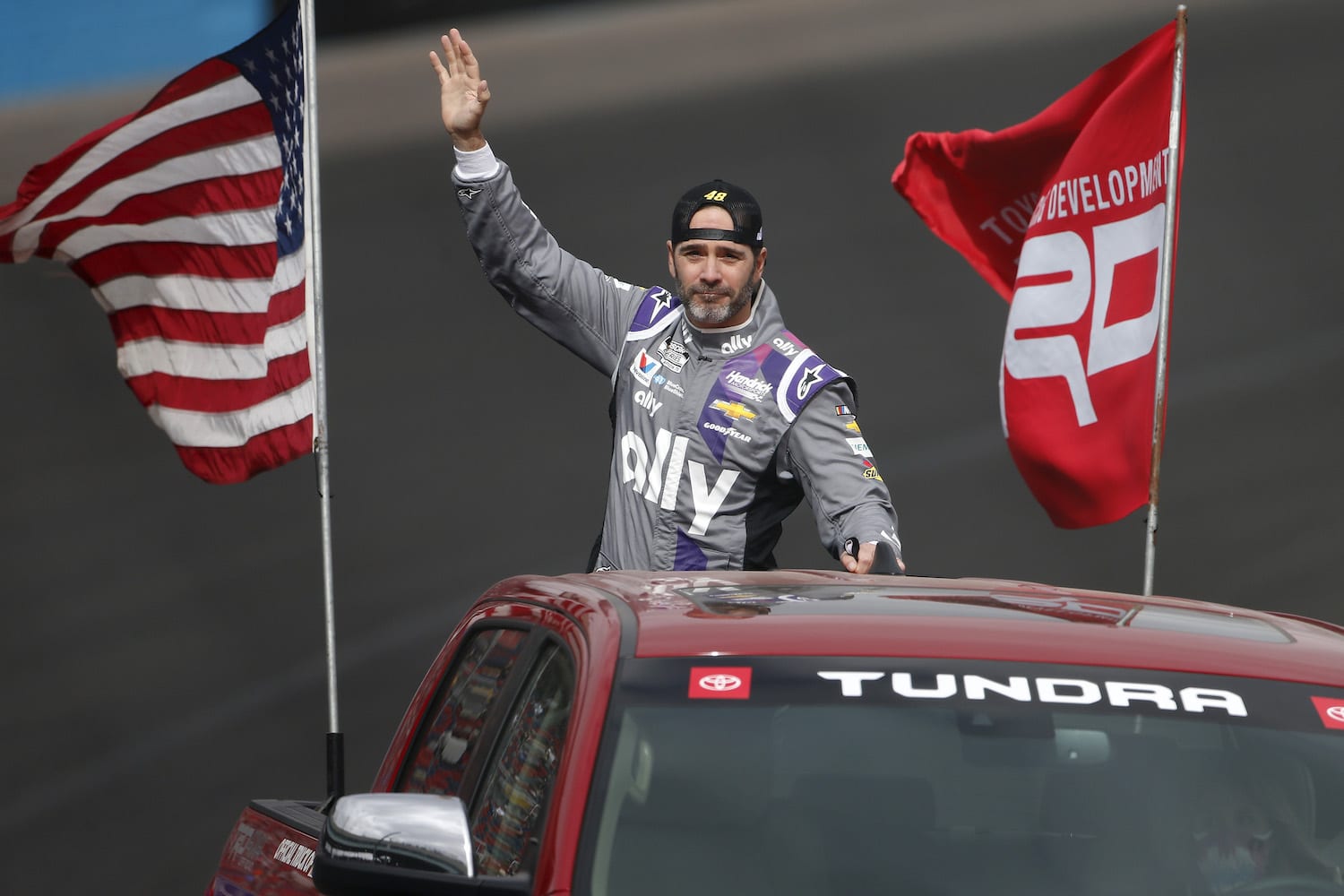 With Johnson retiring after 2020, his Hall of Fame eligibility status clock began ticking. Based on the rules, he would be eligible for nomination in 2023 and induction in 2024. 
In November, Johnson, who had teased a potential NASCAR return for months, announced he was joining Petty as a co-owner of Legacy MC, and would race a limited Cup schedule in 2023. That decision immediately called into question his Hall eligibility status. 
Two-time Truck Series champion Todd Bodine shared his thoughts on the situation and stated why he didn't think Johnson should go into the Hall in 2024.  
"Well, I'm old school," Bodine said during an interview on SiriusXM NASCAR Radio. "And I think that to be eligible, part of that criteria needs to be non-active. And whether that's part-time, full-time, one race, 10 races, it doesn't matter. If you are actively participating, you are not retired. That's how I look at it." 
Fox's Bob Pockrass agreed with Bodine, with a caveat.
"My brain tells me he shouldn't be eligible for the Hall," the veteran reporter wrote. "Just like Jeff Gordon and Matt Kenseth should have had to wait another year after their returns. But since Gordon and Kenseth didn't have to wait, then Johnson shouldn't have to wait as well."
Johnson and his Hall of Fame eligibility plainly stated on website 
While it's not surprising that Bodine and Pockrass hold the same sentiment shared by one contingent of fans, there should be absolutely no question about Johnson's Hall of Fame eligibility. Why? The NASCAR Hall of Fame website explicitly states why Johnson is eligible and his return to competition should not have any effect.
Under the section – "WHO IS ELIGIBLE TO BE NOMINATED/INDUCTED INTO THE NASCAR HALL OF FAME?" — it initially provides the qualifications necessary, and reads: "Drivers who have competed in NASCAR for at least 10 years and have been retired for two years are eligible for nomination to the NHOF." Check.
After detailing the other qualifications for both the Modern Era and Pioneer Ballots, there's a single sentence that specifically addresses Johnson's situation.
"Drivers may continue to compete after reaching any of the aforementioned milestones without compromising eligibility for nomination or induction." Check.
There you have it. It can't be any more clear than that. Johnson will be going into the Hall of Fame in 2024.