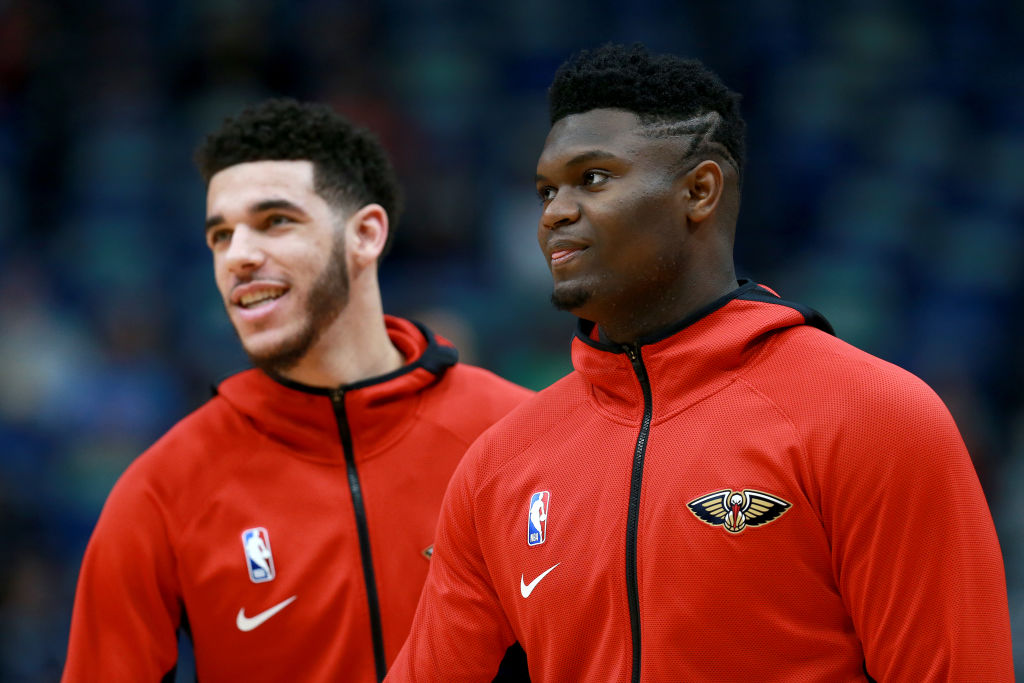 Why Lonzo Ball Is Having 'a Lot of Fun' Playing Alongside Zion Williamson
New Orleans Pelicans guard Lonzo Ball is having "a lot of fun" playing alongside rookie phenom Zion Williamson.
As the old cliche says, "if you love what you do, you'll never work a day in your life." While playing professional sports might seem like a dream job, the NBA season can still be an incredible grind; with that in mind, it's important that the players still have fun. On the New Orleans Pelicans, Lonzo Ball and Zion Williamson are doing just that.
While the two haven't spent a great deal of time on the floor together—Zion, of course, missed several months with a knee injury—they've already struck up a relationship. In fact, Lonzo Ball recently told reporters that he's having a lot of fun playing alongside the rookie.
Zion Williamson is belatedly making an impact
After watching him dominate the competition at Duke, everyone knew that Zion Williamson had the makings of an NBA star. While he confirmed that potential in the preseason, knee surgery meant the rookie had to wait until 2020 to make his full debut.
Once Zion hit the court, however, he didn't waste any time. The forward proved to be as much of a force in the pros as he was in college; if he receives the ball around the rim, he's simply too strong and athletic to contain. Through the first 19 games of his professional career, Williamson is averaging 23.6 points, 6.8 rebounds, and 2.2 assists per outing and already placing himself alongside the likes of Michael Jordan and Giannis Antetokounmpo.
Zion has also had an impact on the Pelicans' playoff push. Despite their early-season struggles, the club only sits 3.5 games out of the eighth spot in the Western Conference; 538 gives them a 60% chance of making the postseason. While the team's longterm future obviously outweighs this campaign, it would still be a bonus for the young squad to gain some playoff experience.
Why Lonzo Ball likes playing with Zion Williamson
In professional sports, teammates aren't always going to get along. Lonzo Ball, however, is already enjoying playing with Zion Williamson for one simple reason: it makes his job easier.
"He makes my game very easy, honestly," Ball explained. "Whether it's pick-and-roll or throwing the ball up there for him to get it. He requires a lot of attention on the offensive end, so he frees up a lot of open shots for other guys, including myself. It's been a lot of fun playing with him on both sides of the ball."
While it's tough to isolate individual factors—there are so many moving parts on a basketball court—the stats do seem to somewhat confirm what Ball is saying. The guard's assists in January, February, and March are higher than they were earlier in the season; his scoring doesn't follow as clean of a trajectory, but he is posting big numbers thus far in March.
The best players make everyone around them better
Anyone who has watched the Pelicans this season can tell you that Zion Williamson is incredibly talented. Lonzo Ball's quote, however, tells you a bit more about the value of a star player.
Beyond Williamson's offensive output, his mere presence on the floor is disruptive. The league's best teams force you to pick your poison on defense; you can't double team both Paul George and Kawhi Leonard or both LeBron James and Anthony Davis, for example. While the Pelicans might not have two stars at that level, Zion does make life easier for Ball, Brandon Ingram, and Jrue Holiday.
It's also worth remembering that Zion Williamson has barely scratched the surface of his NBA career. As he continues to develop, he'll only become more of a presence on both ends of the court. For his teammates and fans, the fun is only getting started.