Will Zalatoris Owes His First Professional Golf Victory to a Brilliant but Cruel 'Mind Trick' His Caddie Played on Him
Professional golfers would be nothing without their caddies. Their ability to calculate pinpoint distances, factor in the wind, and read greens is obviously helpful, but the most crucial part of their job is to keep their boss in a good headspace on the course.
Golfers need a right-hand man (or woman, shoutout Lee Westwood) to calm them down and keep them focused at all times, but especially when victory is within reach on a Sunday afternoon. For PGA Tour rookie Will Zalatoris, he might not even have a professional win if it wasn't for a brilliant "mind trick" his caddie played on him down the stretch of the tournament.
Will Zalatoris has just one victory as a professional golfer
Zalatoris is lighting up the PGA Tour this season, but it was just one year ago when he was still fighting for a promotion from the Korn Ferry Tour. The 24-year-old tore through the KFT last season with 10 top-10 finishes in 16 starts, and he notched his first victory as a professional along the way.
Last July, Zalatoris shot 67, 67, 70, 69 to win the TPC Colorado Championship at Heron Lakes. After a nervy start to his final round with a bogey on the second hole, the young phenom rebounded with four birdies and no more bogeys the rest of the day to eventually win by one stroke over Chase Johnson.
Zalatoris looked cool, calm, and collected down the stretch of the tournament, and he has his caddie to thank for that.
Zalatoris owes his first win to a brilliant "mind trick" from his caddie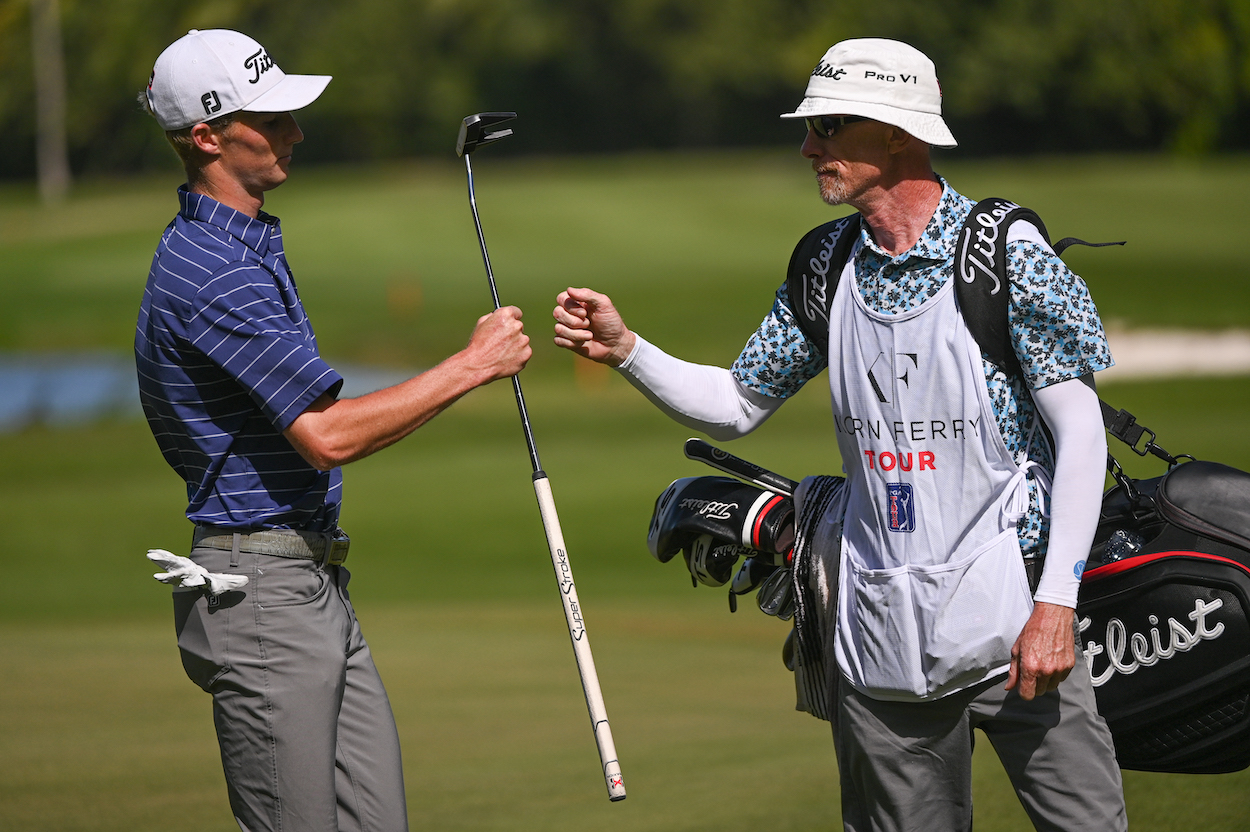 Zalatoris sure looked to be in complete control of his emotions as he maneuvered through the back nine of his first professional win. He shot a 2-under 34 coming in and made some clutch putts to hold off the pack in the end.
But as he approached the finish line that day, the Wake Forest product was only in the right headspace because of a unique "mind trick" his longtime caddie, Ryan Goble, played on him down the stretch.
Zalatoris told the story this week from Sedgefield Country Club ahead of the Wyndham Championship.
"When I won in Colorado, well, on 15, it's a very gettable par 5. I hit it over the back of the green and I had about a 35-footer, and I left it hanging on the lip," Zalatoris said. "Ryan could tell I was frustrated. We get up on to 16 tee and it's like a 122-yard par-3 down the hill with a false front, and I'm pacing off the yardage. I'm like, 'I've got 122.' He said, 'Pace it off again.' I'm looking at him like, 'You've got to be kidding me. I'm trying to win a golf tournament. You've got a different number?' And I walk it off again and I get 122. I look at him and he's smiling and I knew immediately what he was doing was actually trying to get me to slow down and just take a moment. Don't press and make a mistake when you don't have to, because the first thing if someone tells you to calm down, you're like, well, no, I'm not going to calm down. You calm down.
"So it was a really kind of good little mind trick that he played on me, and I ended up hitting the shot to 8 feet, making birdie and we ended up winning the tournament by one."
Brilliant work by Goble in the most pressure-packed moment of his partner's life. It's safe to say he's got that job locked up for a while.
The rookie faces a rare must-win situation at the Wyndham Championship
Despite having played 24 events on the PGA Tour this season, Zalatoris isn't even a member of golf's premier circuit yet. He was set to earn his Tour card before the year started, but none were given out to any newcomers because of COVID-19.
Unfortunately for Zalatoris, that means he hasn't been able to accumulate FedEx Cup points all season. And no FedEx Cup points means no playoffs. The only way he can sneak into the postseason is if he wins this weekend's regular-season finale at the Wyndham Championship.
Hopefully, Goble has another trick up his sleeve to propel the rookie to another victory.