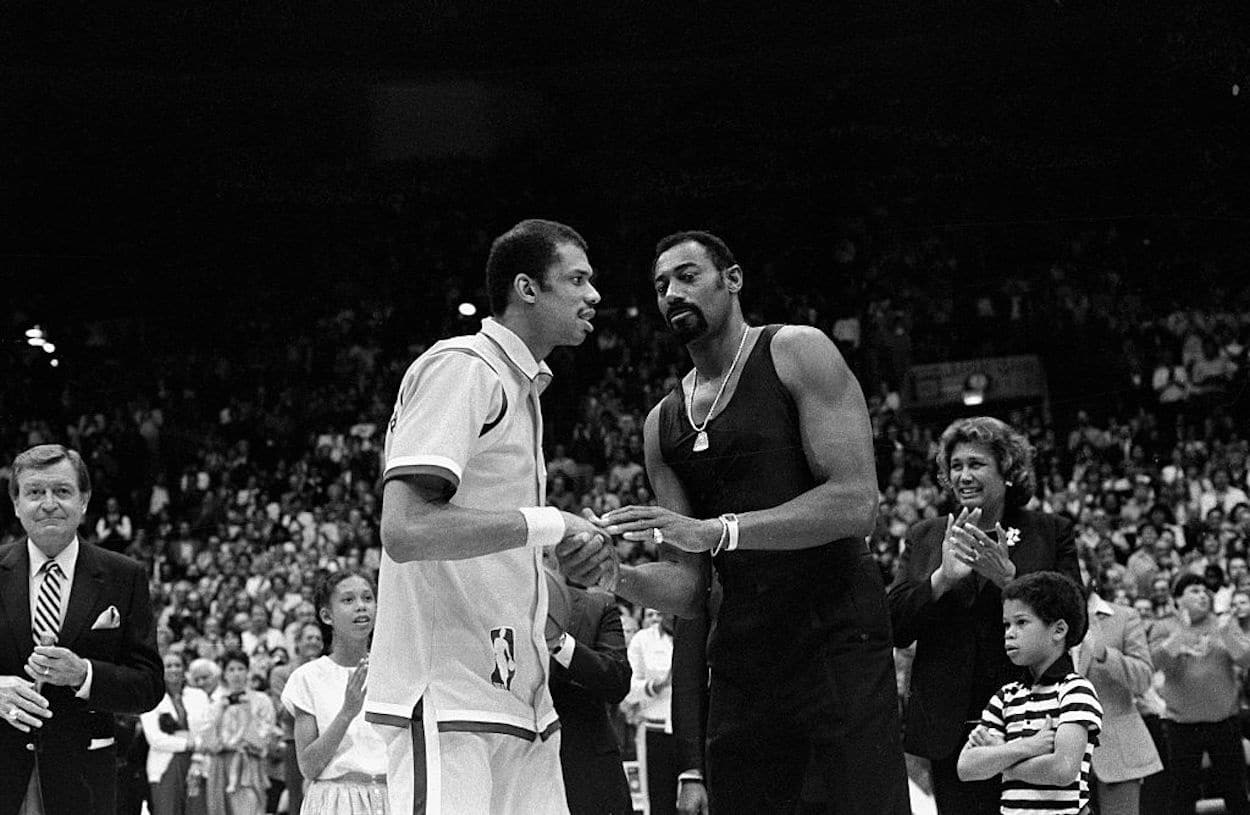 Wilt Chamberlain Might Have Changed NBA History By Complimenting Kareem Abdul-Jabbar's Legs and Suggesting He Work Out
While Kareem Abdul-Jabbar and Wilt Chamberlain eventually had a falling out, their relationship started out on a much different note.
These days, it's easy to think of Kareem Abdul-Jabbar as a fully formed and intelligent man. Whether he's talking about society or basketball, the big man is ready to go with an insightful take. At this point in his life, he's largely been there and done that, making him more than capable of speaking from experience. That wasn't always the case, though.
As a teenager, Abdul-Jabbar, then known as Lew Alcindor, happen to cross paths with the legendary Wilt Chamberlain. The center was at the height of his powers, and the young basketball player was understandably awed.
And while it would have been easy to simply watch from afar, Kareem approached the big man and said hello. Not only did that set the stage for an incredible compliment, but it might have also changed Abdul-Jabbar's life.
Wilt Chamberlain complimented Kareem Abdul-Jabbar's legs shortly after they met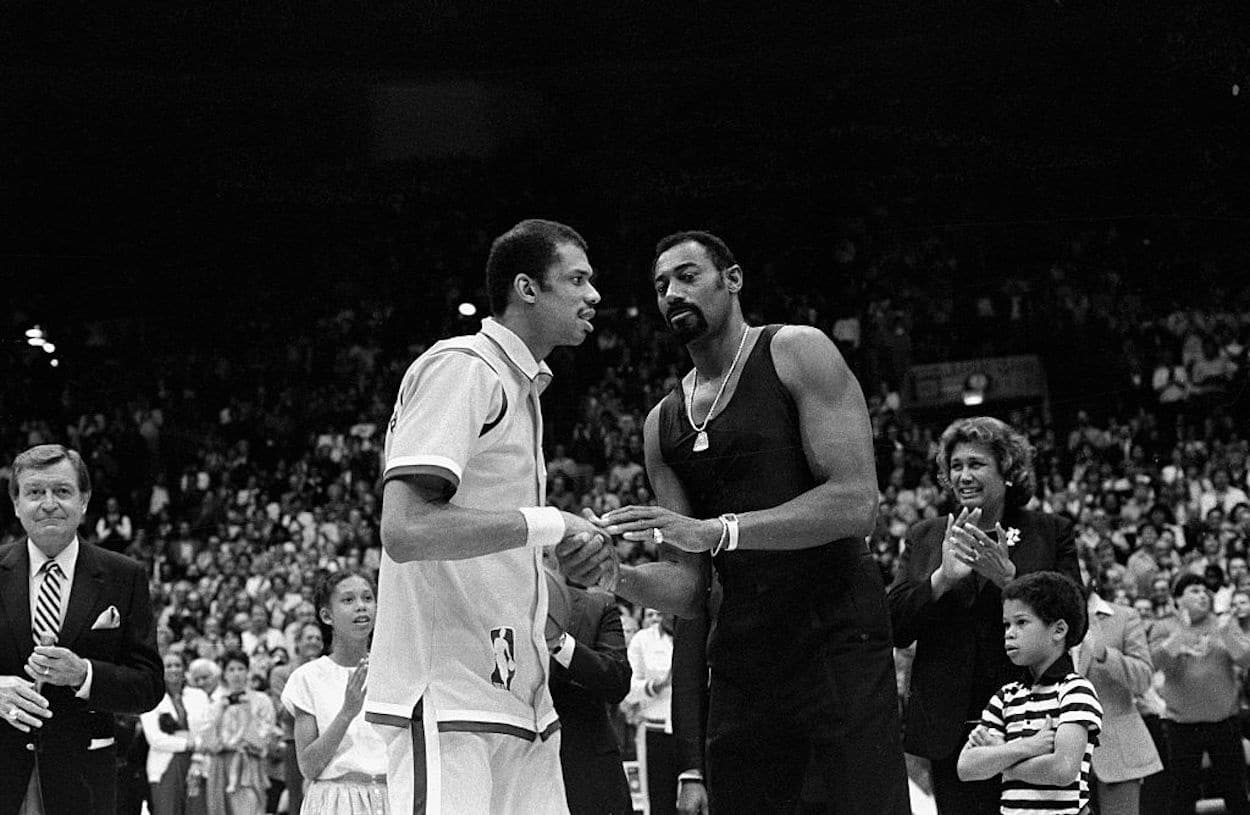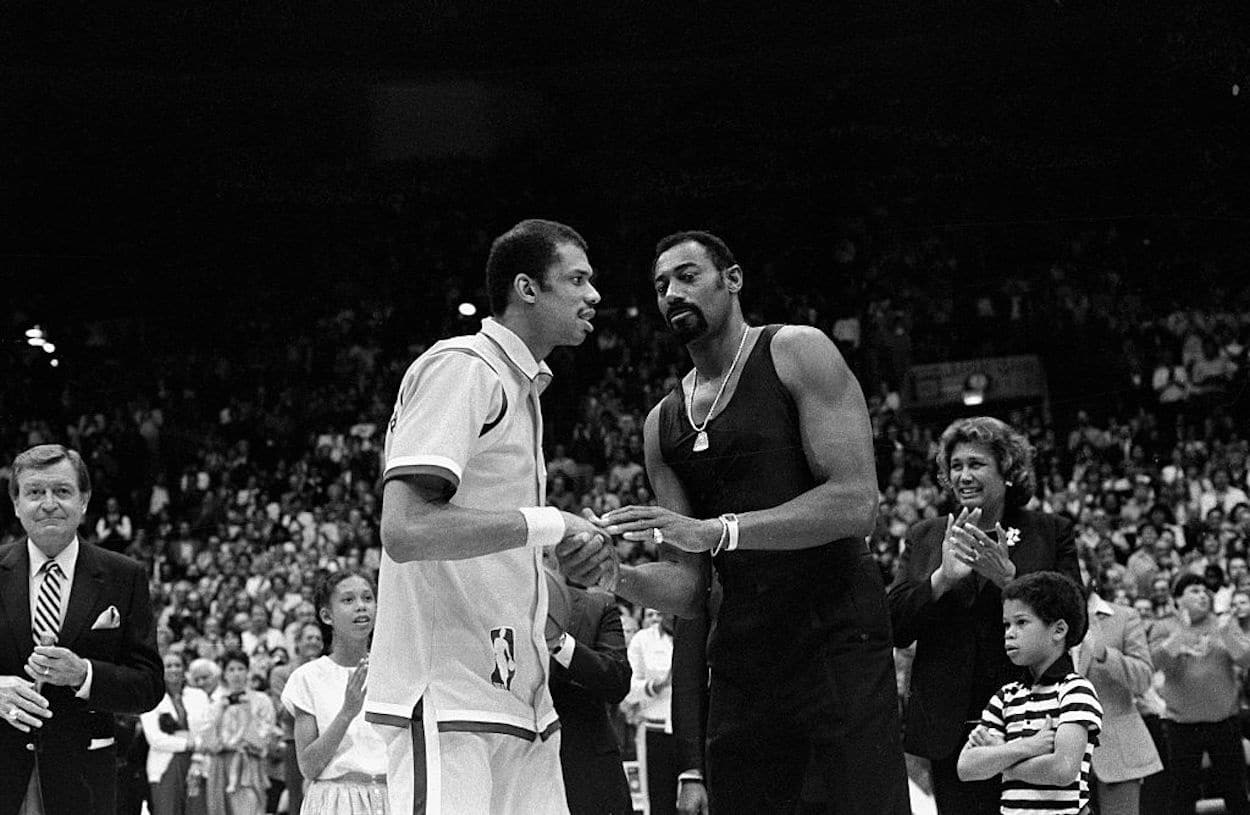 As professional athletes have become bigger celebrities, they've moved further and further out of the public sphere. During Kareem Abdul-Jabbar's teenage years, though, that wasn't the case.
In his book Becoming Kareem, the big man remembered heading up to Rucker Park and seeing Wilt Chamberlain preparing to hit the court. While Abdul-Jabbar was feeling a bit shy, his friend insisted they say hello to the center.
"I managed to choke out, 'I'm Lew Alcindor,'" the center recounted. "'Oh yeah, I've heard of you,' Wilt said with a grin. 'You're the young boy that plays for the Catholic school. Supposed to be getting good.'"
As you'd expect, that made quite an impact on the teenager. But even with that being said, the fairy-tale moment still had another turn left.
After the pair shook hands, Chamberlain looked at Kareem and gave his assessment. "You've got good legs," Abdul-Jabbar recalled Wilt saying. "Wish I had legs like that."
While there was probably some flattery at play — even at his strongest, Abdul-Jabbar was never a body-builder — the comment meant the world. "What? Wilt Chamberlain wished he had something I had? Impossible," Kareem wrote.
Despite those 'good legs,' Chamberlain still advised Kareem to start working out
Despite having "good legs," Kareem Abdul-Jabbar was still a relatively raw teenage talent. Another encounter with Wilt Chamberlain, however, began to change that.
Later in the same book, the New Yorker remembered how he headed into a YMCA weight room in an attempt to stay in shape. There, he found Miles Davis hitting a speed bag and Wilt the Stilt pumping iron.
Chamberlain remembered the teenager and offered him a piece of advice. "You're going to need to pack on some meat if you want to bang with the big boys," he explained while placing some dumbbells at Kareem's feet. "You need muscle if you're going to jump with three guys climbing on your back."
Abdul-Jabbar wasn't able to lift that weight, but he did pledge to "work on it."
While the relationship eventually broke down, those early encounters set the stage for Kareem Abdul-Jabbar's success
As I noted earlier, Kareem Abdul-Jabbar never possessed the sheer physical strength of Wilt Chamberlain. That doesn't mean he wasn't serious about his body, though.
Abdul-Jabbar worked out, and perhaps more importantly, he was ahead of his time and embraced yoga and martial arts. While those probably wouldn't have met Wilt's standards for a grueling gym session, they did play a key part in Kareem's overall success and longevity. Had he not taken care of his body, it's unlikely he would have spent two decades in the Association.
Would Abdul-Jabbar have worked out on his own? Probably, but hearing your childhood hero compliment your body and tell you to hit the gym in order to shine will certainly leave an impression.
Pulling out to an even larger level, Chamberlain provided a tangible example of what Abdul-Jabbar's life could become. He was a tall, Black man who played the hero rather than an outcast. Wilt wasn't limited to being a basketball-playing sideshow attraction. He held court in a nightclub, lived in a luxurious bachelor pad, and was the personification of cool. Simply seeing that life was possible was a game-changer for Kareem.
"The real appeal for me for me was that Wilt was the living embodiment of my possible future," the future Laker wrote. "… For the first time, I had a coach teaching me the successful possibilities of a black man's lifestyle. If this was the lifestyle I had in store for me, then bring it on!"
Again, I don't want to value Kareem Abdul-Jabbar's agency in this equation. He was tall, intelligent, and naturally gifted. He probably could have been an NBA legend without any help. The impact of having a tangible role model, however, cannot be overlooked.
In the world of sports, it's often said that things are a game of inches. In this case, Kareem Abdul-Jabbar probably benefited from being in the right place at the right time. Had he not gone to Rucker Park that day or even arrived a few minutes later, it's possible he would have never gotten to know Wilt Chamberlain. And, without that encounter, maybe Kareem would have grown into a professional with a bit less conviction and less of a desire to work out.
At this point, though, the world will never know how that alternate path would have unfolded. Wilt and Kareem met, the latter joined his hero in the NBA pantheon, and the rest is history.