Wilt Chamberlain Turned to Arm Wrestling for a Couple of Extra Meals
From the time he played basketball at a young age, Wilt Chamberlain was destined to be a star. At Overbrook High School in Philadelphia, Chamberlain was an unstoppable 6-foot-11 center and led his team to a 56-3 record in three years. As a high school senior, he averaged 47 points. From there, he became an All-American at Kansas and a star in the NBA, putting up 100 points in one game against the New York Knicks in 1962.
Chamberlain was a skinny kid, whose long legs allowed him to easily outruns his opponents up and down the court. While at Overbrook, Chamberlain always looked for ways to make some extra cash so he could buy multiple lunches. He turned to arm wrestling and never went hungry.
Wilt Chamberlain put up numbers like no other NBA player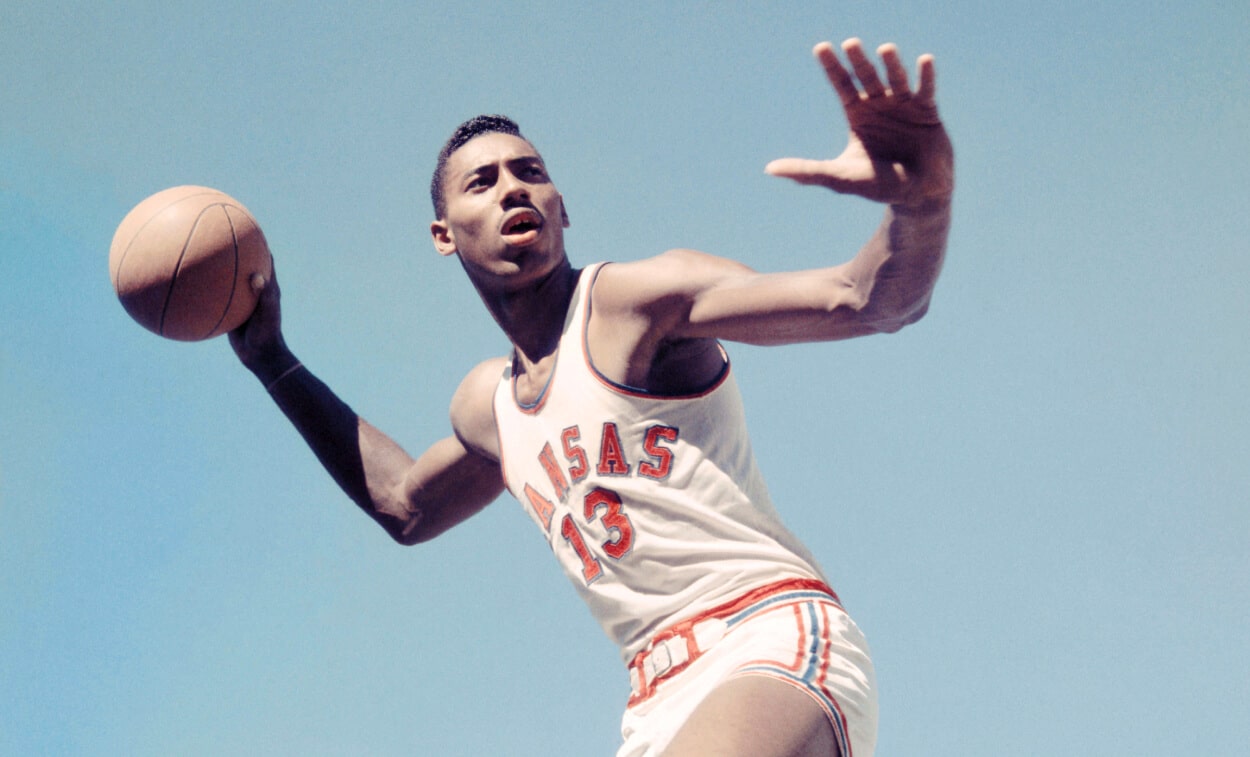 Chamberlain's 100-point outburst in March 1962 might not even be his most impressive stat. That year, the Philadelphia Warriors center averaged 50.4 points and 25.7 rebounds. He also averaged 48.5 minutes for the season, even though NBA games are just 48 minutes long.
Chamberlain led the league in scoring for the first six years of his NBA career. He was also the league's top rebounder in his first four years. As a rookie, he averaged 37.6 points and 27.0 rebounds. He was named both Rookie of the Year and MVP that season. 
He collected four MVP awards and won a pair of championships during his 14 years. Chamberlain was the league's top rebounder 11 times, averaging better than 21 rebounds in each of his first 10 seasons. He was a 13-time All-Star and was named All-NBA 10 times.
Chamberlain doesn't get enough credit when it comes to being the best player in NBA history. Maybe it's his two championships that hold him back. His biggest rival, Boston Celtics center Bill Russell, collected 11 titles in his career. Perhaps it's playing in an era where there were far fewer teams than there are today that turns GOAT voters away.
Chamberlain's numbers can't be denied. Michael Jordan is widely considered the best player in NBA history. During his NBA career, Chamberlain finished with 50 points or better in 118 regular-season games. To put that in perspective, Jordan is second on the list, doing it 31 times. 
In high school, Chamberlain found a unique way to have a couple of extra meals per day
Chamberlain was one lanky kid at Overbrook High School. In his 2004 biography of Chamberlain, Wilt: Larger than Life, Robert Cherry quoted Doug Leaman, one of Wilt's Overbook teammates, who said he was concerned about how thin Chamberlain's legs were.
"I felt sorry for him," Cherry quoted Leaman as saying. "His legs were so long and skinny, and he had a good, muscular upper body. And I thought, 'He's gonna break one of those twigs someday.'
"We knew he was good, but we didn't know he'd be the best basketball player in the world. We knew he'd get a scholarship at every college in the country. But I always thought he would break his legs or something, and he'd be incapacitated. I really did."
Cherry also quoted another of Chamberlain's classmates, who said Chamberlain would arm wrestle students for money.
"When we used to have lunch at Overbook, Wilt had this thing about making money because he wanted to eat three or four lunches," Steve Kane said. "One of the ways he used to make money was to arm wrestle white kids. He'd challenge two or three of us at a time.
"We'd pile school books up to get our elbows high enough so we could match his hand. We'd all put up a buck. Nobody ever beat him, and believe me, he had a lot of takers. He'd clean up."
Chamberlain proved he was just as smooth off the court as he was on it.