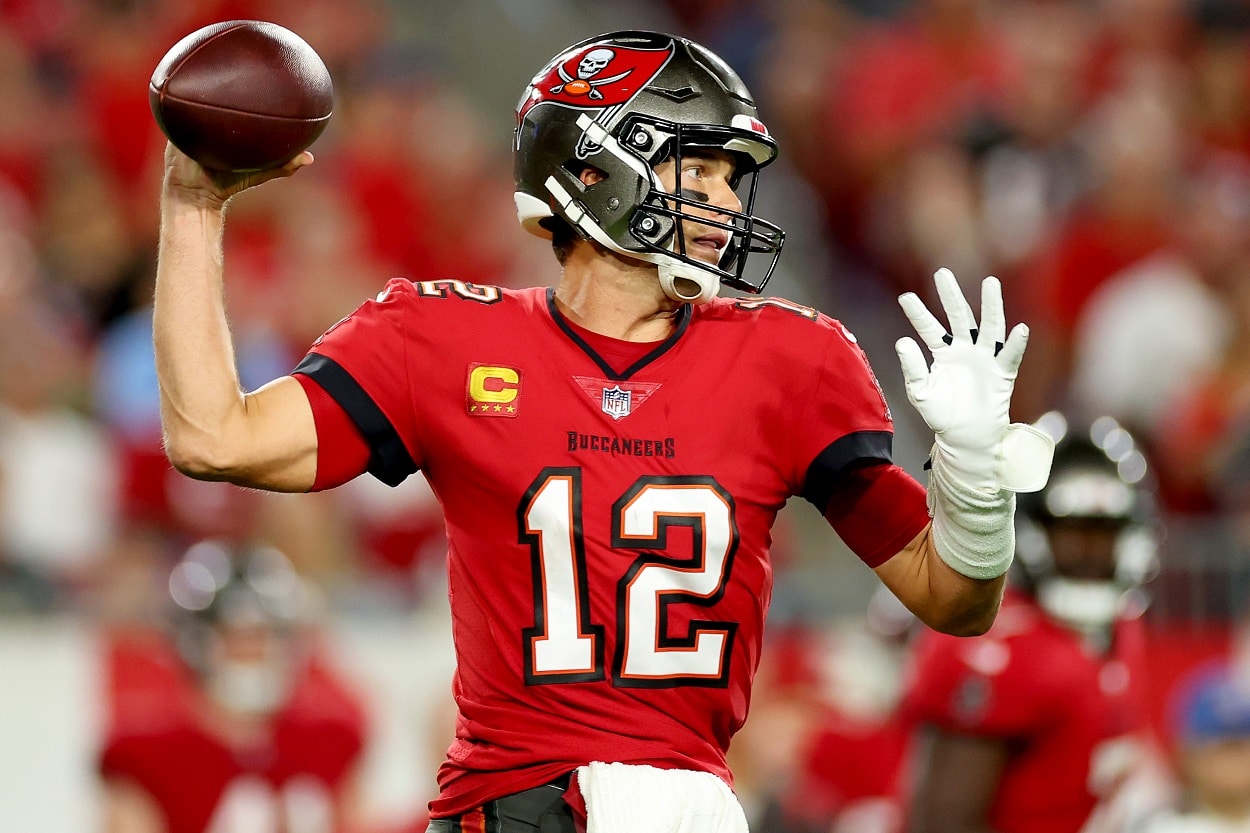 Win or Lose, Tom Brady Is Set to Enter Unprecedented and Unimaginable Territory Against the Rams
Tom Brady is set to become the first NFL quarterback to reach 100,000 career passing yards.
On the surface, it seems as if Tom Brady isn't having a great season. And in terms of his win-loss record, that's true. The Tampa Bay Buccaneers are off to a 3-5 start, marking the first time Brady has been two games under .500 in his entire career, which is truly remarkable.
But when you look at his individual numbers, the narrative that Brady is washed up is simply inaccurate. Are the figures where we're used to seeing them? No. But it's not as if the seven-time Super Bowl champ can't cut it anymore.
Heading into Sunday's Week 9 matchup with the defending champion LA Rams, Brady has completed 65.9% of his passes, down a touch from his 67.5% clip last year but still above his career average of 64.2%.
He ranks second in the NFL in passing yards with 2,267, trailing only Joe Burrow — but by less than 100 yards. His touchdown passes are certainly down, as he's only thrown nine, tied for 18th in the league, but he's also only thrown a single interception all season. And that was all the way back in Week 1.
Plus, despite the offensive line issues he's dealt with, Brady's only taken 13 sacks, fewer than 20 other quarterbacks. And can we please not forget that the guy is 45 years old?
So, again, while he may not end up with numbers — or the record — we've been accustomed to seeing, he's still playing good football, which he's obviously been doing for decades, which is how he's about to enter unprecedented territory on Sunday afternoon.
Tom Brady is set to become the first quarterback to surpass 100,000 career passing yards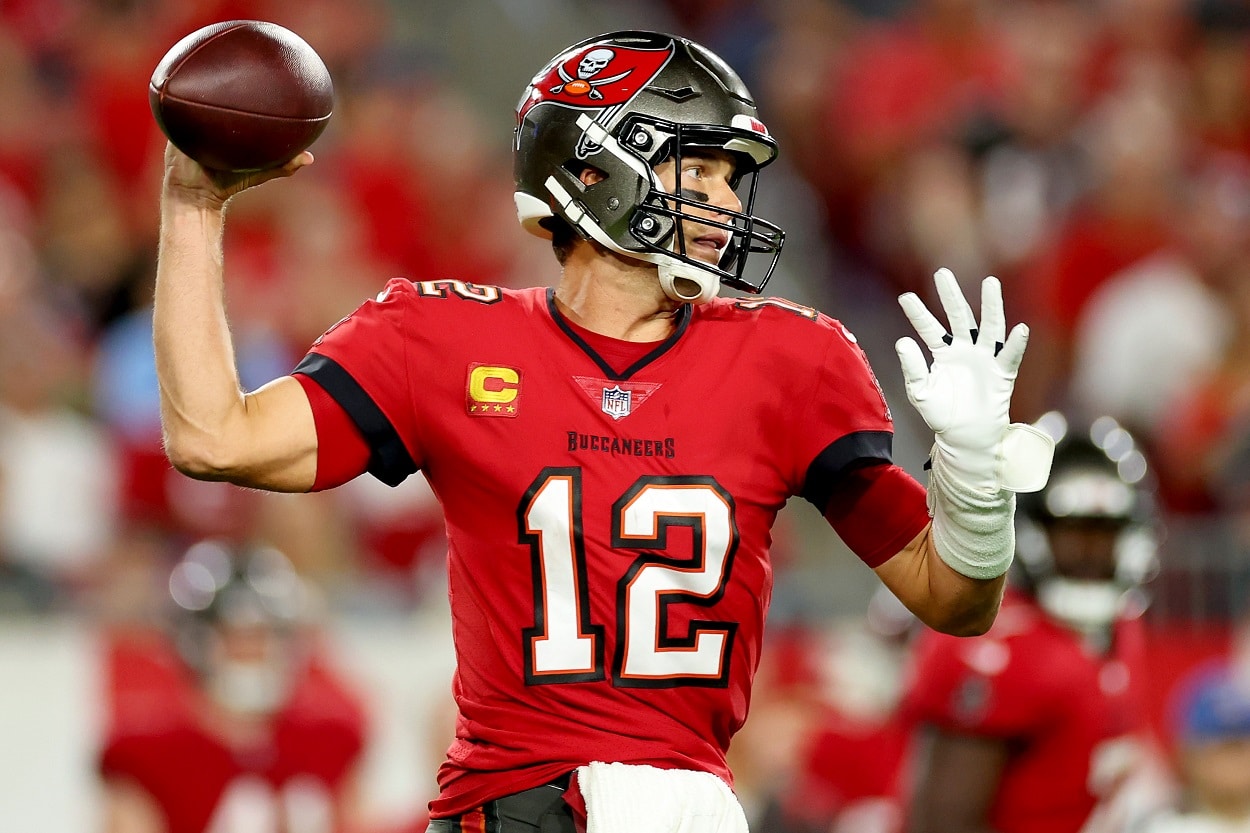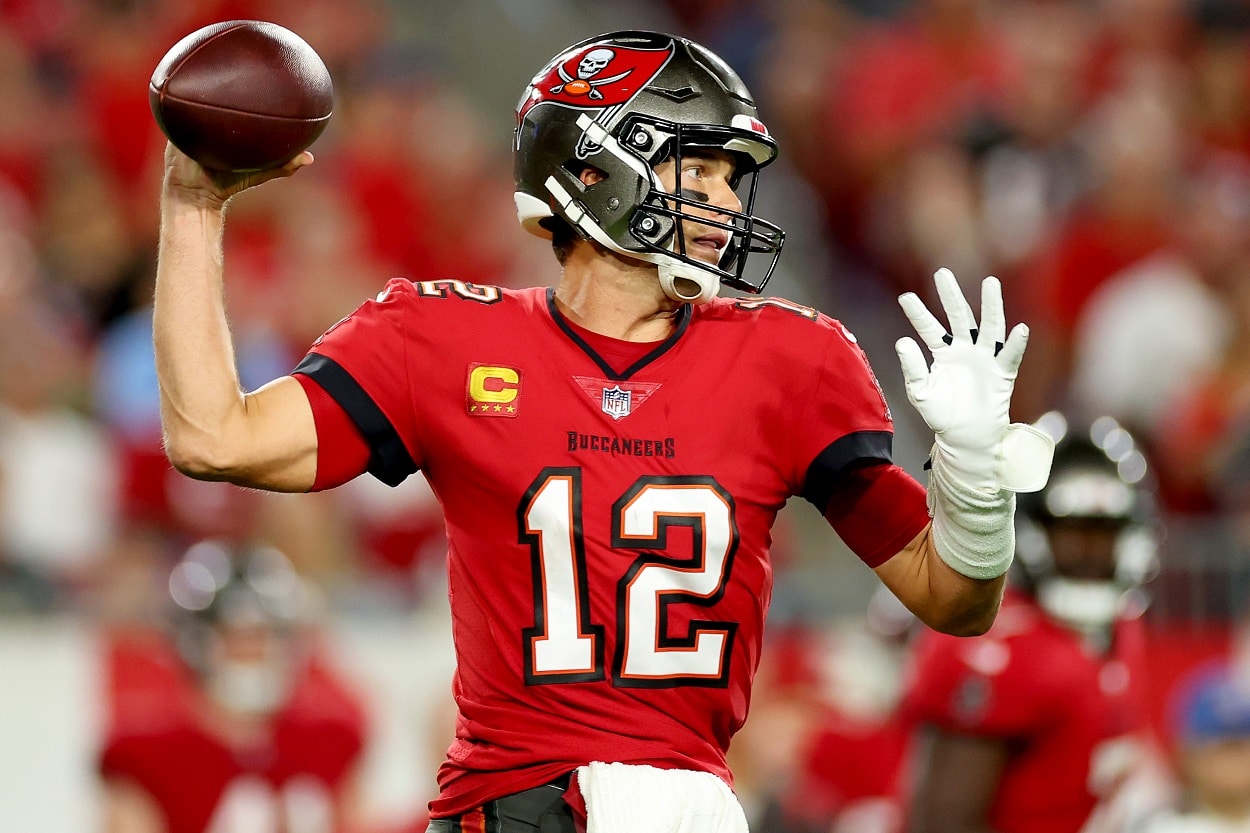 Throughout his career, first with the New England Patriots and now the Buccaneers, Brady has done things once thought unimaginable. And the aforementioned seven Super Bowl wins aren't even his most impressive feat. It's the longevity that allowed him to win seven Super Bowls. Nobody is supposed to be able to be an NFL quarterback for two-plus decades.
To play that position for that long at that level is just unfathomable. And it's that longevity that's allowed Brady to break almost every major NFL passing record there is. And whether Tampa Bay wins or loses against the Rams, he's set to reach yet another mark that once seemed impossible.
Coming into Sunday's game, Brady has thrown 86,787 yards in the regular season and 13,049 yards in the postseason, both NFL records. Add that up, and you've got 99,836. So as soon as he hits the 164-yard mark against the Rams, the five-time Super Bowl MVP (also a record) will become the first to reach 100,000 career passing yards, which is absolutely ridiculous.
So while this season may not be going the way Brady would like, he can always look back on it as one where he again reached heights no other quarterback likely ever will.
Have thoughts on this topic? Keep the conversation rolling in our comments section below.