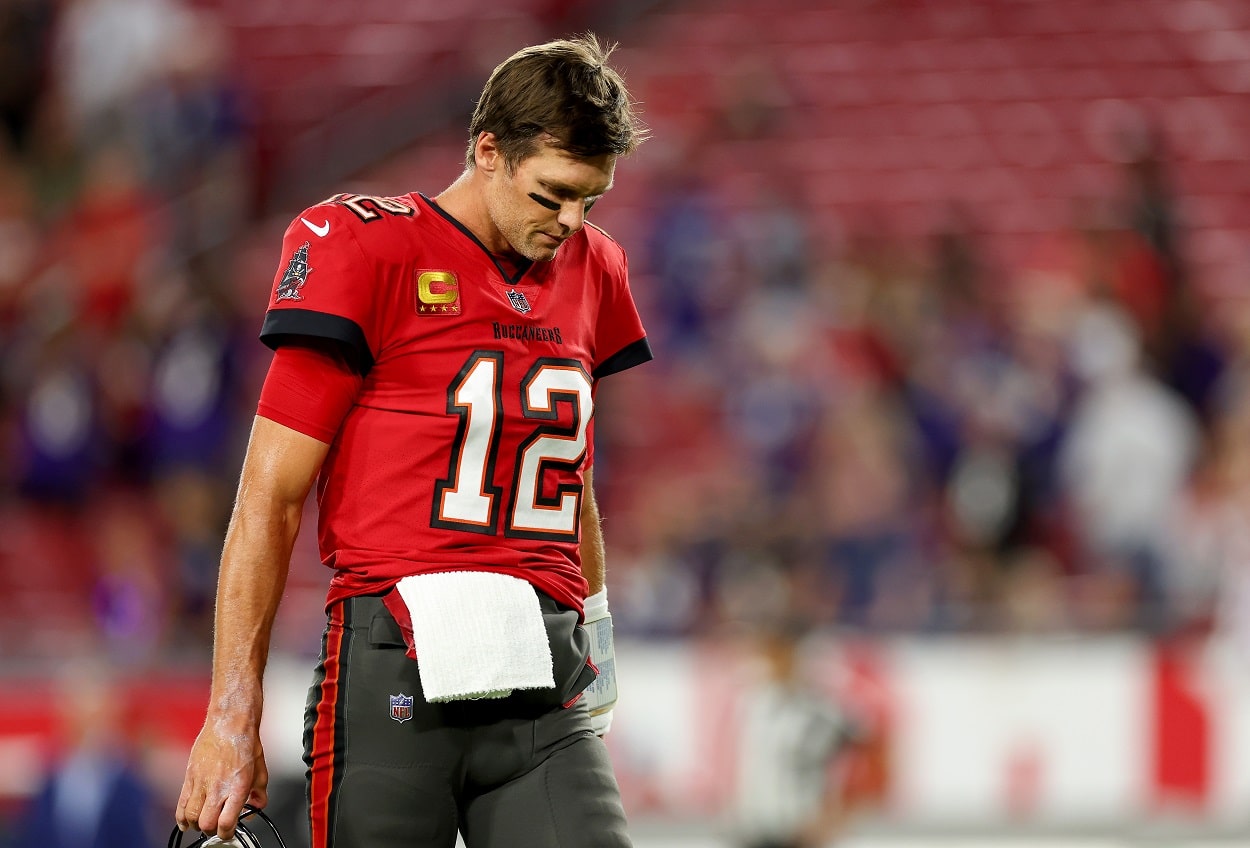 Tom Brady Has Officially Entered Michael Jordan, Tiger Woods, and Muhammad Ali Territory…But in the Saddest Way
Tom Brady is in the twilight phase of his NFL career and it's getting sadder to watch with each passing week.
With his personal life spiraling out of control and a cushy job at Fox Sports waiting in the wings, Tom Brady has to be wondering if ending his 40-day retirement to return for a 23rd NFL season was worth it.
Before the Tampa Bay Buccaneers suffered a 27-22 defeat at the hands of the Baltimore Ravens on Thursday night, the three-time MVP had gone 20 years and 302 regular-season starts without losing three games in a row.
The Bucs have now lost five of six and fell to 3-5 on the year, marking the first time in TB12's storied career as a starter that he's ever been two games below .500, which is simply remarkable. But that's what comes with the amount of success he's had for the last two-plus decades. And that same success makes this downfall so sad to watch.
Okay, maybe the word "downfall" isn't exactly the proper term here, at least in some aspects.
For one, there's a good chance Tampa Bay will still earn a trip to the postseason. The NFC South is easily the weakest division in the NFL and a sub-.500 record might not matter. But the issue is that even if Brady and the Bucs reach the playoffs, is anyone genuinely going to look at them as a threat in the NFC?
And secondly on the "downfall" notion, despite Tampa's overall struggles, the 15-time Pro Bowler hasn't played all that poorly, which is why he still ranks highly in my season-long QB competition.
Through eight games, he's completing 65.9% of his passes, which is higher than his career average of 64.2%. He's averaging 283.4 passing yards, good for sixth in the league among quarterbacks who've played at least half of their team's games.
He's in the top 10 in touchdown passes with nine. And he's thrown just one interception all year, which came back in Week 1 against the Dallas Cowboys.
But if there's one thing about Tom Brady, it's that he doesn't give a damn about his personal stats. He's out there to win, and it's just not happening for him right now, which can't be an easy pill for him to swallow. And maybe that's where the term "downfall" initially entered my brain.
Following an unfathomable nine Super Bowl appearances and six wins with the New England Patriots, nobody could have expected Brady to take his talents to Tampa and win a seventh in year one. But he did.
Before this season, he'd won 74.4% of his games wearing red and black, including five of six in the postseason. And in those first two years with the Bucs, he put up some of the best individual numbers of his career, including a personal-best 5,316 passing yards just last year at age 44. Seriously, who does that?
So it's just a bit strange to see this season play out as it has. Once again, he's not playing bad football. We're just used to seeing more. In past years, nobody would have counted the Bucs out of Thursday night's game when they got down 27-16 with just over two minutes remaining. Given Brady's history of comebacks (42) and game-winning drives (53), we used to expect some sort of miracle.
But that's just no longer the case. And there are obviously plenty reveling in that. The Tom Brady haters are out in full force these days on social media, and they're entitled to their opinions, as ridiculous as some of them may be.
Nobody ever said you had to like the guy, but you damn sure have to respect what he's done. And please don't come at me with Deflategate. A little pressure in a few footballs had no bearing on the outcome of that 45-7 beatdown the Patriots put on the Colts that day. But I digress.
While many people are thrilled to watch this "downfall" progress, this writer isn't one of them. Just the opposite, actually.
I would have loved to see Brady go the Peyton Manning route and retire after Tampa won Super Bowl 55. But he'd signed a two-year deal, and as the six-time All-Pro has always been great about honoring his contracts, he stayed. And the Bucs had a solid 2021, going 13-4 and knocking off the Philadelphia Eagles in the Wild Card Round before losing to the Los Angeles Rams in the Divisional Round.
If you're not going to be the champ, it's best to lose to the champ, right? Brady seemed fine with that and called it quits for 40 days before deciding to return. And to circle back to the very beginning, perhaps he's regretting that choice.
But we all know he's going to stick it out because, again, he's going to honor the contract he signed. It just might not be pretty.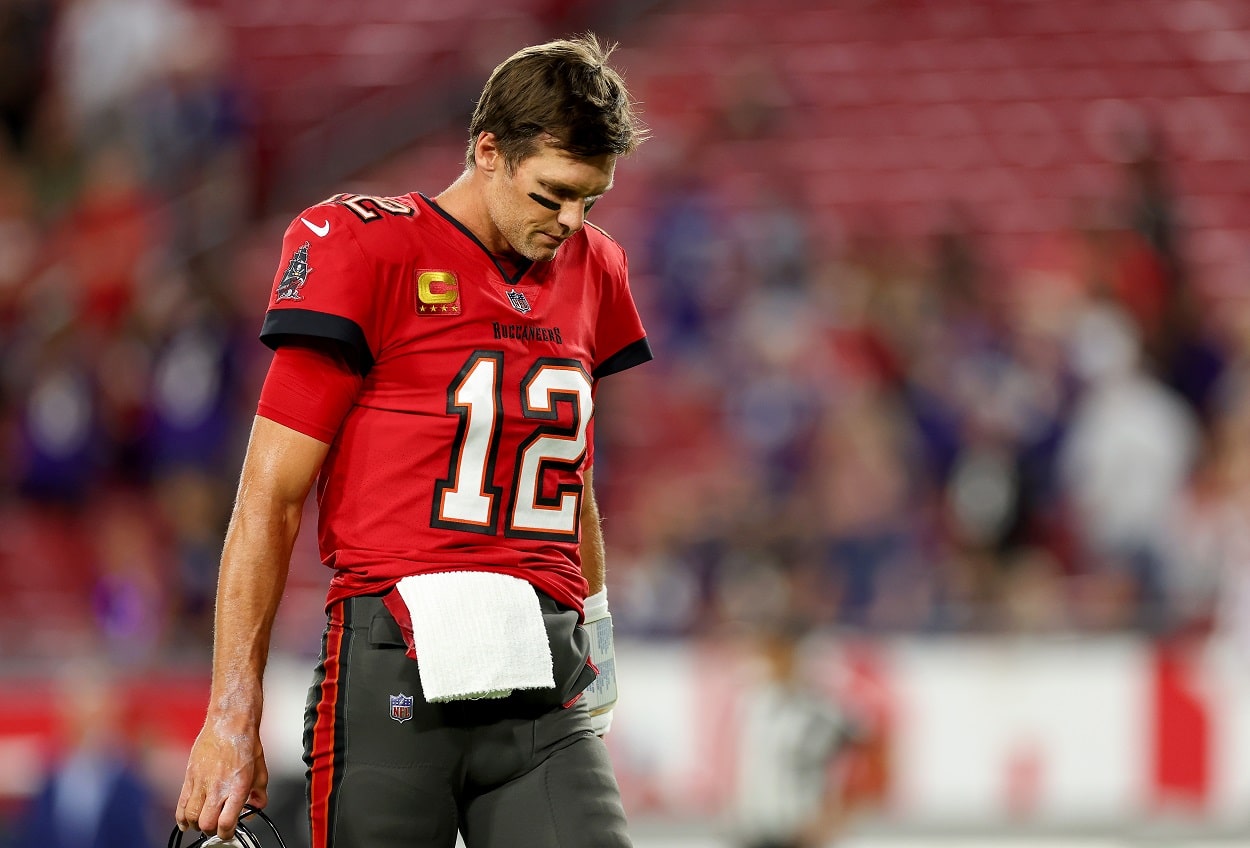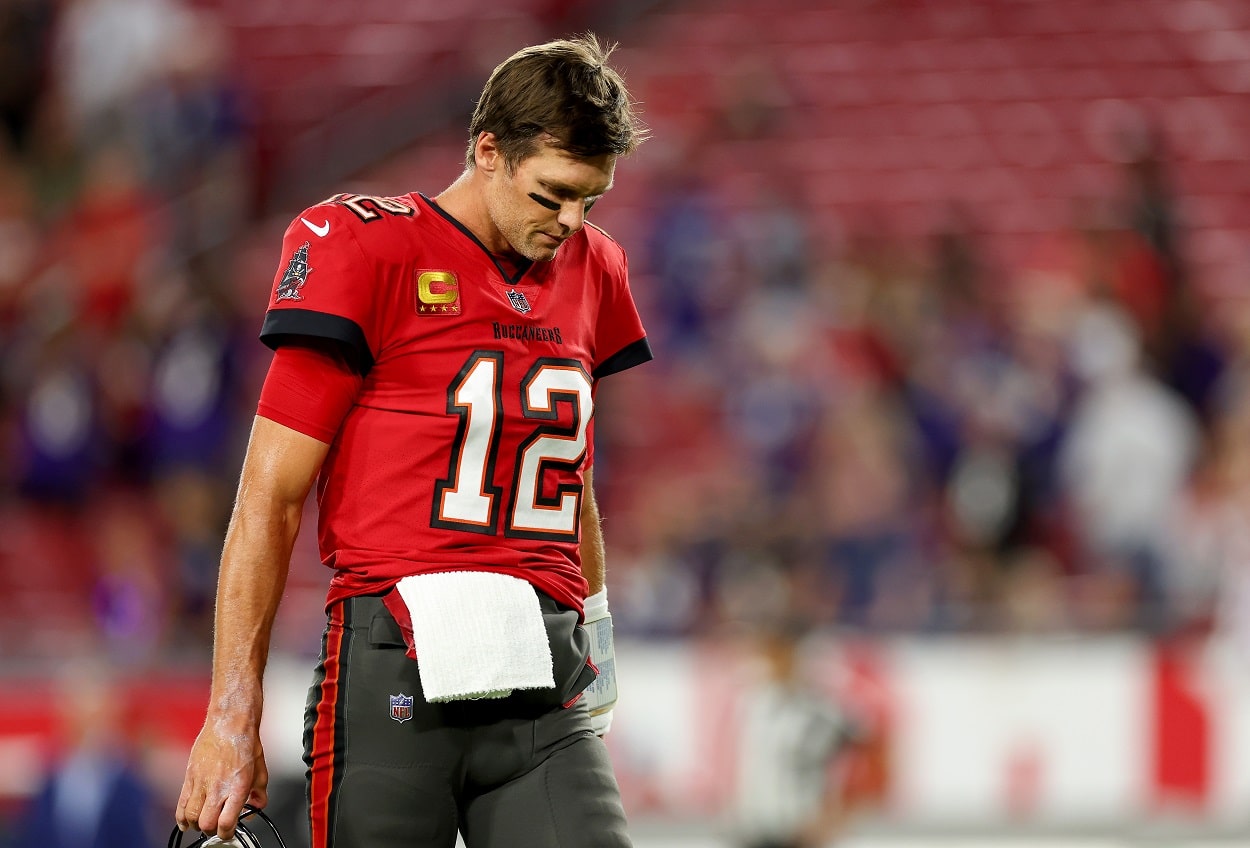 What I see right now when I watch Tom Brady on the football field is Michael Jordan in a Washington Wizards uniform. Or Tiger Woods out there trying to compete with this new generation of golfers.
At the risk of showing my age here, I've been lucky enough to watch the entire careers of all three of these legends. And I'm thankful for that. But it's tough to be the best at what you do for so long and then suddenly have that not be the case.
Did Jordan show flashes of brilliance in Washington? Yep. And did Tiger hit a few shots in his three major appearances this year that took me back to his glory days? Yep.
But at the end of the day, instead of Jordan's true "Last Dance" being that iconic shot against the Utah Jazz in the 1998 NBA Finals, it was a 37-45 season and a 10th-place finish in the Eastern Conference.
And with Tiger, at least for the moment, it was a missed cut with a ceremonial-type goodbye at The Open Championship at St. Andrews. I know golf is different, but you get the gist.
Perhaps a better example is watching Muhammad Ali get smacked around by Trevor Berbick in the final fight of his illustrious career.
Again, the Bucs could easily get into the playoffs thanks to that trainwreck of a division in which they play. And maybe we get another one or two of those classic TB12 performances, much like we got that one last Kobe Bryant gem on the final night of his epic NBA career.
But if you recall, even that one final win for Kobe capped off a season in which the Lakers went 17-65 and finished last in the Western Conference.
The overall point is that it's just sad to watch legends go out like that. And given what we've seen from Tampa Bay this year, Brady could go very well go out with a 350-yard performance with four touchdowns, only to lose 31-28 to an actual contender.
But we could also get a 190-yard, one-TD outing (which we've already seen this year) in a Week 18 defeat to the Falcons, which would be his first-ever loss to Atlanta, to knock the Bucs out of contention.
One can only wish we get the former.
The world of Tom Brady dominating and winning Super Bowls is at an end, ladies and gentlemen. And that's okay. His legacy is cemented, and anyone who thinks this season impacts that in the slightest is a fool.
Let's just hope he goes down swinging.
Have thoughts on this topic? Keep the conversation rolling in our comments section below.