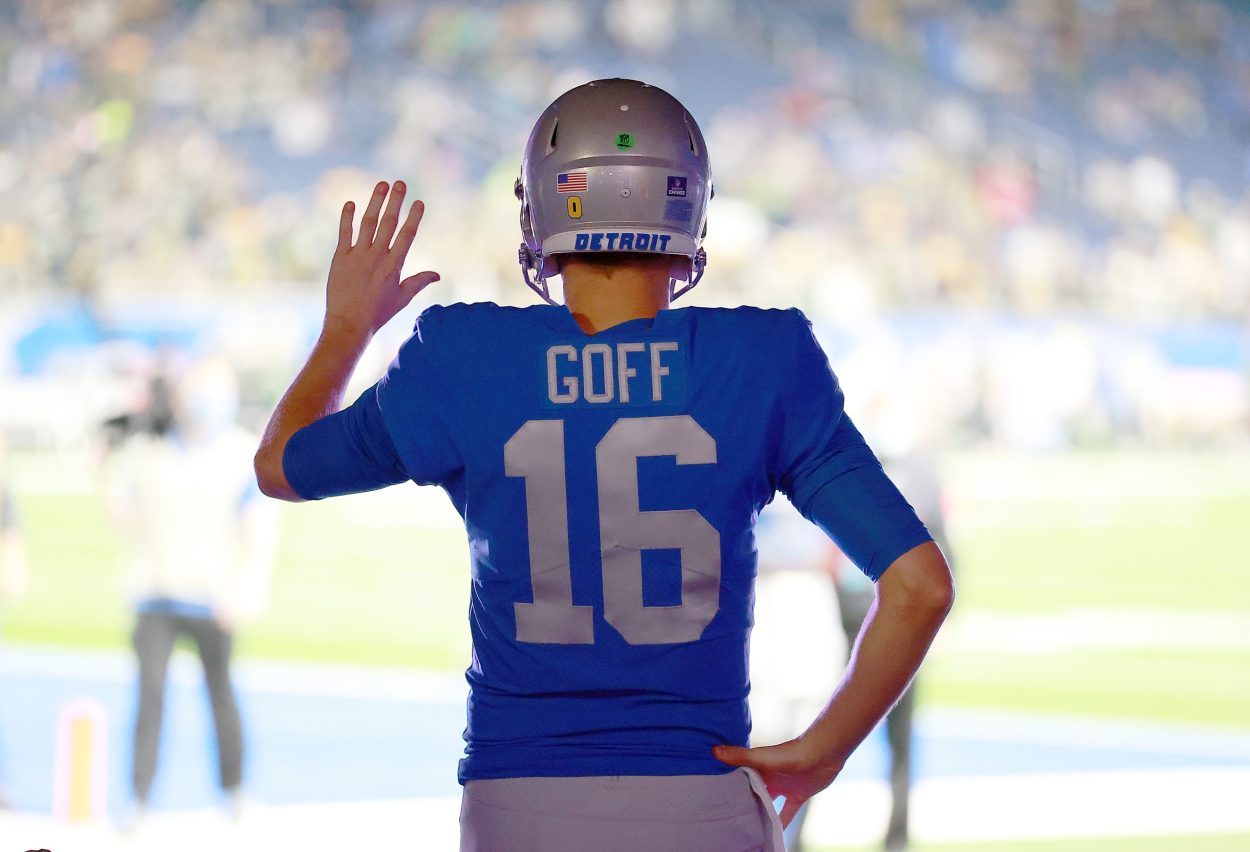 With Russell Wilson Traded, Jared Goff Makes Even More Sense For Seahawks
Could Jared Goff be the answer at quarterback for the Seattle Seahawks?
The Seattle Seahawks did something on Tuesday that no one thought was possible. They took the media spotlight completely away from Aaron Rodgers.
No small feat, considering the contract Rodger signed to remain with the Green Bay Packers. But within hours, there it was: Quarterback Russell Wilson had been traded to the Denver Broncos for a Matthew Stafford-esque haul of draft picks and Drew Lock, a quarterback no one in the world thinks will emerge as the Seahawks' opening day starter.
But somebody will have to be under center in Seattle come September, and after Carson Wentz got shipped to Washington on Wednesday, the number of available quarterbacks suddenly doesn't look at voluminous as it seemed on Monday morning.
But speaking of Stafford, there might be an option for the Seahawks that no one is considering right now, but actually makes a lot of sense.
Don't laugh. Lions quarterback Jared Goff might be the perfect fit.
Goff and Seahawks offensive coordinator Shane Waldron have a good history together
This is the trade partner for the Seahawks that could be really interesting.
Consider this: Right around the same day that the Rams traded Goff to the Lions back in January 2021, the Seahawks hired the Rams' passing coordinator and quarterbacks coach Shane Waldron to be their offensive coordinator. And whose passes was Waldron coordinating in those three years before leaving for Seattle?
Jared Goff.
Goff and Waldron put together a massive offensive season in 2018 that resulted in a Super Bowl appearance. Goff made his second consecutive Pro Bowl in 2018, throwing for career highs in yards (4,688) and touchdowns (32) as the Rams reached Super Bowl 53 before losing to the New England Patriots 13-3.
Goff was the quarterback who beat Patrick Mahomes and the Kansas City Chiefs 54-51 in Week 11 that season, the only game in NFL history where both teams topped 50 points.
Could Goff re-discover that magic with a reunion with Waldron, not to mention having DK Metcalf and Tyler Lockett to throw to? One would think Pete Carroll is currently asking himself that question.
Seahawks have the cap space to take on Goff's outsized contract
And now that the Seahawks have traded Wilson and released Bobby Wagner, they have $51 million in room under the salary cap. They can definitely afford to take on Goff's $10 million in base salary for 2022, and might be able to restructure the rest of the deal that pays Goff $41 million over the 2023 and '24 seasons.
By taking Goff's salary off Detroit's hands, it might only cost them their second-round picks in 2022 and perhaps a pick or two in 2023. And it doesn't preclude the Seahawks from using a pick this season or next on Goff's eventual replacement.
Given the way Goff succeeded with Waldron in the past, and with Lockett and Metcalf to throw to, it isn't that far-fetched to think Goff could succeed again in the division he knows like the back of his hand.
Deshaun Watson is the frontrunner, but what if Friday's grand jury indicts?
The quarterback the Seahawks are undoubtedly targeting first and foremost is Deshaun Watson, whom the Houston Texans are ready and willing to trade for the right price.
The Seahawks are far from the only team that would be interested in Watson. The Miami Dolphins almost did trade for Watson last season and the Tampa Bay Buccaneers, Pittsburgh Steelers and Indianapolis Colts would all be interested in Watson's unquestioned talent.
But Watson is not on the trading block because of talent, of course. On Friday, a grand jury in Harris County, TX, will hear evidence and testimony stemming from 22 allegations of sexual assault, indecent assault, assault and harassment. If the grand jury voted to not indict Watson, he is likely in the free and clear to resume playing, despite civil proceedings that will continue.
But if the grand jury returns an indictment, Watson's NFL career could well be over. He certainly would not be traded until his legal issues are resolved, and only then if he is cleared of the charges against him. And that would leave the Seahawks needing a backup plan. And that backup plan could well be Jared Goff.
Stats courtesy of Pro Football Reference