Wizards Announcer Apologizes for His Insensitive Comments Referencing Kevin Porter Jr.'s Father: 'Like His Dad, Pulled That Trigger Right at the Right Time'
Kevin Porter Jr. has had himself one heck of a week.
After getting into a confrontation with an assistant coach at halftime of Saturday's game between the Houston Rockets and the Denver Nuggets, Porter left the arena early and was suspended for Monday's game against the Philadelphia 76ers. In his return to the lineup on Wednesday, the 21-year-old buried a game-winning 3-pointer at the buzzer to defeat the Washington Wizards.
But Porter's heroic jumper wasn't even the biggest story of his wild night.
After the buzzer-beater, Wizards announcer Glenn Consor made an insensitive comment about Porter Jr.'s father without knowing he pleaded guilty to first-degree manslaughter in 1993 and died in a 2004 bar shooting. Consor has now apologized for his remarks, and he claims he mixed up Porter Jr.'s father with a former Washington Bullets player.
Wizards announcer receiving criticism after insensitive Kevin Porter Jr. comment
Porter Jr. should've been the talk of the NBA Wednesday night after his clutch buzzer-beater lifted the Rockets to a much-needed victory over the Wizards. And he was, in a way, but just not for the right reasons and through no fault of his own.
Following the game-winner, Consor, a longtime Wizards announcer and Emmy Award winner, received criticism for his insensitive comments about Porter Jr.'s father.
"You've got to give credit. Kevin Porter Jr., like his dad, pulled that trigger right at the right time," Consor said on-air during a replay of the shot.
Porter Jr.'s father, Bryan Kevin Porter Sr., spent more than four years in prison after pleading guilty to first-degree manslaughter of a 14-year-old girl in 1993. Porter Sr. claimed the gun accidentally discharged while he was handing it to the girl.
In 2004, four years after Porter Jr. was born, Porter Sr. was shot and killed in a Seattle bar during an altercation.
Fans and fellow NBA players immediately came to Porter Jr.'s defense after the comments. LeBron James even chimed in with a tweet thrashing Consor.
"Oh he thought this was cool huh!!?? Nah we ain't going for this! Sorry but this ain't going to fly! How insensitive can you be to say something like this. Beat it man! I pray for you but there's no place in our beautiful game for you!" James tweeted Thursday morning.
Glenn Consor apologizes and clarifies his comments
After quickly becoming the biggest villain in sports for his jarring comments on Porter Jr. and his father, Consor took to Twitter on Thursday morning to apologize and explain himself. Apparently, he thought Porter Jr.'s father was former Washington Bullet Kevin Porter, who played 11 years in the NBA and retired in 1983.
Please allow me to take this opportunity to sincerely apologize to Kevin Porter Jr., his family and the Rockets organization for the comments I made during last night's game. I mistakenly thought that Kevin was the son of former Washington player Kevin Porter and was unaware that the words I chose to describe his game-winning shot wold be in any way hurtful or insensitive. I have reached out to Kevin to personally apologize and hope to be able to talk with him soon.

Glenn Consor
You would think a Wizards announcer of more than two decades would know if a former Washington player had a son currently in the NBA, but let's just hope his comments really did come from a place of negligence and not the alternative.
Overshadowing a great redemption story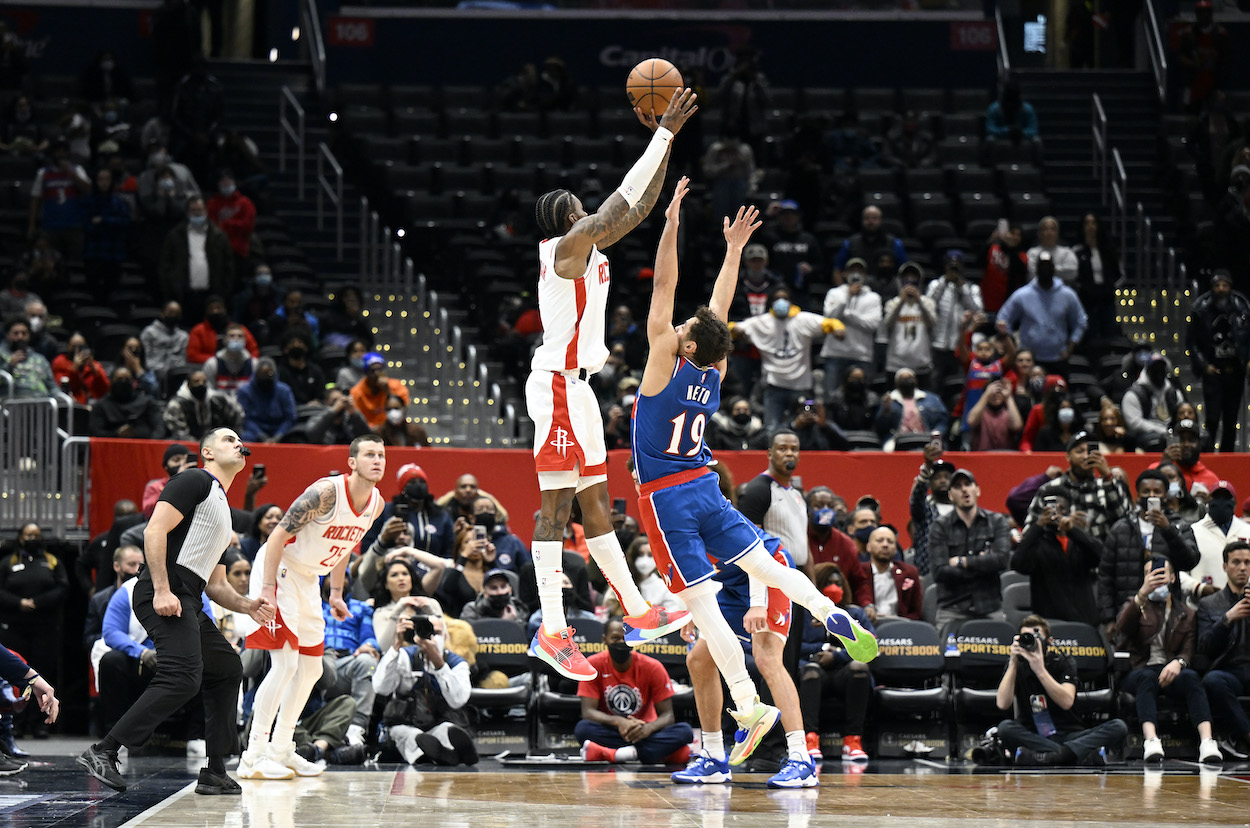 Whether Consor knew about Porter Sr.'s history or made an honest mistake with a poor choice of words, we may never know for sure.
But what we do know is Consor's comments unfortunately took the shine away from Porter Jr.'s incredible redemption story. Porter Jr. was enemy No. 1 in Houston after bailing on his team at halftime and getting himself suspended, but his game-winner on Wednesday night proved why the Rockets see him as a franchise cornerstone moving forward.
Porter Jr. doesn't deserve this rehashing of his father's death. He deserves credit for bouncing back from a tough week in heroic fashion.
Like Sportscasting on Facebook. Follow us on Twitter @sportscasting19.