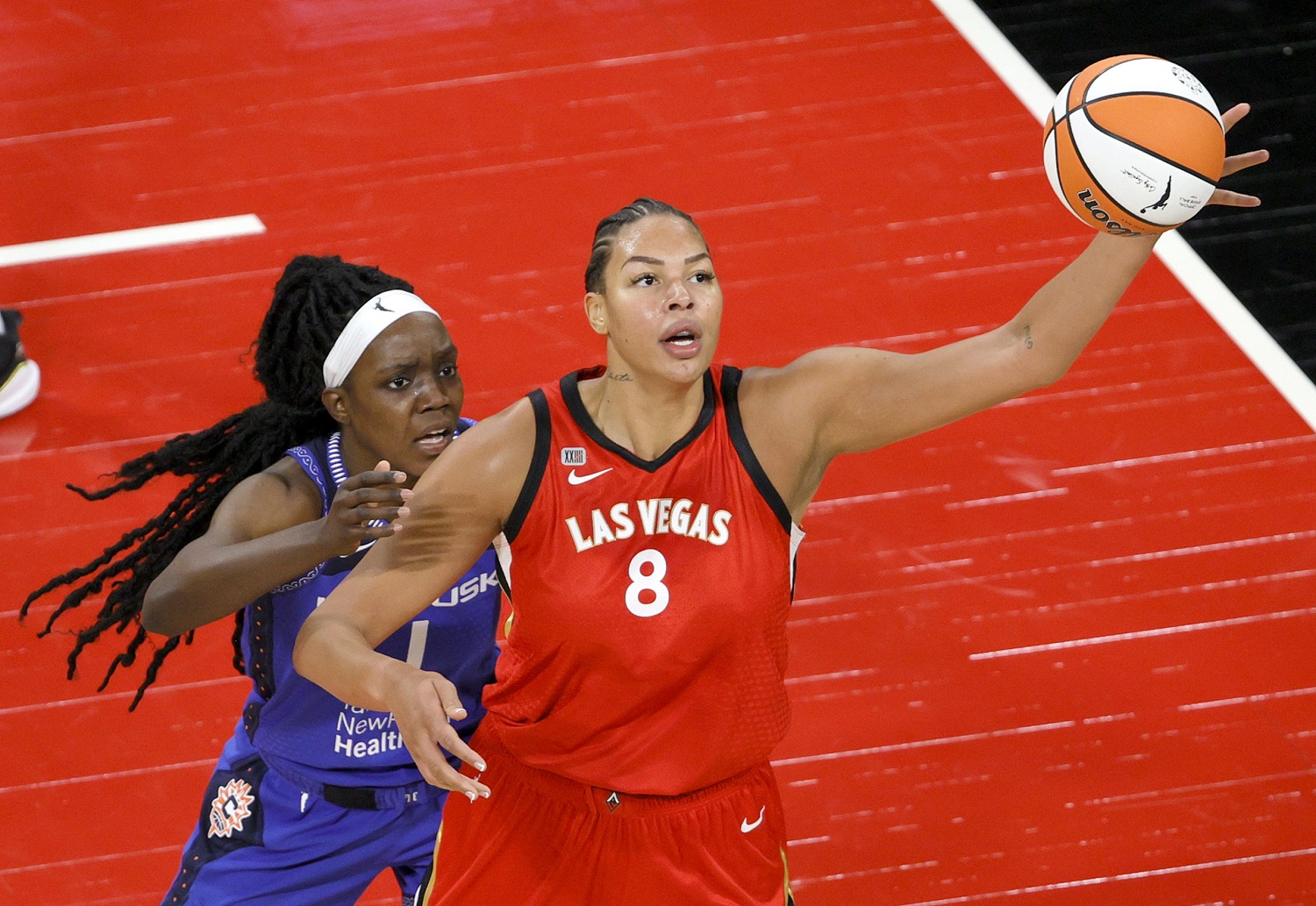 The WNBA Suspended a Coach for Body-Shaming Liz Cambage, Who Might Be in Trouble, Too
The WNBA fined Connecticut Sun coach Curt Miller $10,000 and suspended him for one game for his comments during a game about Las Vegas Aces center Liz Cambage's weight.
Words have consequences, and the WNBA taught Connecticut Sun coach Curt Miller a $10,000 lesson in that department for his comment about Las Vegas Aces star Liz Cambage's weight. Now, let's see how the league feels about one of its athletes height-shaming the coach and injecting race into the controversy.
As the WNBA tries to attract more attention, this is certainly not what its executives want the public focusing on.
The WNBA reacted swiftly to remarks about Liz Cambage
Miller crossed a line — and it's not referring to the baseline or sideline. The Connecticut coach told a referee, "C'mon, she's 300 pounds," while arguing a call during the Sun's 72-65 victory over the Aces on Sunday.
Miller later apologized for an "offensive comment" aimed at Cambage. However, the WNBA still fined the fifth-year coach $10,000 and suspended him for one game.
"I made an inappropriate and offensive comment in reference to Liz Cambage's height and weight," Miller said in a statement, according to ESPN. "I regret what I said in the heat of the moment and want to sincerely apologize to Liz and the entire Aces organization. I understand the gravity of my words and have learned from this."
Cambage fired back at the coach
NOTE: The above video on Twitter contains some mildly NSFW language.
Cambage, 29, moved from England to Australia with her mother as an infant. The Tulsa Shock made the 6-foot-8 center the No. 2 pick of the 2011 WNBA draft, and she played two seasons there before deciding to play exclusively in China.
Cambage returned to the United States in 2018 with the Dallas Wings, who swapped her to Las Vegas in May 2019 for guard Moriah Jefferson, forward Isabelle Harrison, and two draft picks. She averaged 15.9 points and 8.2 rebounds that season as a force at center for the Aces but sat out the pandemic-shortened 2020 season.
Miller's comments understandably ticked her off during Sunday's loss, which dropped Las Vegas to 2-2 this season, and she clapped back at the Connecticut coach on social media.
"I'm weighing 235 pounds and I'm very proud of being a big b***h, big body, big benz, baby," Cambage said. "So don't ever try to disrespect me or another woman in the league."
In the same video, she referred to Miller as "that little man" and told him to deal with insecurities suggested by his insulting language.
"Pick up the phone, call the (psychiatrist), because you're projecting some bulls**t right now," she said. "And next time you try to disrespect me, remember, I'm 235. It might seem like 300 pounds to your little a**. I'm 235, baby."
Cambage detoured into some questionable language of her own
Cambage heard Miller's comment about her during the game but opted not to fire back at him at that time, perhaps saving herself and her team a technical foul. She took time after the game to reflect and then pieced together a two-minute video response that she posted to more than half a million followers around the world.
In retrospect, maybe she should have thought her comments through a bit longer.
"I will never let a man disrespect me, ever, ever, ever, especially a little white one," Cambage said at one point, as transcribed by The Daily Mail. "Don't ever try to disrespect me or another woman in the league."
Miller had no business mentioning Cambage's weight, even in the heat of a close game. On the other hand, the player weight-shamed by the coach both height-shamed him and introduced race as an element of her response.
With the country a year out from the killing of George Floyd in Minneapolis, race remains an incredibly sensitive topic and one that stirs up emotion.
After rightfully disciplining the coach for his comments, the WNBA needs to consider some degree of action against the player.
Like Sportscasting on Facebook. Follow us on Twitter @sportscasting19.