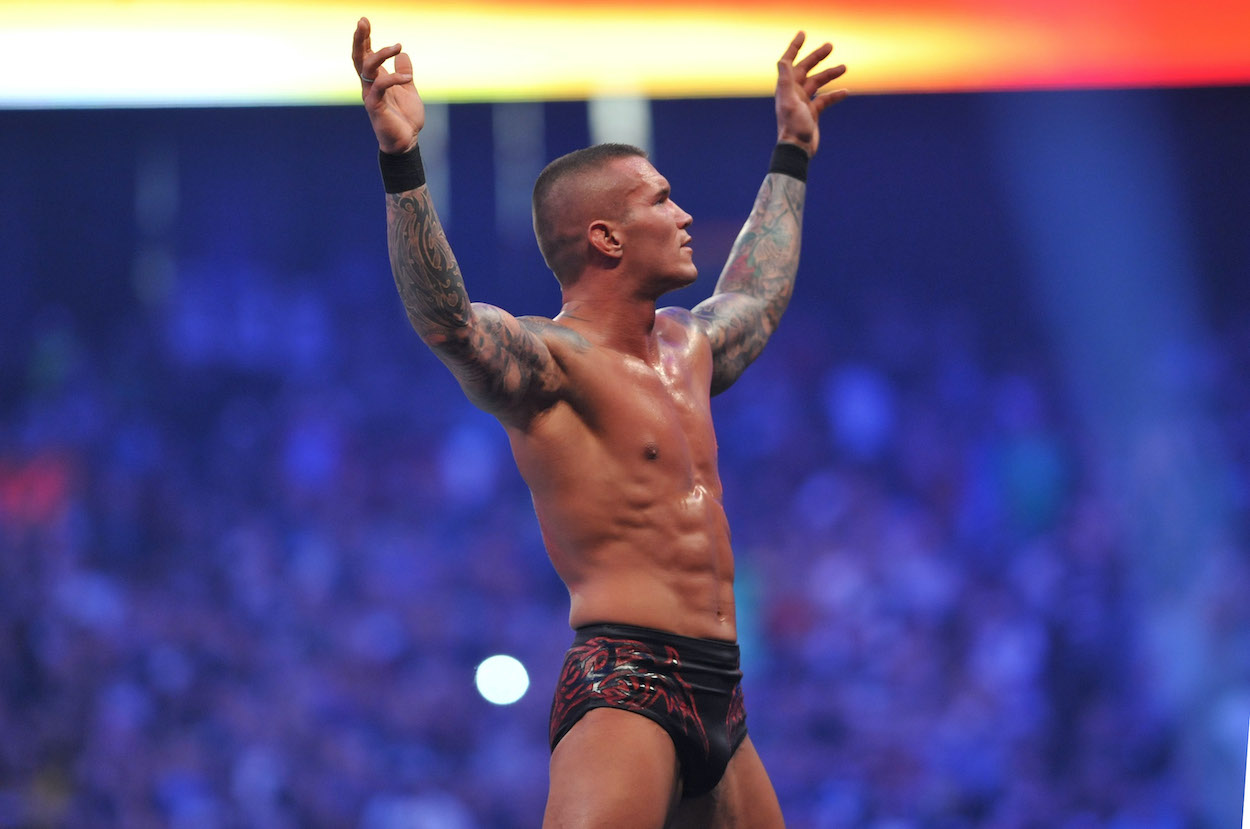 WWE Legend Randy Orton RKOs 'One-Hit Wonder' Rapper Who Called Pro Wrestling Fake
Don't tell Randy Orton the WWE is fake. Just ask Soulja Boy, who came after pro wrestling and was immediately RKO'd by "The Legend Killer."
Don't ever tell Randy Orton the WWE is fake. Just ask famous rapper, Soulja Boy.
On Sunday, Soulja Boy decided to stir the professional wrestling pot by comparing the rap game to the "fake" WWE. He probably thought it was a harmless comparison at the time, but once word reached the wrestling community, the "Crank That" rapper was in for a world of hurt.
Soulja Boy angers the wrestling community by calling the WWE fake
Early in the morning on Sunday, Soulja Boy found himself trending on Twitter, but not for the reason you might expect. The professional rapper, who's most well-known for his smash 2007 hit, "Crank That," sent a subtle shot at the professional wrestling community with a five-word tweet.
"Rap game faker than WWE," Soulja Boy wrote.
A few days later, Dominik Dijakovic (better known as T-Bar in the WWE) noticed the disrespectful tweet and came to the WWE's defense.
"Does the rap game take years off your life and leave you with countless injuries and debilitating pain? Oh well maybe just stick to super soaking h— or whatever it is you did 15 years ago," T-Bar responded in a tweet of his own.
Randy Orton rips Soulja Boy for calling the WWE fake
Most wrestling fans understand what the WWE is deep down — an entertainment company with scripted storylines to keep fans on their toes. It's not as simple as the better wrestler always wins, but don't tell that to Randy Orton.
Orton, who is a 14-time world champion in the WWE, won't stand for anyone calling his profession fraudulent, especially not a has-been rapper. On Tuesday morning, Orton clapped back at Soulja Boy for his insensitive tweet.
"Fake? Dare this p—- to step up. He dont like movies? Consider us actors that do stunts, without pads 200 days a year and don't b—- when we get surgically repaired and come right back. Consider us 100 times tougher then anyone you've come across. Aint nuthin but a b—- a–…," Orton tweeted in response to Soulja Boy's original tweet.
Randy Orton and Soulja Boy get into heated debate
Of course, Soulja Boy wasn't going to sit around and let Randy Orton get away with calling him out. The rapper responded to Orton's criticism with a jab of his own.
"Do u know who the f— I am. I'll bring the REAL to wrestling don't play with me. Randy Ortonnnnnnnn??????????" Soulja Boy responded on Twitter.
'"Crank that' came out in '07 you had a hell of a year. Serious $. Hats off to ya my dude. Here's the thing tho… I like rap. I bump that s— all day whether it's tunechi, meek, JZ…but you call what I do to survive, fake? F— that. Come to my world and say that. Dare ya," Orton responded.
"If you mad because I spit facts just say that. What you do is FAKE and I stand on that. What I do is REAL. Come to your world? Lol welcome to Soulja World," Soulja Boy wrote back.
"U spittin facts? Seems like all you spittin is the same mess you rap about. Nut. Clear your throat my dawg, and be there. Enough talk. Back it up," Orton coninued.
The WWE might not feature "real" wrestling, but Soulja Boy would surely take his comments back after five seconds in the ring with Orton. We can only hope it eventually happens.