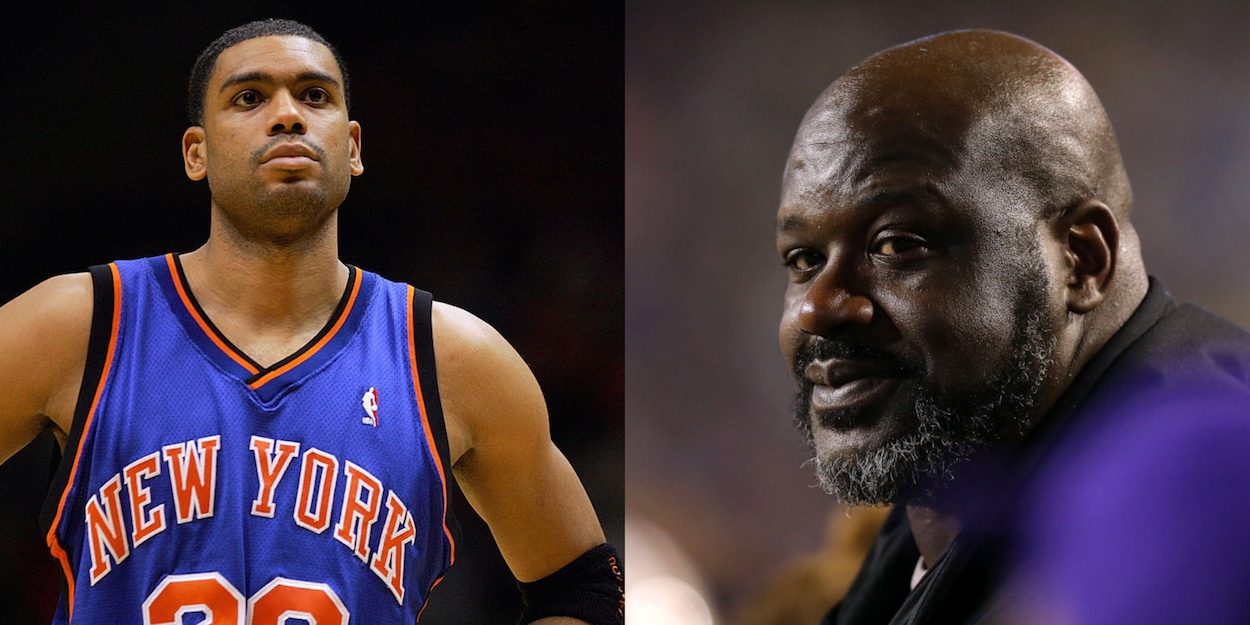 A Young Shaquille O'Neal Impressed Allan Houston With Both His Confidence and His Appetite
Shaquille O'Neal certainly knows how to make an impression. Just ask Allan Houston about the time they went on a college visit together.
When you think of Shaquille O'Neal, you probably picture him dominating on the basketball court. The big man had an incredible blend of size, skill, and, at least during his younger days, agility. In an era where giants patrolled the paint, he was perfectly suited to (literally) stand tall.
Allan Houston, however, had a different first impression of the Diesel. 
During their days in high school, O'Neal and Houston took a recruiting visit to Louisville at the same time. There, Shaq impressed the guard with both his confidence and his appetite.
Shaq told Allan Houston that he was the best player in the country, then put down a whole plate of pancakes 
During his time in the NBA, Shaquille O'Neal proved to be both a dominant player and somewhat of a jokester. If Allan Houston is to be believed, those parts of his personality were already apparent in high school.
"So, I took one visit," Houston explained on a recent episode of the Knuckleheads podcast. "My visit was to Louisville, but I took my visit when Shaq took his visit to Louisville. … So, so I get my room, I get settled, and I forgot who it was that took us, so we go and knock on Shaq's door, right? Now, you gotta think [that] when Shaq was in high school, and Texas didn't get really a lot of the shine to be ranked, so he wasn't in the top of the rankings. He had a big chip on his shoulder already cause he wasn't like in all the high school rankings and all that. So we go knock on his door. You know, we knock on his door, and we wait for a minute, like 'What's big fella doing?' Right? He comes out, he comes out, and the first thing he said was, 'I'm the number one player in the country.'"
That wasn't the only way that O'Neal left an impact on his peers, though. As you might expect, a teenager of his size had quite the appetite.
"At the end of every visit, Coach Crum, who was the head coach, shout-out to Denny Crum, would invite you to his house, and he would make pancakes, right," Houston remembered. "He'd make pancakes, and if you wanted to go fishing, you do all that. So he makes his first set of pancakes and puts them on the table. And Shaq eats all the pancakes."
While Houston makes that feat sound pretty impressive on its own, the young center wasn't done yet. 
"It got to the point where we stopped eating, and we started watching," the sharpshooter continued. "Like he had like a gallon of milk, I mean he was going. It got to the point when it was like a show. I was like, 'Man, this dude's gonna eat all these pancakes.' … But, man, we had a good time with Shaq."
Houston and O'Neal ended up going their separate ways and didn't play together in college. That brief visit with Shaq, however, still seems to loom large in the guard's memory. 
Like Sportscasting on Facebook. Follow us on Twitter @sportscasting19 and subscribe to our YouTube channel.