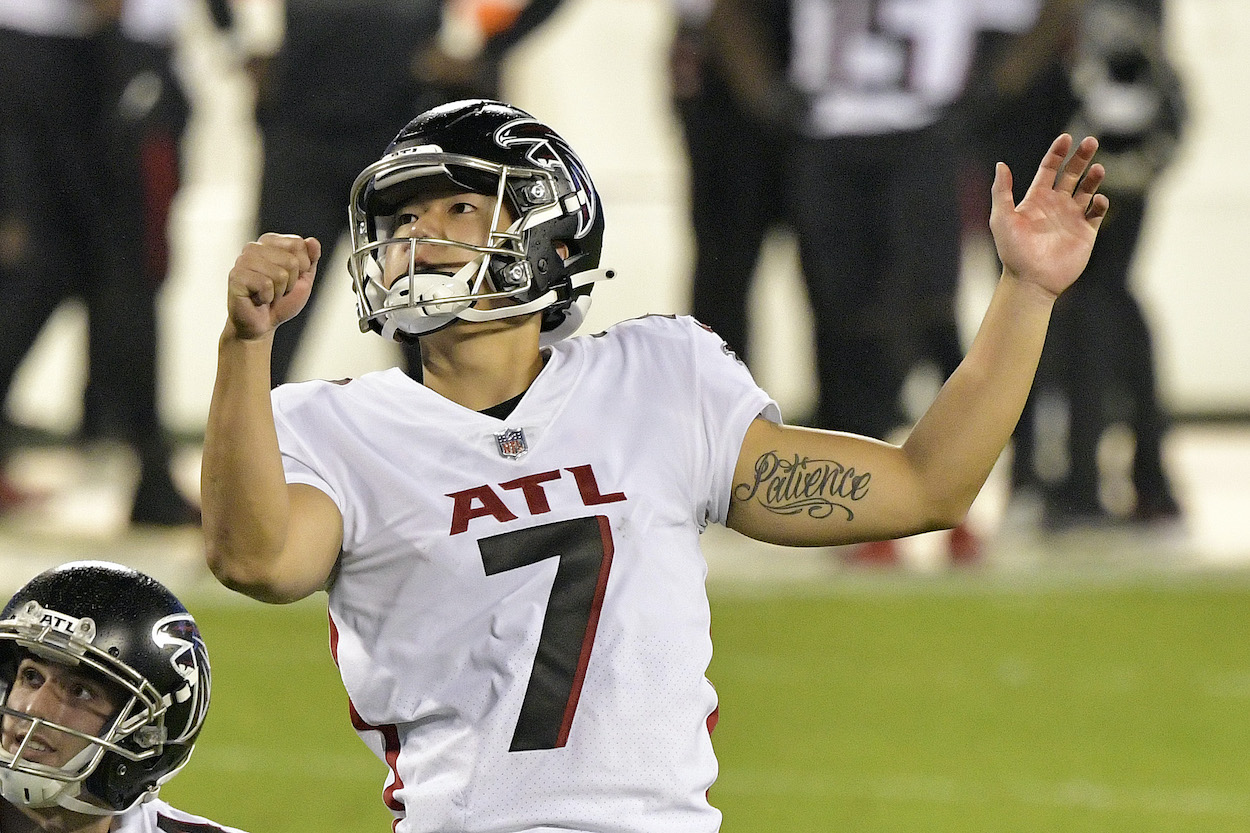 Younghoe Koo Isn't Mad His Jeep Was Stolen, He Just Wants the Thieves to Bring 1 Thing Back 'So I Can Go Kick'
Atlanta Falcons Pro Bowl kicker Younghoe Koo came outside to find his Jeep missing along with something very important to an NFL kicker. His kicking shoes were in the car as well. He pleaded on social media for the thieves to bring the equipment so he can kick, just 10 days ahead of training camp.
Atlanta Falcons kicker Younghoe Koo had a terrible experience on Sunday that many of us can relate to. After leaving a building and expecting to find his black Jeep Grand Cherokee in the parking spot he left it in, all the NFL player found was an empty space.
Thieves stole Koo's Jeep and everything he had in it. One piece of personal property in the vehicle is something Koo wants back so bad, he took to social media to plea with the perpetrators to bring it back.
Thieves stole Younghoe Koo's Jeep, but he just wants one thing back, no questions asked
On Sunday, Koo took to his Instagram account to post a picture of an empty parking space where his Jeep Grand Cherokee used to be. He captioned the pic:
MFs stole my Jeep smh. Can you just bring my cleats back tho
He followed that up in his story with a message directly to the thieves:
I won't even be mad bro just bring all my cleats back so I can kick
Apparently, the car-stealers took Koo's kicking shoes along with the Jeep. He ended his story by posting his license plate number and description of the vehicle. He tagged @atlscoop and wrote, "let's find it lol."
Luckily for Koo, Falcons camp won't start for another 10 days after the incident. That will leave him plenty of time to get new cleats. That said, with how superstitious NFL kickers are, not having his preferred kicking boots could become an issue.
Younghoe Koo is one of several prominent NFL players with Korean heritage
Koo, who came from the obscurity of the Sun Belt Conference and Georgia Southern, made the Pro-Bowl for the first time in his career in 2020.
He is the first Korean-born kicker to achieve this feat but not the first Korean-born kicker or the first Korean-born Pro Bowler. The former honor goes to John Lee. The UCLA kicker became the first Korean-born NFL player kicking for the St. Louis Cardinals in the 1986 season.
The second-ever NFL player to hail from Korea is also the best-ever and the first Pro Bowler. Hines Ward was born in Seoul, South Korea, before moving to Georgia as a child and then to the University of Georgia to play college ball.
The Pittsburgh Steelers selected Ward in the third round of the 1998 draft. He played 14 seasons in black and gold, made four Pro Bowls, won the 2005 Super Bowl MVP Award, and produced the most receiving yards in Steelers franchise history with 12,083.
Nine-year NFL vet Kyle Love is the third Korean-born NFL player, and Koo is number four. Former safeties Eugene Chung and Will Demps along with current Arizona Cardinals QB Kyler Murray all have Korean heritage but were born in the States.
The Atlanta Falcons hope to keep Koo busy with extra points in 202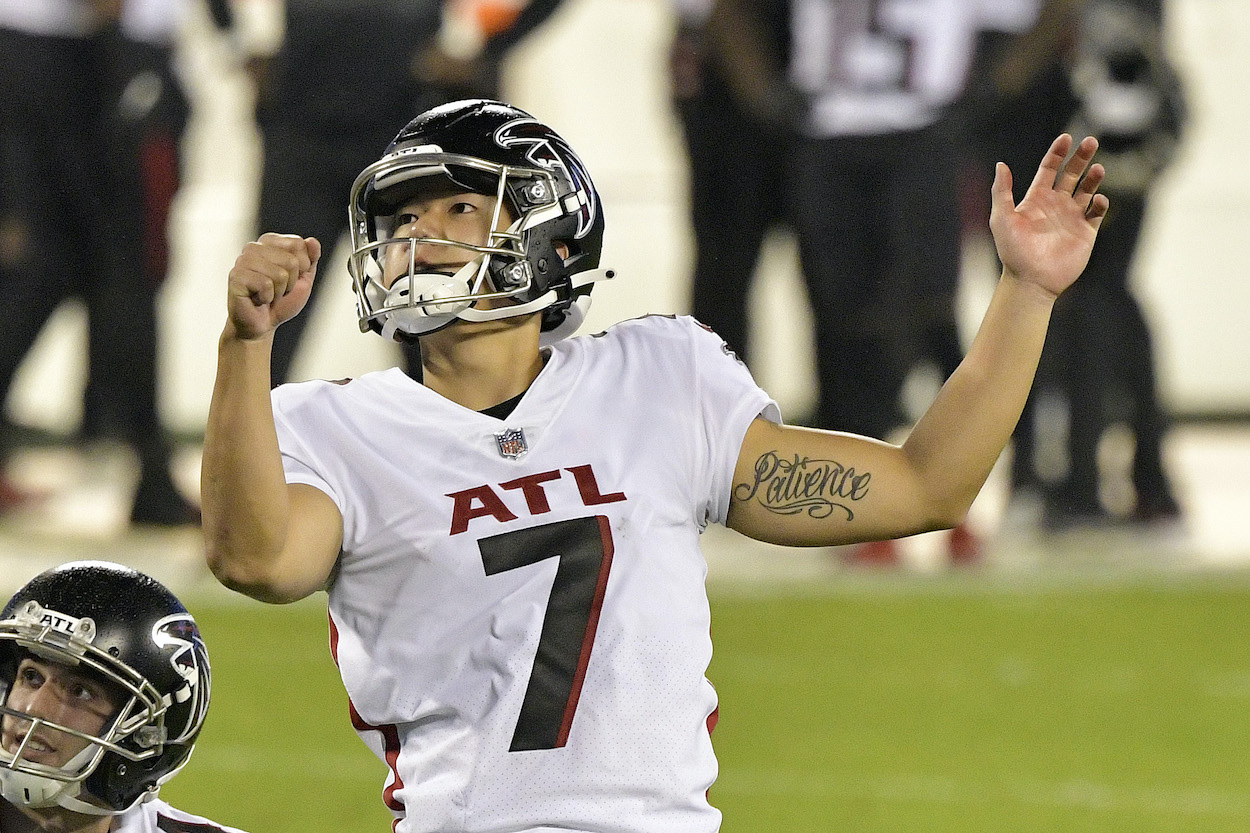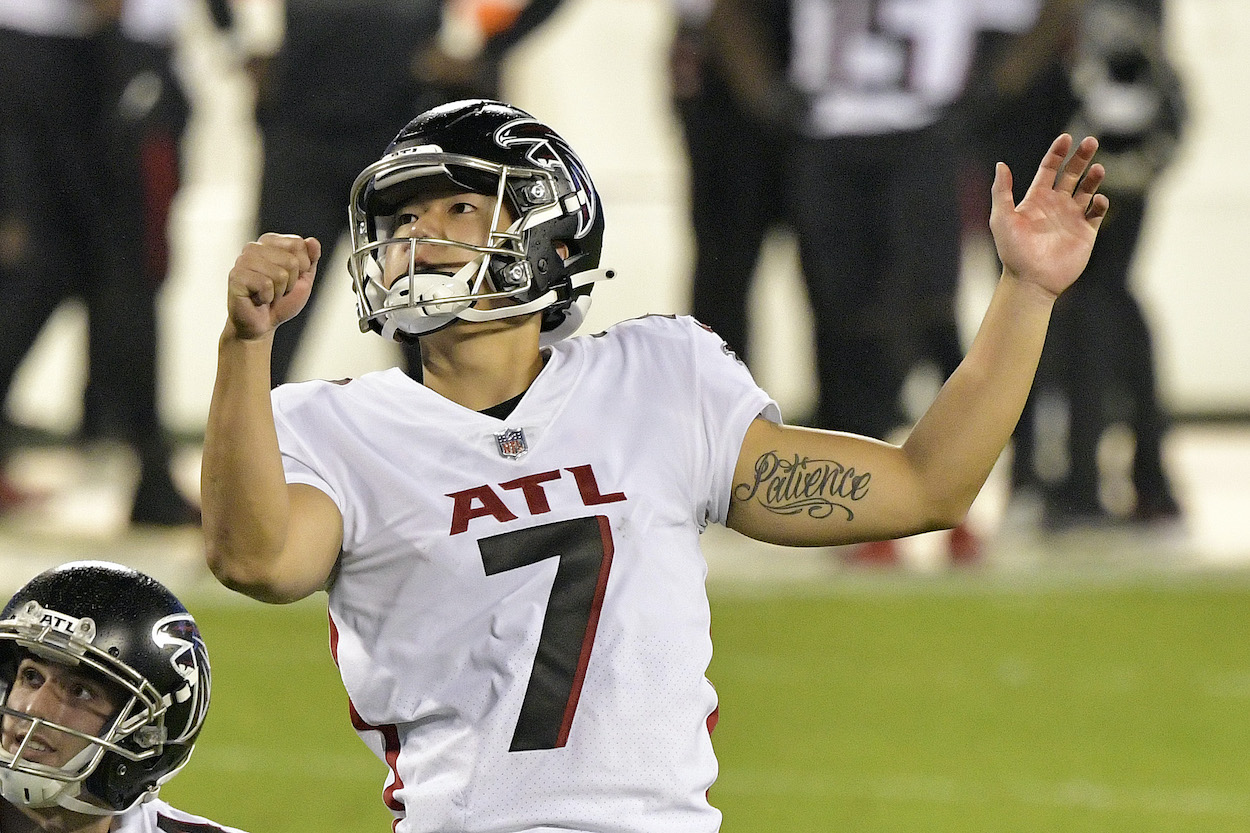 Koo led the NFL in made field goals in 2020, driving home 37 in 39 attempts (94.9%). His season (and also career) long was 54 yards. He also knocked in 33 out of 36 extra points (91.7%).
The Falcons rewarded the November 2020 NFC Special Teams Player of the Month with a one-year, $660,000 deal based on his performance last season. This season, Atlanta hopes to see its kicker continue his high-level performance but have to kick more extra points in the coming season.
After a dismal 4-12 season, the Falcons fired coach Dan Quinn and hired one of the most sought-after offensive coordinators in the game, Tennessee's Arthur Smith. The team also traded star wide receiver Julio Jones and restructured QB Matt Ryan's deal to keep him in town for at least another year. With the No. 4 pick in the 2021 NFL draft, the team selected tight end Kyle Pitts. The receiver in a TE body is the most can't miss prospect of this class.
This on-the-fly, rebuild-without-rebuilding is an interesting maneuver from owner Arthur Blank's club. The team and Ryan were in the playoffs just four seasons ago and in the Super Bowl the year before that. If Smith is as innovative an offensive mind as he seems, the Falcons and Koo could be back in the playoffs as early as this season.
 If Younghoe Koo can get his kicking shoes back, that is.
All stats courtesy of Pro Football Reference