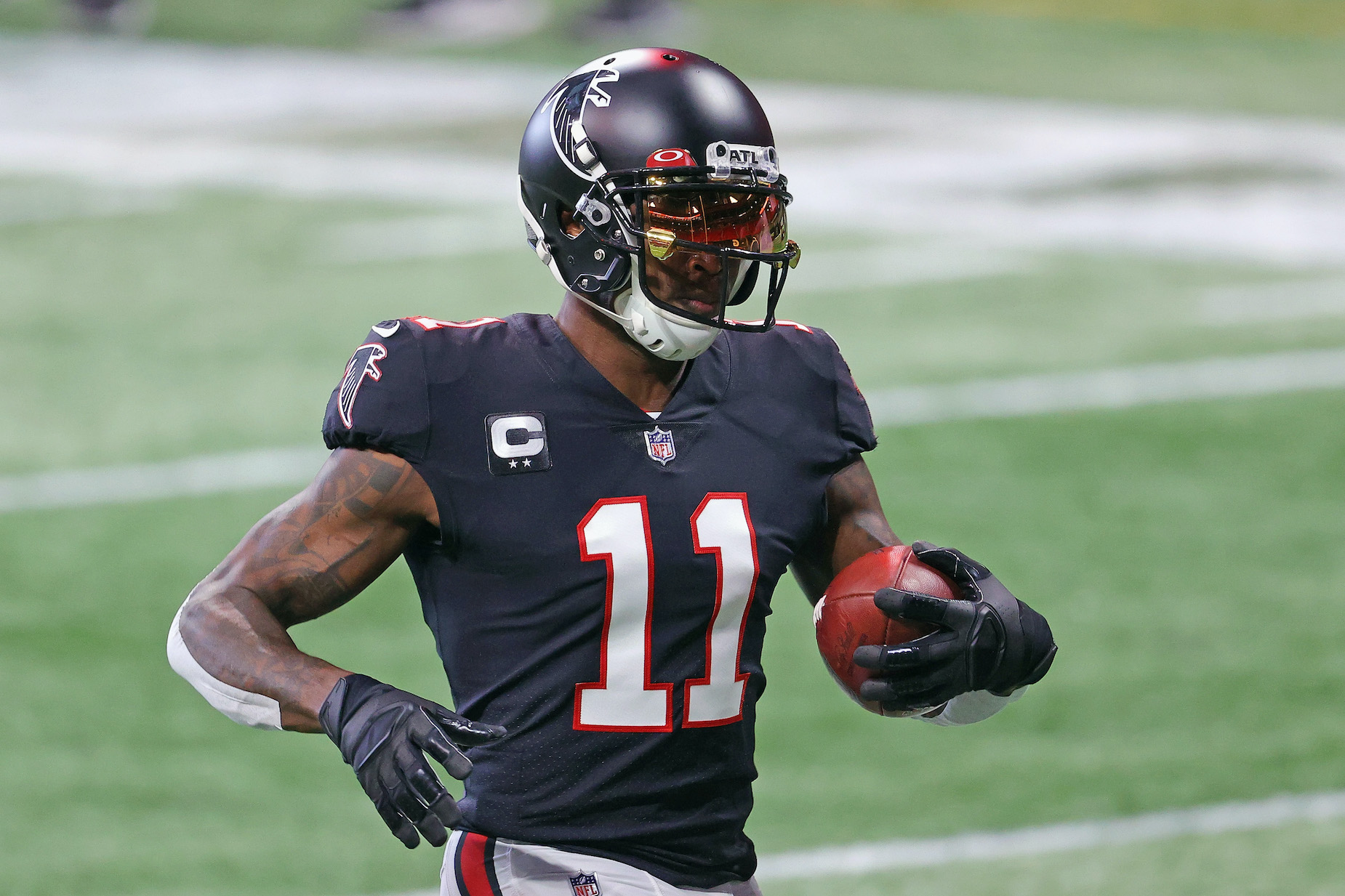 Julio Jones' Newest Reported Trade Requests Help Explain Why He's on the Verge of Joining the Tennesse Titans
If the Atlanta Falcons trade Julio Jones, he has some specific criteria for any potential landing spot.
While Aaron Rodgers has stolen most of the headlines, he's not the only big-name NFL talent who could be on the move this offseason. After spending his entire career with the Atlanta Falcons, wide receiver Julio Jones seems ready to move on. At this point, the Falcons just have to decide on an acceptable asking price and wait for someone to meet their valuation.
On Sunday morning, news broke that Jones could be heading to Tennessee. By looking at his trade desires, it seems like the wideout could get more or less everything he wanted with the Titans.
Julio Jones' days in Atlanta seem to be done
During his time with the Falcons, Jones has proven to be one of the NFL's top offensive weapons. All good things, however, must come to an end, and it seems like his days in Atlanta are done.
Ahead of the 2021 NFL draft, Falcons general manager Terry Fontenot admitted that he was open to trading the franchise's top receiver. While he hadn't initiated any trade calls himself, a combination of salary cap considerations, Jones' age, and his recent injuries, have forced Atlanta to consider biting the bullet and moving on.
Since then, speculation has only picked up steam. The receiver was conspicuously absent from the team's schedule reveal, and then, during a controversial phone call on FS1's Undisputed, he said that he was "outta there [Atlanta]."
As with every other comperable situation, stories emerged about Jones' potential desires for his future. While one of his hopes was fairly boilerplate, another was a bit more situational.
The receiver reportedly has 2 specific criteria for his future employer
While Jones doesn't have a no-trade clause in his contract, it's reasonable to believe the Falcons will at least try to respect his desires, given his service to the franchise. If recent reports are to be believed, the receiver has two criteria for his future employers.
As tweeted by ESPN's Jeremy Fowler, Jones wants to join a contender. That's a fairly standard request and makes sense for the veteran; he's spent a decade in the NFL and will want to experience a Super Bowl that doesn't involve heartbreak. His other desire, however, is a bit more specific.
"If traded, Julio Jones wants to go to a contender, as most big-name players want, but one other thing I've heard intrigues," Fowler tweeted. "A big-armed QB that can deliver the deep ball. Jones wants to outrun DBs and get underneath the ball."
Again, that makes sense given everything we know of Jones. Every star receiver wants the chance to strut his stuff, and, barring the rare exception, it's tough to get anyone excited about running five-yard slant routes.
Julio Jones' preferences could lead to a happy marriage with the Tennessee Titans
In isolation, there's nothing ground-breaking about a wide receiver wanting to play for a contending team with a capable quarterback. Those dual desires, though, suggest that Jones could find happiness in Nashville.
On Sunday morning, ESPN's Dianna Russini broke the news that Jones seemed destined for the Tennessee Titans. While joining a team with a star running back might seem like a less than ideal choice for a talented receiver, there could be a happy marriage on the cards. Ryan Tannehill might not be a star, but he's more than capable of throwing a deep ball. Derrick Henry's presence could also help Jones get the looks he's after; defenses will have to respect the massive running back, theoretically leaving more room over the top.
From the contender side of things, Tenessee also represents a step in the right direction. Although escaping the AFC won't be an easy task, the Titans should comfortably make the playoffs. With a legitimate star running back and a top-tier receiver (assuming Jones is healthy), though, the club will presumably feel like they can hang with any team in the league.
Although it's possible that the deal could hit a late snag, Julio Jones looks like he'll be a Titan before too long. Once he signs on the dotted line, only time will tell if he has a happy (football) marriage or is destined for another divorce.