2021 PGA Championship: Rory McIlroy Missed Out on the Career Grand Slam at The Masters but Can Join Another Highly Exclusive Club With a Win at Kiawah Island
The 2021 PGA Championship at Kiawah Island is upon us and the 155 players in the field not named Rory McIlroy should be terrified.
After going winless in 2020, McIlroy has recorded four top-10 finishes in 2021 and recently got back in the winner's circle with a one-shot victory at the Wells Fargo Championship, his 19th win on the PGA Tour.
The 32-year-old is now seen by many as the favorite at this week's PGA Championship but his victory at Quail Hollow likely isn't the only factor there. Perhaps it has something to do with the fact that the last time this particular major was played at the Ocean Course at Kiawah Island, Rory decimated the field and won by a record eight strokes to claim his second major championship.
McIlroy now has four majors to his name and while he still hasn't been able to win a green jacket at The Masters to complete the career Grand Slam, he can join another highly exclusive club if he can find a way to win at Kiawah Island this week.
Rory McIlroy dominated the field at the 2012 PGA Championship at Kiawah Island
McIlroy was just 23 years old when the 2012 PGA Championship at Kiawah Island rolled around in August 2012 but already had a major championship to his credit, was ranked third in the world, and was coming off a top-five finish the week before at the WGC-Bridgestone Invitational.
Rory got off to a solid start, shooting a 5-under round of 67 on the par-72 Ocean Course, leaving him just one shot back of leader Carl Pettersson. He struggled on day two, as did most of the field as winds were gusting 20-30 miles per hour throughout the Friday round, and shot a 3-over 75 but was just two back heading into the final 36 holes.
The weather continued to play a big part in the tournament on Saturday and a large portion of the field, including McIlroy, was unable to finish the third round due to thunderstorms. However, before the delay, Rory was able to card a 4-under 32 on the front nine and shared the lead at 6-under with 49-year-old Vijay Singh when play was suspended. Play resumed early Sunday morning and by the time the third round was over, McIlroy was at 7-under and held a three-shot lead with 18 holes to play.
A few players attempted a charge in the final round but after McIlroy birdied the second and third holes, it wasn't a matter of if he was going to win but by how much. The answer would turn out to be eight strokes, PGA Championship record as Rory fired a bogey-free 66 to finish at 13-under. Englishman David Lynn finished second at 5-under.
The eight-stroke margin of victory bested Jack Nicklaus' seven-stroke win at Oak Hill in 1980 and still stands to this day.
McIlroy recently notched his 19th PGA Tour victory
Coming into the 2021 Wells Fargo Championship a couple of weeks back, McIlroy had made 27 starts without a victory, his last win coming at the WGC-HSBC Champions in November 2019. As mentioned, he didn't record a PGA Tour victory in 2020 but got a much bigger win in life as he and his wife, Erica, welcomed their first child last August, a daughter named Poppy. So you can imagine how special it was for McIlroy to get his first win in 553 days on Mother's Day.
It's interesting to note that Rory nearly didn't even tee it up at Quail Hollow as he tweaked his neck on the driving range the day before the tourney began. But he had a late tee time on Thursday, which allowed for some extra treatment, and he got his week rolling with a 1-over round of 72, leaving him eight back of the lead.
But he fought back with a second-round 66 and followed it up with a third-round 68, leaving him in a tie for second heading into the final round, where he fired another 3-under round of 68 to finish at 10-under, one shot better than Abraham Ancer.
Rory would join the highly exclusive 20-5 club with a win at the 2021 PGA Championship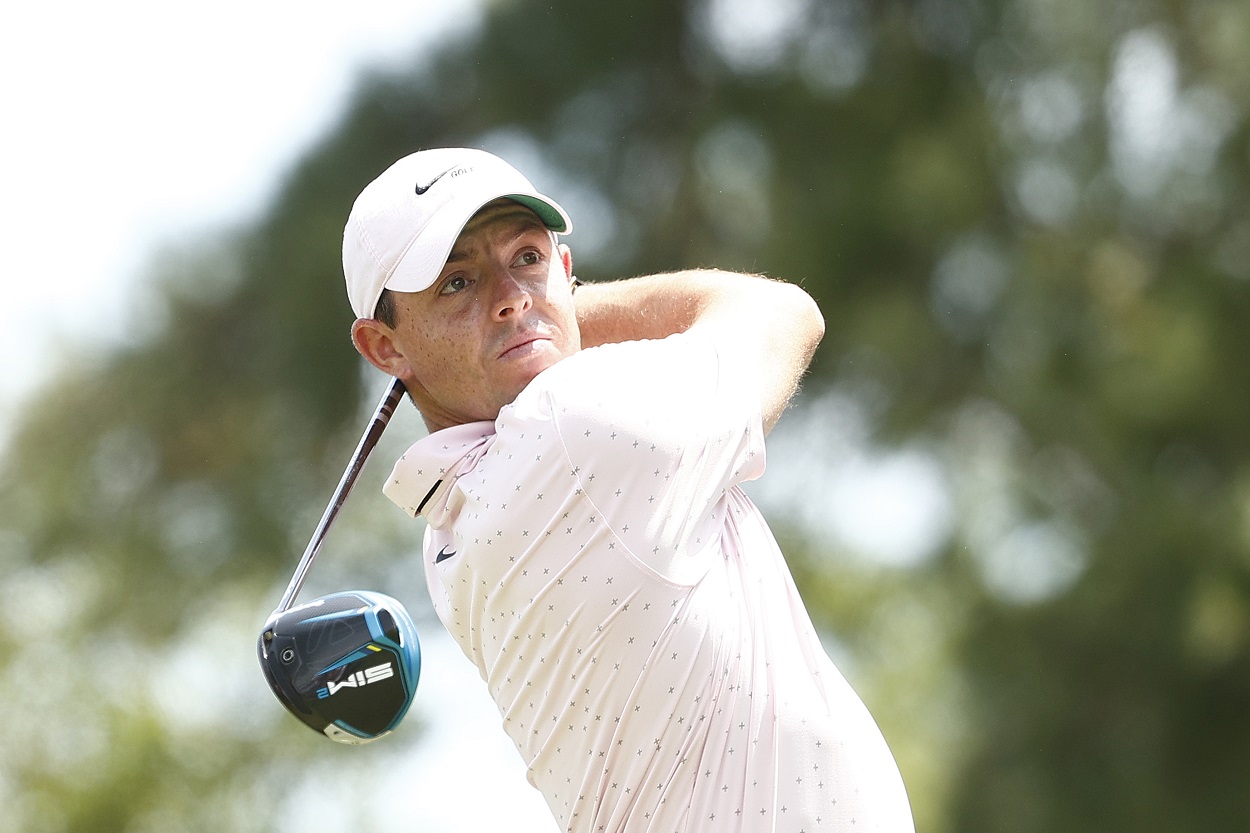 As mentioned, the victory at Quail Hollow, McIlroy's third win at the course, was Rory's 19th PGA Tour victory, which sets up a fun scenario for this week's PGA Championship.
For the last seven years, McIlroy has been attempting to join the highly exclusive club of players to win the career Grand Slam but hasn't been able to win The Masters. He finished fifth last November but missed the cut at Augusta last month with rounds of 76 and 74.
While Rory has to wait another 11 months before taking his next shot at the career Grand Slam, he has the opportunity to join another exclusive club this week at Kiawah Island. A victory would give him 20 PGA Tour wins and five major championships and would make him just the 13th golfer in history to achieve such a feat. As for the other 12 members of the 20-5 club, every single one of them is in the Hall of Fame…or at least will be. Tiger was supposed to be inducted in March but the ceremony was delayed until 2022. Here's a look at the current members of the 20-5 club:
Walter Hagen (45 PGA Tour wins, 11 major championships)
Ben Hogan (64 PGA Tour wins, 9 major championships)
Phil Mickelson (44 PGA Tour wins, 5 major championships)
Byron Nelson (52 PGA Tour wins, 5 major championships)
Jack Nicklaus (73 PGA Tour wins, 18 major championships)
Arnold Palmer (62 PGA Tour wins, 7 major championships)
Gary Player (24 PGA Tour wins, 9 major championships)
Gene Sarazen (38 PGA Tour wins, 7 major championships)
Sam Snead (82 PGA Tour wins, 7 major championships)
Lee Trevino (29 PGA Tour wins, 6 major championships)
Tom Watson (39 PGA Tour wins, 8 major championships)
Tiger Woods (82 PGA Tour wins, 15 major championships)
Stats courtesy of PGATour.com