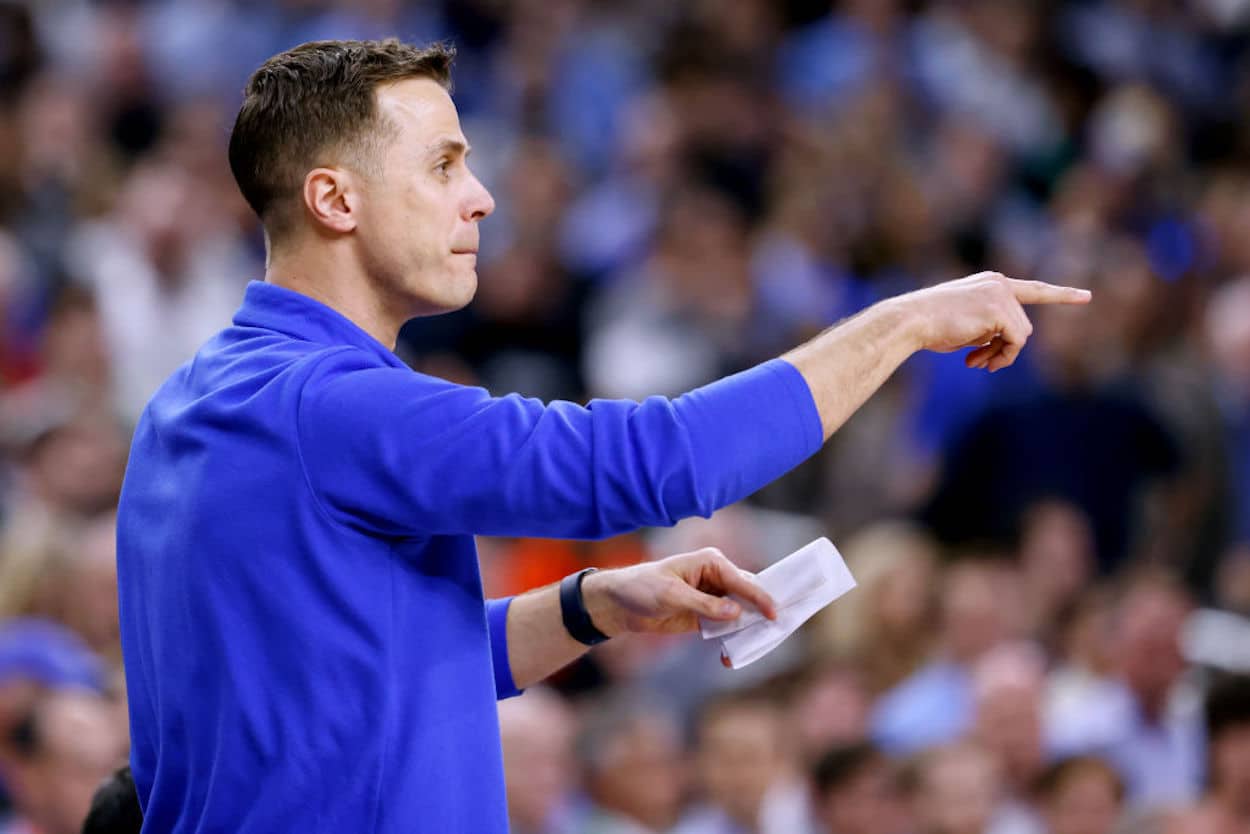 2022 Duke Men's Basketball: Where Dereck Lively II and Dariq Whitehead Fit into Jon Scheyer's First Depth Chart
Jon Scheyer will have a talented roster for his first season as the Duke Blue Devils' head coach. Take an early look at the depth chart.
While things may look different in Durham during the 2022 men's basketball season, don't expect the Duke Blue Devils to suddenly fall off the NCAA map.
Coach K has, of course, ridden off into retirement and handed the program over to Jon Scheyer. Although that could account for some growing pains, the Blue Devils will have an ace up their collective sleeve: the country's top-ranked recruiting class. As much as we want to look at sports as a meritocracy, one in which teamwork and collective effort win out, talent usually decides the game.
Through that lens, let's take a look at Duke's 2022 men's basketball depth chart and who Jon Scheyer can call upon during his first season running the show.
Jeremy Roach and Dariq Whitehead should be Duke's starting guards, with Jaden Shutt providing depth
While pass-first point guards have largely become things of the past, it's still important to have ball-handlers who can both run the offense and score on their own. Thankfully for Jon Scheyer, he has two talented players ready to fill out his backcourt.
Jeremy Roach, Duke's most-notable returning player, will probably slot in at point guard. Not only does he have some big-game experience — that can't be overlooked on a young squad — but he's also proven adept at driving to the rim and creating his own offense. That ability should force defenses to collapse around him, creating open looks for the rest of the Blue Devils.
He'll presumably be flanked by Dariq Whitehead, the second-ranked prospect of the 2022 recruiting class. While he's nominally listed as a forward, the New Jersey native has the raw athleticism to slot in at shooting guard. As explained by Jerry Meyer of 247Sports, Whitehead "loves to attack the rim, but has a smooth jumper" and "has tremendous potential as a versatile defender."
That sounds like the sort of skillset Jon Scheyer and Jai Lucas, two former guards, will dream of unleashing.
Jayden Shutt, a 4-star recruit, will also be in the mix for a prominent backcourt role, but given Roach's experience and Whitehead's raw talent, expect to see him coming off the bench to provide some outside shooting.
Still, you shouldn't overlook the Illinois native.
"I'm really excited to see Jaden Schutt," JD King of Duke Basketball Report told Sportscasting. "He intrigues me because he shows an uncommon dedication, which shows in things like diet far more than most of his contemporaries. In terms of his total commitment, he's way ahead of most people his age and even some guys who have been in the NBA for a few years. Plus, he's played at a small school and looks much better than that level. So I want to see how he does in the ACC. Lots of guys can shoot, but very few mold their lives around their ambition at 17-18 the way he has. Let's see how far he can take it. I think he could be a major surprise."
Scheyer can deploy Kyle Filipowski and Mark Mitchell on the wings
When it comes to the wings, Kyle Filipowski seems like a natural fit. Despite being nominally listed as a center, the 6-foot-11 big man has the skills necessary to shine on both the perimeter and the block. He possesses a smooth shooting stroke, is capable of handling the ball, and is strong enough to hold his own in the post. His skillset will also complement the other potential starter, Mark Mitchell.
Mitchell, who comes in at 6-foot-8, is more at home on the interior. While he's capable of stepping outside and draining a jumper, that's not what caught the attention of recruiters around the country. Instead, the Kansas product stands out thanks to his explosive athleticism and ability to make things happen at the rim. It's easy to imagine him being more of the interior man, with Filipowski floating to the perimeter and spacing the floor.
For depth, Scheyer also brought in Kale Catchings via the transfer portal. The former Harvard forward probably won't blow anyone away, but he should be more than capable of providing some veteran experience and tough minutes off the bench.
It is also worth noting that Duke will have a bit of flexibility here. If Shutt forces his way into the starting lineup, Whitehead could shift over and slot in at forward within a smaller set.
Dereck Lively II should own the paint as Duke's starting center
While centers don't rule the paint like they once did, that won't stop Dereck Lively II from making an impact in Durham. The big man arrives at Duke as the top-rated prospect in his recruiting class and should be the first name Jon Scheyer pencils into the lineup.
Lively is proudly a center, meaning he'll have no problem using his 7-foot-1 frame to block shots and pull down rebounds. But that doesn't make him a dinosaur. As Brandon Jenkins explained for 247Sports, the big man has "terrific athleticism for his size." He's also dangerous in the pick-and-roll game and has shown signs of developing an outside shot.
Transfer Ryan Young will provide center depth, and Filipowski could also slot into the paint as needed.
It goes without saying that there will be some growing pains along the way. But if raw talent is anything to go by, Jon Scheyer and his Blue Devils should be ready to rock and roll this fall.
Like Sportscasting on Facebook. Follow us on Twitter @sportscasting19 and subscribe to our YouTube channel.