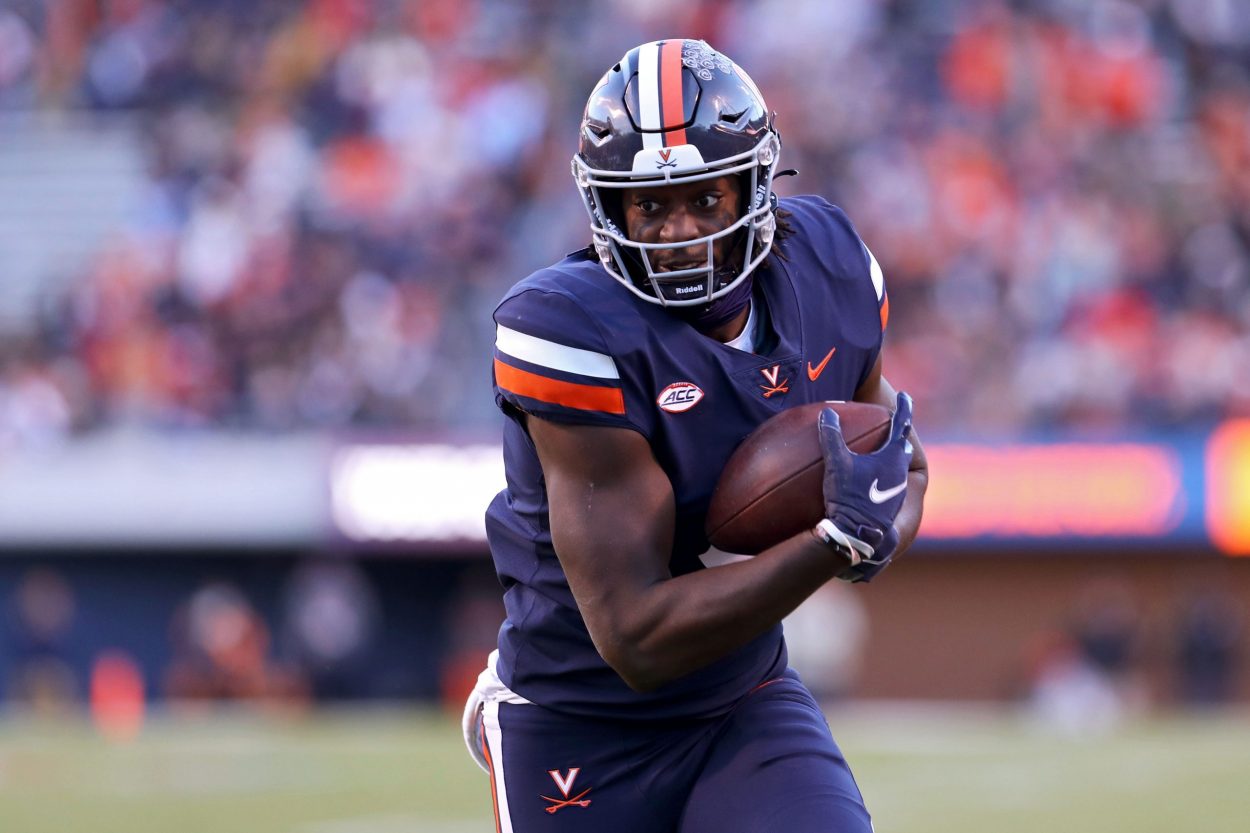 2022 NFL Combine: Best Tight End Performances And Draft Risers
Jelani Woods was one of several tight ends to improve their draft position at the NFL Combine.
Wide receivers, as is normally the case, are getting all the love and attention among offensive players at the NFL Combine. The 40-yard dash remains the most-popular skill test for observers at Lucas Oil Stadium in Indianapolis, and not just when NFL Network's Rich Eisen runs it.
The wide receiver times in the 40 make all the big headlines, but the performances in all drills by this year's class of tight ends will be just as worthy of attention to NFL coaches, general managers and player personnel directors.
Here are the top four tight end performances at this year's combine, and what they mean for each player heading into the NFL Draft in April:
4. Daniel Bellinger, San Diego State
Bellinger may have had the biggest day of all the tight end prospects, as he entered the Combine projected at best a sixth-round NFL Draft selection, but his solid numbers and drill performances likely boosted him to much earlier in the day on Day 3.
Bellinger finished fourth among tight ends with a 4.63 40-yard dash and was tied for second with 22 bench-press reps. But he was the top performer in the vital three-cone drill and had the best broad jump.
Bellinger even showed improvement in his route running, which might be his biggest negative. The Aztecs have been a running team under Brady Hoke, and Bellinger has been a solid blocker, but his potential as a pass-catcher is seemingly unlimited.
3. Chig Okonkwo, Maryland
Okonkwo caught 52 passes for 447 yards and five touchdowns last season for the Terrapins, and he as also seen his draft stock rise after a solid Combine. Okonkwo led all tight ends with a 4.52 in the 40 and was reportedly solid in his route-running.
Okonkwo missed the 2020 season with myocarditis, an inflammation of the heart muscle, but returned to the field last season with a flourish and had a good week of practices at the postseason East-West Shrine Bowl.
2. Trey McBride, Colorado State
McBride is considered the top tight end prospect on the board, and despite a lack of touchdowns, he had a stellar 2021 season with the Rams, catching 90 passes for 1,121 yards.
McBride chose not to run the 40-yard dash at the Combine, perhaps because of his status as the top prospect, with nowhere to go but down with a bad time. But McBride excelled at the other drills and did nothing to change any minds about his draft-readiness.
"Our team was a run-first team," McBride said at the Combine. "So, to get those catches and things like that I had to put my head down and block. You know, I think I'm a tougher, physical guy. I think I'm a tremendous run-blocking guy who can do it all. But that's what we did first. That's how I got on the field early on in my career.
"So that's the only real thing I know. I think, you know, being tough, physical, and gritty in the run game is important and something that I love to do."
1. Jelani Woods, Virginia
Like Bellinger, Woods had a terrific Combine and likely moved up significantly from his fifth-round projections before Indianapolis.
Woods was second in the 40 with a time of 4.61 and had 24 bench-press reps to lead all tight ends. According to reports, Woods was fluid in his route-running and displayed good hands. He also looked good in blocking drills, which was his primary skill at Oklahoma State, before he transferred to Virginia, where he expanded his pass-catching role last season with 598 yards and eight touchdowns.
"I'd say I'm a balanced tight end," Woods said. "I'm able to dominate in-line blocking and able to attack vertically down the field, be that guy who can stretch the field."
 Stats courtesy of Pro Football Reference