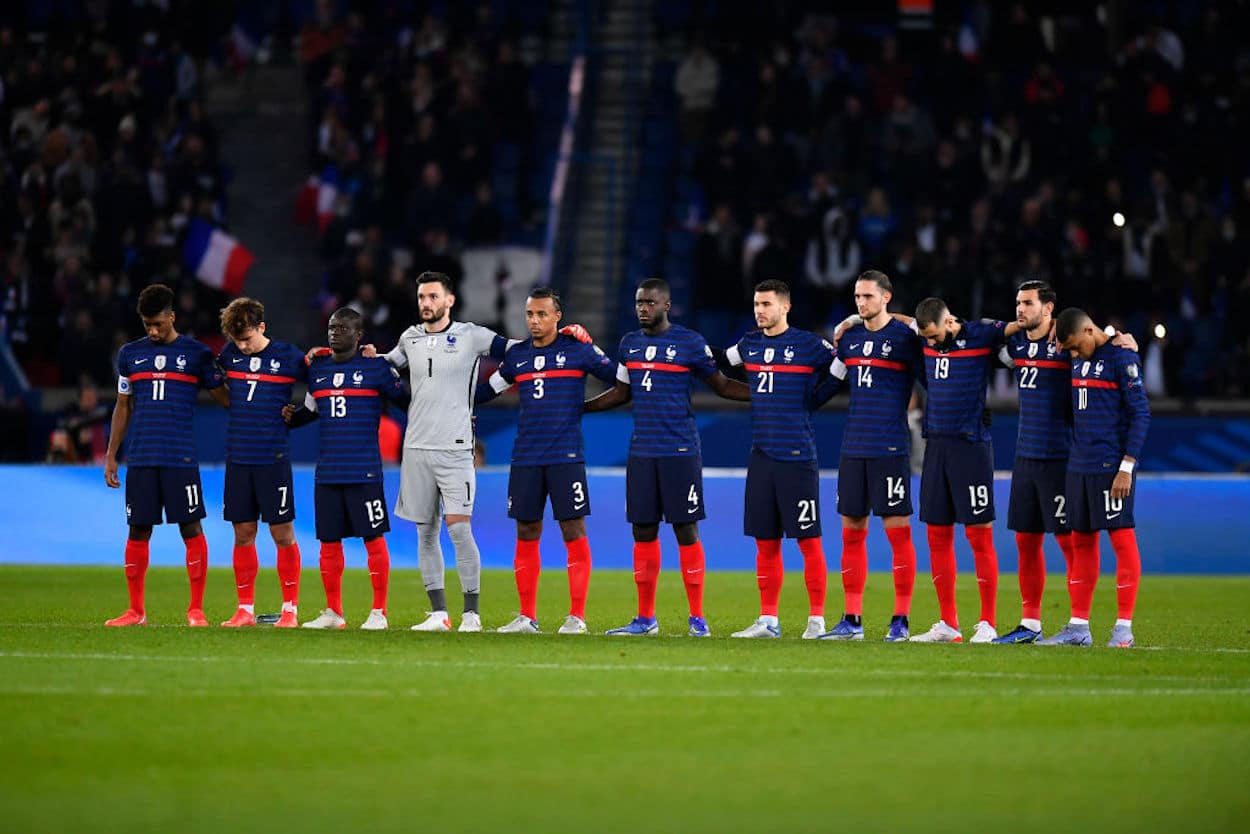 2022 World Cup: France's Path to Repeating as Champions Just Became That Much Harder
The World Cup is yet to officially begin, but things are already getting more complicated for France. Can their midfield handle the pressure?
With the 2022 Qatar World Cup rapidly approaching, there's a certain sense of anticipation. While the tournament isn't quite soccer's version of March Madness, we're at the point in the timeline when everyone can dream. Sure there are a few favorites, like Brazil, France, and Argentina, but a single-elimination tournament allows for some unexpected upsets. Who could forget, for example, Greece's run to the 2004 Euro Cup?
And while there's still plenty of time for things to change ahead of kick-off, one of the powerhouses just got a bit weaker. France will officially be without N'Golo Kante for the World Cup.
While one injury might not seem like a game-changer, this one could be a serious blow for France. Not only is the Chelsea midfielder a truly one-of-a-kind player, but it compounds some existing injury concerns.
N'Golo Kante underwent surgery, possibly ending his season and definitely ruling out a trip to the World Cup
As Premier League fans can confirm, N'Golo Kante suffered an early injury for Chelsea and has been on the sidelines for most of the domestic campaign. On Tuesday, the club confirmed that we wouldn't be seeing him for a while.
"N'Golo Kante has undergone an operation on his hamstring injury," Chelsea wrote in a statement."The midfielder visited a specialist with the club's medical department to explore the options for his rehabilitation approach and it was mutually agreed for N'Golo to have surgery to repair the damage. Following a successful operation, N'Golo is now expected to be sidelined for four months."
While that press release may be succinct, the recovery time is anything but. Four months means the midfielder won't return to the pitch until the end of February, and it's unclear how long it will take him to return to full fitness after that. At age 31 and with plenty of miles on his legs, it wouldn't be surprising for Kante to need a bit of extra ramp-up time; the last thing the Blues would want to do is rush him back from surgery.
Pulling things out to an international level, a four-month recovery time will definitely cost the midfielder a trip to the World Cup. Festivities in Qatar will begin at the end of November and last for roughly a month, meaning Kante simply won't be fit in time to take part.
That injury shines a brighter light on Paul Pogba and his role in France's midfield
When you think of the French national team, you probably imagine a unit that's stacked with incredible talent. While there are certainly some big names in the squad, things could be getting a bit thin in midfield.
Kante, as we've established, is injured. Paul Pogba, the second-biggest name in the center of the park, is recovering from an injury of his own. While he should join the squad in Qatar, it remains to be seen exactly how fit he'll be. He's only just returned to training and, as of October 19, is yet to play a single minute for Juventus.
While Pogba can be a divisive character, his sheer talent will be important with Kante unable to play. Beyond those two senior options, France's potential midfield consists of talented players under 25 (Eduardo Camavinga, Aurelien Tchouameni, Matteo Guendouzi, and Youssouf Fofana) and names who, with all respect, aren't really going to move the needle against top-end opposition (Adrien Rabiot and Jordan Veretout). Relying entirely on either of those groups probably isn't ideal.
If Pogba is ready to play by the time France touches down in Qatar, he'll thread the needle between the two groups. He has plenty of experience but also possesses the talent to make a difference in a match.
France shouldn't have a problem in their group, but things will get tricky after that
While the recent injuries combined with France's recent form — they were almost relegated out of their UEFA Nations League group — may seem like a lot of doom and gloom, things probably won't go south right away. Les Bleus landed in World Cup Group D, alongside Australia, Tunisia, and Denmark. Again, anything can happen in a tournament, but Didier Deschamps' squad should finish first in their group. In a worst-case scenario, they'll be second behind the Danes.
After that, though, the road gets tougher. Assuming France wins the group, they'll probably open knock-out play with either Mexico or Poland. The winner of that match would be England, followed by Belgium.
On the other side of the bracket, things won't be easier if France comes in second place. They'd start out with Argentina, potentially ending their tournament in the Round of 16. Should the reigning world champs survive that meeting with Messi, they'll likely face either Senegal or the Netherlands, followed by Brazil.
While those paths to the final aren't exactly surprising — this is the World Cup, after all — it underscores the challenges France will face. At the risk of breaking out a cliche, the midfield is called the engine room for a reason. If things break down there, you'll lose control of a match and quickly be in trouble.
Can France still make a serious run at the title? Of course. They have some big-name attackers and, even if they trot out an incredibly young midfield of Eduardo Camavinga, Aurelien Tchouameni, Matteo Guendouzi, there's some serious talent in the center of the park. Would a bit more experience be ideal? Yes, but you don't want to trot out an inferior player for the sake of his know-how.
Having N'Golo Kante on the sidelines, though, things will be that much harder. With the World Cup on the line, there are few men you'd rather have holding down your midfield.
Have thoughts on this topic? Keep the conversation rolling in our comments section below.