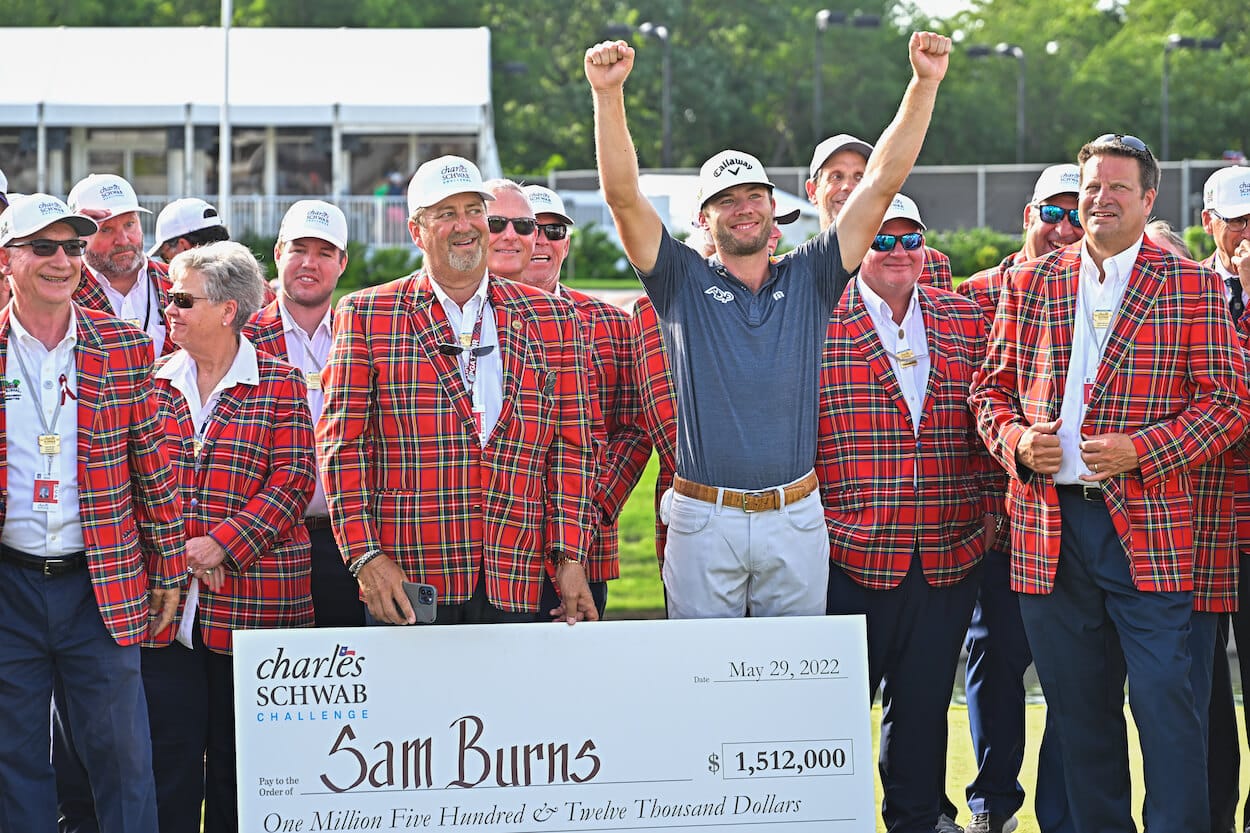 2023 Charles Schwab Challenge Purse and Payouts: How Much Money Will the Winner Take Home?
How much money is up for grabs at the 2023 Charles Schwab Challenge?
The week after a major championship is always a dispiriting one for golf fans. The PGA Championship gave us Brooks Koepka's return to major glory, Michael Block's magical introduction to the golf world, and so much more. It won't be easy for this week to replicate the drama that unfolded at Oak Hill Country Club.
But the 2023 Charles Schwab Challenge still has its fair share of riveting storylines.
Block, who captivated golf fans everywhere with his T15 finish at the PGA Championship, is in the field this week after receiving a last-minute exemption. World No. 1 Scottie Scheffler will headline a field that features nine of the top 20 players in the Official World Golf Ranking. The Texas native is a massive betting favorite to win his third tournament of the 2022-23 season this week.
If he does, how much money will he go home with? Let's check out the 2023 Charles Schwab Challenge purse and payouts for every finishing position.
The winner of the Charles Schwab Challenge will bank $1.566 million
The Charles Schwab Challenge isn't an elevated event on the 2022-23 PGA Tour schedule, but some of the best players in the world still decided to make the trip to Colonial Country Club just one week after the second major championship of the year.
Scottie Scheffler, Viktor Hovland, Jordan Spieth, and Max Homa are a few of the nine players ranked inside the OWGR top 20 teeing it up this week. They will all be playing for the plaid jacket and a $1,566,000 cash prize for the winner.
Scheffler is the clear favorite to win the tournament at +400 odds, with Hovland (+1300) and Spieth (+1400) right behind him on the odds board.
2023 Charles Schwab Challenge purse and payouts
2023 Charles Schwab Challenge purse: $8.7 million
| Finishing Position | Payout |
| --- | --- |
| Winner | $1,566,000 |
| 2 | $948,300 |
| 3 | $600,300 |
| 4 | $426,300 |
| 5 | $356,700 |
| 6 | $315,375 |
| 7 | $293,625 |
| 8 | $271,875 |
| 9 | $254,475 |
| 10 | $237,075 |
| 11 | $219,675 |
| 12 | $202,275 |
| 13 | $184,875 |
| 14 | $167,475 |
| 15 | $158,775 |
| 16 | $150,075 |
| 17 | $141,375 |
| 18 | $132,675 |
| 19 | $123,975 |
| 20 | $115,275 |
| 21 | $106,575 |
| 22 | $97,875 |
| 23 | $90,915 |
| 24 | $83,955 |
| 25 | $76,995 |
| 26 | $70,035 |
| 27 | $67,425 |
| 28 | $64,815 |
| 29 | $62,205 |
| 30 | $59,595 |
| 31 | $56,985 |
| 32 | $54,375 |
| 33 | $51,765 |
| 34 | $49,590 |
| 35 | $47,415 |
| 36 | $45,240 |
| 37 | $43,065 |
| 38 | $41,325 |
| 39 | $39,585 |
| 40 | $37,845 |
| 41 | $36,105 |
| 42 | $34,365 |
| 43 | $32,625 |
| 44 | $30,885 |
| 45 | $29,145 |
| 46 | $27,405 |
| 47 | $25,665 |
| 48 | $24,273 |
| 49 | $23,055 |
| 50 | $22,359 |
| 51 | $21,837 |
| 52 | $21,315 |
| 53 | $20,967 |
| 54 | $20,619 |
| 55 | $20,445 |
| 56 | $20,271 |
| 57 | $20,097 |
| 58 | $19,923 |
| 59 | $19,749 |
| 60 | $19,575 |
| 61 | $19,401 |
| 62 | $19,227 |
| 63 | $19,053 |
| 64 | $18,879 |
| 65 | $18,705 |