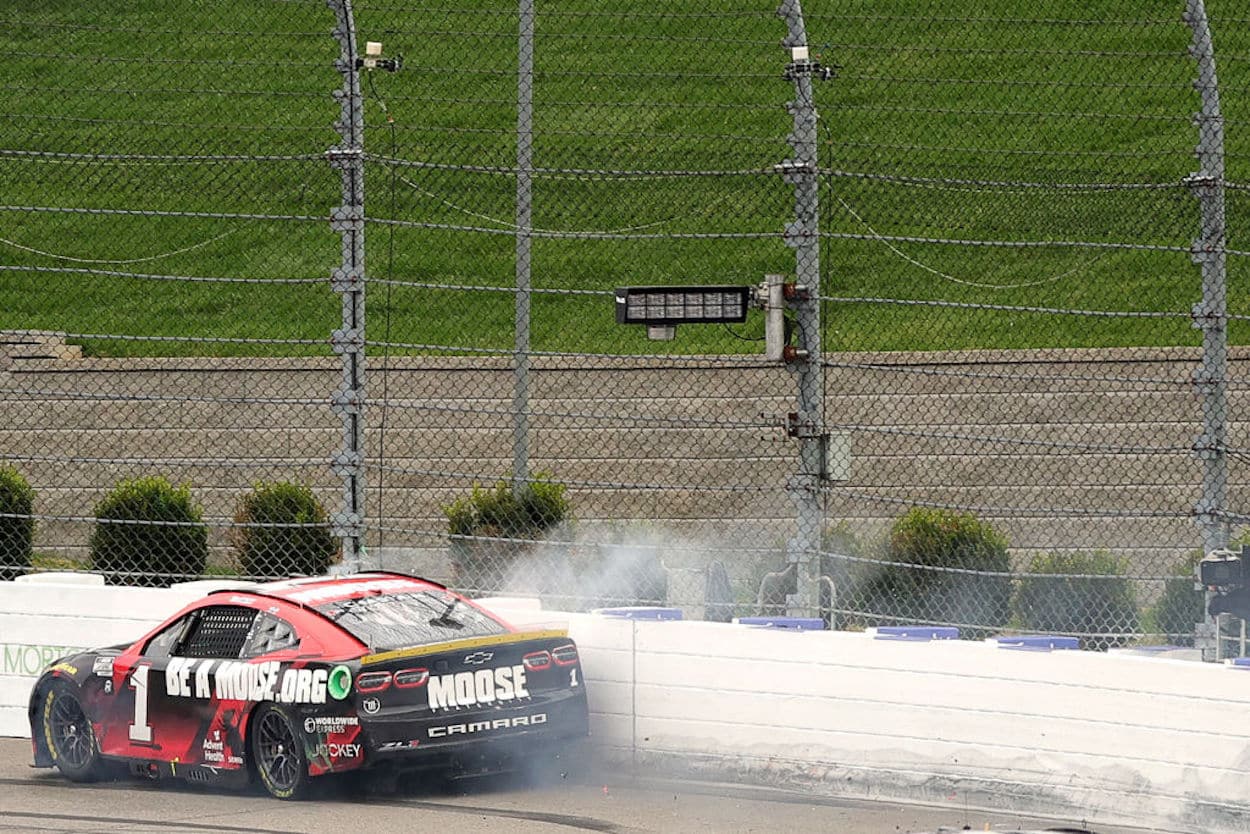 3 Areas Where NASCAR Got It 100% Right in 2022
With the benefit of hindsight, NASCAR got some major calls right in 2022. Let's break those decisions down.
No matter how it rules or what it decides on any number of situations, NASCAR is never going to make everyone happy.
That's just the way it is.
But in 2022, the sanctioning body hit a home run in at least three key areas and should be universally applauded for getting it right.
Let's take a look at the trio of places where NASCAR exercised great wisdom this past year.
The zero-tolerance policy for blatant cheating and high-risk retaliation
When you knowingly put a car on the race track that's unequivocally illegal, you deserve a harsh punishment. Simple as that. No exceptions.
The same is true when a driver or team deliberately puts a competitor at a disadvantage in an effort to alter the outcome of a race in favor of a teammate.
Thankfully, NASCAR agrees and made every effort to crack down on such actions in 2022. Among those who breached the NASCAR rule book by either building a car with irregularities or trying to manipulate a finish were the teams of Brad Keselowski, Denny Hamlin, Kyle Busch, and Cole Custer.
In each case, NASCAR acted decisively and attempted to send a strong message to the Cup Series garage by levying a harsh punishment intended to make drivers and teams think twice before bending the rules again.
The sanctioning body took a similar approach with its one-race suspension of Bubba Wallace for exacting what it deemed to be a high-risk retaliation on Kyle Larson in the fall Las Vegas race. Again, this was the right call.
NASCAR simply can't afford to have drivers intentionally running into each other at 150 mph because they're miffed and can't keep their tempers in check. The risk of someone getting injured or killed is too great. So the sanctioning body ruled correctly in the Wallace-Larson situation, which will hopefully prevent similar occurrences in 2023 and beyond.
The shocking return of North Wilkesboro to the 2023 Cup Series schedule
Hands down, the most pleasant and surprising development of the 2022 NASCAR season was the announcement in early September that North Wilkesboro Speedway would return to the Cup Series schedule in 2023 and serve as host of the NASCAR All-Star Race.
Long considered little more than a relic of NASCAR's past, the fabled .625-mile short track is currently undergoing extensive renovations in preparation for hosting its first Cup Series event since the fall of 1996. 
Not surprisingly, main grandstand tickets for next May's All-Star Race sold out almost immediately after going on sale, as fans, drivers, sponsors, and race promoters alike can hardly wait to see the stars of NASCAR's premier series competing under the lights at a venue so steeped in tradition and history.
Kudos to NASCAR, Speedway Motorsports Inc. chairman and track owner Marcus Smith, Dale Earnhardt Jr., and other key influencers for taking the bold step to resurrect North Wilkesboro after years of the iconic track sitting sadly idle with seemingly no hope of ever hosting a Cup Series race again.
The decision not to ban the video-game style move perfected by Ross Chastain
Undoubtedly, the most unthinkable moment of the 2022 NASCAR Cup Series season took place on the last lap of the fall playoff race at Martinsville.
Facing seemingly inevitable elimination from the playoffs, Ross Chastain needed to pick up two positions in the final corner to be one of the four drivers who'd complete for the championship the following weekend at Phoenix.
So rather than conceding defeat, Chastain made a never-before-seen move. Well, except in video games, that is.
Rather than lifting off the throttle and hitting the brakes as a driver normally would in the turns at Martinsville, Chastain stayed in the gas and bounced off the wall multiple times through the third and fourth corner. Despite sustaining heavy damage to the right side of his No. 1 Trackhouse Racing Chevrolet, Chastain managed to pass five cars — more than enough to leapfrog Denny Hamlin for the final Championship 4 transfer spot.
Although Chastain's move was widely praised for being daring, innovative, and outside the box, not everyone agreed. In fact, some drivers — most notably Joey Logano, Chase Elliott, and Kyle Larson — even lobbied NASCAR to institute a new rule prohibiting drivers from trying such a risky maneuver in the future. But, thankfully, those pleas fell on deaf ears, as NASCAR — while not necessarily overjoyed with what Chastain did — decided not to amend the rule book.
This was a wise decision for multiple reasons, one being that Martinsville is probably the only track on the Cup Series schedule where a driver could even successfully pull this move off. And No. 2, if most fans and pundits liked Chastain's bold act of aggression — which made news headlines around the country, far beyond the world of NASCAR — why should NASCAR outlaw it?