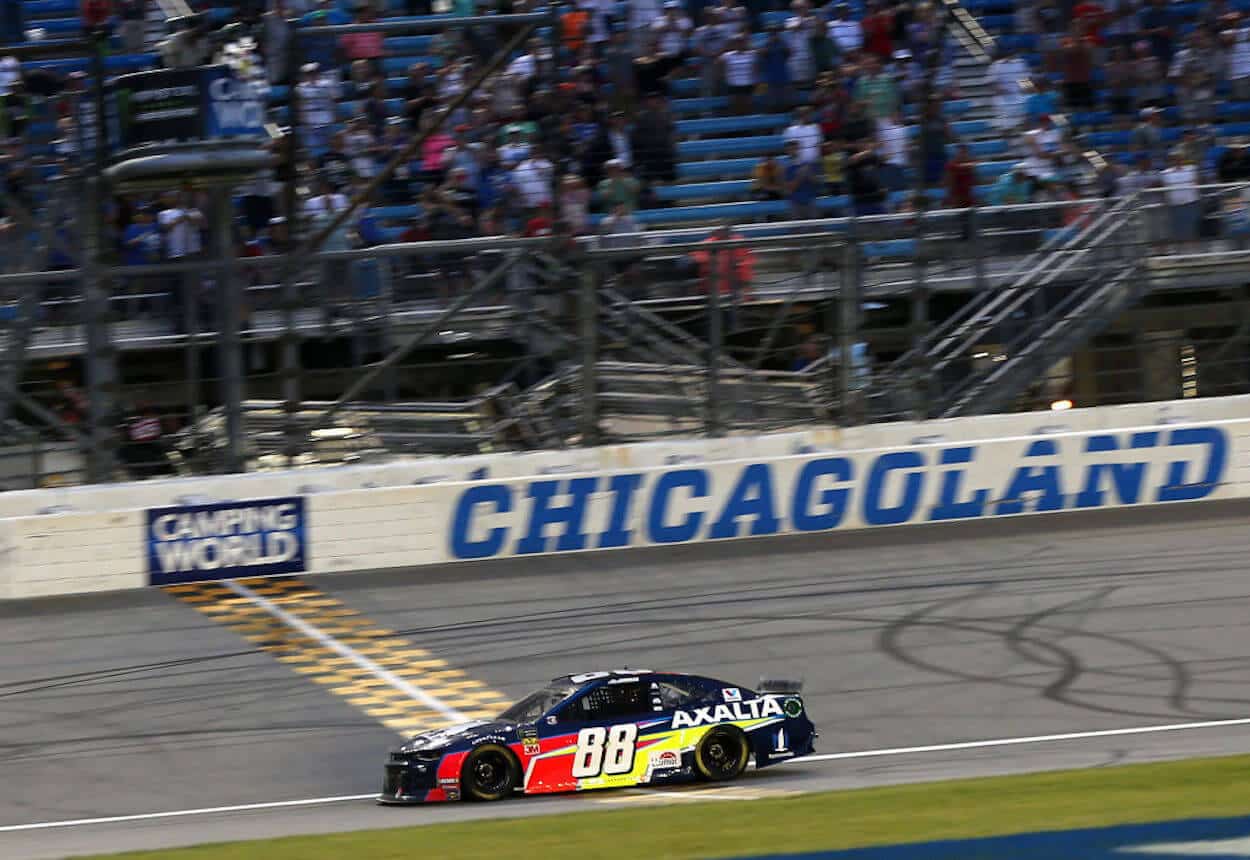 3 'New' Tracks That Should Be on the 2024 NASCAR Cup Series Schedule
If NASCAR wants to get more intermediate-length tracks onto the Cup Series schedule, these are the best candidates.
While the 2024 NASCAR Cup Series schedule — likely to be released around Labor Day — continues to take shape, speculation is rampant about big changes potentially on the horizon.
One possibility being floated is that NASCAR will forgo one or more short-track races in favor of a return to one or more intermediate tracks that have fallen off the calendar in recent years.
The impetus for such a change would be the fact that the racing has improved dramatically at NASCAR's 1.5-mile and 2-mile tracks but suffered at the short tracks since last year's rollout of the Next Generation Cup Series car.
Whether any "old" tracks are ultimately added to the schedule — essentially becoming "new" tracks — remains to be seen, of course, but at least three tracks not currently on the calendar absolutely deserve to host a Cup Series race in 2024.
We'll break them down next.
Kentucky Speedway
A fixture of the Cup Series schedule for the entirety of the last decade, Kentucky Speedway played host to a summertime race from 2011-2020.
While not all of the 10 races held at the 1.5-mile Sparta, Kentucky track were thrillers, the last two couldn't have produced finishes that were any more electrifying.
In 2019, Kurt Busch outdueled younger brother Kyle under the lights in an epic last-lap battle that culminated in the older Busch sibling edging his brother at the checkered flag by a scant .076 seconds.
One year later, it was Stewart-Haas Racing rookie Cole Custer stealing the lead and the win with a four-wide (no, that's not a misprint) pass for the top spot coming to the white flag. Custer lined up on the outside of Row 3 for a restart with two laps left and quickly managed to march his way to the front and execute the winning move.
Yet somehow, despite being the site of back-to-back nail-biters, Kentucky dropped off the schedule in 2021. If the racing was this great here with the old Generation 6 Cup Series car that notoriously struggled to yield a quality product on the intermediate tracks, can you imagine how awesome it would likely be at Kentucky with the Next Gen vehicle?
For this reason, Kentucky should be on the 2024 Cup Series tour — and its continued absence from the schedule would be nothing less than a travesty.
Chicagoland Speedway
While one could argue that Chicagoland Speedway shouldn't have its Cup Series date resurrected for the simple fact that Chicago has a new street course that's on the 2023 Cup schedule and likely to return in 2024, two races in the Chicago area actually wouldn't be a problem.
Or at least they shouldn't be.
After all, Joliet — the home of Chicagoland Speedway — is about 45 minutes from downtown Chicago, where the street race will take place. Plus, Chicago represents the third-largest media market in the country, trailing only New York City and Los Angeles.
If NASCAR can have a Cup Series race in the rural hamlet of North Wilkesboro, North Carolina and still compete at Charlotte Motor Speedway just over an hour away or Martinsville Speedway less than an hour and 45 minutes up the road, then two races in metro Chicago sound perfectly reasonable.
Like Kentucky, Chicagoland is a mile-and-a-half track that's equipped with lights and that produced some stellar races during its time on the Cup Series schedule. In fact, Chicagoland — which was part of the Cup itinerary from 2001-2019 — hosted the opening race of the Cup playoffs from 2011-2017. But due to restrictions connected with the COVID-19 pandemic that caused a major shakeup of the Cup Series schedule in 2020, Chicagoland fell off the calendar that year and just never returned.
It's time for a comeback in 2024, however, since it seems all but a sure bet that the Next Generation Cup Series car would be well-suited for Chicagoland's high-speed, D-shaped tri-oval layout.
Indianapolis Motor Speedway
From 1994-2020, Indianapolis Motor Speedway was home to the Brickyard 400 — a "crown jewel" NASCAR Cup Series race that occurred on the venerable 2.5-mile oval for which IMS is famous.
For the past two years, however, NASCAR's premier division has competed on the speedway's infield road course, which incorporates portions of the oval but lacks the oval track's history and prestige.
After all, the IMS oval hosted the inaugural Indianapolis 500 all the way back in 1911 and has been the site of some of the greatest and most iconic moments in motorsports history. The 14-turn, 2.439-mile road course, meanwhile, wasn't utilized by a major professional racing series until 2000.
Given how unpopular moving Indianapolis' lone Cup Series date to a road course has been with many drivers — most notably Kyle Busch, Kevin Harvick, Denny Hamlin, and Aric Almirola — this year's Indy road course race should be the last leg of a three-year experiment. An experiment that's failed to accomplish its original goal of giving the speedway a boost in attendance for its annual NASCAR weekend.
The Cup Series needs to be back on the IMS oval — noted for its unique layout featuring four distinct turns and two long straightaways — and it should happen in 2024 if for no other reason than the fact that NASCAR drivers and fans alike no longer view Indy as a "crown jewel" race. Heck, the race isn't even known as the Brickyard 400 anymore, and it doesn't even consist of 400 miles.
Let's turn back the page to 2020 (at least where racing on the IMS oval is concerned) and forget this road course thing ever even happened, shall we?
Maybe, just maybe, the Next Generation Cup vehicle will even race well on Indy's famed oval track, where Cup drivers have traditionally struggled to pass, and the cars have been prone to get very strung out. This much is certain, though: We won't know how the car will perform on the IMS oval until NASCAR at least gives it a try.