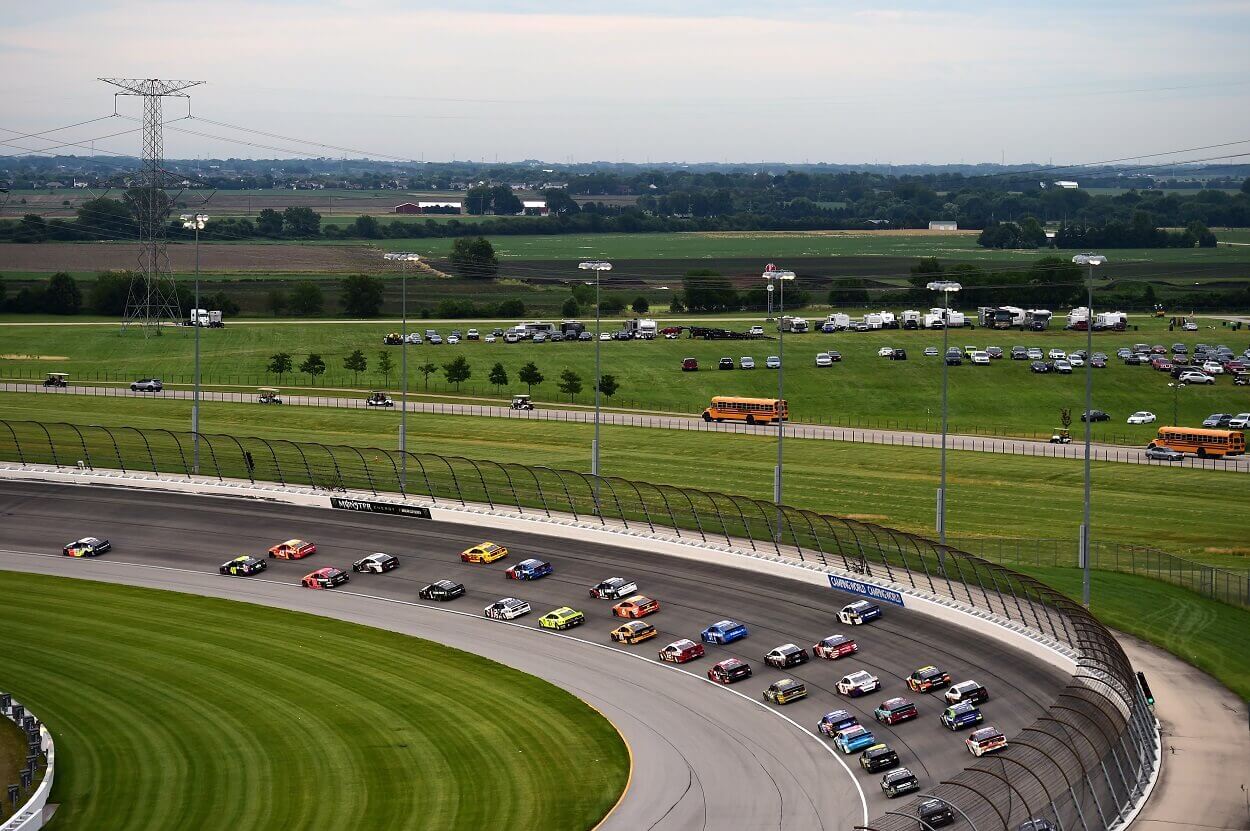 A Fantastic Kansas Race Suggests NASCAR Left Another Intermediate Track Prematurely
Recent competitive races at Kansas Speedway shows NASCAR may have left Chicagoland Speedway too early.
The NASCAR Cup Series race this past Sunday at Kansas Speedway was arguably one of the best races at an intermediate track in the sport's history, which makes the sanctioning body's decision to leave similar tracks four years ago all the more unfortunate.
Denny Hamlin won the race at the 1.5-mile Kansas track in a final-lap duel with Kyle Larson. Their battle, however, was only the final flourish to an action-packed, 267-lap event. The race featured nine cautions for incidents and 37 lead changes, a record for a 400-mile race at a 1.5-mile track, among 12 different drivers.
The stats are more similar to a superspeedway event than an intermediate-track race, but this Kansas race had everything NASCAR envisioned when it developed the Next Gen car model for its 2022 debut. The car requires all teams to purchase their parts from the same supplier, and it has aerodynamic characteristics intended to help create races that allowed passing.
All of those developments manifested on Sunday at a type of track where the Next Gen car has typically excelled. Intermediate-track racing has seen a boom of exciting races while the quality of races at other track types has suffered.
NASCAR took away intermediate tracks just before it got a good intermediate-track car
The problem now is that NASCAR removed several intermediate-track races from its schedule not long before the Next Gen car debuted. Tracks such as Chicagoland Speedway and Kentucky Speedway disappeared from the schedule entirely. Others, such as Texas Motor Speedway, Michigan International Speedway, and Charlotte Motor Speedway's oval, were reduced to one points-paying race per year. And Speedway Motorsports Inc. reconfigured Atlanta Motor Speedway into a track that produces superspeedway-style races.
NASCAR swapped many of those events with road-course races, which have been inconsistent and often lackluster with the new car model. The Cup Series schedule now has six road-course races, including the Chicago Street Race, and seven fewer opportunities to see a race such as the one Sunday at Kansas with the removal of nearly half of the intermediate-track races on the schedule since 2019.
The biggest loss in the wake of Sunday's Kansas race is Chicagoland, given its similar characteristics. Both tracks are 1.5-mile ovals that opened in 2001 during NASCAR's popularity boom. Few of the races throughout the first 19 years at both facilities were terribly exciting, although each had its moments.
Kansas had the 2008 fall race when Carl Edwards tried to pass Jimmie Johnson in the final corner without lifting off of the gas pedal. He hit the wall and was unable to win, but it was a precursor to Ross Chastain's "Hail Melon" move in November at Martinsville Speedway.
Chicagoland featured a fantastic finish in 2018 when Kyle Larson tried to track down Kyle Busch in the final laps. Dale Earnhardt Jr. made his famous "Slide job!" call, and the two made contact multiple times in the final laps, with Busch ultimately prevailing.
Kansas did get a reconfiguration in 2012 when International Speedway Corp. added progressive banking in the corners, while Chicagoland still has traditional banking. The corners at Kansas are now banked from 17-20 degrees from bottom to top. Chicagoland's corners have 18 degrees of banking throughout.
The progressive banking likely helped the product at Kansas, but it is not a prerequisite for a good intermediate-track event. The 2023 Coca-Cola 600 at Charlotte, for example, was still one of the better races at that 1.5-mile track, and it has traditional 24-degree banked turns.
Could NASCAR bring back intermediate tracks such as Chicagoland?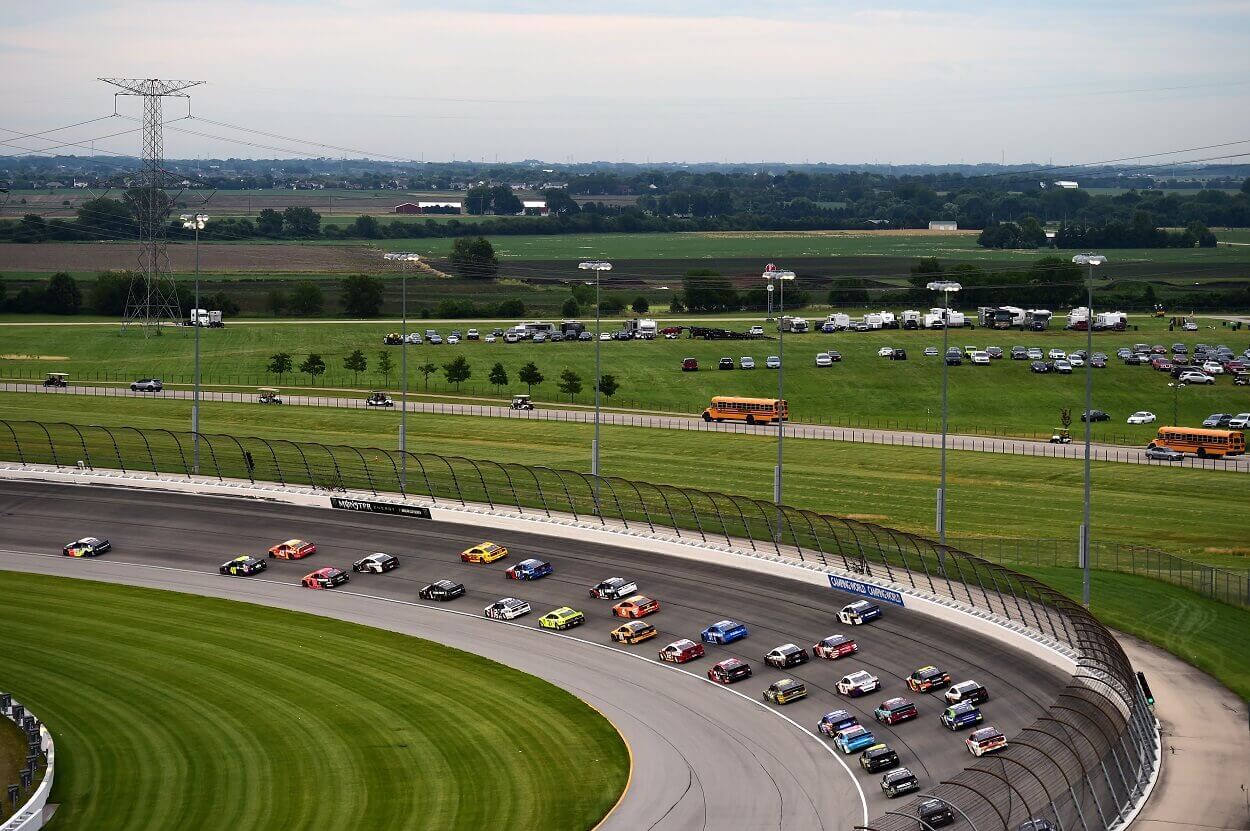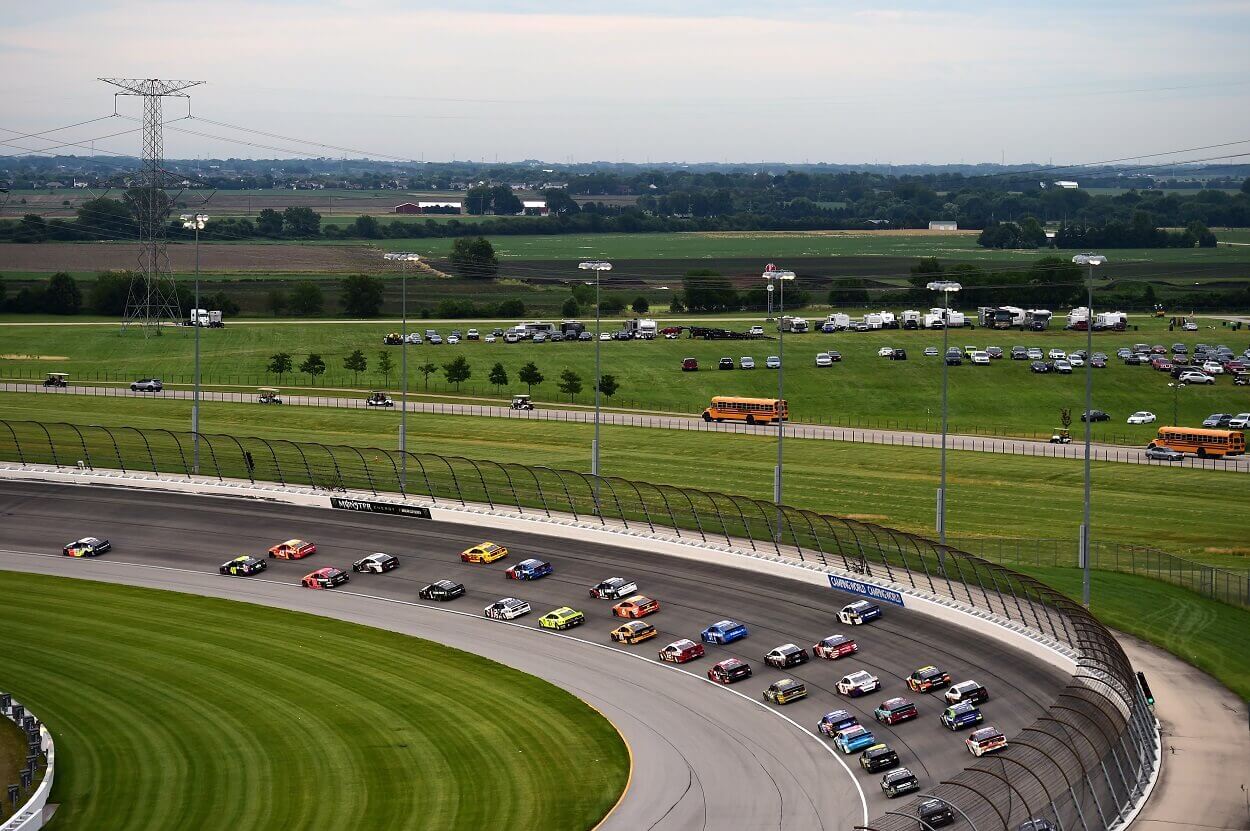 NASCAR has shown a willingness to shift its schedule dramatically since the 2020 COVID-19 pandemic forced the sanctioning body to be more flexible. All of the changes so far have resulted in more road courses and NHL Winter Classic-style events with the Clash at the Los Angeles Memorial Coliseum and Chicago Street Race.
Yet, the new car consistently produces its best races on the types of tracks NASCAR has abandoned through those schedule changes. Would it be too much to ask to give tracks such as Chicagoland another shot now that the Cup Series has a car that produced 37 lead changes, a record for a 400-mile race at a 1.5-mile track, Sunday at a track in Kansas that is the most comparable facility to Chicagoland?
The Chicago Street Race in downtown Chicago might turn out to be a great social event, but chances are slim that it will be a good race on the narrow streets with tight turns. The unfortunate part of the equation is that a track now capable of producing a race fans will remember with the Next Gen car, as Kansas did this past week, sits dormant just 50 miles away in the Chicago suburbs.