The 49ers' Brock Purdy Joined a Prestigious List of 9 Quarterbacks During the 2022-23 NFL Postseason
At the outset of this season, it's fair to say not many casual NFL fans knew the name Brock Purdy. Aside from being the last pick in the 2022 NFL Draft, he found himself buried on the San Francisco 49ers' depth chart behind second-year starter Trey Lance and Jimmy Garoppolo.
But after multiple injuries at quarterback, Purdy got his chance to play this year, and he did much more than compete. The 23-year-old put the Niners in a position to potentially win a Super Bowl. Although San Francisco fell to the Eagles in the Conference Championship, Purdy joined some prestigious company in the postseason. 
Brock Purdy has had a meteoric rise in the NFL
San Francisco head coach Kyle Shanahan tapped Lance as the team's starter to open the year, but an early injury put Garoppolo back in the lineup. Neither quarterback appeared to be the second coming of John Elway or Dan Marino. But the 49ers didn't need that.
With an outstanding defense and plenty of weapons at the skill positions on offense, they were one of the most well-rounded teams in the league. Adding Christian McCaffrey at running back via midseason trade was the icing on the cake. 
All that changed with another injury. After Garoppolo went down it appeared as though the team's season was all but finished. 
Insert Purdy. He led the team to a 7-0 record as a starter. He's even managed to win two playoff games, something that's difficult for even the most experienced quarterbacks to do.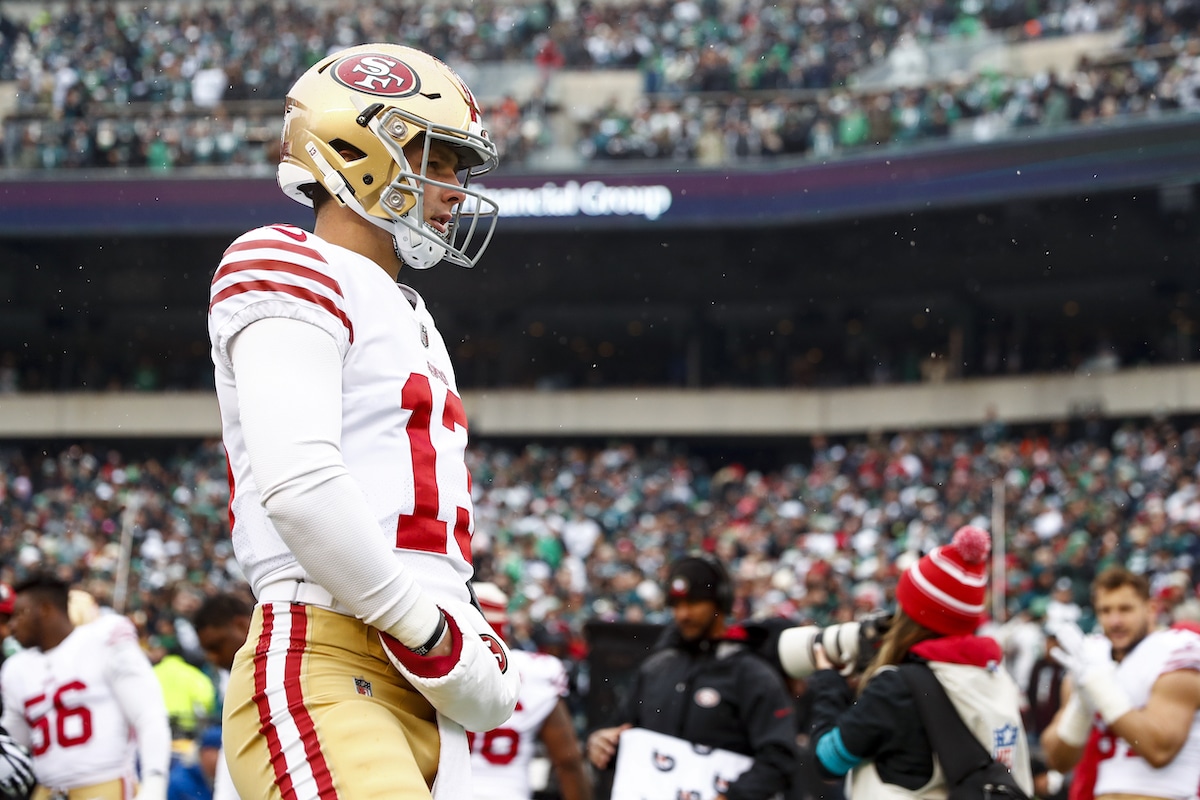 While he looked somewhat shaky in the first half of the wild card round against the Seattle Seahawks, he tightened up his game to lead the Niners to a rout in the second half. He also played reasonably well in a close game in the divisional round against the Dallas Cowboys. 
The prestigious list Brock Purdy is a part of along with nine other quarterbacks
Purdy's first start came against Tom Brady and the Tampa Bay Buccaneers. Brushing off all logic, Purdy was able to win that game. Now he finds himself heading into an NFC championship that his 49ers team has a serious chance to win. But before he'd even defeated the Cowboys in the previous round, he had made history. 
With his start against Dallas, Purdy became only the 10th rookie quarterback to start a divisional round game since the 1970 NFL-AFL merger.  Coincidentally, the last quarterback to accomplish this feat was Dallas's own Dak Prescott in 2016. 
Brock Purdy went from being Mr. Irrelevant to Mr. Relevant in a hurry
Purdy has shocked just about everyone with his play this season, but the truth is that he wasn't totally unheralded coming out of college. Purdy played at Iowa State, where according to the Cyclones website he was first-team All-Big 12 in 2020. 
The quarterback's draft stock wasn't super high out of college, but he did have positive attributes. A report from The Athletic stated Purdy had 48 college starts under his belt which gave him plenty of experience. He was noted for his ability to manage a game well while making routine plays consistently.
Purdy was also cited for his ability to show creativity in extending plays and that he "works through his progressions well." 
That didn't stop every team from passing up Purdy multiple times. He was the final selection of last year's draft, a position mockingly referred to as "Mr. Irrelevant." When providing his analysis of Purdy's potential, one scout summed it up with two dismissive words: "NO INTEREST." 
It's safe to say that Purdy's had the last laugh and can now be called by a new nickname: Mr. Relevant. He's had some shaky moments, but he's done something few rookie quarterbacks have ever done: Take his team on a deep run into the postseason. To do this after being the last pick in the NFL Draft makes his accomplishments even more impressive.