Brock Purdy's Hot With the 49ers, but He's Scorching in the Sports Card Market
As the conference championships get set to kick off this Sunday, the San Francisco 49ers boast one of the NFL's best stories of the season in rookie quarterback Brock Purdy. The last pick in the 2022 NFL Draft, Purdy has taken the league by storm. After injuries to two quarterbacks, he's capitalized on his playing time and enters Sunday's game with the top-seeded Philadelphia Eagles having won all seven of his NFL starts.
While Purdy is red-hot on the field, he's also sizzling off it. Purdy has become a hit with sports card collectors, and it's not cheap if you want to start stocking up on his cardboard.
Brock Purdy continues his Cinderella story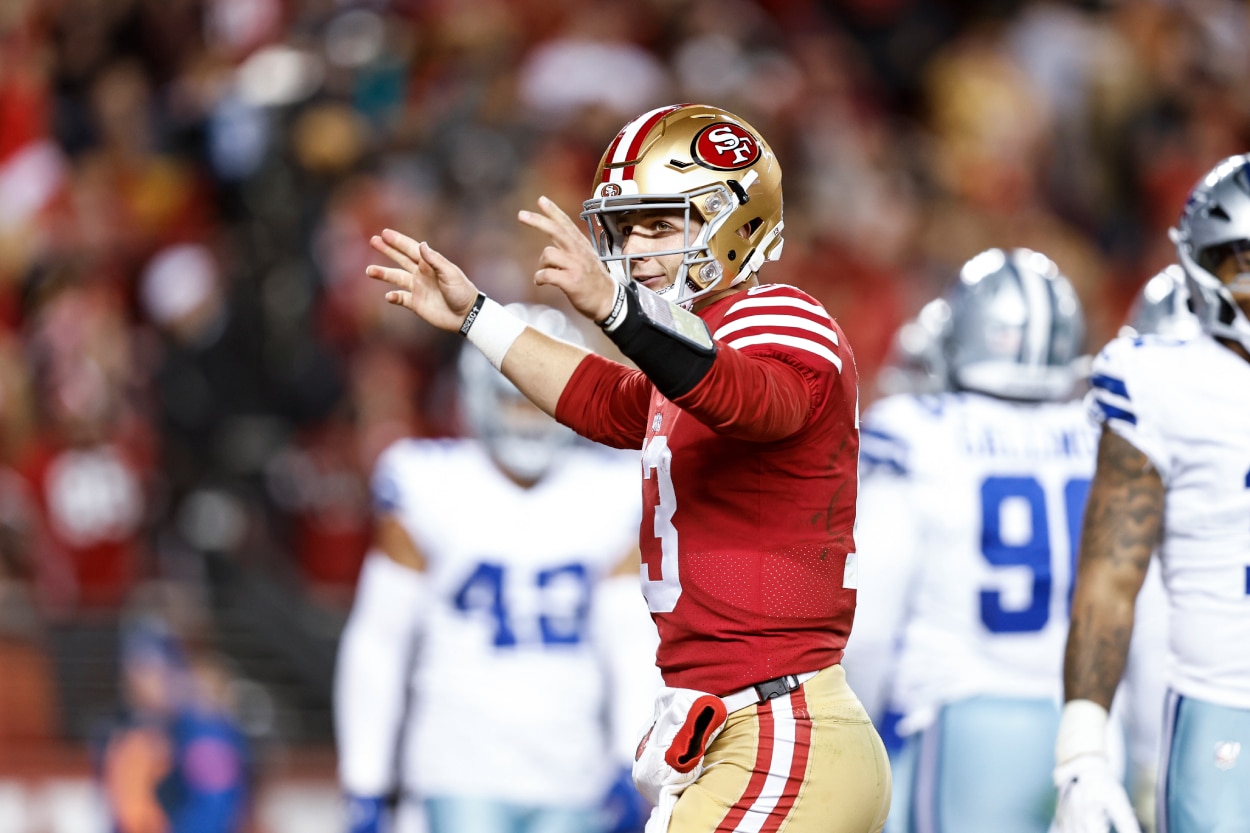 There isn't one person on the planet who would have believed Purdy is taking the Niners into the NFC Championship Game. It took a season-ending injury to starting quarterback Trey Lance and a December foot injury to Jimmy Garoppolo just to get him on the field.
Once Purdy took over as the starter, the Niners haven't lost. Purdy relieved an injured Garoppolo against the Dolphins on Dec. 4. He threw for 210 yards and a pair of touchdowns in a 33-17 win. The victory was the fourth straight for San Francisco, who improved to 8-4.
Purdy has started every game since. He closed the regular season with five straight wins. He posted playoff wins against the Seattle Seahawks and the Dallas Cowboys for his seven consecutive victories. Overall, the 49ers have won 12 straight.
Purdy has been put in a perfect situation. He's on a team with a strong running game and an elite defense. He isn't asked to carry the load. He's completed 67.1% of his passes and has thrown 13 touchdown passes against four interceptions.
Purdy is a hit with sports card collectors
Ever since COVID-19 became a thing back in March 2020, the sports card market took off. With people confined to their houses and live sports put on hold, the hobby exploded. It's still going strong.
Today's market shifts with every performance. Purdy was included in sets, along with other 2022 draft picks, including Pittsburgh Steelers quarterback Kenny Pickett, who was selected in the first round. Cards today have gotten out of hand with different variations of the same card. The same posed Pickett card may have red, blue, green, or gold borders, which would be a rarer version of the base card. Some will even be numbered, making the value even higher.
With higher expectations, Pickett had plenty more cards produced than Purdy. That scarcity, combined with Purdy's success, adds to the value of the 49ers QB's cards. According to Sports Collectors Daily, 20,000 Purdy cards have already sold on eBay alone, for more than $1.7 million. Forty of those cards have sold for $2,000 or more, with an average selling price of $86. All this for a guy with seven NFL starts.
One PSA-graded 1/1 Purdy card recently sold on eBay for $22,500, or more than $3,200 per win. Multiple other Purdy autographed rookies have sold for better than $10,000 each. The hype is certainly there for Purdy, and collectors a literally buying in.