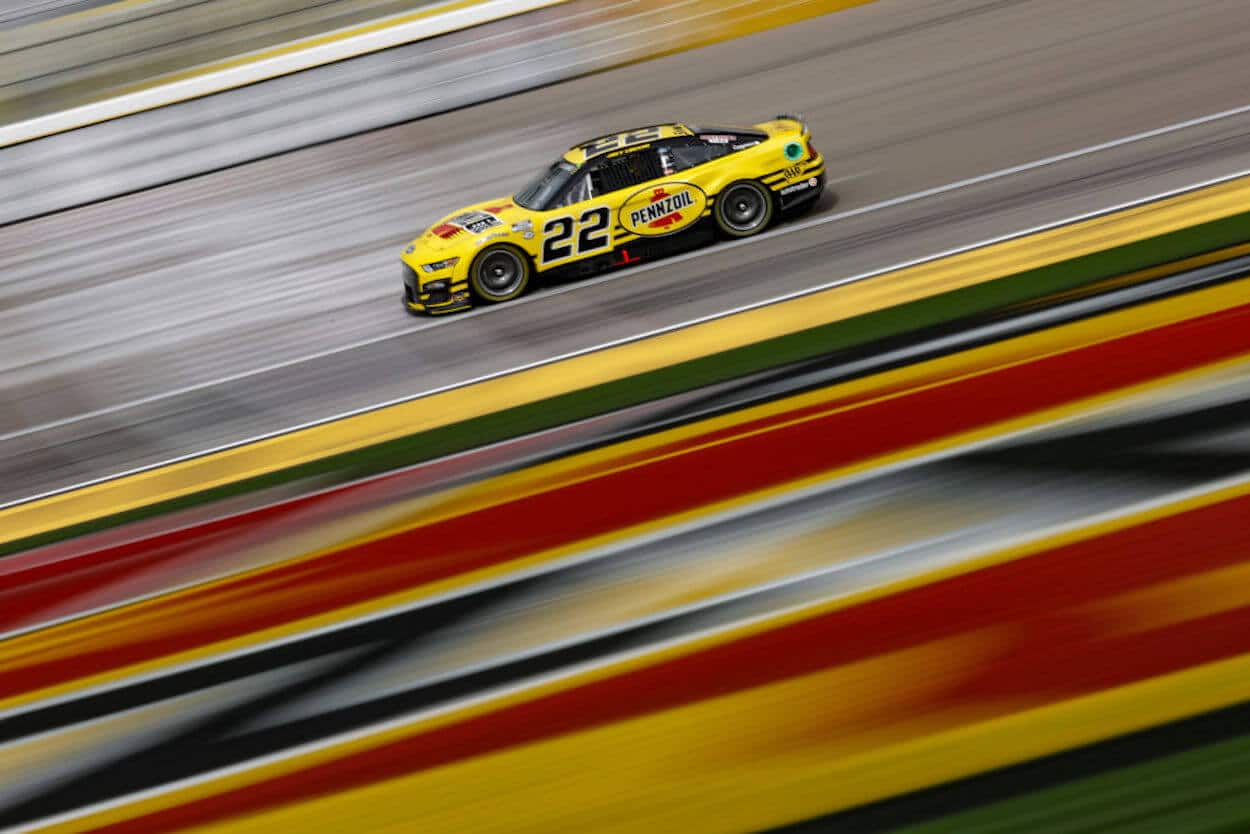 5 Cup Series Drivers Primed to go Trophy Hunting at Las Vegas Motor Speedway
Can Joey Logano hit the jackpot in Las Vegas? Or will Lady Luck favor someone else in Sin City? Let's break it down.
Welcome to Las Vegas Motor Speedway and Race No. 3 of the 2023 NASCAR Cup Series season.
Before the green flag waves on today's Pennzoil 400 presented by Jiffy Lube at the fast 1.5-mile track, let's take a look at a handful of drivers capable of finishing the day high atop the leaderboard and with a big trophy in hand.
5. Denny Hamlin
Absent from Victory Lane since Memorial Day weekend 2022 at the Coca-Cola 600, Denny Hamlin is in one of the longest droughts of his NASCAR Cup Series career.
Could it end Sunday at Las Vegas Motor Speedway?
It's certainly possible. Hamlin has led multiple laps in each of the season's first two races, is coming off a sixth-place finish last weekend at Fontana that followed a 17th-place finish in the Daytona 500, and sits ninth in the standings.
And, oh yeah: He won the fall 2021 Las Vegas race in convincing fashion. 
While Hamlin's numbers from this season aren't eye-popping by any stretch of the imagination, just keep in mind that the veteran wheelman was 30th in the standings and had a best finish of 15th at the same point last season — a season that turned out to not actually be half bad for the Joe Gibbs Racing driver (Hamlin won twice and made it all the way to the Round of 8).
So, don't be caught off guard if Hamlin ends up in the Winner's Circle later today. He might not be the favorite to take the victory, but he's among those who have the potential to prevail.
4. Alex Bowman
With finishes and fifth and eighth, plus a Daytona 500 pole, Alex Bowman is off to a tremendous start in 2023 for the Hendrick Motorsports organization, with which he recently announced a multi-year contract extension.

Bowman could have his best day yet on Sunday at Las Vegas, where he's the defending race winner and has finished no worse than sixth in three of his last six starts.
"I really enjoy this race track," the driver of the No. 48 Chevrolet said during his media availability on Saturday at the track. "The results may not show it over the years, but it's definitely been one of my best places. Probably coulda-shoulda-woulda won two or three of them here. I backed into one last year. Glad it worked out well, and, hopefully, we can bring home another trophy like that."
Bowman will roll off the starting grid from the 11th position today and be looking to snap a 1-year winless streak dating back to this same weekend in 2022.
3. Kyle Busch
No one has been more impressive in the first two race weekends of 2023 than Kyle Busch, who triumphed last weekend at Auto Club Speedway and had a real shot to earn his first Daytona 500 win before getting caught up in a last-lap melee.
In his first season at Richard Childress Racing after spending the past 15 seasons in a Joe Gibbs Racing Toyota, Busch seems to be meshing well with his new team — and picking up some new fans in the process. Following his win at Fontana last weekend, Busch received a surprisingly positive ovation from the crowd.
"It's awesome to hear everything,'" Busch said Saturday during his Las Vegas media session. "The finishes we've had and all the races that we've run, we've been right up front, and we've been fast. It gives my legion, Rowdy Nation, a sense of pride to be cheering us on and having an interest in watching again and not dreading watching again. That's what makes it fun for me, foremost. 
"No matter where (you're racing) on the Cup Series (schedule), you want to win. To do that last week at California and to hear the (cheers) afterwards was really cool. It's awesome to me to hear a little bit of a changing of the guard, which is fun. Hopefully, it keeps going."
This weekend, the Las Vegas native has returned to his home track, looking to keep the early season momentum going. In 23 Cup Series outings at Las Vegas Motor Speedway, Busch has recorded two poles, one win, 11 top-fives, and 14 top-10s. His average finish here is 10.8, which is third best among active drivers.
2. Ross Chastain
Picking up right where he left off last season when he scored his first two career Cup Series victories and finished an astounding second in the standings as part of the Championship 4, Ross Chastain is proving to be no one-season wonder.
Two races into his second season behind the wheel of Trackhouse Racing's No. 1 Chevrolet, the oft-aggressive driver sits alone atop the Cup Series standings on the strength of a ninth-place finish in the Daytona 500 followed by a third-place finish last weekend at Fontana, where he led a race-high 91 of 200 laps.
Chastain is one of only four drivers with a top-10 result in both races this season and seems ready to continue his frontrunning ways on Sunday at Las Vegas, where he's posted two top-five finishes — including a runner-up result back in October.
Chastain considers Vegas one of his better tracks but isn't sure why.
"I feel like there are other tracks that I understand more, and there are other tracks where I've had faster race cars at, but, for some reason, there have been some really high, bright moments here," Chastain, who recently signed a multi-year contract extension with Trackhouse Racing, said on Saturday during his media availability at Las Vegas. "I look at it like every other track. I study it like every other track, and I studied it harder this week leading into this race than I ever have before because I have more tools at my disposal than I ever have before. I don't have answers. It doesn't really feel any different when I'm on track. There's not like a magic feeling I have where I know what I need in my race car."
Magical or not, Chastain is plenty capable of getting the job done today.
1. Joey Logano
No driver has been as dominant in the last eight NASCAR Cup Series races at Las Vegas Motor Speedway as reining title-holder Joey Logano. He's the only driver who's won multiple races here during this span, having done so in 2019, 2020, and, most recently, in last fall's playoff race.
Today, the 32-year-old is seeking to become the fourth different driver to earn consecutive victories at Vegas, joining Jeff Burton (1999-2000), Matt Kenseth (2003, 2004), and Jimmie Johnson (2005-2007).
Not surprisingly, Logano will start from the pole in his No. 22 Team Penske Ford after leading all qualifiers in Saturday's time trials.
"The car was wicked good," said Logano, who busted off a lap of 186.053 miles per hour that was nearly a full mile per hour faster than second-place qualifier William Byron. "It really just handled well and obviously has really good speed, which is what you hope for when you get here. … They gave me a really fast Pennzoil Mustang today that has good speed in it. Hopefully, that transfers to the race tomorrow. I think it will."
Sitting second in the Cup Series standings and just a point behind series leader Ross Chastain, Logano finished runner-up to Ricky Stenhouse Jr. in the Daytona 500 and came home 10th last weekend at Auto Club Speedway. If he can continue down this path — perhaps beginning today at Las Vegas — he'll be well on his way to seriously contending for his third series crown and second in a row.