Ricky Stenhouse Jr.'s Surprising Daytona 500 Win Won't Turn the Tide on His Overall Disappointing Career
For the past five-and-a-half seasons, Ricky Stenhouse Jr. has been in a NASCAR wilderness, as it were, failing to record a single victory in Cup Series competition.
Then came Sunday's 2023 season opener — the Daytona 500 at the fabled Daytona International Speedway — where Stenhouse snapped his lengthy drought in dramatic fashion by winning the sport's biggest race.
Naturally, many observers are chalking Stenhouse's result up to little more than a fluke or a stroke of good fortune, and they have every reason to be skeptical. After all, Stenhouse never led a lap in his No. 47 JTG Daugherty Racing Chevrolet until the race went to overtime, and most of the little time he spent out front was under caution.
Had a total of more than 20 cars not been involved in two major accidents during the overtime period, Stenhouse, in all probability, wouldn't have captured The Great American Race. 
However, none of this changes the fact that Stenhouse did win the race and, in doing so, accomplished a feat he'll cherish for the rest of his life. The question now, though, is whether winning the Daytona 500 really changes anything in terms of his overall career outlook — which in all reality hasn't been particularly great since 2017 — the year of his only two previous NASCAR Cup Series victories in 365 starts.
By virtue of winning a points-paying race last weekend, Stenhouse is all but guaranteed to make the playoffs for only the second time in his career. But is a solo triumph — even on NASCAR's biggest stage — enough for the 35-year-old Mississippi native to regain the mojo he had back in his NASCAR Xfinity Series days when he claimed back-to-back championships in 2011 and 2012 and was widely hailed as a future superstar?
Ricky Stenhouse Jr. feels like Daytona 500 win could be a sign of good times to come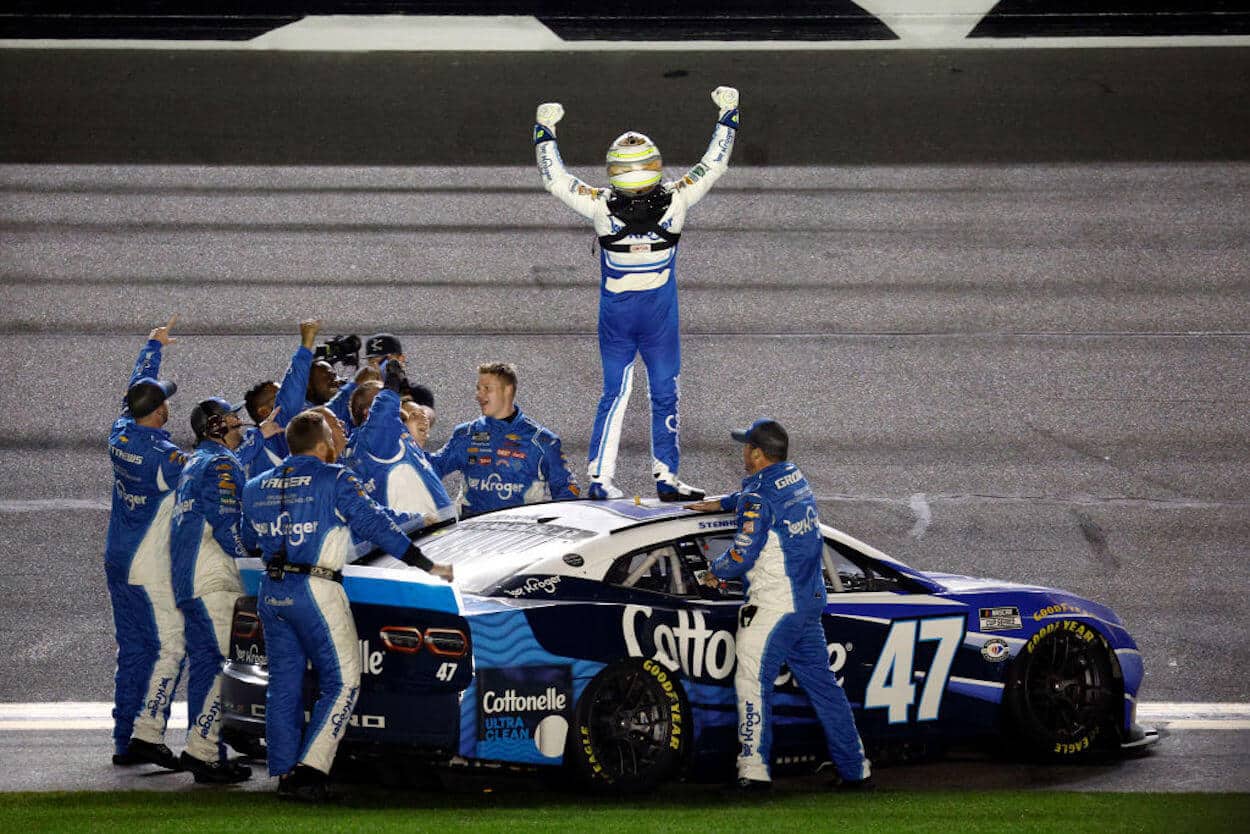 To hear Ricky Stenhouse Jr. tell it, winning the Daytona 500 could be the start of a significant turnabout for himself and the single-car JTG Daugherty Racing outfit he joined in 2020 after seven seasons with the organization that has since been rebranded as Roush Fenway Keselowski Racing.
Reuniting this season with Mike Kelley — Stenhouse's crew chief from both of his Xfinity Series championship seasons — has only further fueled the now-veteran driver's optimism.
"We're not done," Stenhouse said during the Daytona 500 winner's post-race press conference. "I think Mike and I got a lot of things left to do. Again. It's been a short off-season. I feel like Mike has moved the needle on where this race team is at."
That all sounds terrific in theory, of course, but it's impossible to ignore the fact that JTG Daugherty Racing — prior to Sunday — had just one Cup Series victory under its current ownership structure, which dates back to 2009. It also can't be lost on anyone that JTG Daugherty, with its roughly 45 employees, is a single-car team — a rarity in today's version of NASCAR's premier series.
Hendrick Motorsports, by comparison, fields four Cup Series teams and is home to over 500 employees. Given JTG Daugherty's lack of resources compared to most teams, Stenhouse wasn't surprised that the 2022 season, in particular, was a struggle for the organization since it marked the debut of the Next Generation Cup Series car.
"The bigger teams were able to learn a lot more at a faster rate, and I felt like that's what got us behind," Stenhouse said during the Daytona 500 winner's press conference. "This off-season, we've really focused on that, and I'm excited to go to these race tracks like Fontana, Las Vegas, and really see the potential that we've gained over this off-season."
Ricky Stenhouse Jr. lacks the talent and team for Daytona 500 victory to put him on a new path
Fontana, otherwise known as Auto Club Speedway, is the next stop on the 2023 Cup Series schedule, and the Cup Series will compete at the 2-mile track for the final time this Sunday afternoon. Don't expect Ricky Stenhouse Jr. to run among the leaders and be in contention for the win, though. We're talking about a driver who recorded five top-10 finishes — and just one top-five — all of last year's 36-race season. Although one of those top-10s — a 10th-place finish — did come at Fontana, Stenhouse's season as a whole left a lot to be desired.
And the same can be said for his career in the Cup Series, where he's never finished better than 13th in the standings or won at a track that wasn't a superspeedway. As wonderful and unforgettable as going to Victory Lane at the Daytona 500 is, it's impossible to ignore that Stenhouse is a perennial mid-pack driver who's, frankly, just lucky to even have a ride at this point. That's especially true when you consider all the cars Stenhouse has torn up in the last few years while trying to do too much with too little (his critics don't call him "Wrecky Spinhouse" for nothing).
The fact that Stenhouse now owns a Daytona 500 triumph doesn't do away with his longtime penchant for overly aggressive driving or his reputation as an underachiever who has never lived up to the hype that surrounded him when he entered the Cup Series a decade ago. Are we actually to believe now that one really, really good day at the track is going to suddenly catapult Stenhouse and JTG Daugherty Racing to frontrunner status week in and week out? 
Here's the harsh truth: If Stenhouse had it in him to be an elite talent at the Cup level, he would have proven it long ago. And if JTG Daugherty was ready to take the next step in becoming one of the sport's top organizations, it wouldn't have downsized from a two-car team in 2021 to a single-car shop in 2022 and 2023.
So, Stenhouse should try hard to enjoy and savor the spoils of his Daytona 500 glory while it's all so fresh. Because unless he suddenly learns how to channel his inner Chase Elliott and consistently challenge for wins and stay out of trouble, and unless JTG Daugherty adds two or three more teams to its tiny racing stable overnight, we've already seen the best of what the driver and organization have in store for us in 2023. 
And probably ever.