Where Does Ricky Stenhouse Jr. Rank on List of Unlikely Daytona 500 Winners?
Ricky Stenhouse Jr. is neither a newbie along the lines of Austin Cindric and Trevor Bayne nor a moderately successful NASCAR Cup Series performer like Ryan Newman and Jamie McMurray. But what he is now is a Daytona 500 champion, just like those peers.
For the fourth time in six years, The Great American Race ended with an unexpected winner. So, how does Stenhouse stack up against the list of the most unlikely Daytona 500 winners ever?
Ricky Stenhouse Jr. wins the Daytona 500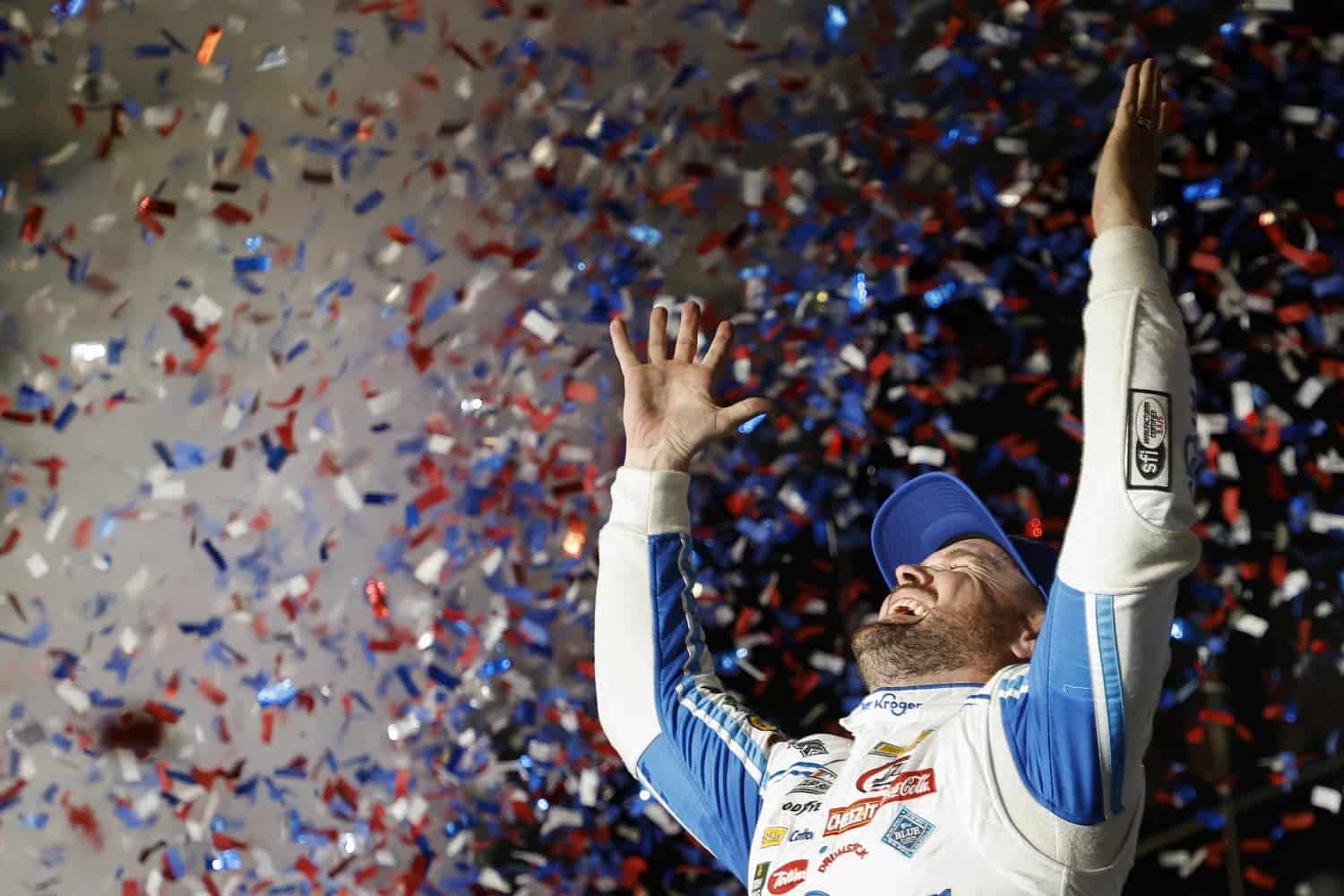 If you take Denny Hamlin out of the equation, the winners of the Daytona 500 since 2018 scarcely qualify as household names in their own households. Together, Austin Dillon (2018), Michael McDowell (2021), Austin Cindric (2022), and Ricky Stenhouse Jr. (2023) have almost as many victories in all other Cup Series races – six – as they do in the sport's biggest spectacle.
Stenhouse joined the list Sunday by winning the longest Daytona 500 ever – 530 miles – while fending off Joey Logano and Christopher Bell, a pair of Championship 4 drivers from a season ago.
Ricky Stenhouse Jr.'s win was unexpected but not as unlikely as some assume
Anyone grading Ricky Stenhouse Jr.'s NASCAR Cup Series career would be hard-pressed to give him anything more than a "gentleman's C." The 35-year-old Memphis native entered the season with just two victories in 364 starts, with both coming in 2017. He came to Daytona this weekend winless in his last 199 points races.
Given that he drove for Roush Fenway Racing from 2012-19, it's hard to pin all the futility on the equipment. While Roush Fenway has been a second-tier shop lately, Matt Kenseth and Carl Edwards were winning there while Stenhouse wasn't.
However, there are two points worth remembering in assessing Stenhouse's Daytona 500 triumph:
He was a two-time Xfinity Series champion.
Both of his previous Cup Series victories came on superspeedways, just not in the race that makes a driver instantly famous.
So, jokes about "Wrecky Spin Twice" and his penchant for crashing out of races aside, Stenhouse wasn't that unlikely a winner in 2023's opening race.
The unlikeliest Daytona 500 winners ever
Simply by virtue of their rookie status, Trevor Bayne in 2011 and Austin Cindric in 2022 probably qualify as the most unlikely Daytona 500 champions. Bayne was making just his second start in the NASCAR Cup Series, and Cindric was in his eighth appearance. Cindric did have a 2020 Xfinity Series title under his belt and won the 2021 Daytona opener in that circuit.
Aside from them, the most unlikely champion had to be Tiny Lund in 1963. Racing only because Wood Brothers Racing needed a sub for Marvin Panch, injured days earlier testing a prototype, Lund broke into the win column in his 133rd start.  Drivers in the top 10 that day included NASCAR Hall of Famers Fred Lorenzen, Ned Jarrett, Richard Petty, and Joe Weatherly as well as open-wheel stars Dan Gurney and Johnny Rutherford.
Not far behind in that respect was Derrike Cope, who capitalized in 1990 when Dale Earnhardt – who led 155 of the first 199 laps – punctured a tire a mile from the finish line. Cope's only two Cup Series wins came that season, and the Daytona field included Earnhardt, Bill Elliott, Mark Martin, and Richard Petty.
Realistically, Ricky Stenhouse Jr. isn't so obscure or underperforming as to crack that list.
Got a question or observation about racing? Sportscasting's John Moriello does a mailbag column each Friday. Write to him at [email protected]