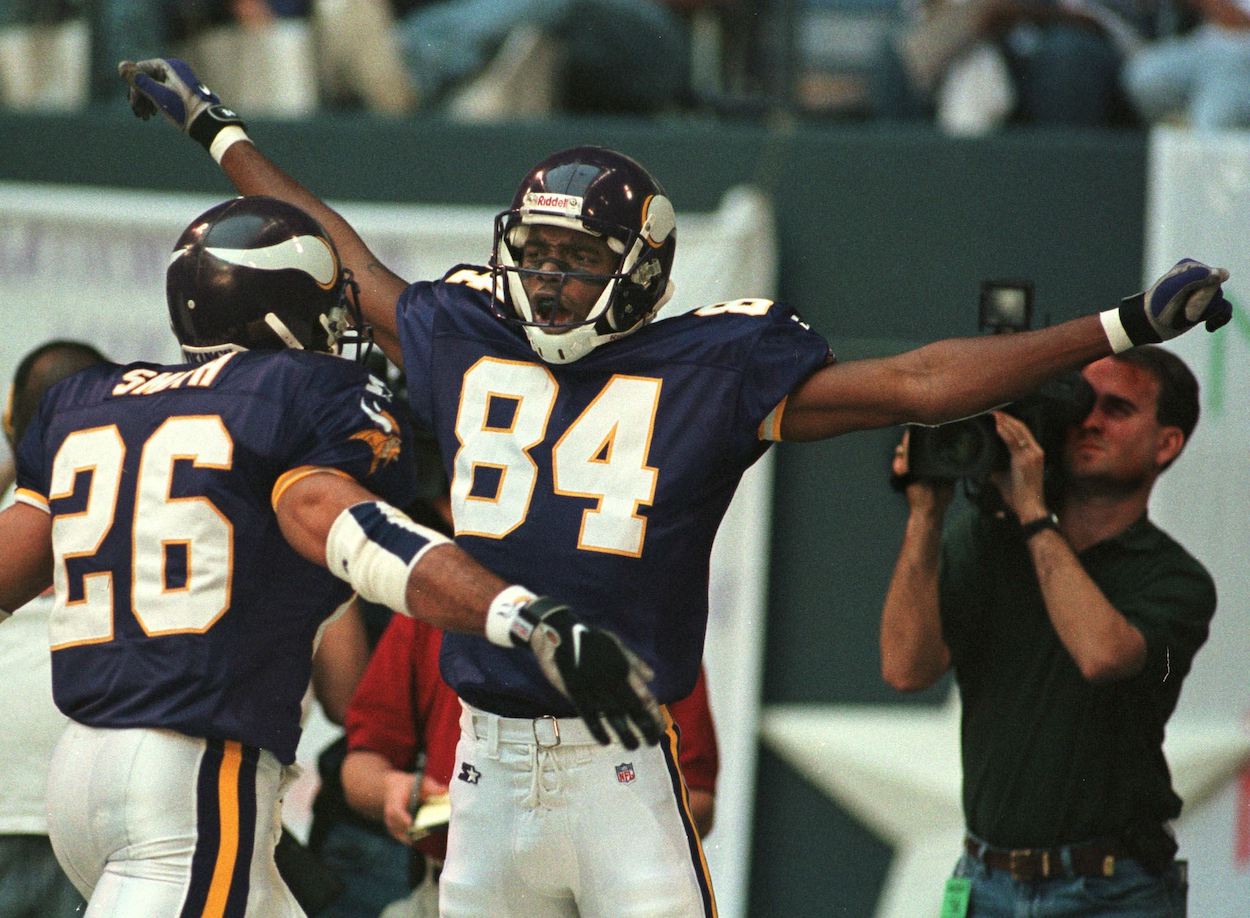 5 Greatest John Madden Turkey Leg Award-Winning Performances in NFL Thanksgiving Day History
Legendary announcer John Madden gave out his Turkey Leg Award for 14 years following the Thanksgiving Day game he called. Here are the five most memorable performances by winners.
NFL football goes hand-in-hand with Thanksgiving in America. And, from 1989 to 2002, legendary announcer John Madden handing out turkey legs to the player (or players) who performed best on the holiday went hand-in-hand with the Thanksgiving Day games.
This decade-plus-long tradition highlighted some of the best and most memorable performances we've ever seen on Turkey Day. To celebrate the 2022 Thanksgiving Day games, we'll take a look back at the five greatest, most memorable John Madden Turkey Leg Award-winning performances in NFL Thanksgiving Day history.
5. Reggie White, 1989 — Philadelphia Eagles 27, Dallas Cowboys 0
The first-ever John Madden Turkey Leg Award winner was the "Minister of Defense," Reggie White in 1989. The game was no contest in real-time — coming weeks after the famed Herschel Walker trade — but became infamous after the fact.
While White had a good game in chippy beat down of the 'Boys, he was simply the representative of the coach Buddy Ryan's Philadelphia Eagles defense which held the Cowboys' offense to just 191 total yards in the shutout.
Eric Allen, Byron Evans, and Mike Golic all had interceptions, and White and Andre Waters both chipped in a sack. The D, which also featured Jerome Brown, Clyde Simmons, and Seth Joyner, simply dominated the game.
Sometime after Madden presented White with the Turkey Leg Award, the game became known as "Bounty Bowl." That's because the Eagles put a $200 bounty on "laying out" Cowboys K Luis Zendejas, who was an Eagle earlier in the season, per USA Today.
4. Jason Garret, 1994 — Dallas Cowboys 42, Green Bay Packers 31
Thanksgiving week 2021 will not be a holiday Jason Garret will remember fondly, as the New York Giants fired him just three days before the Thanksgiving Day game slate.
At least he'll always have Thanksgiving 1994 and the John Madden Turkey Leg Award he won after a shootout against Brett Favre and the Green Bay Packers.
With starter Troy Aikman and backup Rodney Peete both out injured, Dallas Cowboys third-string QB Garrett stepped in on national television and stepped up for his team. Favre had four TD passes and a 17-6 halftime lead, but Garrett led a furious second-half comeback and ended the game with an effective, if inefficient, stat line of: 15-of-26 for 311 yards and two touchdowns.
That performance from a then-unknown third-stringer earned him a nice big turkey leg from John Madden, although he had to split it with superstar teammate Emmitt Smith.
3. Emmitt Smith, 1994 — Dallas Cowboys 30, New York Giants 3 
Emmitt Smith won by far the most John Madden Turkey Leg Awards, taking home (or polishing-off on the field) five of the accolades. Randy Moss and Brett Favre are tied for a distant second with two apiece.  
It is hard to pick which performance was best since all his award-winning stat lines were so similar. To break the deadlock, we'll go with his best all-around game that also had one of his best Turkey Day highlights: Smith's 17-carry, 120-yard, one-rushing-touchdown performance against his NFC rival New York Giants.
The game wasn't close, so Smith's performance was the only thing worth watching. In addition to the stats above, he also added six catches for 41 yards and a receiving TD. Plus, his rushing score game on an electrifying 68-yard gallop, which ended up being the second-longest run of his career.   
2. Barry Sanders, Johnnie Morton, and Luther Elliss, 1997 — Detroit Lions 55, Chicago Bears 20
Despite traditionally only having two legs, a John Madden turkey came with as many legs as the legendary announcer needed to highlight his players of the game. This is how Detroit Lions RB Barry Sanders, WR Johnnie Morton, and DT Luther Elliss came to share the '97 Thanksgiving Day game award.
The Detroit D dominated their division rival. After giving up two touchdowns and two field goals in the first half, the Bears didn't get a single first down in the second, allowing the Lions to score 35 unanswered points. With two fumble recoveries in the game, Elliss represented his unit at the postgame awards ceremony.
Morton earned his award/meal with seven catches for 120 yards and a touchdown. However, Barry Sanders was the star of the game. In his best Thanksgiving Day performance ever, Sanders ran for 167 yards and three TDs on just 19 carries.
The Hall of Fame back is synonymous with Thanksgiving Day football in the 1990s, and this was his crowning achievement.
1. Randy Moss, 1998 — Minnesota Vikings 46, Dallas Cowboys 36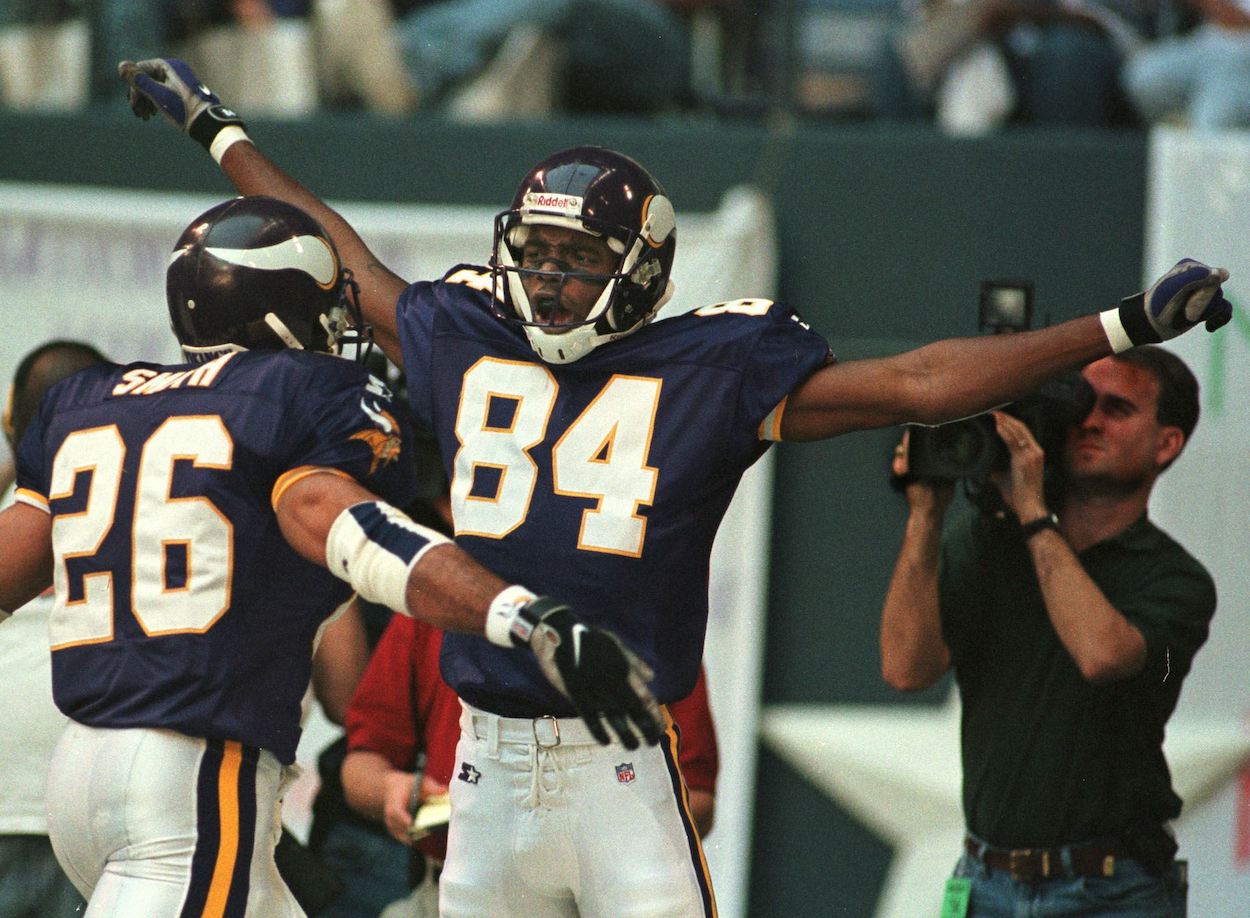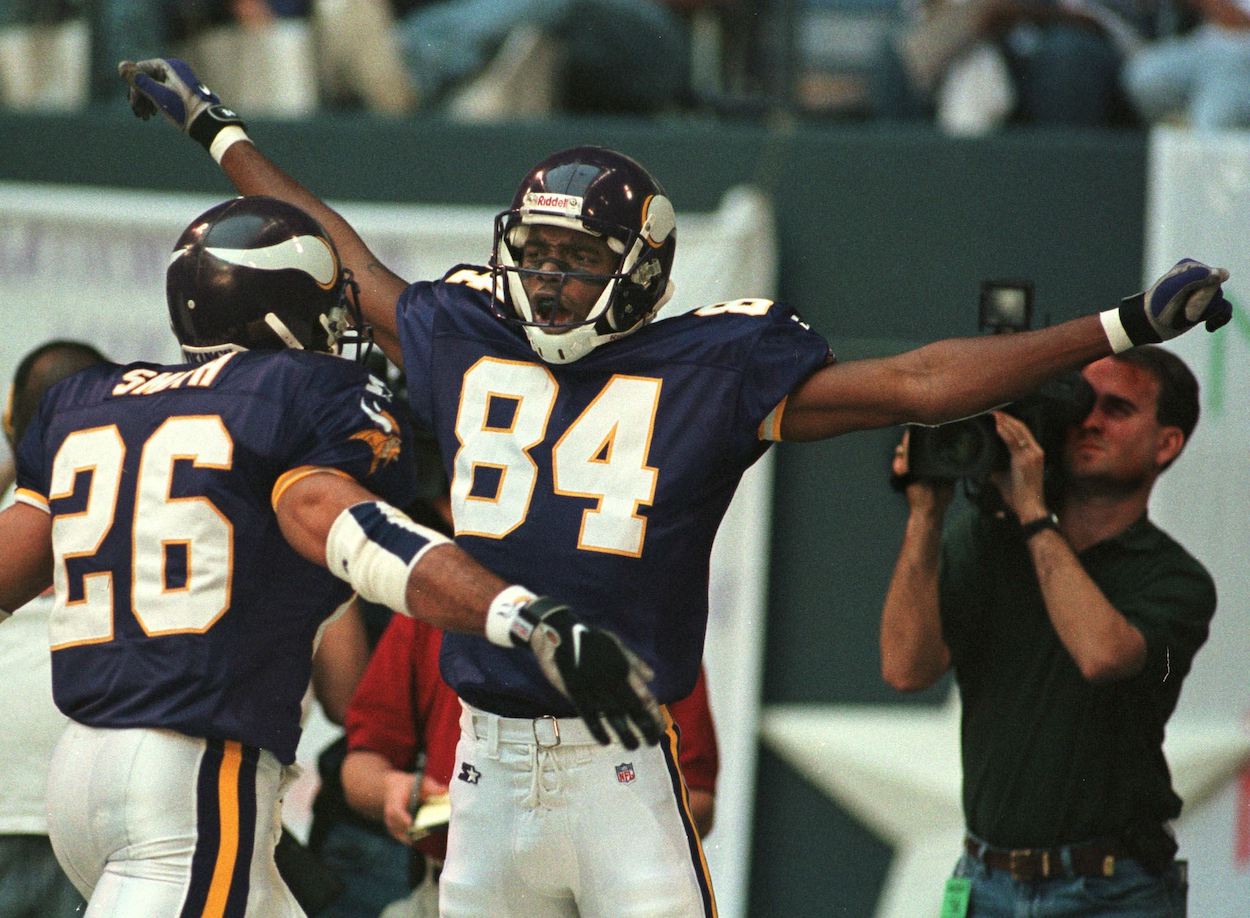 On Nov. 25, 1998, Randy Moss was just a late first-round rookie with two 100-plus-tard games under his belt. By the end of the Minnesota Vikings Thanksgiving Day game on Nov. 26, Moss was a bonafide superstar.
A 21-year-old Moss dominated the Dallas Cowboys on Thanksgiving Day 1998, much to the delight of John Madden and his partner Pat Summerall.
Moss had just three catches on eight targets that afternoon. However, those grabs went for 163 yards, and each ended up in the end zone.
The first was a 51-yard flea-flicker where Moss ran past his defender and wide open before walking in for the TD. The next one was on a more traditional 56-yard bomb that Moss caught with his defender hanging all over him. His final score was another 56-yarder. The difference was, this time, the pass traveled six yards, and Moss did the rest, outracing the entire Cowboys' defense.
After that play, Summerall exclaimed, "He's incredible!" And John Madden added, "He better like a turkey leg!"
All stats courtesy of Pro Football Reference