The 76ers Are Reportedly Attempting to Kill 2 Birds With 1 Stone With a $69 Million Power Move Before the NBA Trade Deadline
All eyes will be on the Philadelphia 76ers leading up to the 2022 NBA trade deadline, as they have just one month left to deal Ben Simmons before it's too late. But Simmons might not be the only Sixers starter on the move by February 10.
According to a recent report, the 76ers are now including veteran forward Tobias Harris alongside Simmons in trade talks with other teams. It would be a tough sell to push $69 million onto one team in the same trade, but the potential move could pave the way for Philadelphia to acquire the superstar it's been after all along.
The 76ers should be itching to get rid of Tobias Harris and his $180 million contract
There aren't many players in today's NBA making more than $35 million per year, and the ones that are all have multiple All-Star appearances on their resumes.
Well, except Tobias Harris.
More than two years after signing his five-year, $180 million contract with the 76ers, Harris is still the same player he's been for the majority of his career — a fantastic third option for a championship contender who will never reach the elite tier of NBA players. The problem? Philly is paying him as if he's on that level.
Now in the third year of his contract with the Sixers, Harris is having his worst offensive season in a long time. The 29-year-old forward is averaging 18.4 points per game while shooting just 45.5% from the field and 29.5% from three. He hasn't shot that poorly from beyond the arc since 2014, and he hasn't shot that poorly overall since — well, ever.
Combine Harris' offensive regression with his career shooting percentage of 45.1% in the playoffs, and the 76ers should jump at the first opportunity to move on from their failed experiment.
76ers reportedly trying to package Harris in a Ben Simmons trade
Most of the focus on the 76ers right now is on a potential Simmons trade, and rightfully so. But Philadelphia is reportedly beefing up its trade offers by adding Harris in potential deals.
In the most recent episode of the Brian Windhorst & The Hoop Collective podcast, Windhorst and Marc J. Spears of ESPN said the 76ers are starting to include both Simmons and Harris in trade offers. Spears specifically noted that Philadelphia brought up the possibility in recent trade negotiations with the Atlanta Hawks.
"That is the word out there because they can't necessarily get an All-Star they want in return right now," Spears said. "As the Sixers have continued their talks, they've talked to teams about trading Tobias and Ben."
Buckle up, Sixers fans. It's going to be a fascinating race to the trade deadline.
A $69 million longshot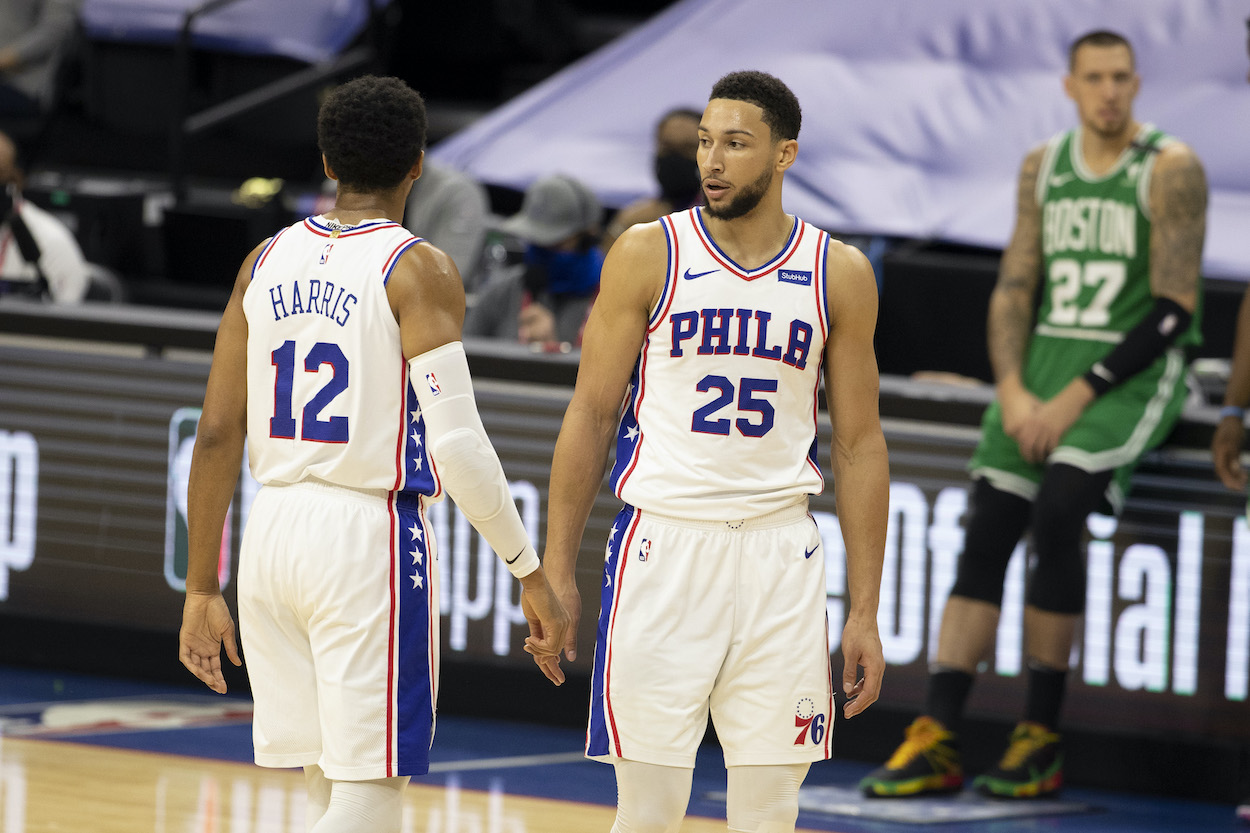 With Simmons' refusal to take the court and Harris' underwhelming statistical season, it makes sense that the 76ers would like to kill two birds with one stone before February 10. But Simmons and Harris are due a combined $69 million this season alone. What general manager in his right mind would take on that much salary in one trade?
It's possible the Sixers could ship both players out of town in a multi-team trade similar to the one our own Andrew Hanlon pitched last month involving the Portland Trail Blazers and the Sacramento Kings. In that scenario, Philly could get both contracts off the books while finally surrounding Joel Embiid with a roster that fits his skill set.
If the 76ers do pull off a trade involving both Simmons and Harris in the next month, it could be just Step 1 in their master plan to land James Harden. Daryl Morey, the Sixers' president of basketball operations, is the biggest Harden fan you'll find around the league. Windhorst suggested on his podcast that getting rid of Harris' contract could kickstart a pursuit of Harden in free agency next summer.
Whatever Morey's plan might be, he's running out of time to execute it.
Like Sportscasting on Facebook. Follow us on Twitter @sportscasting19.