A.J. Brown Would Be Playing for the Kansas City Chiefs If Willie Gay Had His Way
A.J. Brown is preparing for his first trip to the Super Bowl after putting together the best season of his career in his first year with the Philadelphia Eagles. After three years with the Tennessee Titans, Brown was traded to the Eagles before the 2022 season and put up career-high numbers in multiple categories.
The Eagles are set to face the Kansas City Chiefs in Super Bowl 57 in a battle of the NFL's top seeds. If Kansas City linebacker Willie Gay had any say, Brown would be in a Chiefs uniform Sunday.
A.J. Brown and Willie Gay were high school teammates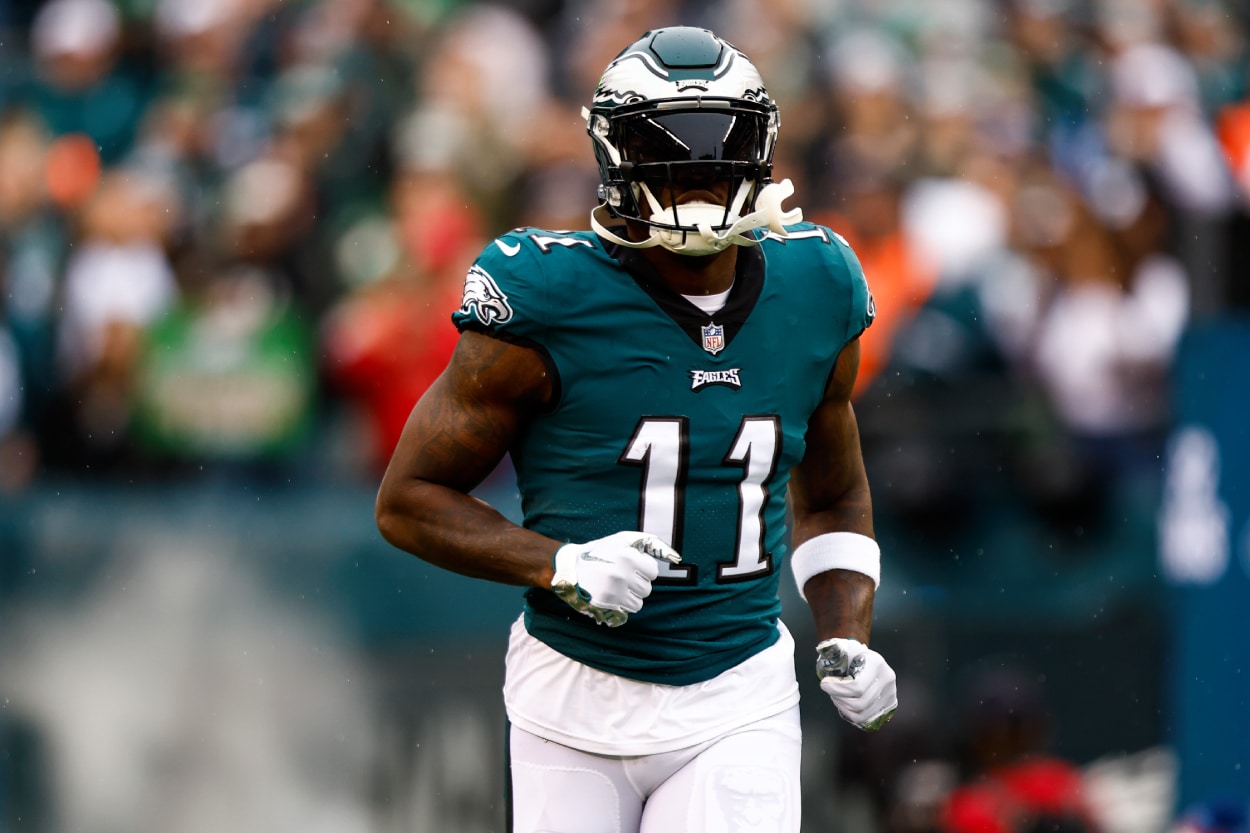 Brown and Gay grew up in the same neighborhood and played high school football together at Starkville High School in Starkville, Mississippi. As a senior, Brown played a significant role in leading the Yellow Jackets to a 6A state title. He caught 13 touchdown passes and had better than 1,300 receiving yards. Brown was also a two-sport standout, excelling in baseball. The San Diego Padres drafted him as an outfielder in the 19th round of the 2016 MLB Draft.
On the other side of the ball, Gay was a versatile linebacker, who anchored a stingy defense. According to the Mississippi Clarion Ledger, Starkville held opponents to 11 points per game that season.
Starkville wide receivers coach Willie Gillespie knew talent when he saw it when he coached Brown for the first time in 2013 when Brown was a sophomore. The athletic ability was there. He was just raw. As a senior, Brown turned into one of the best receivers in the game.
"We were playing Callaway, and they had three or four guys on him," Gillespie told the Clarion Ledger. "We threw a fade over there. He hopped over them and caught the ball. I think a coach from Alabama was there, and he saw the play, shook his head and walked off. It was incredible."
Gay finished that year with 84 tackles and six sacks. His biggest contribution was being able to play multiple positions and play them well.
"Willie is the only player I've coached in my life that would be good at all 22 positions," Starkville head coach Ricky Woods said. "He would have been an excellent player no matter where you put him. I can't say that about any other player I've coached."
Brown would be in Kansas City if Gay had his way
After playing collegiately at Mississippi, the Tennessee Titans selected Brown in the second round of the 2019 NFL Draft. He spent three seasons with the Titans, eclipsing the 1,000-yard mark in his first two years. He made the Pro Bowl his second season after racking up 1,075 yards and 11 touchdowns.
After his third year, he sat out during voluntary workouts as he sought an extension. There seemed to be some bad blood, prompting him to tweet, "I'm a diva and a bad teammate all of sudden, lol ok. Do what you have to do then, and so will I." That tweet was posted on April 18, 2022. Ten days later, he was traded to the Eagles.
Brown was a wanted man, but he was at the mercy of the Titans. He couldn't go wherever he wanted. The Titans needed to trade him, and they did. They sent him to the Eagles for a first- and third-round pick.
Before the deal, Gay tried to convince him to come to Kansas City during a Twitter exchange with a Chiefs fan account that had tagged Brown, trying to bring him on board.
"Come home brudda," Gay wrote.
In the end, it worked out for Brown. He had the best season of his career this year, catching 88 passes for 1,496 yards, both career-highs. He also added 11 touchdown receptions. Now, he's off to the Super Bowl, but he'll have to fight his former teammate for the Lombardi Trophy.