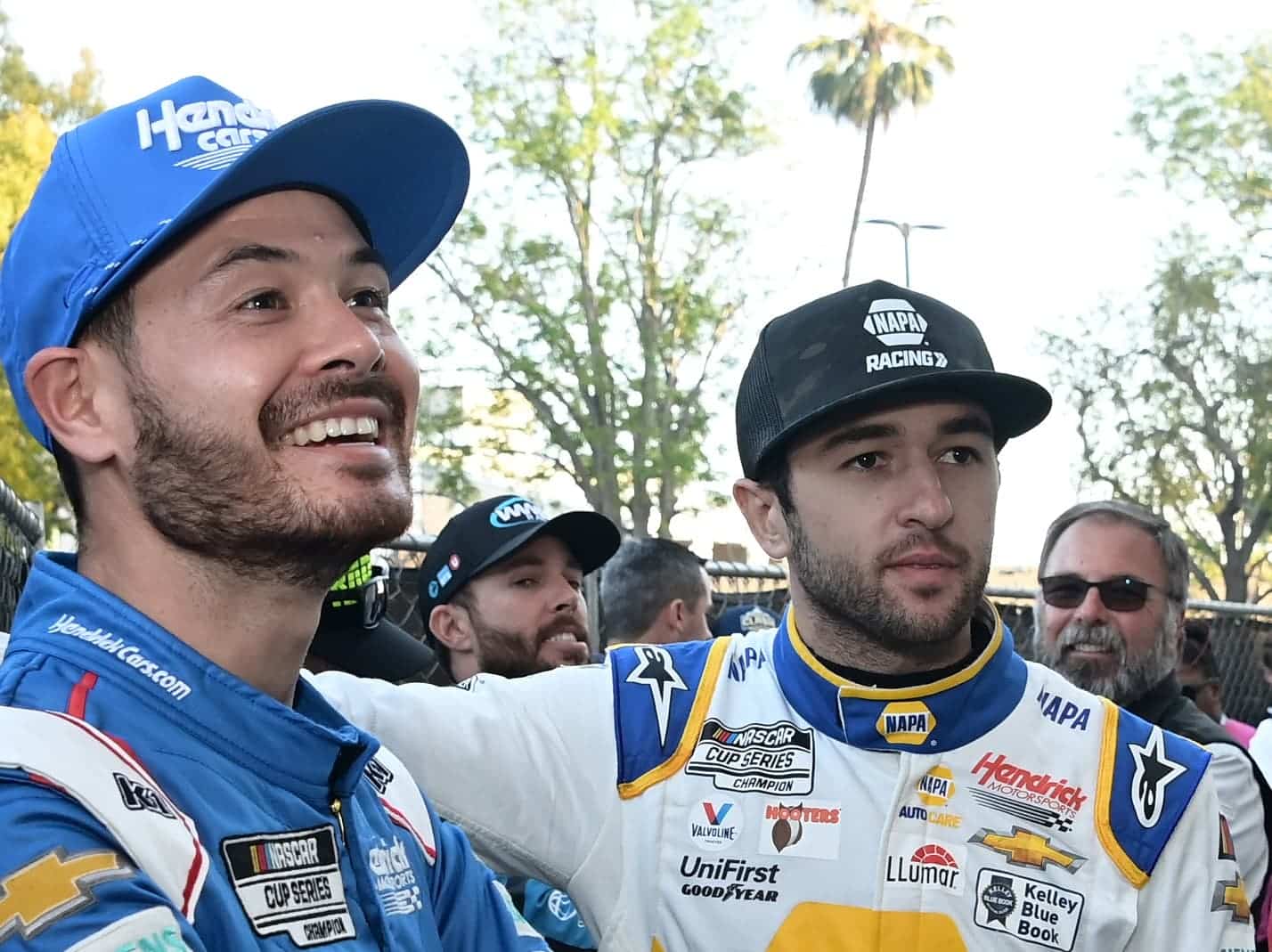 It's Been a Year Since Chase Elliott and Kyle Larson Signaled Start of an Unfulfilling Season
Kyle Larson and Chase Elliott are back at Auto Club Speedway, where the Hendrick Motorsports teammates had the first of their two major issues last year.
Only at Hendrick Motorsports can everyone come home after an 11-win season and wonder what went wrong. Any other team would be partying until the next season's Speedweeks over so many trips to Victory Lane. But Chase Elliott, Kyle Larson, and the rest of HMS had an empty feeling.
This weekend at Fontana marks the anniversary of the first sign the wheels were about to fall off, and it wasn't because of the new-fangled, single-lug nut wheel.
Kyle Larson ushered out the Gen 6 era with a memorable season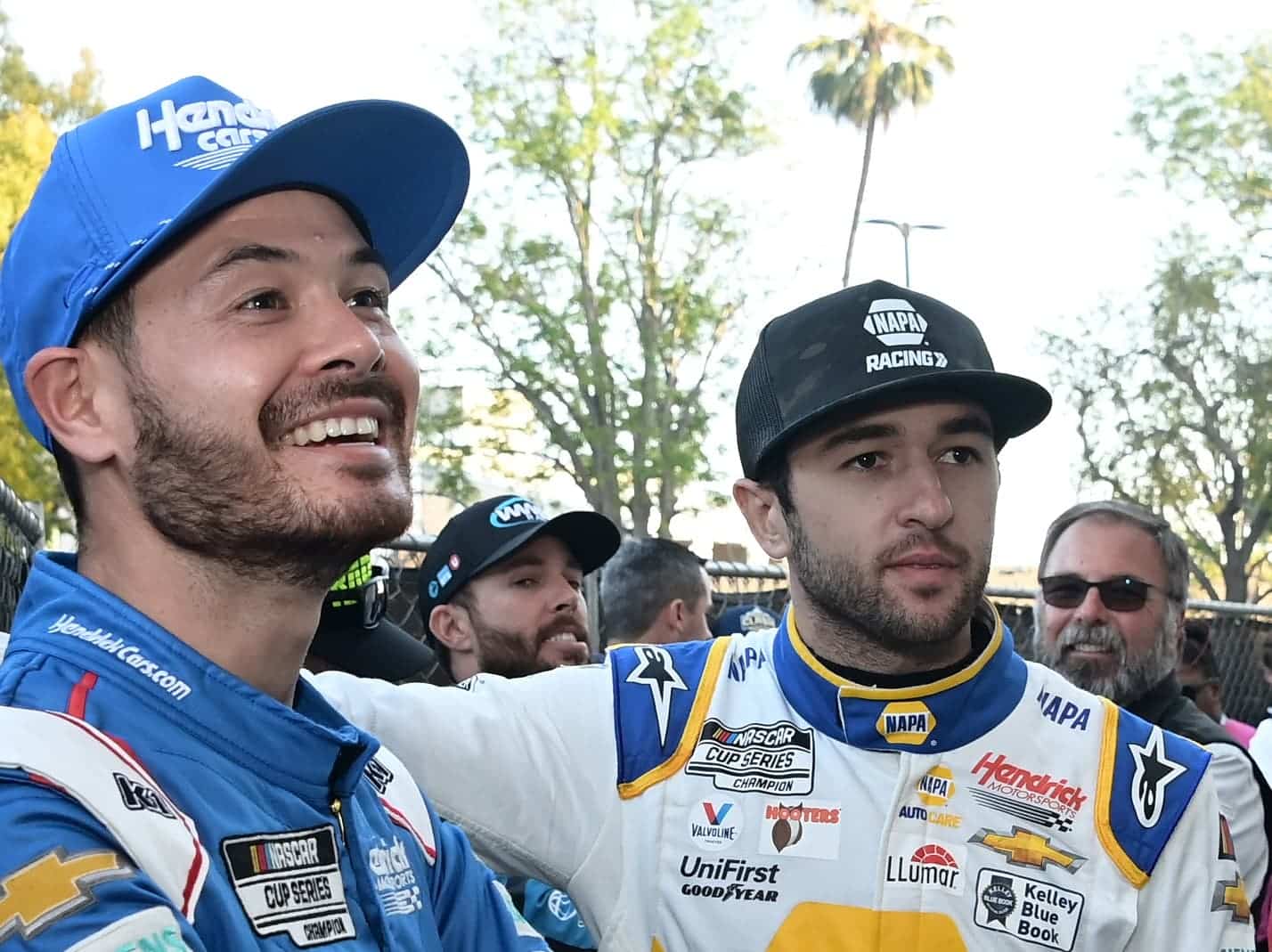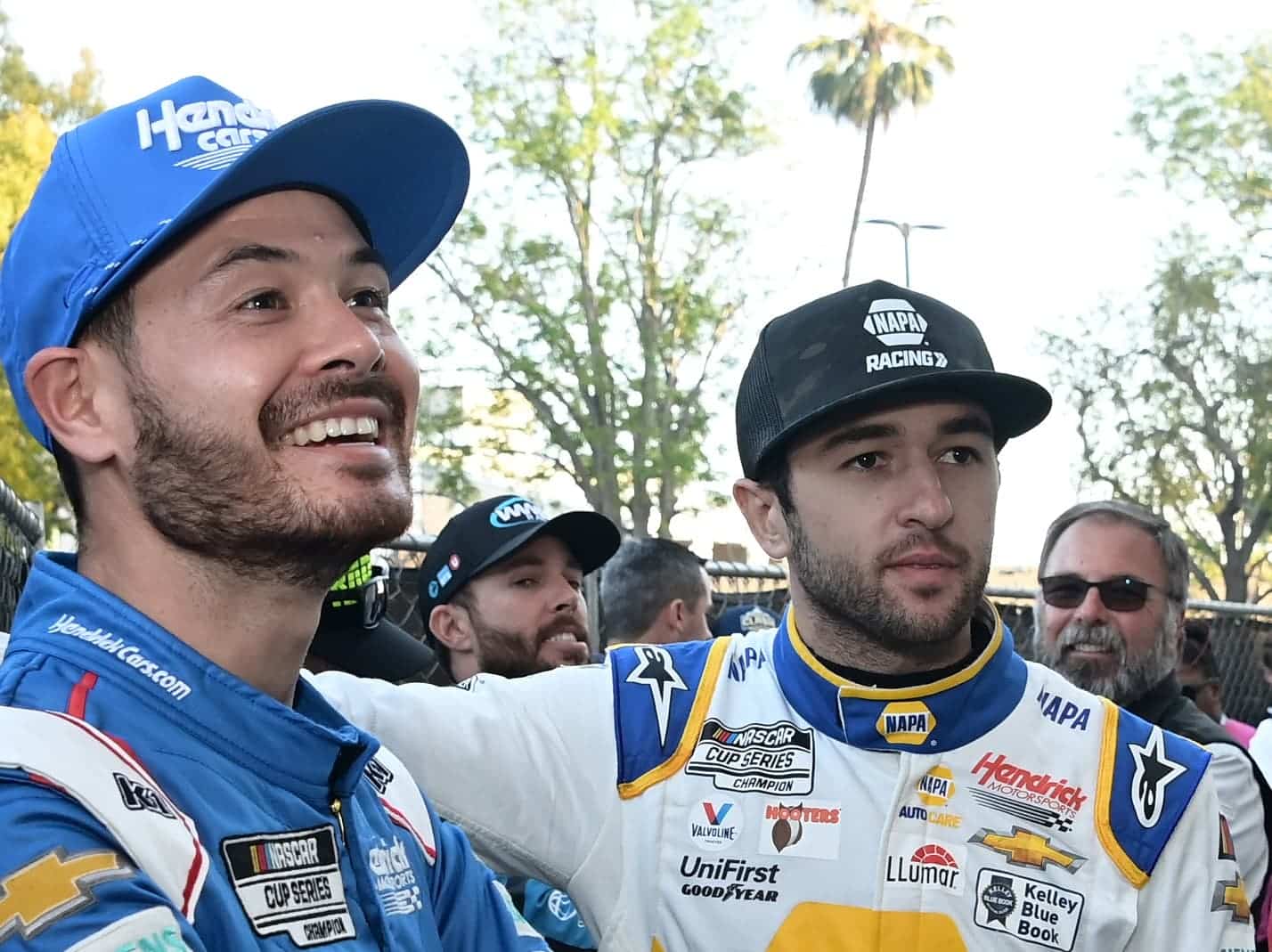 Kyle Larson's successful return from his suspension was the dominant story of the 2021 NASCAR Cup Series. The driver of the No. 5 Chevy won 10 regular-season races, the All-Star Race, and the season championship.
It was an impressive display in the final season of the Gen 6 car, but the entire organization sparkled. Chase Elliott won twice and joined Larson in the Championship 4, Alex Bowman triumphed four times, and William Byron also hit Victory Lane once. Jumping from seven wins in points races to 17 in the span of a year created excitement about 2022.
It sounds funny to say considering Hendrick Motorsports drivers won 11 times last season, but the introduction of the Next Gen car did bring parity to the Cup Series. Overall, 19 drivers came away with wins in the 36 points races. Larson slipped from 10 wins to three, but Elliott scored five victories.
However, Larson missed a return to the Championship 4. Elliott wasn't competitive in Phoenix, placing 28th. And that's how the winningest organization in Cup Series history came out of 2022 feeling dissatisfied with how it played out.
This weekend at Fontana reminds us where 2022 went wrong
Assuming rain and snow don't wipe out the action, this weekend at Auto Club Speedway in Fontana, California, will represent the first Cup Series action there since the second race of the 2022 NASCAR season. It's unlikely anyone at Hendrick Motorsports is looking back fondly at the results of the Wise Power 400.
Alex Bowman finished 25th and Chase Elliott 26th, but at least they were still running at the checkered flag. William Byron was in a wreck with Ryan Blaney three-quarters of the way through the race and bowed out early in 34th place.
The winner? Kyle Larson. Despite being one of seven drivers sent to the back of the field for unapproved adjustments, Larson took the lead from Joey Logano with seven laps to go and stayed out front the rest of the way.
That wasn't the story of the day, however.
A Ross Chastain spin on Lap 173 brought out a caution flag. When action resumed, Larson went low to outmaneuver Elliott and Chase Briscoe for the lead. One lap later, Elliott and Joey Logano came up to challenge. Larson moved up the track and put his teammate into the wall, plunging Elliott 18 spots back.
Larson plausibly explained that Logano coming hard on the inside distracted him from realizing how much ground Elliott was making to his right. Nevertheless, Elliott came away upset, and owner Rick Hendrick called a meeting for all four drivers.
Things got better for a time
One week after the Fontana incident. Alex Bowman won at Las Vegas. Two weeks later, William Byron won at Atlanta. When Chase Elliott emerged victorious at Dover, the entire Hendrick Motorsports quartet owned wins in the first 11 races.
All seemed OK until the Cup Series reached Watkins Glen in mid-August. There, Larson forced Elliott out of the lead at Turn 1 on the final restart and went on to his second victory of the season. Elliott placed fourth, and there was little doubt that Larson knew who was where and what the ramifications of his muscle move would be.
"I think Fontana was easier to get over for him because it was the first time something happened," Larson said last week, according to NBC Sports. "I think Watkins Glen was tougher to get over because it happened a second time. But I think since then — I mean, it took weeks, I would say, to get moved on from it. But I feel like we're in a good, an OK spot right now."
Watkins Glen was frustrating but less concerning for Elliott since he had all but sewn up the regular-season championship and the haul of 15 bonus playoff points. Still, Larson forcing him wide cost the 2020 Cup champ a potential victory and the five more playoff points that would have come with it.
"It was a rough few weeks for me in my seat," Larson admitted. "So, I don't want to be a part of that ever again."
Elliott and Larson went on to win once apiece in the playoffs, but Larson's victory at Homestead-Miami came after he'd already been eliminated from a potential return to the Championship 4. Elliott's Talladega win got him to the semifinals but proved meaningless five weeks later at Phoenix.
Got a question or observation about racing? Sportscasting's John Moriello does a mailbag column each Friday. Write to him at [email protected].