Aaron Rodgers, Curt Schilling Strike Back Over Character Assassination
Don't like the fact Aaron Rodgers is unvaccinated? No problem. Sick of Curt Schilling's political rants? That's OK, too. Where it becomes an issue is blending those off-the-field instances with what those two athletes have done or are continuing to do on the field. Rodgers, the Green Bay Packers quarterback shooting for his fourth MVP and second straight honor, addressed the issue perfectly Wednesday. Schilling, on the Baseball Hall of Fame ballot for the final time, echoed Rodgers' feelings last week.
Aaron Rodgers deserves NFL MVP, and Curt Schilling belongs in the Baseball Hall of Fame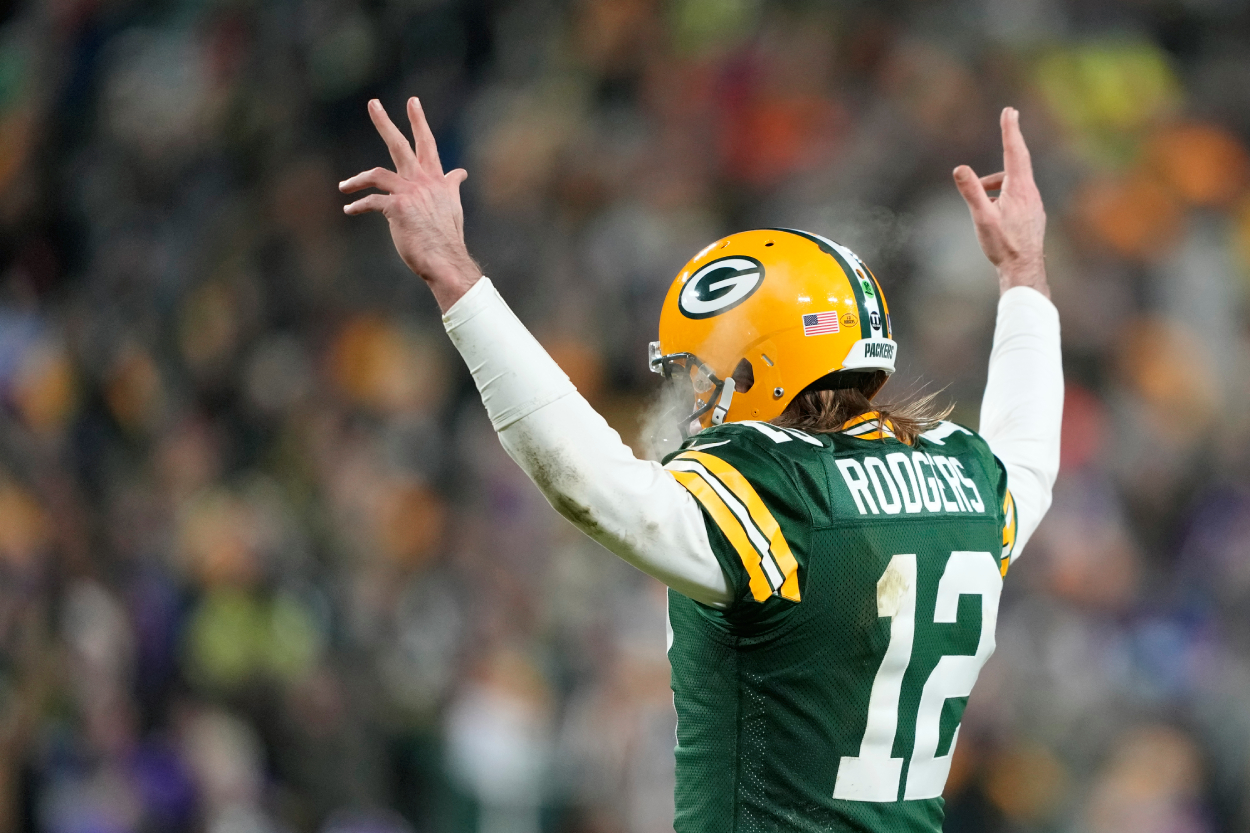 Rodgers may have had the worst game of his career in Week 1 against the New Orleans Saints. It was an ah-ha moment for those anti-Rodgers folks who bashed the quarterback for the way he handled his offseason away from the team's training camp. Since then, Rodgers has lost one time. He's 13-1 since that opening 31-3 loss and has thrown 35 touchdown passes with two interceptions.
Rodgers may have had his best game in the one game he did lose. He threw for a season-high 385 yards and four touchdowns (with no interceptions) in a 34-31 loss to the Minnesota Vikings. The only other game the Packers lost was when Rodgers tested positive for COVID-19 and missed the game. The Kansas City Chiefs beat the Packers 13-7.
Schilling has some pretty convincing numbers that are Hall of Fame worthy. In 20 years in the big leagues, Schilling racked up 216 wins against 146 losses. In his first four seasons, he only made five starts.
Schilling had 10 seasons with double-digit victories. Two of those years, he led the majors in victories. Four times in his career, Schilling was tops in complete games. He finished his career with 3,116 strikeouts while walking 711.
Where Schilling earned his money was in the postseason. He was clutch when it counted most, going 11-2 in the playoffs in 19 career starts. His postseason ERA was 2.23 and was even better in the World Series. In the Fall Classic, his ERA was 2.06 in seven starts.
Hub Arkush, veteran Chicago reporter, said he wouldn't vote for Aaron Rodgers for MVP because he's the 'biggest jerk in the league'
Before this week, not many had heard of Hub Arkush. Now he's known for being exactly what he perceives Rodgers to be — a big jerk. Arkush, a veteran Chicago sportswriter, publicly showed he has zero respect for the NFL voting process and also showed he has no right to be one of the selected few who vote for players to receive the NFL's highest honors.
Arkush had no shame when he went on the air to publicly admit he won't give Rodgers a vote because he doesn't like the way he acts. Arkush said he thinks Rodgers is a "bad guy" and explained why Rodgers won't get his vote.
"I don't think you can be the biggest jerk in the league and punish your team, and your organization and your fan base the way he did and be the Most Valuable Player," Arkush said on 670 The Score radio station, per USA TODAY. "Has he been the most valuable on the field? Yeah, you could make that argument, but I don't think he is clearly that much more valuable than Jonathan Taylor or Cooper Kupp or maybe even Tom Brady. So from where I sit, the rest of it is why he's not gonna be my choice."
Rodgers had the perfect response to one of the most insulting and foolish reasons not to vote for a player for MVP.
"I think he's an absolute bum. He doesn't know me. I don't know who he is. No one knew who he was, probably, until yesterday's comments," Rodgers said of Arkush during a Wednesday press conference. "His problem is I'm not vaccinated. So if he wants to go on a crusade and collude and come up with an extra letter to put on the award just for this season and make it the 'Most Valuable Vaccinated Player,' then he should do that."
Curt Schilling responds to his critics over Hall of Fame voting
Schilling came oh-so-close to getting in the Hall of Fame a year ago when he finished 16 votes shy. He collected 71.1% of the votes but 75% is needed once again. For Schilling, the numbers on the field are there. It's his strong political beliefs and his outspokenness on various sensitive topics that have ostracized him from those making the decision to put him in the Hall.
It's not fair. The Hall of Fame isn't — or shouldn't be — a personality contest. Schilling got so fed up with the voting process that he asked MLB to take his name off the ballot. His request was denied. His response to the attacks on his character were similar to Rodgers' response to Arkush.
In an interview with reporter Rob Maaddi, Schilling said he's ready to move on from the Hall of Fame talk.
"I don't care," he said about the voting. "Up until this year, this has been one of the most miserable periods of time every year in our lives for the last nine of 10 years. I have to read about and hear about a person that doesn't actually exist.
"I don't even know what the word is anymore, but when you can beat your wife, beat your girlfriend… I mean (writer) Bill Conlin was a child molester. When those types of character questions aren't relevant to the voting but my support of a president that they all hate is…
"For 10 years, you listen to these people who really don't know me. I mean, you know me as a player but you don't know me as a person. People in your line of work have written about my character, and all of the things they've said about me, I find,it, again I don't know what the word is, but in 22 years, I've never had a teammate, a fan, a clubhouse guy, a manager, a coach, anyone, ever say any of the things writers have written about me."
Who knows if Rodgers or Schilling are bad guys. The bottom line is it doesn't matter. MVP, Hall of Fame voting is for what the athlete has done on the field, period. Nothing else. Anyone, like Arkush, who publicly admits they won't vote for someone because they don't like them personally should be banned from voting.