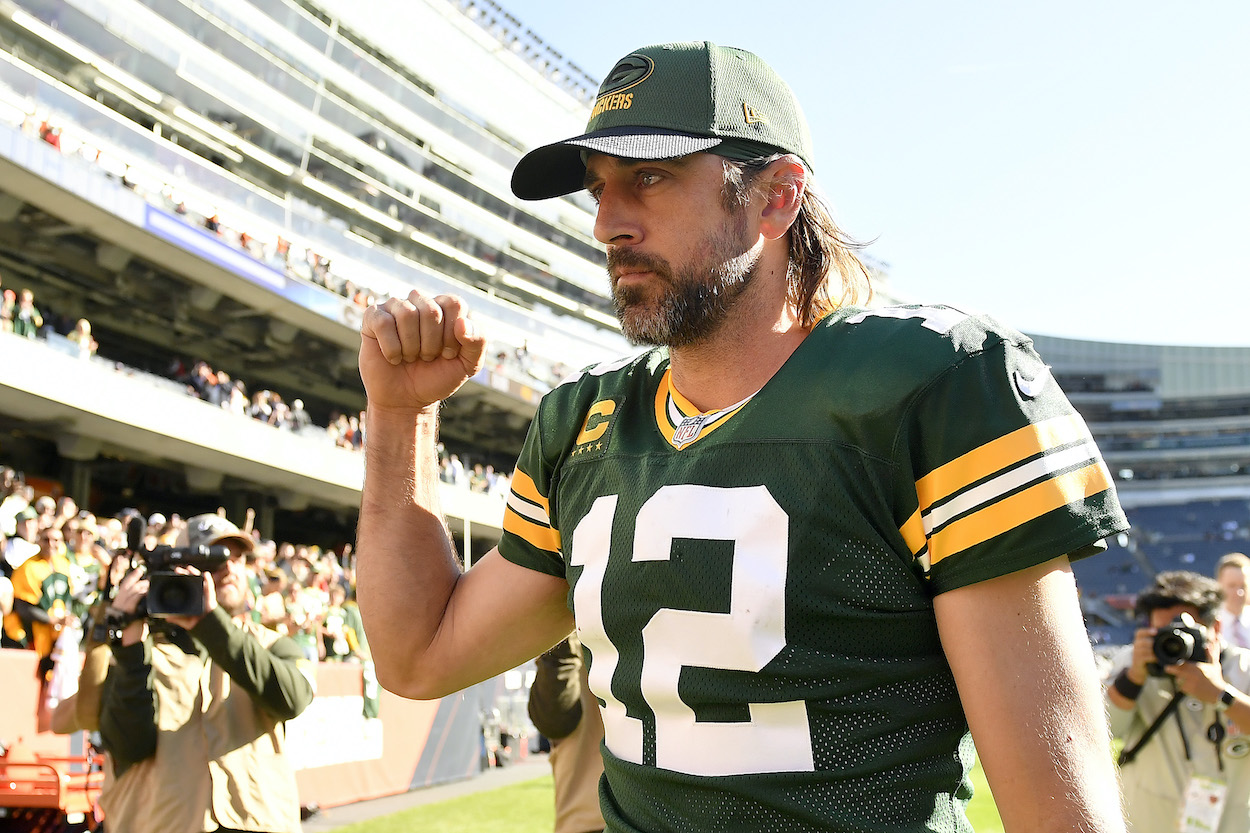 Aaron Rodgers' Disrespectful 'I Own You' Jeer Spurs a Passionate Threat From a Former Bears Great: 'I'd Like to Punch Him in His Face'
Aaron Rodgers is public enemy No. 1 in Chicago right now.
Aaron Rodgers is public enemy No. 1 in the city of Chicago right now.
The longtime Green Bay Packers quarterback got under the skin of Bears fans everywhere when he taunted the Soldier Field crowd in epic fashion after scoring a game-clinching touchdown last Sunday. Rodgers' now-famous "I own you" line has haunted the nightmares of Bears fans all week, and that evidently includes former players.
For ex-Bears center Olin Kreutz, he was so offended by Rodgers' jeer that he wishes he could inflict some violence upon the star QB's face.
Aaron Rodgers owns the Bears, and he let them know it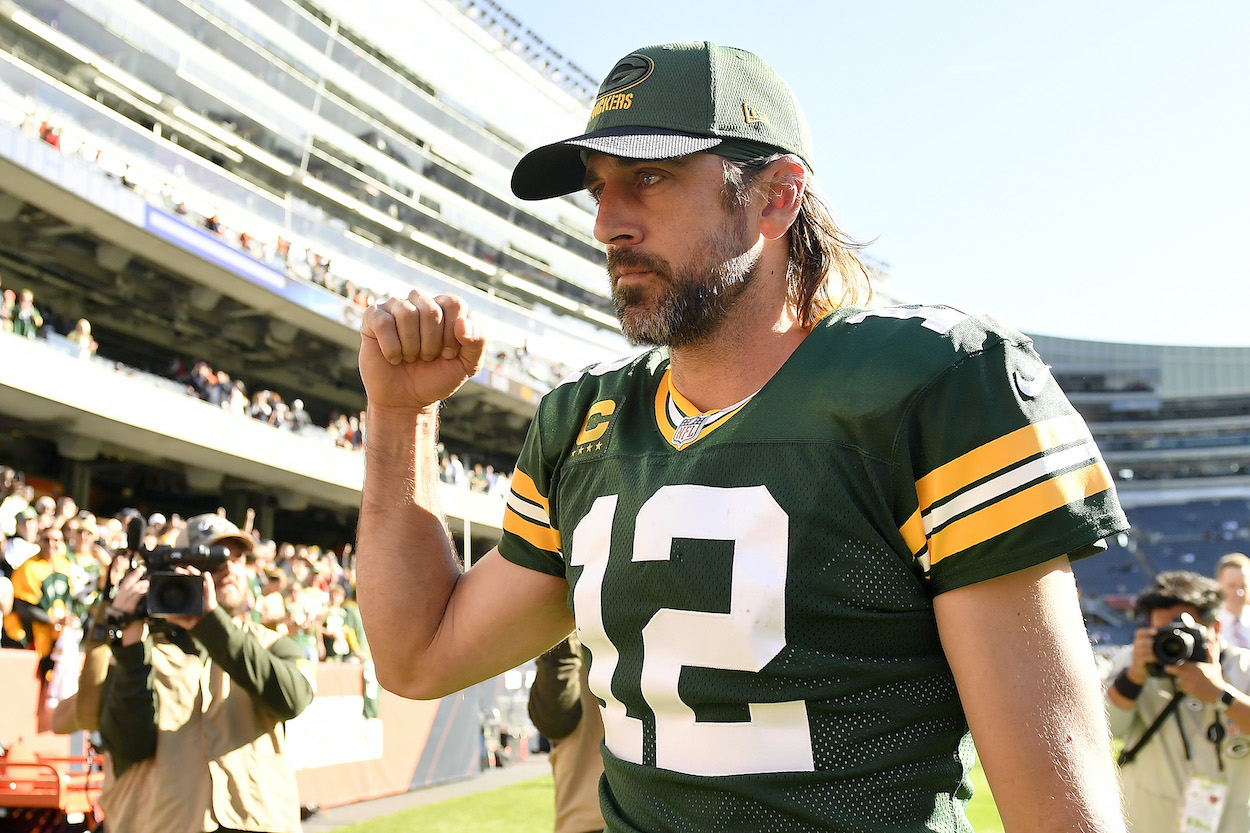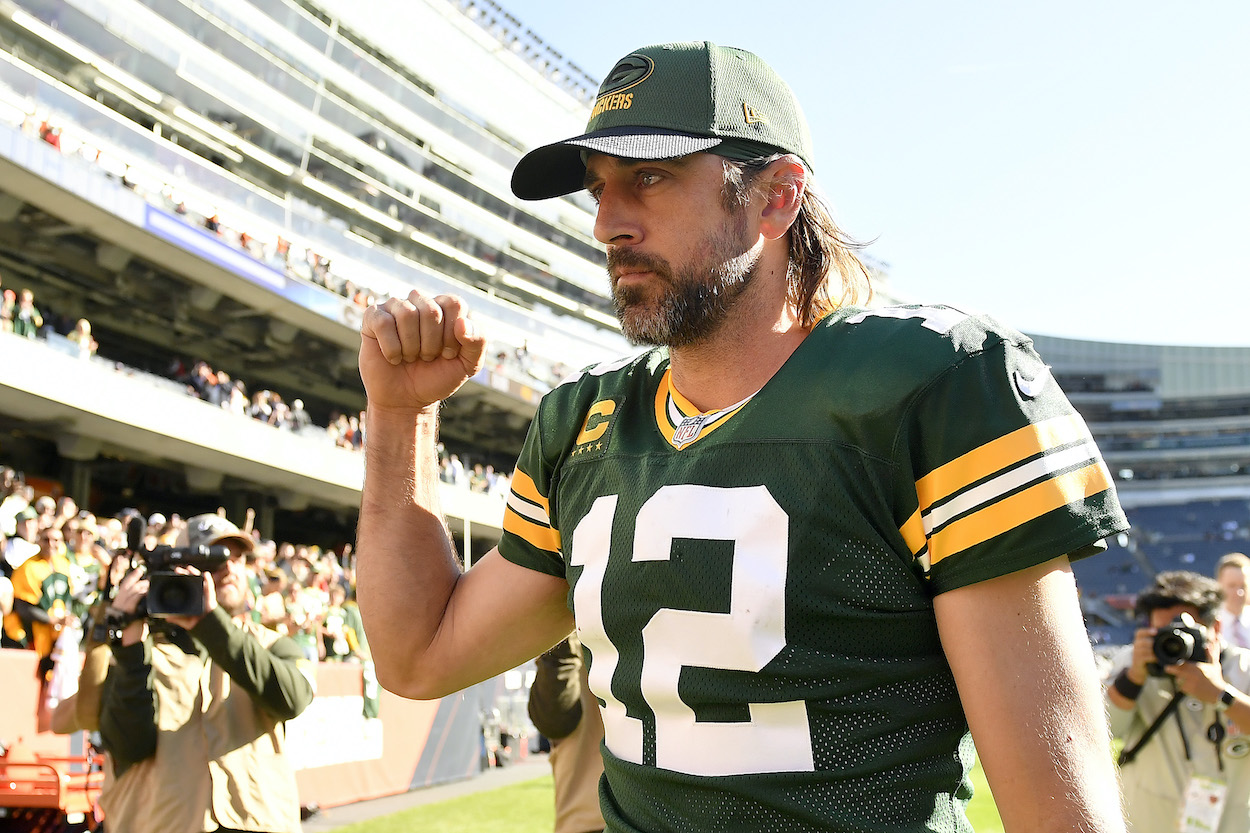 Rodgers has owned a good portion of NFL franchises over the course of his legendary career, but none have felt his wrath quite as often or as harshly as the Bears.
In 17 years with the Packers, Rodgers holds a 21-5 record against the Bears in the regular season. The future Hall of Famer also defeated Chicago in the playoffs en route to his lone Super Bowl victory.
Rodgers has thrown for 6,208 yards and 57 touchdowns against the Bears in his career, which are his highest marks against any opponent.
On Sunday, Rodgers added another tally to that win column by defeating the Bears, 24-14, in Chicago. And after scoring a late touchdown to essentially ice the game, he reminded the fans in attendance just how easy it's always been.
"I own you, all my f***ing life. I still own you. I still own you," Rodgers shouted to a sea of blue and orange as he trotted to the sidelines.
Bears fans weren't too happy with the disrespectful jab, but it's not like they could argue that he's wrong.
Former Bears great Olin Kreutz wants to punch Aaron Rodgers in the face
It wasn't just Bears fans who were upset by Rodgers' jeer last Sunday. Olin Kreutz, who played center for the Bears from 1998-2011 and went to six Pro Bowls while in Chicago, appeared on 670 The Score the week and admitted he wants to shut Rodgers up himself.
I'd like to punch him in his face. When you see that, that's your first reaction, right? I don't care if you're right. I don't care what his excuse is, that just is your first reaction. To me, that's a lame excuse. … We all know this is the kind of guy you are. You're competitive, and that's the way you feel, and you have won a lot of games here at Soldier Field. Just because you're right, it doesn't make you right for doing it. It doesn't make us any less pissed off.

Olin Kreutz
Kreutz continued to say there should be "a little edge" in the Bears locker room after getting disrespected on their home turf. We'll see if they can return the favor later this season.
A chance for some sweet revenge
The Bears will be reeling from this demoralizing loss for a few more days, but there's no time to sulk with Tom Brady and the Tampa Bay Buccaneers coming to town on Sunday. A bounce-back win against the NFC favorites could be just what Chicago needs to get back on track.
And on December 12, the Bears will travel to Lambeau Field for a chance to avenge yet another loss at the hands of Rodgers and the Packers. That one will be appointment television.
Like Sportscasting on Facebook. Follow us on Twitter @sportscasting19.