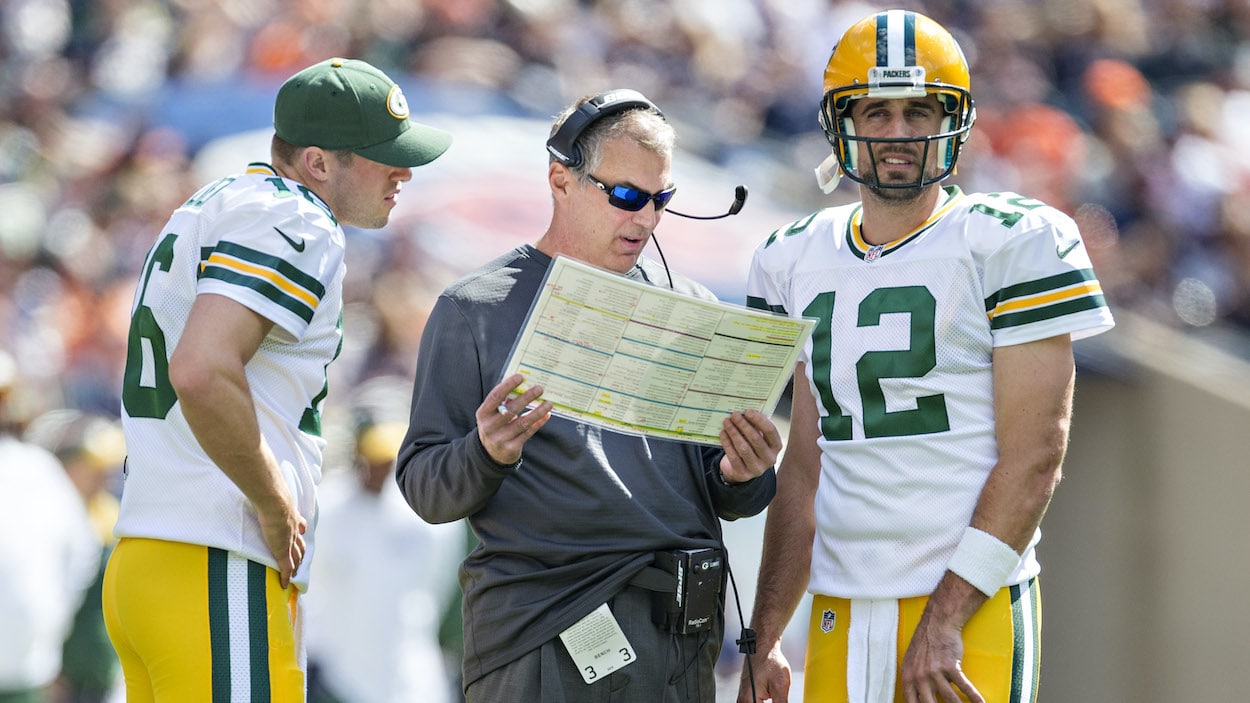 Aaron Rodgers Got Emotional in Week 1 After Seeing 1 Person on the Packers Sideline
Aaron Rodgers is incredibly happy to have his former quarterbacks coach back with the Packers after five years away.
Green Bay Packers quarterback Aaron Rodgers shoots from the hip and wears his heart on his sleeve. After an emotional last year-plus that almost saw him leave the organization that drafted him, the QB seems to be more at peace this season. On his regular Tuesday appearance on the Pat McAfee Show, Rodgers explained at least one of the reasons he's happier in Green Bay these days, and that's the return of his new/old quarterbacks coach, Tom Clements.
Aaron Rodgers loves having Tom Clements as his quarterbacks coach
Part of Aaron Rodgers' current contentment as quarterback of the Packers is the organization's willingness to bring back or keep people he likes, respects, and trusts.
This happened last season when the team brought back one of his best friends, Randall Cobb, and continues as the team keeps tackle David Bakhtiari, despite the fact he hasn't played in over a year.
Another example of this is bringing back quarterbacks coach Tom Clements. The long-time NFL coach was with Rodgers and the Packers from the QB's second season in the league until 2016. The franchise brought Clements back this offseason after last season's QB coach, Luke Getsy, left to take the offensive coordinator job with the Chicago Bears.
On his most recent Pat McAfee Show appearance, Rodgers explained what he enjoyed about having Clements back. He talked about his positivity, calming presence, knowledge, and the fact that he holds Rodgers to a high standard despite his age and challenges like losing Davante Adams.
The 38-year-old even admitted that he got emotional in Week 1 when he saw Clements back in Packers green and gold:
I saw him on the sidelines in Week 1 — and I didn't mention this — and I shook his hand, and I said, 'Tom, it's so good having you back.' And it kind of hit me after I walked away how much I truly meant that. How much I truly meant how special it is to have Tom back because he was such a big part of my young career, and I owe him so much for the success that I've had. It's just so cool to bring it full circle and to have him back in town in my room.

Aaron Rodgers on Tom Clements
Clements has been a huge part of Rodgers' success over the years, and he's not just back because the Packers QB likes him. The coach brings tons of experience back to the Pack.  
Who is Packers QB coach Tom Clements?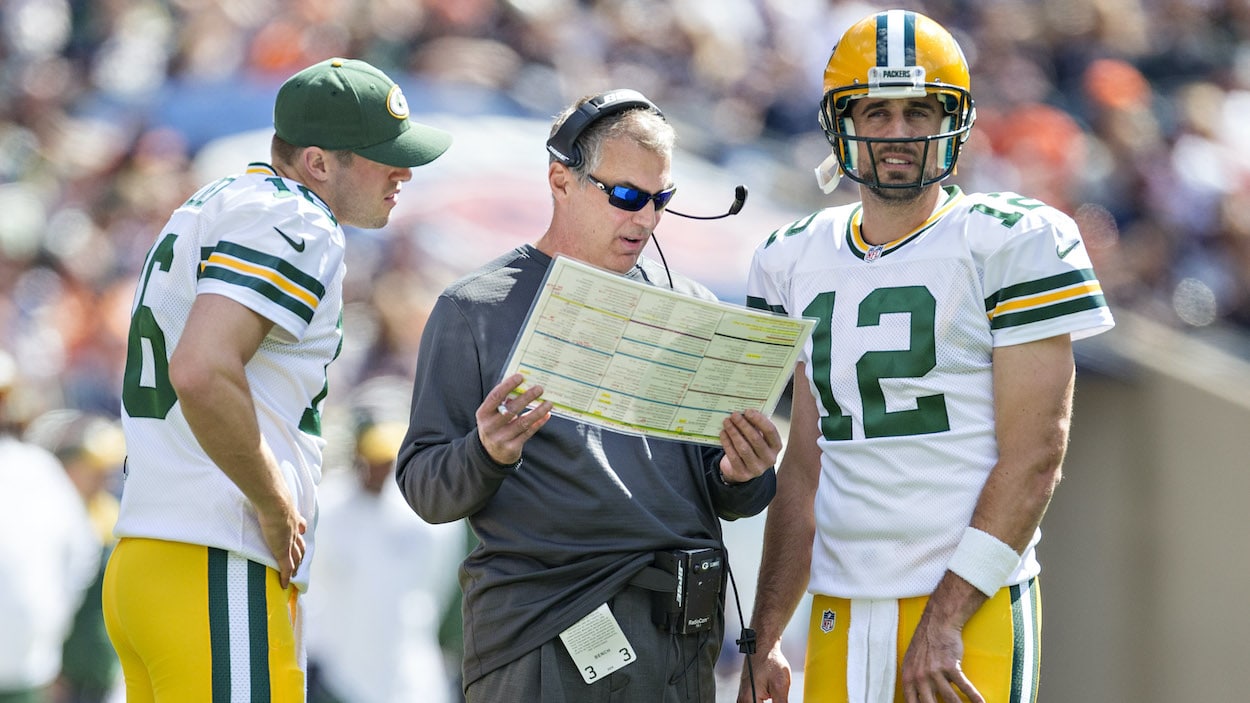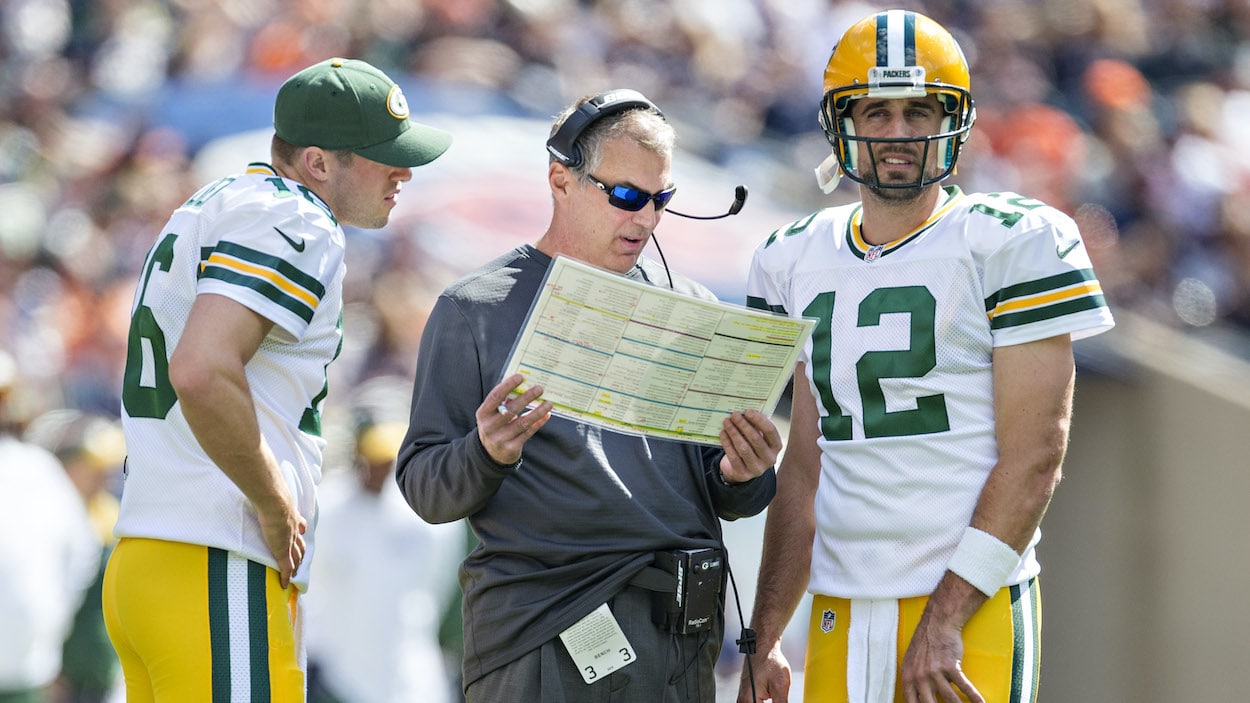 If the name Tom Clements sound familiar to older fans, that might be because he was the starting quarterback at Notre Dame from 1972-74 under Ara Parseghian. After that, Clements played in the CFL, helping the Ottawa Rough Riders win a Gray Cup. At the end of his career, he did spend one season as a backup on the Kansas City Chiefs.
After his quarterbacking career ended, Clements moved into the coaching ranks, heading back to his alma mater. He coached the quarterbacks at Notre Dame for four seasons before moving to the NFL and taking the same position with the New Orleans Saints under Mike Ditka.
Stints with the Chiefs and his hometown Pittsburgh Steelers followed before he became offensive coordinator for Mike Mularkey and the Buffalo Bills in 2004.
That job only lasted two seasons, and Clements jumped to the Packers. The coach would spend the next 11 seasons in Green Bay as quarterbacks coach, OC, and associate head coach. He was part of the team's 2010 Super Bowl win as well.
Clements left the Packers in 2017 and returned to the NFL in 2019 to coach the Arizona Cardinals QBs. After two seasons, he took another season off and then returned to Aaron Rodgers and the Packers this offseason.  
Like Sportscasting on Facebook. Follow us on Twitter @sportscasting19 and subscribe to our YouTube channel.