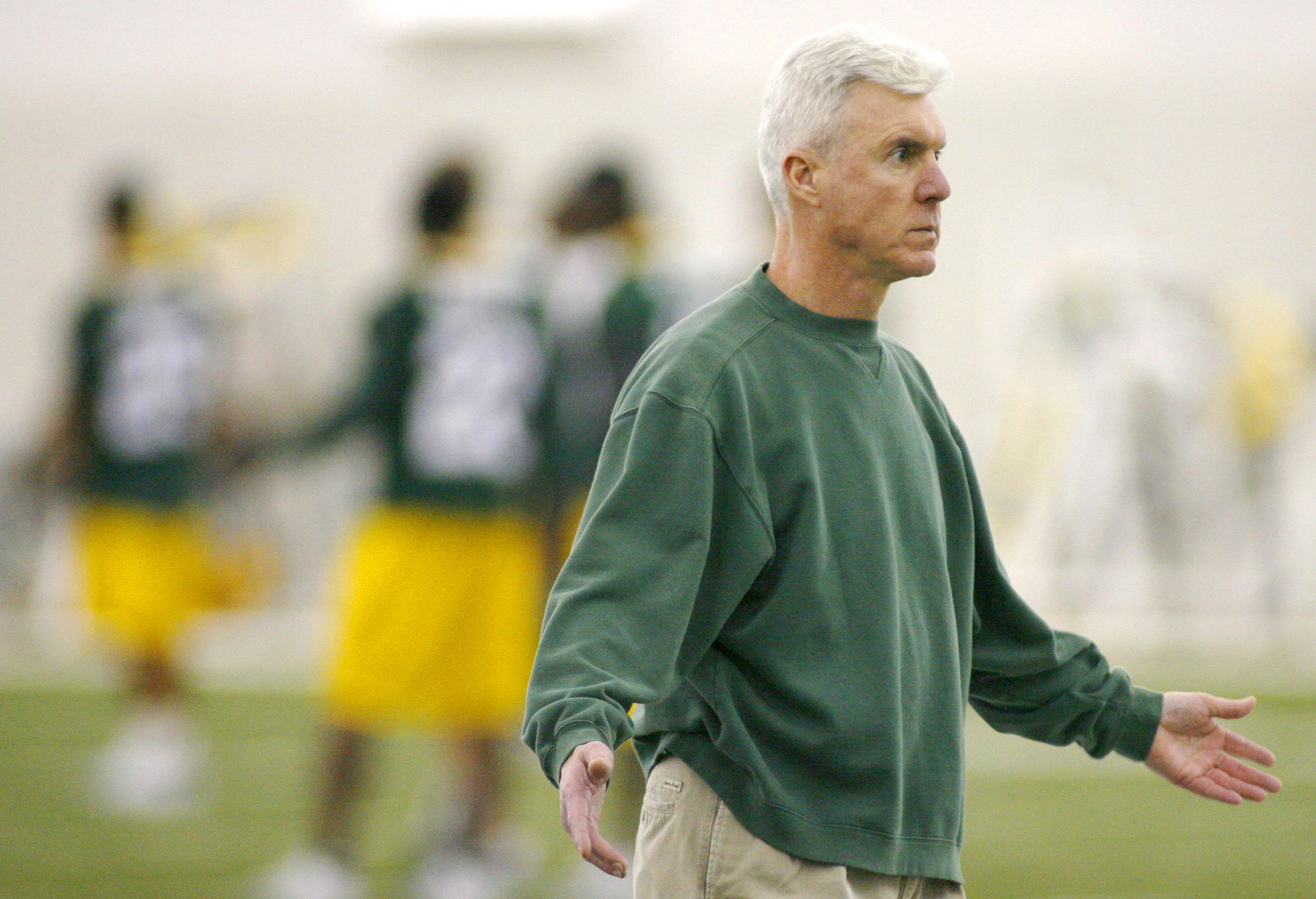 Aaron Rodgers Has a Meaningful One-Word Message for the Late Ted Thompson
Green Bay Packers quarterback Aaron Rodgers has a meaningful one-word message for the late Packers GM Ted Thompson.
On the field, the Green Bay Packers have been looking good, winning their last seven games and nine of their last 10. Off the field, the team has been hit hard. Prior to the playoffs, the Packers lost Pro-Bowl left tackle to a season-ending injury. On Thursday, they learned of the death of former general manager Ted Thompson. Quarterback Aaron Rodgers said Thompson made quite an impact on him and had a meaningful one-word message for his late GM.
Ted Thompson was a draft machine
Ted Thompson was known for building through the draft. His biggest draft pick was the first one he ever made. Thompson selected Aaron Rodgers in 2005 and Rodgers is on the verge of his third MVP.
While Rodgers might be the most notable player Thompson drafted, Thompson found a way to find gems in the later rounds. Outside of Rodgers, Thompson drafted several other stars still on Green Bay's roster. Thompson selected wide receiver Davante Adams in the second round. He grabbed left tackle David Bakhtiari in the fourth round, center Corey Linsley in the fifth round, and running back Aaron Jones in the fifth round. Thompson also drafted longtime kicker Mason Crosby.
"He, in my opinion, is the best talent evaluator, especially when it comes to the draft, that I've ever seen or been around," said Packers current GM Brian Gutekunst, according to The Star Tribune. "He had a very unique way of seeing what a player was going to become and the greatest he could become."
Thompson was an unselfish GM
According to The Star Tribune, Ted Thompson announced in May of 2019 he was diagnosed with an autonomic nerve disorder. The team said it was notified by a direct family member of Thompson's death on Thursday. The Packers were told he died Wednesday night. He was 68.
Packers President/CEO Mark Murphy said Thompson was the ultimate team player. He didn't want the glory or credit. He just wanted to work together to put a winning team together. "I think the one thing that really stands out to me is just his humility," Murphy said. "It was never about Ted. It was always what's best for the organization."
Dallas Cowboys head coach Mike McCarthy coached 13 years in Green Bay. He said there was no better mentor than Thompson. "Ted gave me an opportunity of a lifetime," McCarthy said. "As a young first-time head coach who thought he had all the answers, I couldn't have been matched with a more perfect leader. He taught me patience. I will forever remember all of the times he would simply smile at me and say, 'Slow down young man.'"
Aaron Rodgers reacts to Thompson's death
If not for Ted Thompson, Aaron Rodgers may not be a member of the Green Bay Packers. Rodgers issued a statement Thursday, letting people know how much Thompson meant to him. "I always appreciated his steady hand and the conversations that we would have," Rodgers said in the statement, according to The Star Tribune.
"He always made things pretty clear about what he expected from the team and what he expected from me. He always preached to put the team first, to not be a distraction, to be a good teammate, to be a good professional, and I always appreciated those comments."
Rodgers said Thompson would always end a meeting with the same one word each time. Rodgers wanted to deliver that one word right back to Thompson. "He would always start the season and address the team for a few minutes and he would always finish with, 'Godspeed,'" Rodgers said. "As he passes on, I want to thank him for what he meant to myself, the team, and the organization, and wish him Godspeed."