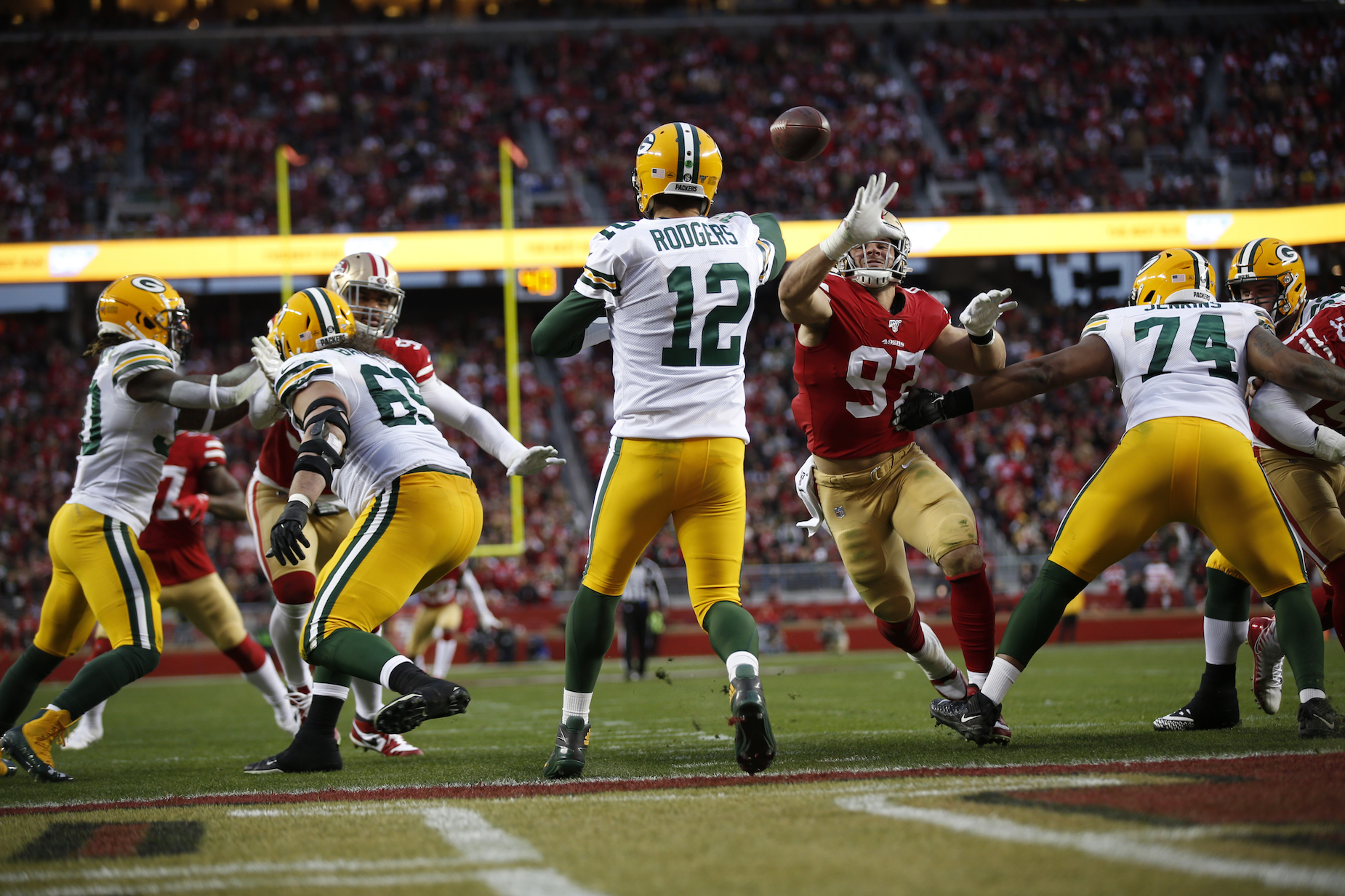 Aaron Rodgers Received Some Serious Disrespect From NFL Scouts Before He Joined the Packers
These day, no one can question Aaron Rodgers' NFL resume. Before he joined the Packers, though, NFL scouts were pretty skeptical of his abilities.
While replacing a living legend is never easy, Aaron Rodgers has done a pretty good job of it in Green Bay. Although no one will forget Brett Favre anytime soon, the current quarterback has earned a place in Packers history. Before his professional career began, though, not everyone had faith in his footballing abilities.
When Rodgers was coming out of college, plenty of analysts had doubts about his pro potential. In retrospect, some of those old scouting reports sound downright disrespectful.
Aaron Rodger's unconventional road to the pros
When you imagine a star quarterback's road to the pros, it's easy to assume that they were always the big man on campus. Aaron Rodgers' early career, however, was a bit different.
Despite a strong showing in high school, no big-name colleges recruited the quarterback; Purdue, for example, simply wished Rodgers good luck rather than offering him a scholarship. Faced with that reality, he found himself heading to Butte Community College. That move, it turned out, saved his football career.
After one year in Oroville, California, Rodgers had shown enough to land a spot on the Cal Golden Bears' roster. In two seasons, he threw for 5,469 yards and 43 touchdowns before entering the 2005 NFL draft. Things didn't immediately get easier, though.
Receiving some brutal pre-draft scouting reports
During his two seasons at Cal, Aaron Rodgers presumably thought that he had done enough to win over NFL scouts and general managers. In reality, though, the young quarterback still had plenty of doubters.
As recorded by Bob McGinn of the Milwaukee Journal-Sentinel, the pre-draft scouting reports weren't kind to Rodgers. "I don't like him. He's a clone of [Joey] Harrington and [Kyle] Boller," one AFC scout explained. "They all throw the same way. What have those guys done? Nothing."
"He's a system quarterback," another scout noted. "3-, 5-, 7-step guy. Can't create on his own. Panics under pressure. Gets flustered easy. I don't think there's a quarterback in the draft worthy of a first-round pick. I'm dead serious. None of them are worth it."
A third scout, this time from the NFC, also believed that the quarterback would struggle to produce outside Cal's offensive system. In an ironic twist of fate, though, the analyst used Brett Favre as an example of Rodgers' shortcomings.
"I think he has a good chance of being a bust,' that scout said. "Just like every other Tedford-coached quarterback. Thing I struggle with him is he gets sacked a lot. He doesn't have great ability to change the release of the football. He's mechanically very rigid. Brett Favre can change his release point and find different windows."
Aaron Rodgers went on to prove those experts wrong
On the back of those scouting reports, things still got worse for Aaron Rodgers as he spent what must have felt like an eternity sitting in the green room on draft night. Ultimately, though, the quarterback proved all of his doubters wrong.
Rodgers, of course, landed with the Green Bay Packers, where he spent several seasons backing up Brett Favre. He finally got his chance to run the offense in 2008; since then, the rest is history.
Even if the quarterback's days in Green Bay seem to be numbered, it's impossible to consider his time with the Packers anything other than a success. Rodgers has thrown for almost 47,000 yards and 364 touchdowns during his career, claiming two MVP awards and bringing the Lombardi Trophy back to Wisconsin.
It goes without saying that no scout is right 100% of the time. After seeing Aaron Rodgers' NFL career, however, plenty of general managers will consider him the one who got away.
Stats courtesy of Sports-Reference and Pro-Football-Reference