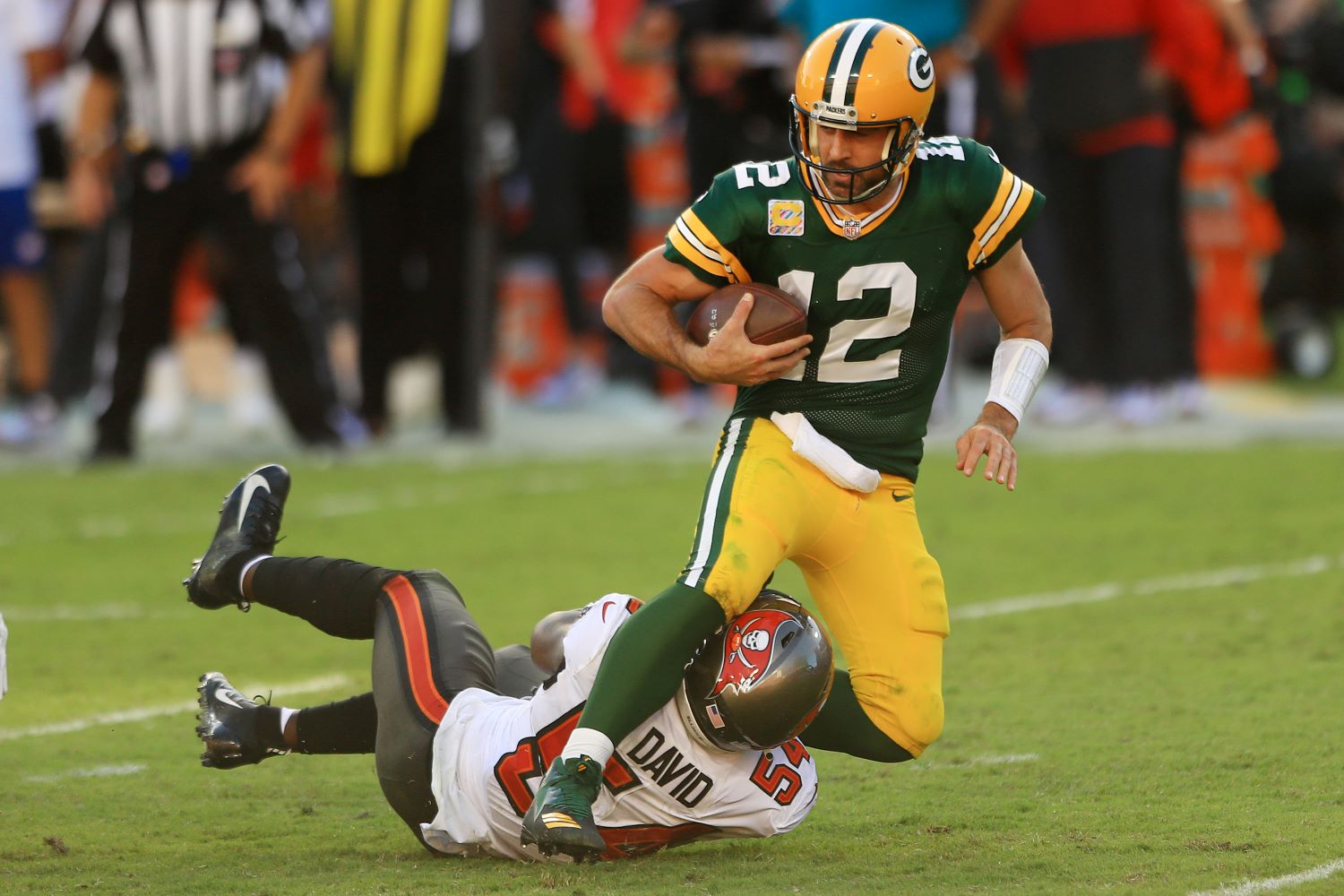 Aaron Rodgers Sends Concerning Message About Packers' First Loss
Aaron Rodgers sent a surprising message about the Packers' first loss of the season. Can Green Bay get back on track against Houston?
Facing Tom Brady for the third time in his career, Aaron Rodgers fell woefully short of beating the six-time Super Bowl champion. The Tampa Bay Buccaneers easily took down the previously undefeated Green Bay Packers thanks in large part to their elite defense.
Following his team's first loss of the season, Rodgers sent a concerning message that should raise a few eyebrows in Green Bay. But can the MVP candidate put his poor Week 6 performance behind him as the Packers get ready to play the Houston Texans?
The Buccaneers completely dominated the Packers in Week 6
The highly-hyped showdown between Aaron Rodgers and Tom Brady ended up being a one-sided affair. After jumping out to a 10-0 first-quarter lead, the Packers failed to score a single point the rest of the way.
Rodgers, who entered the game as a top MVP candidate, struggled mightily against the Buccaneers' fast and physical defense. The 36-year-old finished the day with just 160 passing yards and two interceptions. Tampa sacked Rodgers four times and held the Packers to only 201 total yards.
Meanwhile, Brady looked closer to 33 than 43. He completed 17-of-27 attempts for 166 yards and two touchdowns, including a 12-yard strike to Rob Gronkowski. Ronald Jones racked up 113 rushing yards and two TD to give him three straight games with at least 100 yards on the ground.
Overall, the Buccaneers racked up 324 total yards and did not commit a single penalty or turnover in their dominant victory against the Packers.
Aaron Rodgers sends a concerning message about Green Bay's first loss
For Aaron Rodgers, Sunday will go down as one of the worst performances of his career. In fact, his 35.4 quarterback rating ranks as the third-lowest mark in 186 regular-season games.
With the Packers falling to 4-1, Rodgers sent a concerning message about the team's first loss of the season. In his post-game media availability, the two-time NFL MVP may have raised a few eyebrows with his comments.
"I feel like we needed a little bit of a wake-up call this season because things had been so good," Rodgers explained. "I think we needed a kick in the ass a little bit."
Packers fans should have some concern about Rodgers' post-game message. After all, why should a team led by one of the greatest players in NFL history need "a wake-up call" after just four games? What does that say about the leadership in Green Bay?
Have the Packers already experienced complacency just because they rattled off wins against the Minnesota Vikings (1-5), Detroit Lions (2-3), New Orleans Saints (3-2), and Atlanta Falcons (1-5)? Considering the list of opponents they have taken down, the fact that Rodgers felt the team needed to be woken up certainly doesn't bode well for when the Packers take on more formidable opponents.
Can Rodgers put his ugly Week 6 performance behind him?
Now that the Packers have been humbled, it's time for Aaron Rodgers and Co. to get back on track. This week, Green Bay should have no trouble taking down a 1-5 Texans team that already fired their head coach.
Despite Deshaun Watson's best efforts, the Texans sit at the bottom of the AFC South. Much of that has to do with a porous defense that currently ranks 26th in points allowed. Houston allowed 42 points in Sunday's overtime loss to the Tennessee Titans.
The Packers may not have Derrick Henry, but they do boast a Pro Bowl-caliber talent in Aaron Jones. The former fifth-round pick will look to bounce back from a tough outing against the Buccaneers in which he recorded just 15 yards on 10 carries.
Expect Green Bay to ride Jones early in order to set up play-action opportunities for Rodgers and his crew of receivers. Davante Adams, Marquez Valdes-Scantling, and Equanimeous St. Brown should be able to get open against a defense that has recorded only one interception in six games.
Ultimately, the Packers should have no trouble moving to 5-1. But Green Bay fans should be concerned about the mindset of the team based on Aaron Rodgers' post-game message.
All statistics courtesy of Pro Football Reference.