Ahmad Rashad Has a Nice Net Worth After Following Michael Jordan and Finding Success in the NFL
In the most recent episodes of The Last Dance we saw a lot of Ahmad Rashad, a sportscaster who was, and still seems to be, pretty close to Michael Jordan. While Rashad was a pretty successful sportscaster, he was a really successful football player before that. Because of his success on the football field, in addition to his work on television, Rashad has a pretty large net worth.
Ahmad Rashad was a pretty good football player
Ahmad Rashad was actually previously named Bobby Moore, according to Sports Illustrated. He changed his name in 1973, though, after converting to Islam. In college, as Bobby Moore, he was an All-American running back during his senior season at Oregon, according to Sports Illustrated. That led to him being selected No. 4 overall in the 1972 NFL draft.
Rashad ultimately became a wide receiver in his NFL career. He didn't gain over 500 receiving yards in his first three seasons in the NFL and missed his fourth season in 1975 with an injury. However, after playing for the St. Louis Cardinals (yes, the football team) and the Buffalo Bills, he played the last seven seasons of his career with the Minnesota Vikings.
Rashad then became a star for the Vikings. He gained over 650 receiving yards each of his first two seasons in Minnesota. He also played in a Super Bowl in 1976 as the Vikings went to three Super Bowls in four seasons from 1973 through 1976. Then from 1978 through 1981, Rashad earned four straight Pro Bowl selections. His best season came in 1979 when he caught 80 passes for 1,156 yards and nine touchdowns.
Rashad last played in the NFL in 1982. He finished his career with 495 career receptions, 6,831 receiving yards, and 44 touchdown catches. Rashad is in the College Football Hall of fame and the Vikings Ring of Honor, according to Sports Illustrated.
Becoming a successful sportscaster
Working in TV had been a plan of Rashad's for a long time. He worked part-time at a Twin Cities TV station during the last five years of his football career, according to Sports Illustrated. 
"I wanted to represent African-American athletes in a better way than what I saw when I grew up," Rashad said, according to Sports Illustrated. 

Ahmad Rashad
He then worked his way up and eventually became a very successful sportscaster. NBC used him as an NFL commentator, a host for the Olympics, and a worldwide sports correspondent, according to SI. Then for 15 years, starting in 1990, he was the host of Inside Stuff where he went behind the scenes with NBA stars, Sports Illustrated reported. He was also a sideline reporter for NBC's NBA coverage in the 1990s.
Rashad had, and still seems to have, a close friendship with Michael Jordan. Other reporters criticized him for it too. "It was cool to be familiar with that whole group (the Bulls), see it from the inside," Rashad said, according to Sports Illustrated. "Most reporters don't get that. There's a line that they can't cross. For the entire Bulls' [run], I didn't have that line . … It was like I was a member of the team."
After a long successful career, Rashad is now no longer a sportscaster as Sports Illustrated referred to him as a "former sportscaster." However, he still seems to be close to Michael Jordan. "Michael, we're next-door neighbors," Rashad said in 2018 to Sports Illustrated. "We spend all our time together. All our time together!"
Rashad has a nice net worth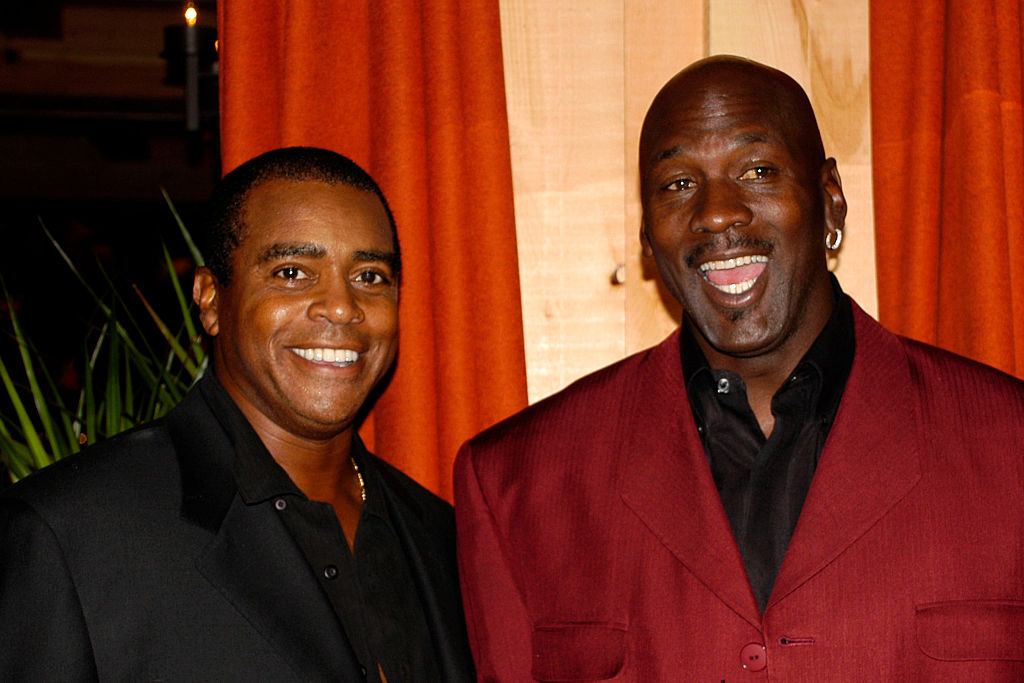 Ahmad Rashad had a pretty good football career. He was also a pretty successful sportscaster. In addition to all of that, he knows a lot of famous and wealthy people. He was married to Phylicia Rashad from The Cosby Show. You can also read about the friendships he had with O.J. Simpson and Bill Cosby in the article about him in Sports Illustrated.
Because of all of this, Rashad has a pretty healthy net worth. Celebrity Net Worth reports that he is worth $8 million. 
Now, Rashad lives in Jupiter, Fla. according to Sports Illustrated, and he and Jordan play a lot of golf as they live across the street from one another. Seeing on The Last Dance how much money Jordan liked to gamble while playing golf back in the day too, who knows if Rashad is worth even more money now. Especially if he has ever beaten Jordan in a game or two.