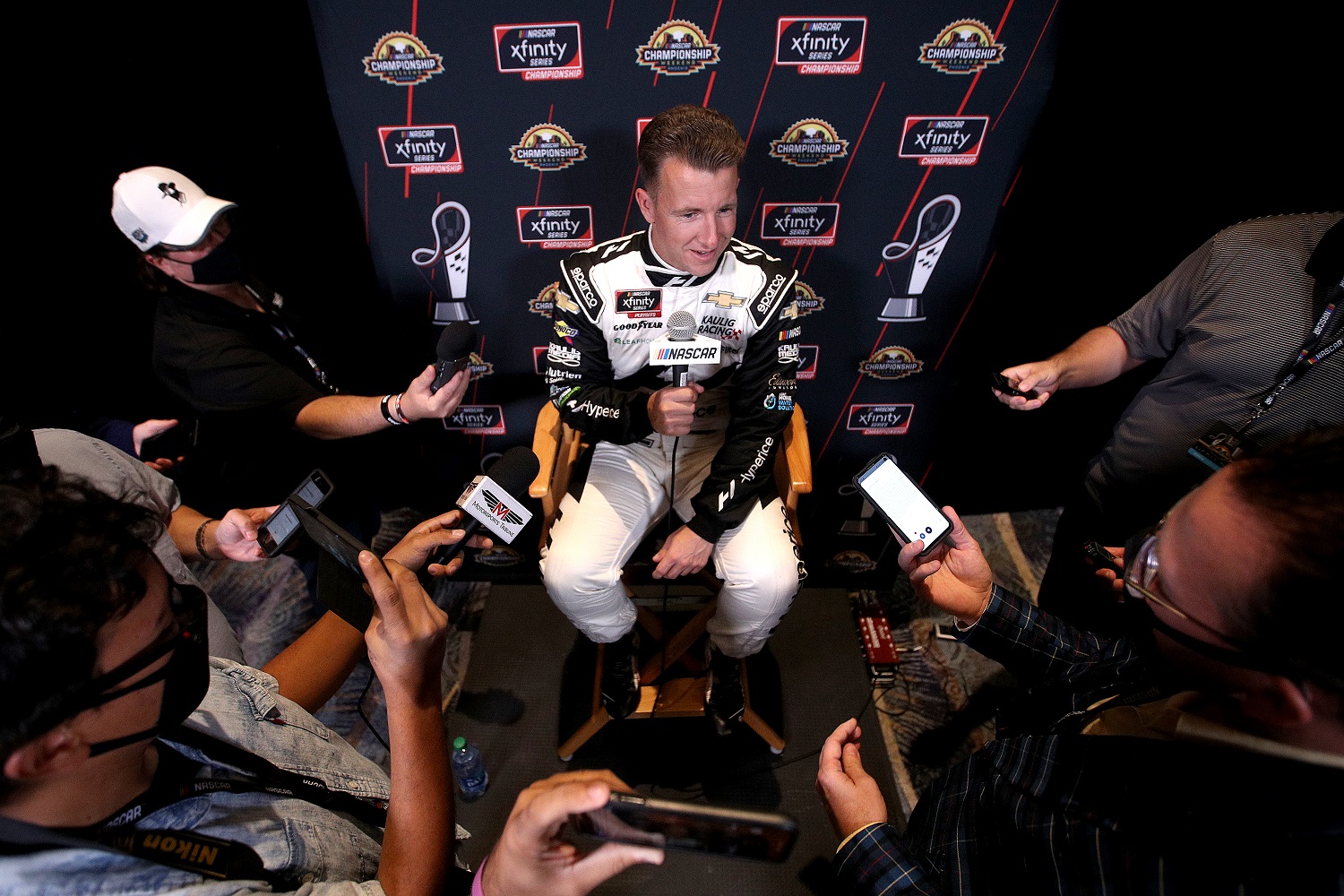 AJ Allmendinger Envisions an Epic Celebration, but Winning the NASCAR Xfinity Series Wouldn't Change His Life
AJ Allmendinger rightly points out that winning the Xfinity Series championship won't change his life in a significant way since he is already locked into future plans.
Article Highlights:
AJ Allmendinger will compete for the NASCAR Xfinity Series championship on Saturday
Allmendinger jokes fans might never see him again after the potential victory party
Allmendinger is locked into 2022 as a full-time Xfinity driver and part-time Cup Series competitor
At 39 years old, his age alone makes AJ Allmendinger significantly different from the three other drivers competing for the Xfinity Series championship in Phoenix. But with age comes experience and perspective, which helps explain the frankness that Allmendinger brings to the NASCAR season finale.
Of course, Allmendinger can afford to be honest at this juncture. Regardless of what happens Saturday beginning at 8:30 p.m. ET, he is set to run his biggest NASCAR Cup Series schedule since 2018.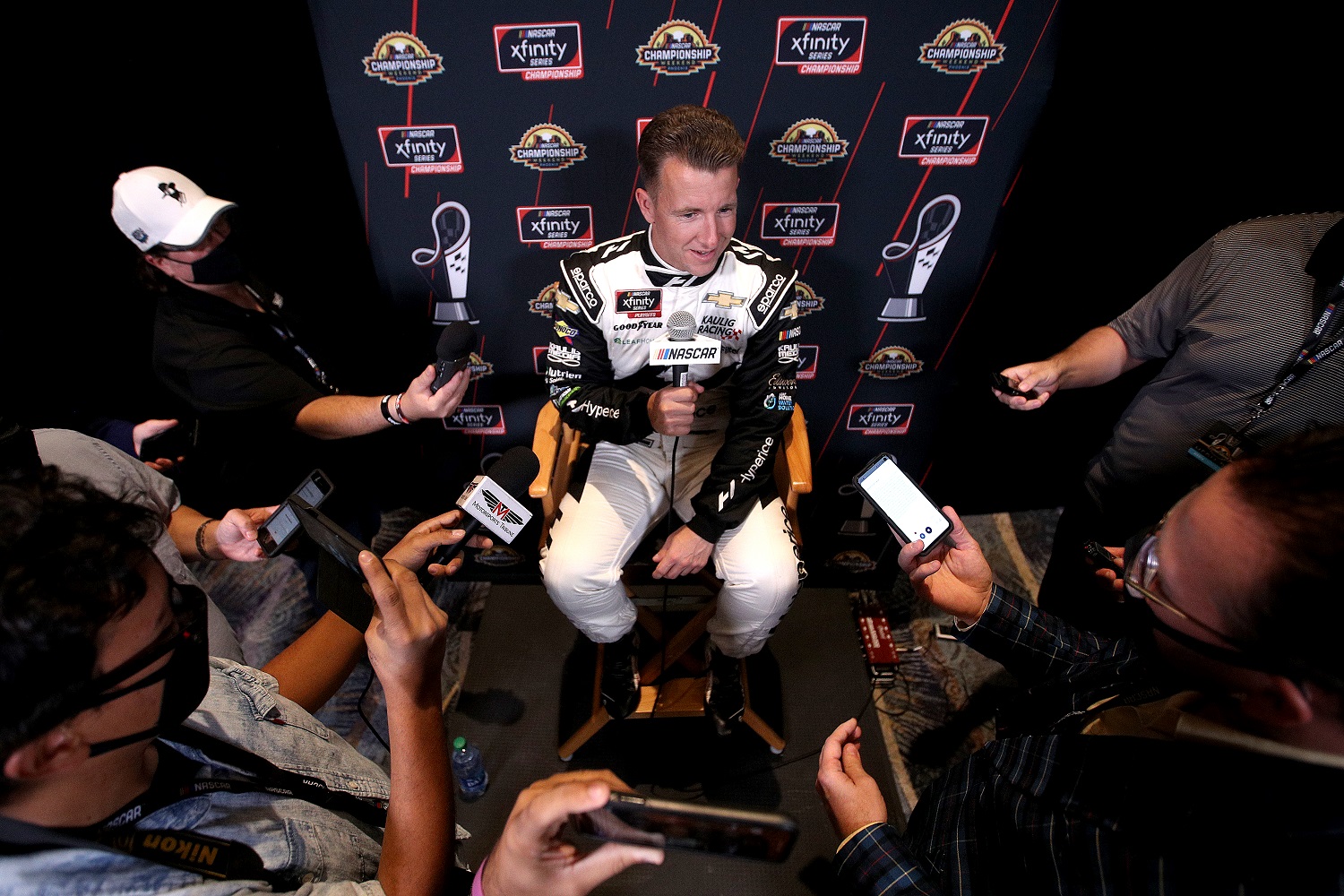 Still, he skipped the usual platitudes Thursday during media sessions ahead of the race, which brings Allmendinger together with Noah Gragson, Austin Cindric, and Daniel Hemric at the head of the field. One will drive away with the championship, and Allmendinger told Bob Pockrass of Fox Sports he can be content with or without the trophy.
"When it comes to winning a championship, yeah, it'd be so special, and I'm going to be nervous as I can be standing by the car, getting ready to go. But if we're going to be brutally honest, like if I win it or I don't, for me personally it doesn't change my life, whether that sounds right or wrong."

AJ Allmendinger
And Allmendinger is correct in that respect. Two part-time seasons and then a full 2021 schedule driving Xfinity cars for Kaulig Racing have revived his career. Team owner Matt Kaulig and president Chris Rice gave Allmendinger five Cup Series starts this season, and he rewarded their faith with a victory on the Indianapolis road course. That will get him 12 to 15 Cup races in 2022 as the organization moves to the top level full-time. Thus, Saturday's result will have no effect on his future, just on the postseason wrap party.
"Hell, the celebration if we win it, it may be better than anybody's you've ever seen between myself and the whole team, between me, Chris and Matt," Allmendinger said, jokingly adding, "You may never hear from us again. I don't know.
"But … if it doesn't work out on Saturday, it doesn't really change my life. Sure, I'll be disappointed. But what's happened this year? Stuff that two years ago I never dreamed of. I got to sit with my race team and kiss the bricks at Indy in a Cup Series race."
Allmendinger has put up strong numbers this season. He scored three top-10 finishes in the Cup Series as a road course specialist complementing his full-time assignment. In the Xfinity Series, he won the regular-season points crown and enters Phoenix with five victories and 18 top-five finishes in 32 races.
Though all talented, Allmendinger's rivals on Saturday don't bring the same level of experience.
Gragson, 23, is competing in his first Championship 4 following a fifth-place showing last season. After performing poorly early in the season, he won three races this year in a JR Motorsports Chevy. With the pressure on, he won last weekend at Martinsville to assure his shot at the title.
Hemric, 30, is making his third appearance in the Championship 4 and qualifies as the most intriguing title contender in the three NASCAR series by virtue of being winless in 2021. Regardless of his result Saturday in a Joe Gibbs Racing Toyota, Hemric will race alongside Allmendinger next season at Kaulig Racing.
Cindric, 23, is looking for his second consecutive Xfinity Series championship in a Team Penske Ford. A victory in Phoenix would be his sixth of the season and possibly represent his farewell to full-time Xfinity racing. Penske is pulling him up to the Cup Series in 2022 to take over for Brad Keselowski, who is moving to Roush Fenway Racing.
Like Sportscasting on Facebook. Follow us on Twitter @sportscasting19.