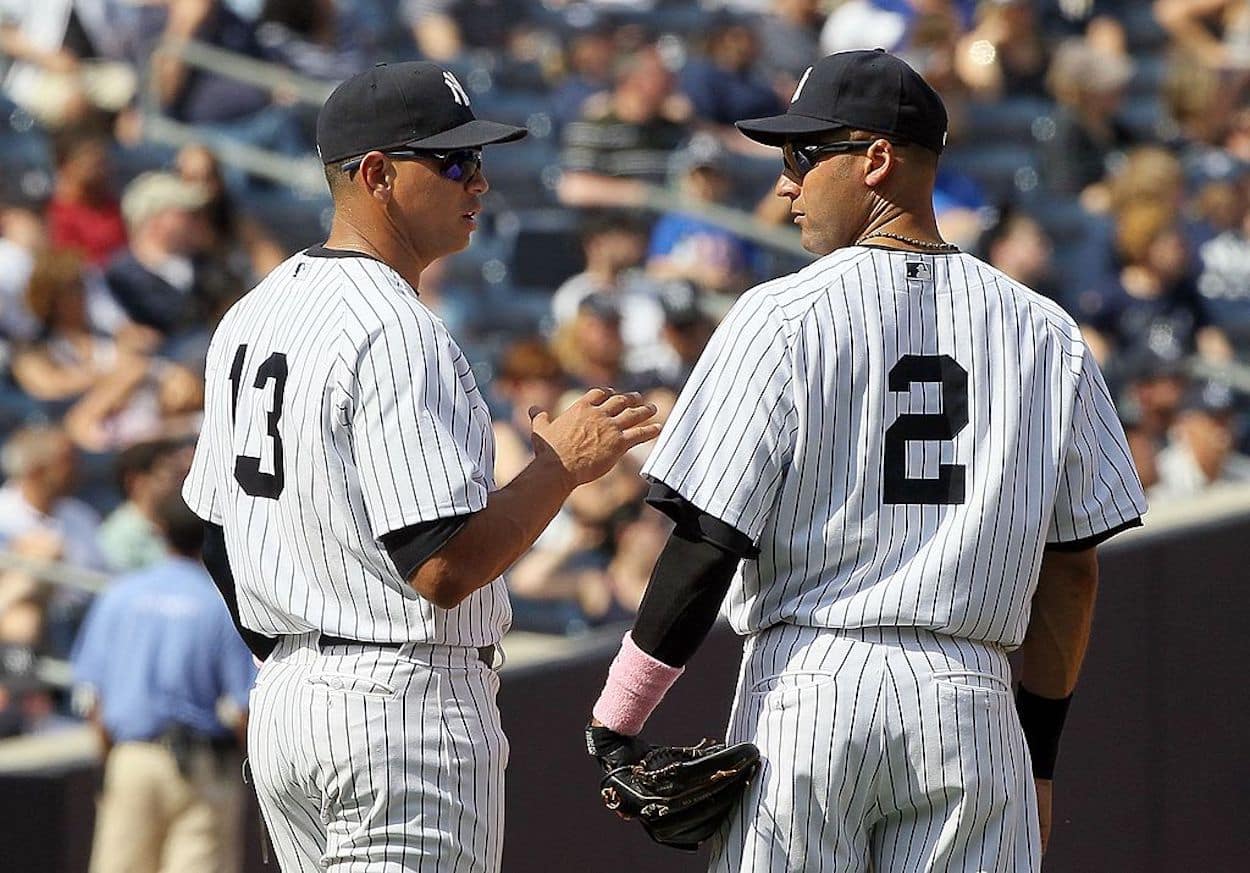 Alex Rodriguez Insists That He and Derek Jeter Are 'Good Friends' Despite Some Recent Comments
While he and Derek Jeter didn't always see eye-to-eye, Alex Rodriguez says that he and the Captain are still good friends.
From afar, it's easy to imagine teammates being the best of friends. In reality, though, they're like every other group of coworkers. Some relationships will come naturally, while others will fail to ever get off the ground. Take, for example, Alex Rodriguez and Derek Jeter.
While the two men played side-by-side for the New York Yankees, their relationship had its ups and downs. That's about to come back into the spotlight thanks to The Captain, which highlights some old comments that A-Rod made about Jeter. The shortstop, showing some rarely seen vulnerability, admits A-Rod's words stung him and felt like the actions of someone who wasn't a true friend.
Rodriguez, however, doesn't seem too concerned. During some Q+A, he went on the record as saying that, despite any old wounds, he and Jeter are "good friends."
Alex Rodriguez and Derek Jeter didn't always have the smoothest relationship
As everyone has experienced at one point or another, relationships evolve over the years. Derek Jeter and Alex Rodriguez, for all their fame and fortune, aren't exceptions to that reality.
As laid out by Newsweek, the two initially hit it off. They posed for Sports Illustrated together and "looked to be baseball's greatest bromance." Jealousy seemed to get the better of A-Rod, however, and he made some public remarks about Jeter's ability to take advantage of his strong supporting cast (we'll talk more about those later). Despite an eventual apology, Jeter was understandably hurt.
Then, of course, the two teamed up as New York Yankees. While things were cordial, if not completely buddy-buddy, in public, cracks occasionally emerged in the facade. In 2006, for example, Jeter and A-Rod bumped into each other while trying to field a pop-up. As the ball fell to the ground, the captain glared at his teammate before trotting back to his position.
In retirement, though, things seem to have leveled off. Rodriguez, for example, tweeted about how he "needed" Jeter after the Yankees legend earned his place in Cooperstown.
Jeter recently addressed some controversial comments from 2001
Remember how we alluded to some controversial magazine comments? Well, it's time to return to those.
In 2001, Rodriguez and his agent, Scott Boras, spoke to Esquire. In that piece, A-Rod complained that Mike Lupica praised Jeter while ripping him, which set the stage for some shots across the bow.
"There's a big difference," says Boras. "Jeter had seventy-one RBIs and fifteen home runs. Jeter and Nomar last year had fifteen and twenty-one home runs. You can have a golden bulldozer, but if there's no dirt to push…"

"Jeter's been blessed with great talent around him," Alex says. "He's never had to lead. He can just go and play and have fun. And he hits second—that's totally different than third and fourth in a lineup. You go into New York, you wanna stop Bernie and O'Neill. You never say, Don't let Derek beat you. He's never your concern."

Scott Raab, Esquire
While some context was lost in translation — during the interview, Rodriguez insisted there wasn't a rivalry before making the infamous comment when asked about Jeter's character and explaining that he was quiet and reserved (h/t the New York Post) — they still stung.
With The Captain, Jeter addresses those comments. "Those comments bothered me because, like I said, I'm very, very loyal," he explained, according to the Post. "As a friend, I'm loyal. I just looked at it as, 'I wouldn't have done it.' And then it was the media. The constant hammer to the nail. They just kept hammering it in. It just became noise, which frustrated me. Just constant noise.
"In my mind, he got his contract, so you're trying to diminish what I'm doing, maybe to justify why you got paid. When you talk about statistics, mine never compared to Alex's. I'm not blind. I understand that. But, we won! You can say whatever you want about me as a player. That's fine," Jeter added. "But then it goes back to the trust, the loyalty. This is how the guy feels. He's not a true friend, is how I felt. Because I wouldn't do it to a friend."
A-Rod insists that he and Jeter are still friends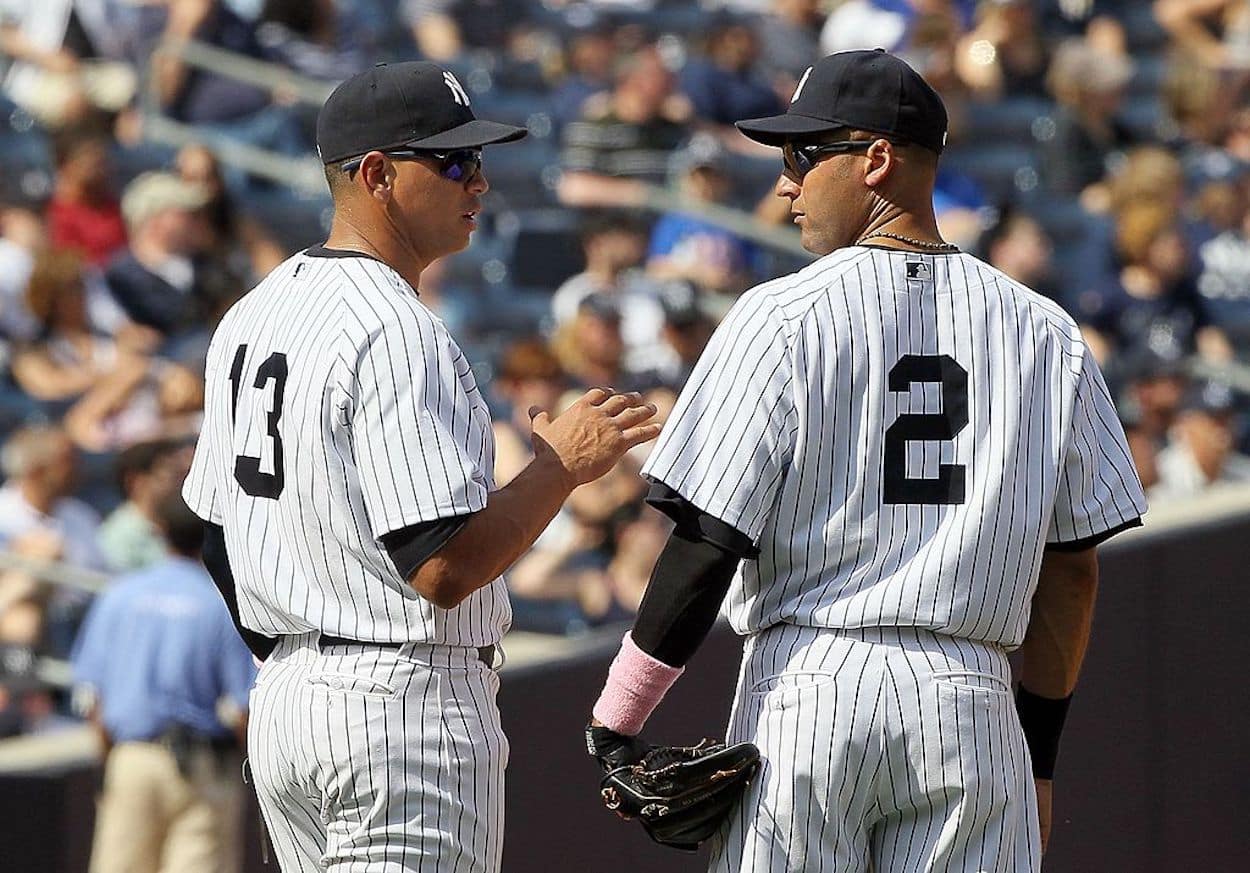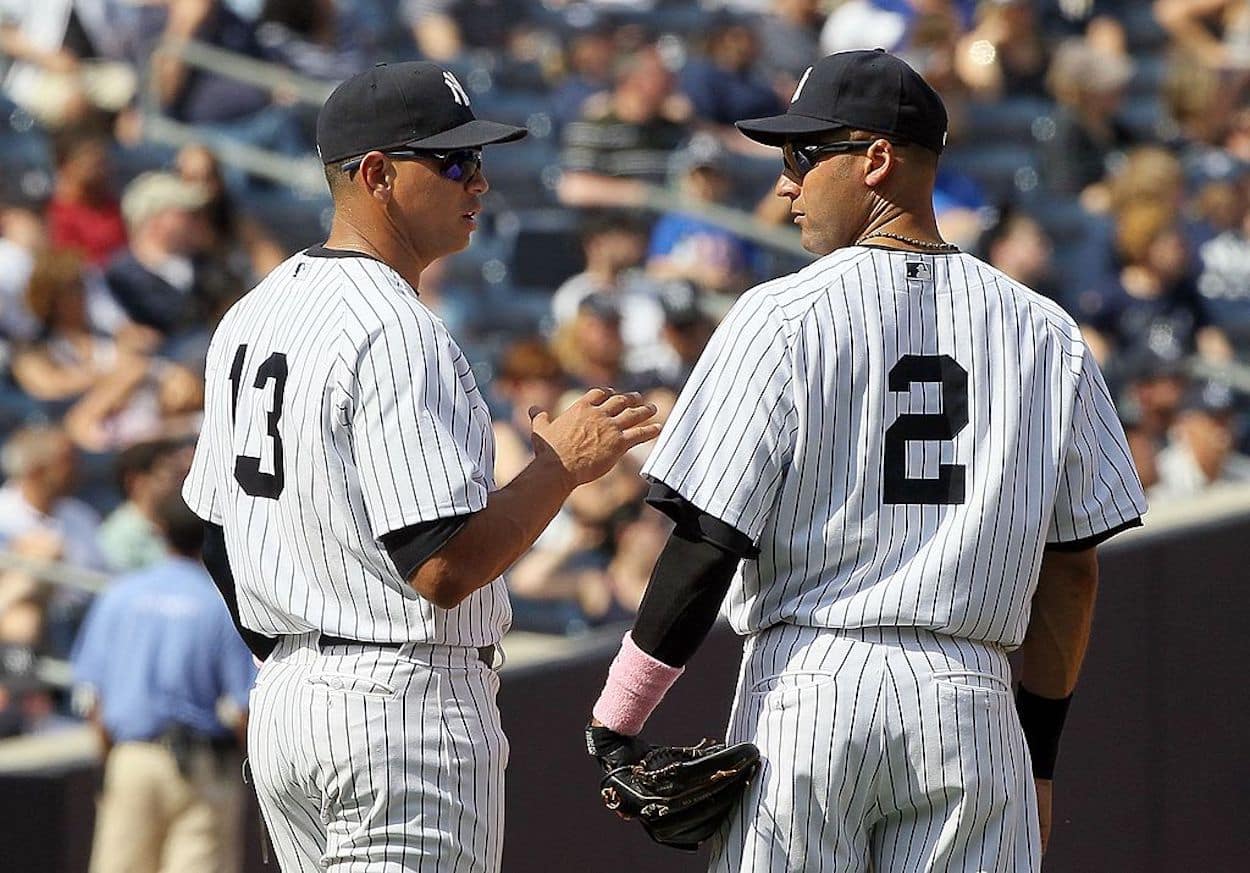 Even though those comments are about an event from 2001, the fact that Jeter made them more recently has been used to suggest that he and A-Rod still have some beef. Rodriguez, however, shot down that notion.
"Derek and I are good friends," he told Front Office Sports. "We were texting last night during the 'KayRod.' He was watching. I don't know if he is a fan — but he was watching, having some fun with me. I think he was making fun of my white pants. But I love the Captain — he's a five-time world champion. We've talked about the documentary. We're completely aligned, and I'm excited to watch it."
Is is possible that Rodriguez is simply playing the PR game? Sure, but the breadcrumbs seem to align. The comments that Jeter is addressing happened more than two decades ago. The two men have played together, retired, and presumably shared plenty of conversations since then. We've even seen A-Rod show some deference to his former captain on occasion.
Are they the best of friends who spend hours on the phone every evening? Probably not. But, at this point in their respective lives, it's likely that any active tension has become a thing of the past.
Like Sportscasting on Facebook. Follow us on Twitter @sportscasting19 and subscribe to our YouTube channel.